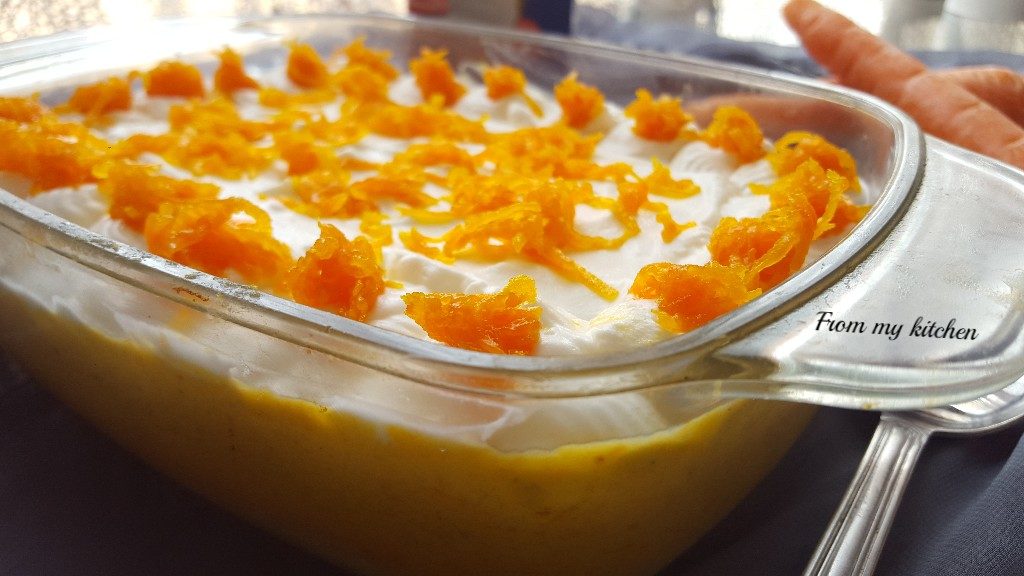 Carrot Halwa Mousse!Have you ever tried?No?Then go for it!Carrot Halwa lovers will definitely love it.Something different and yum!A new way to serve this awesome dessert with the layers of whipped cream.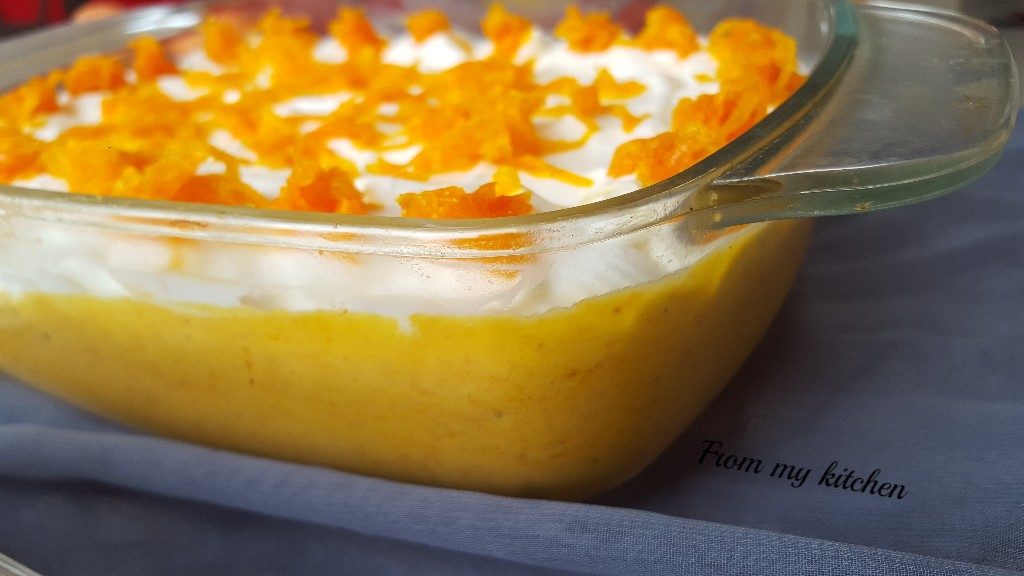 It's creamy and the flavours are well incorporated.Just imagine about that creamy mousse like texture of your favourite gajar ki halwa.It was yum.You can serve it in small individual servings too,it will look cuter.The first layer is almost like carrot halwa then I pureed it and mixed it with whipped cream.Top it up with whip cream and some cooked sweetened carrots.
Ingredients
3 Carrots grated
1/2 can condensed milk
2/3 tblspn ghee
Milk 1 &1/2 cups
Sugar (as per your sweet tooth)It will need more sugar as we are folding it with whipped cream.
2 cups whip Cream
8 tblspn icing Sugar
1 tspn vanilla essence
For 3rd layer
2 small carrots grated
3/4 tblspn sugar
1 tspn ghee
1 tspn condensed milk(optl)
1/4 cup water
Method
In a pan pour ghee and add grated carrots.Saute for a while then add milk and let it boil and cook for a while add condensed milk and cook.Let it reduce.Stir in between.No need to reduce completely as we are making a puree out of it.
Switch off the flame when it starts to release from side of the pan.Grind it when its lightly cool.
Meanwhile its cooling over to whip cream.Whip up the cram,icing sugar and vanilla together until its stiff.It will double in size.
Take half of the whip cream and lightly fold in with the carrot halwa puree.Reserve other half for topping.
Pour it in your pudding mould.If you are using individual serving dish transfer the mousse in a piping bag and pipe it.Woow it will look beautiful.
Keep it in refrigerator and let it set for half an hour.Then layer the top with whip cream.
For the 3rd layer
In a small sauce pan mix together all ingredients and cook until the carrot is soft and sweet.
When its cool enough spread it on whip cream.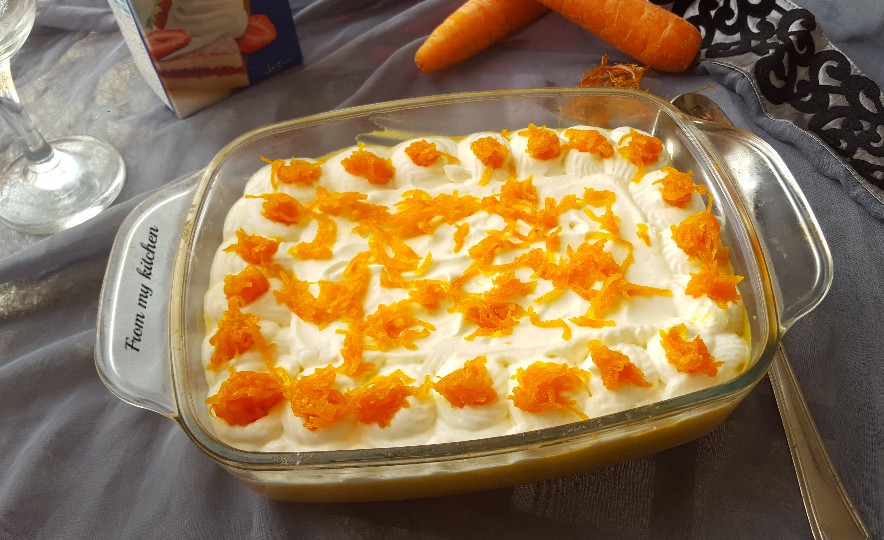 It's creamy in texture and the layer of whip cream makes it a perfect combo with the bite of that sweet carrots on top.Try it out i am sure Carrot halwa lovers will love it.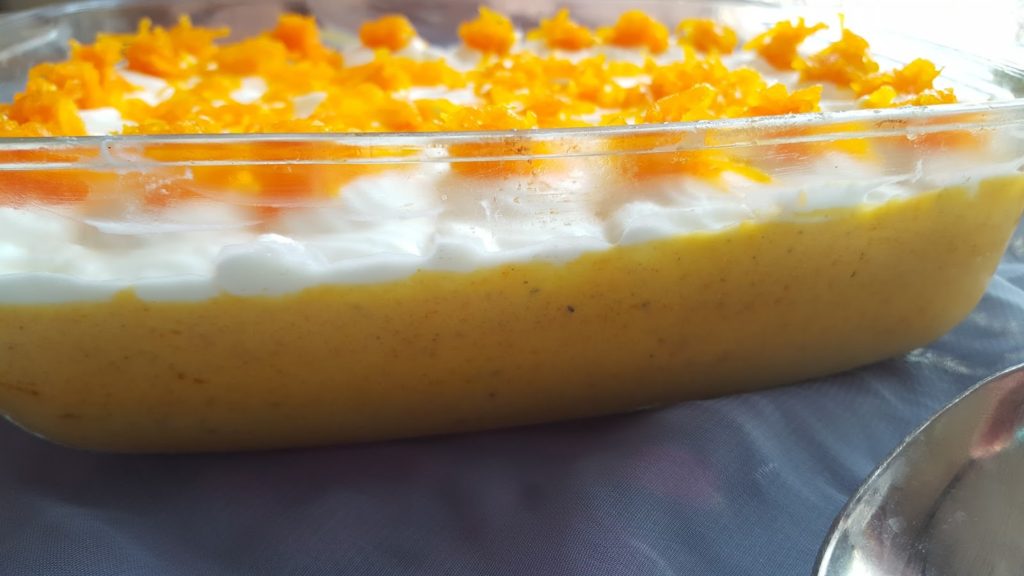 A very interesting way of serving the authentic Indian sweet!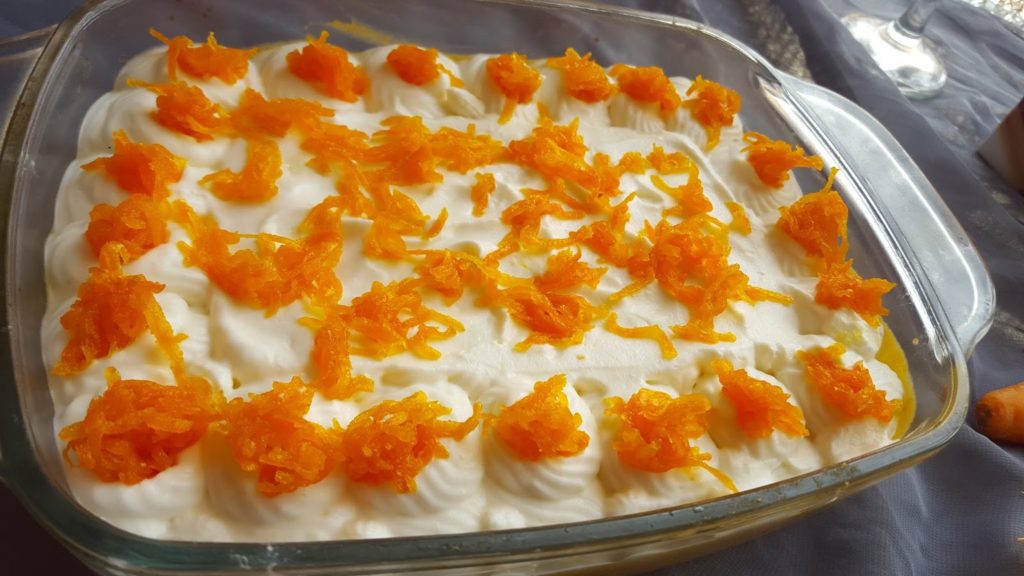 Happy Cooking & Enjoy!