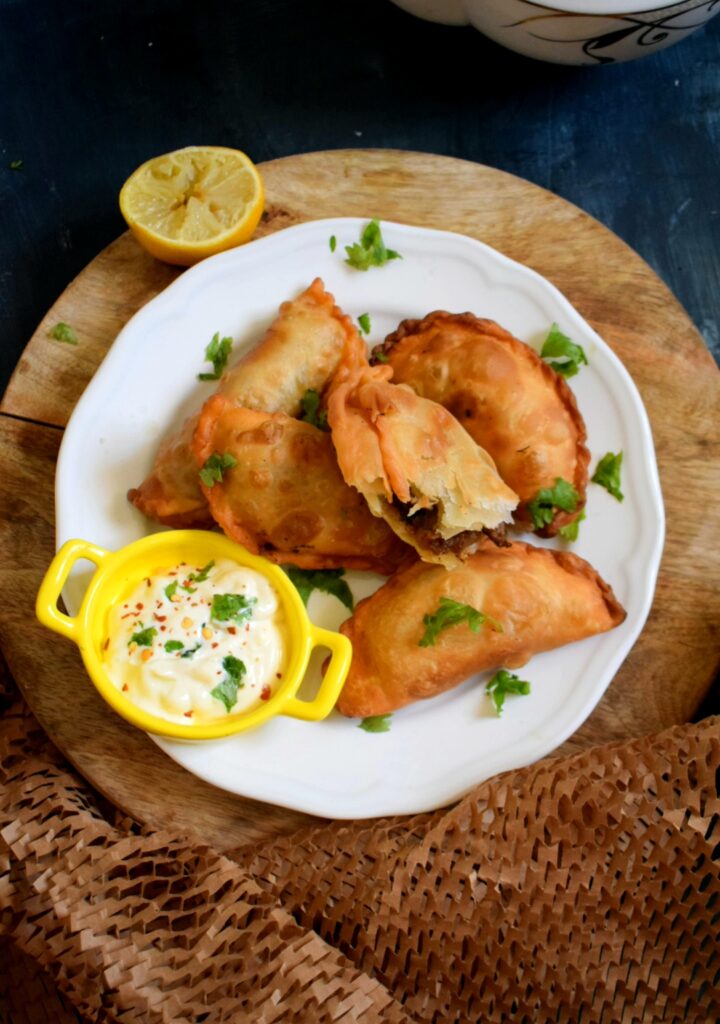 Curry Puffs is a snack of Southeast Asian origin in which the curry-flavored chicken and potatoes are stuffed in a flaky crust and then fried to perfection! You may either bake it like a pie or fry it to get that flaky goodness!
I chose the fried version as it was so tempting when I saw it! If you are HEALTH conscious and need a healthy version try baking it! Here the flavors of the filling are too good that, they are very close to our Indian cuisine!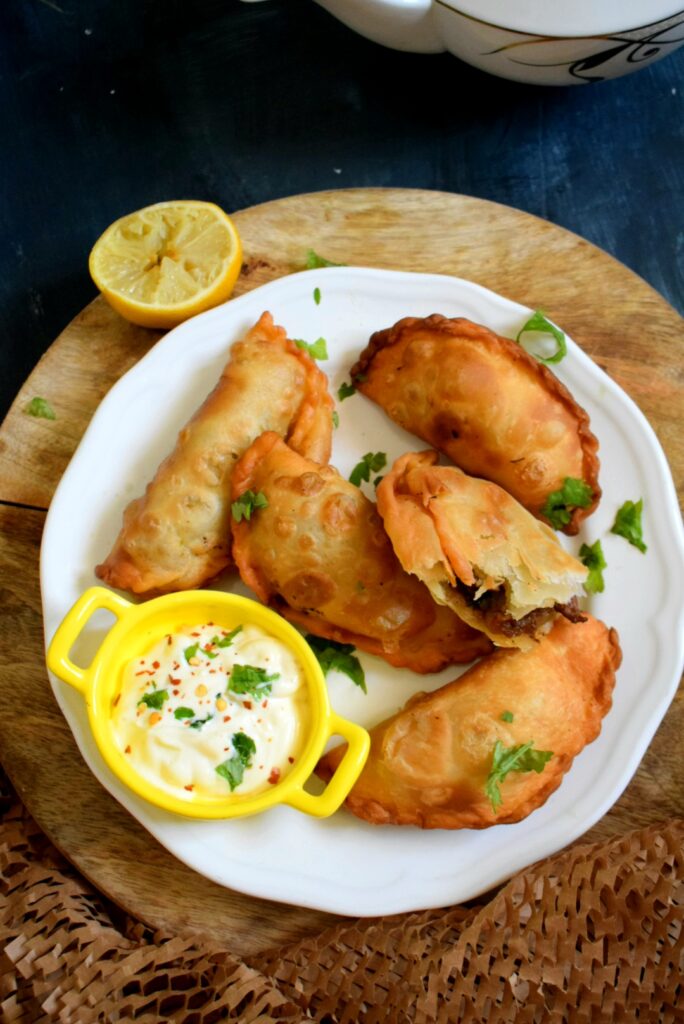 Here to get that flaky crust, frying part is very important! Never fry it on high flame, always fry it on medium-low flame with patience to get that perfect flaky golden crust! While referring to Southeast Asian Cuisine Marion's kitchen is my fav, here I simplified the crust part as it needs a lot more steps and patience! The recipe is inspired from there!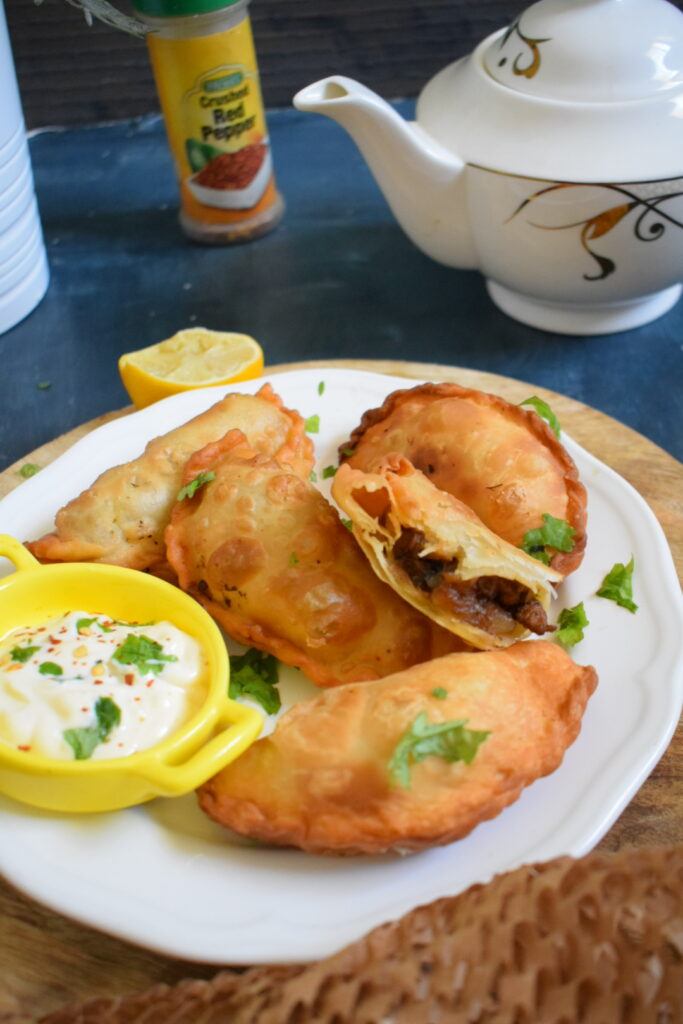 Ingredients
For dough
2 cups all-purpose flour
4 to 5 tbsp cold butter
salt to taste
Enough water to knead the dough
For filling
300 gm boneless chicken cut into small cubes
salt to taste
1 tsp chilly powder
1/2 tsp coriander powder
1tsp garam masala
1/2 tsp turmeric powder
1 tbsp ginger garlic minced
2 or 3 green chilies
2 onions chopped
1 large potato boiled and cubed
Spices for masala 1 tsp cumin powder,1 tsp pepper powder,1/2 tsp coriander powder, and 1/4 tsp turmeric powder
Lots of chopped cilantro
Method
Knead the dough well and let it rest for atleast 30 minutes! refer video
For filling
Marinate chicken with above listed spices and keep it aside.
In a pan pour some oil, add ginger garlic and green chilies saute until aromatic.
Add chopped onions and salt cook until soft, add the spices and cook for another 2minutes.
Add the marinated chicken, stir and spread it evenly. On medium flame cover and cook it until it's done.
Add the boiled and cubed potato to the filling and mix well until everything is incorporated.
Lastly add some cumin powder, lemon juice and lots of cilantro mix well and switch off the flame.
Divide the dough equally and roll it into a puri sized disc stuff the filling and fold it like shown in the video.
Heat oil in a pan and fry the puffs on medium flame by flipping in between to get that flaky crispy outer layer!
Video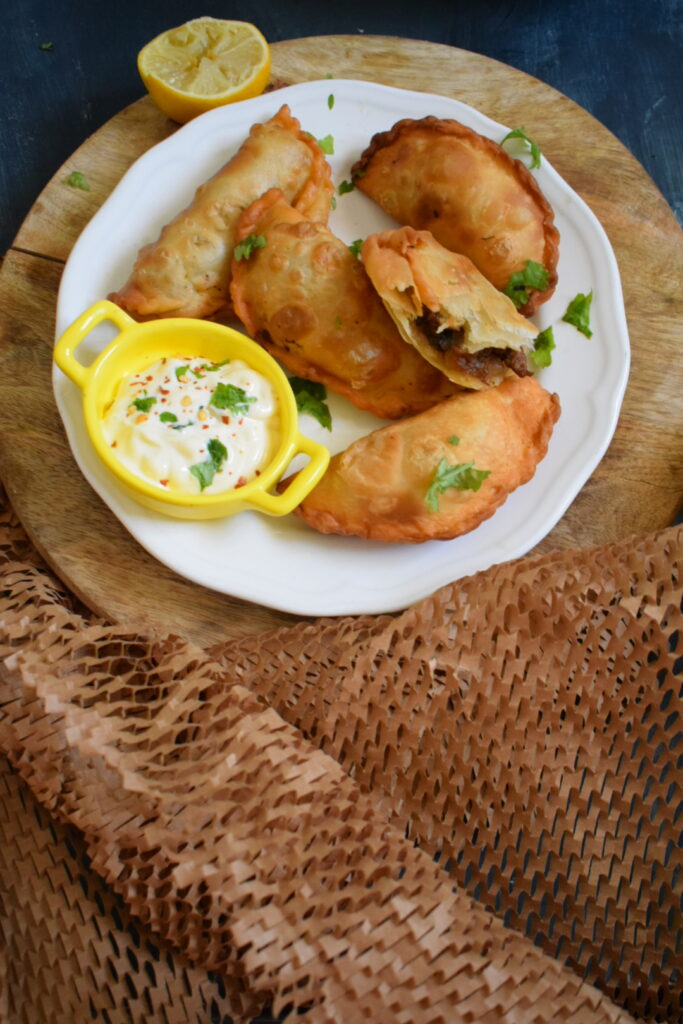 Happy Cooking!