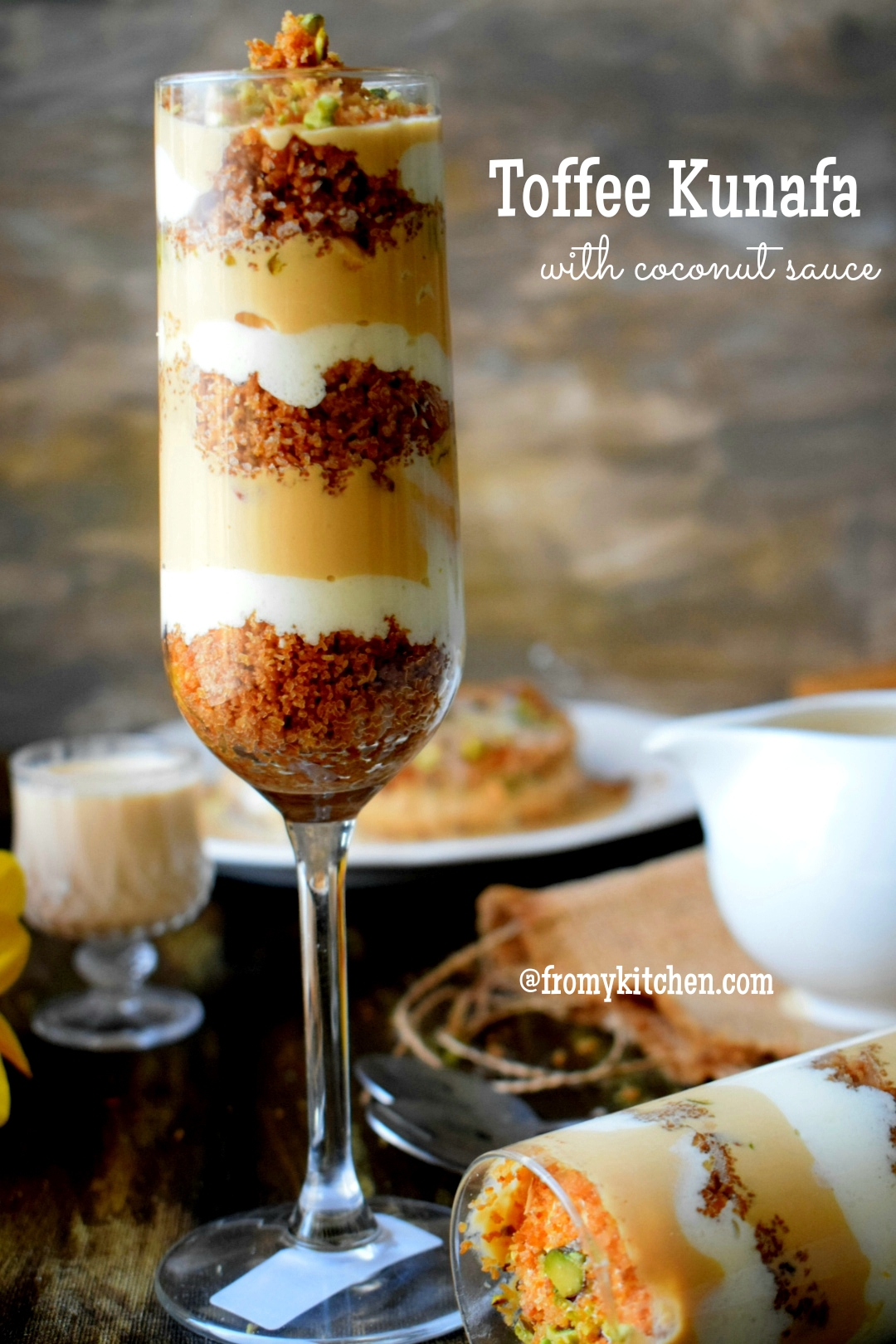 Let's start 2019 with a sweet note! 😊😊This toffee( dulce de leche) kunafa with coconut sauce will blow you away! Sounds interesting right?? It tasted awesome too! Just loved the crunchy and creamy kunafa in the different avatar! A totally different version of Arabic Kunafa, but tasted heavenly. Tried to bring fusion in Arabic dessert and wala!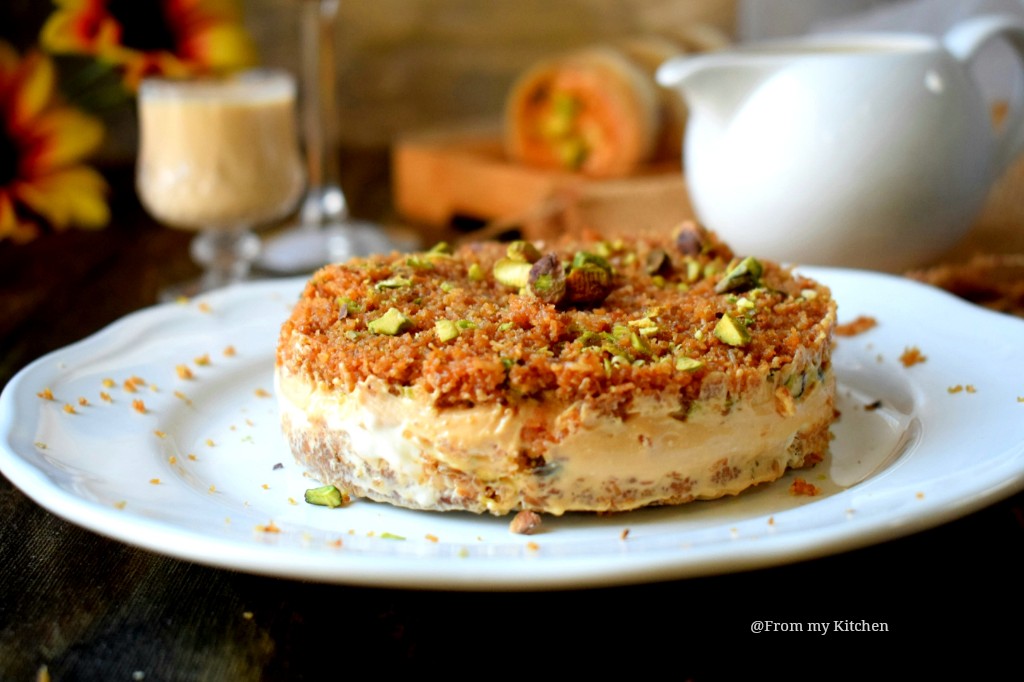 This Kunafa i served in a tall glass with crunchy buttery kataif dunked in a coconut sauce and then layered with toffee cream and whip cream with some pistachios and then chilled and served! Here the whole idea is to create a simple recipe that can serve in a single serving glass or tall glass! Authentic kunafa is baked one with cream or cheese. This one is not baked but sauteed the kataifi in butter and make it brown and crunchy, and then layer it with toffee cream and whipped cream. To sweeten the kataifi instead of sugar syrup I used coconut toffee sauce and it was yum!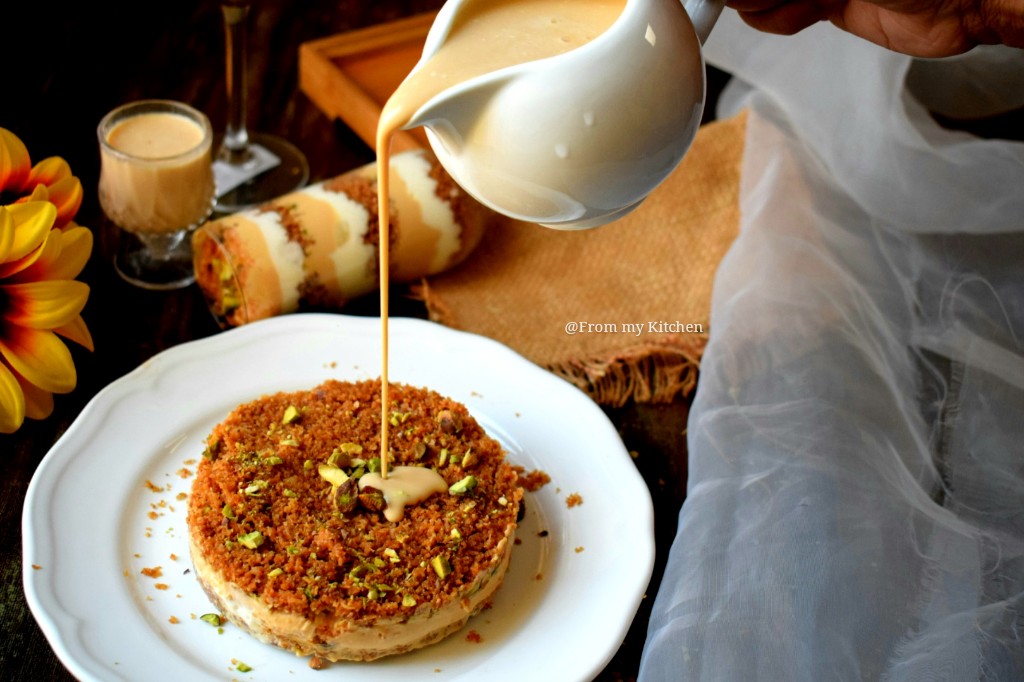 Today I'm pairing with my friend Asheera @Ashees cookbook to celebrate the new year and to make it sweeter! So don't forget to step to her page to see her Kunafa Tiramisu! Woow that sounds delicious right? So let this year be a new and refreshing start to all like this kunafa! Toffee and Coffee flavor in kunafa is surely an interesting combination, isn't it? Don't forget to watch the video till the end to see Ashi's version of Tiramisu Kunafa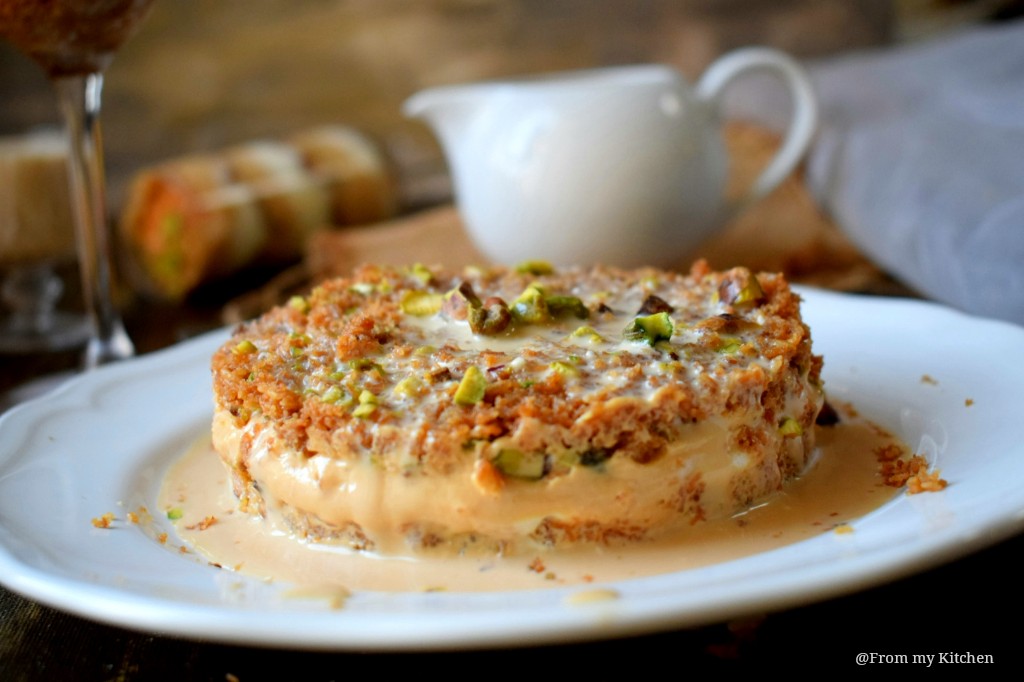 Hope you guys will take this recipe wholeheartedly! I know there will be many who likes only the authentic version! My hubby too started having it by saying the same and then he wowed for this one Yay! Hehe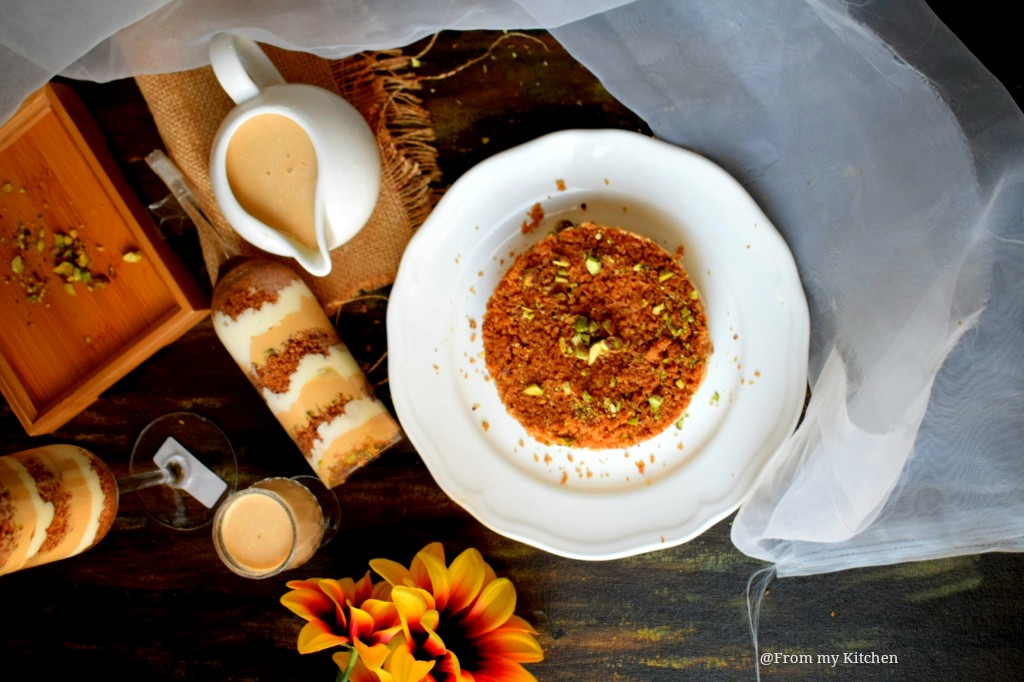 Ingredients
kataifi (kunafa dough) 400 gm
50 gm butter
2 tbsp powdered sugar(optl)
For Coconut Toffee Sauce
100 gm fresh cream
3 to 4 tbsp dulce de leche
1 to 1 &1/2 cup thick coconut milk
Note: You can add more toffee or condensed milk to adjust the sweetness
For Toffee Cream
Puck Cream
1/2 cup dulce de leche
3 tbsp whipped cream
Chopped pistachio
Whipped cream with a tbsp of cream cheese in it(optl) for beautiful layers I used it(If you are assembling it in a baking tray u may skip it)
Method
In a large pan melt butter and add the grounded kunafa dough. Mix and roast until it changes the color and it becomes crunchy.(You can also mix the kataifi with butter and bake it until its golden brown)
For preparing Coconut sauce Mix the fresh cream and dulce de leche with a whisk and then pour the coconut milk and mix well.( I added some more condensed milk to make it sweet)
Prepare whipped cream with cream cheese and set aside.
In a large bowl mix the cream and toffee well with a tsp of vanilla. Then fold in 3 tbsp whipped cream to this toffee cream.
Assembling: take a tall glass layer it with kataifi, pour a tbsp of toffee coconut sauce, then pipe whipped cream followed by toffee cream and pistachio. Repeat the process and make the glass looks beautiful!
video!
Wishing all my readers a wonderful year ahead! Happy 2019 peeps! Support and share like always! Your good words, comments and tried pictures keeps me moving! Thank you so much for all those love & support!