Jianbing is a popular Chinese Breakfast street food in which the main ingredients are batter of wheat and grain flour, eggs and sauces with a crunchy fried dough inside. On seeing a video of making this dish I found it interesting and wanna give this a try. But I don't have ingredients handy, so thought why not to give this a try with my own twist! And yes here it is a delicious wrap with some egg, sauces and yummy filing with a crunch!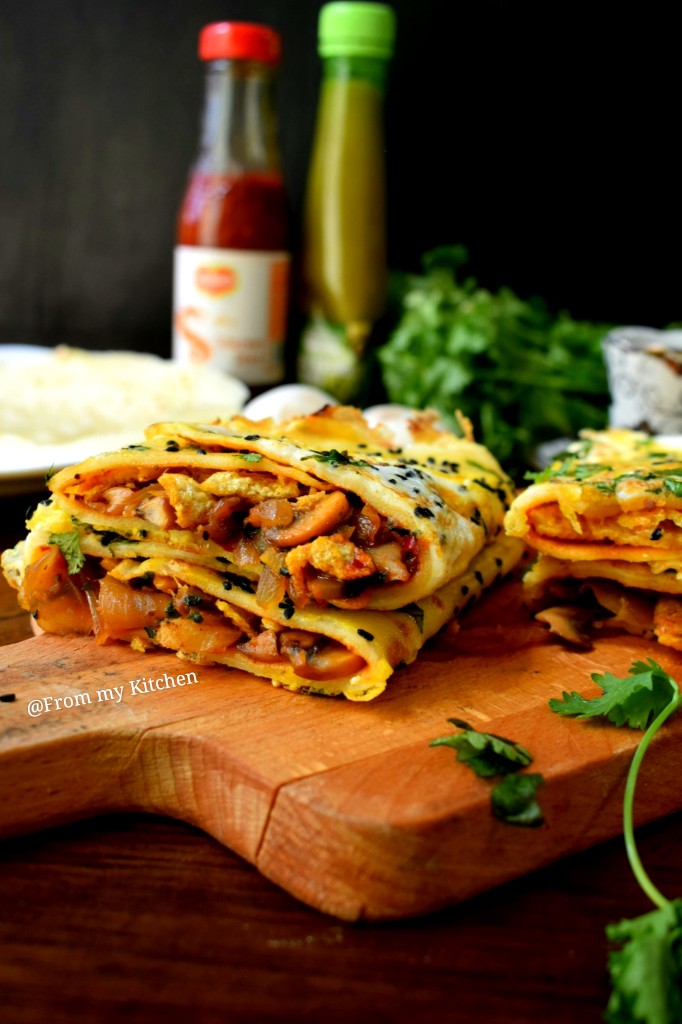 So here i used normal crepe recipe with the filling of mushroom and sauces of my choice and for a crispy fact, I added some chips(that's optional but it's really yum)! It's so appealing when having hot and crispy! So make it only just before having it. For the authentic recipe, you check here. This is just a replica with my own twist and I hope you all will love this one.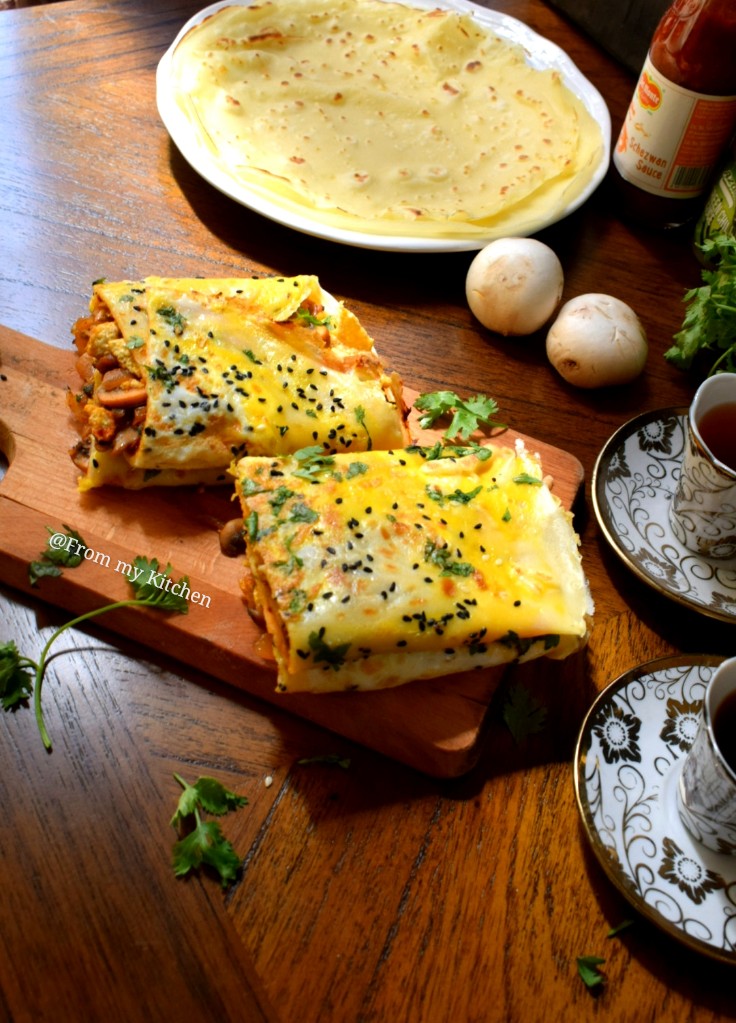 If you are bored with that regular breakfast this is a perfect option for both the breakfast and tiffin box! If you are an egg lover do give this a try! That sesame seeds on the egg give a lovely color contrast and texture that i just loved biting on it! For filling, if you don't like mushroom you can use any of your fav ones! If your kids love cheese you can add that too.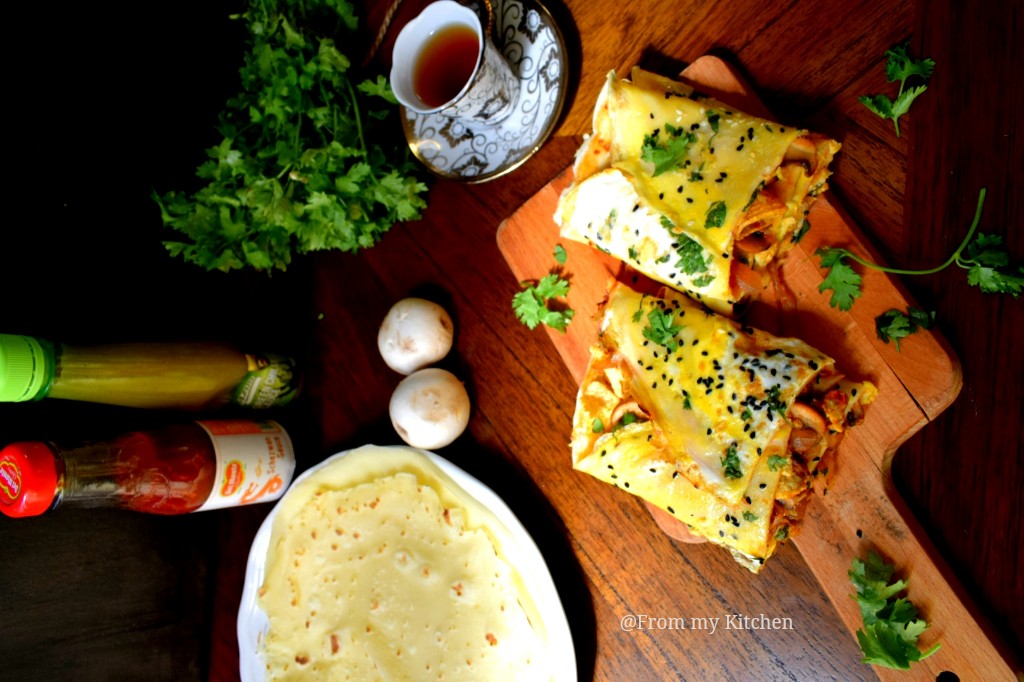 Hope you all will relish this eggy, spicy, saucy wrap as much as we did. So let's check the recipe!
Ingredients
For Crepe
1 cup + 3tbsp all-purpose flour
1 egg
salt to taste
1 tbsp oil
3/4 cup milk
1/2 cup water (you can add more if the batter seems thick)
For Mushroom filling
3 cloves garlic chopped
1 green chilly
1 medium onion
10 to 13 button mushroom sliced
1 tsp paprika or chilly powder
1/2 tsp pepper powder
salt to taste
lots of cilantro
3 tbsp water
1 tbsp oil or butter
For Sauce
1 tbsp chilly sauce
2 tbsp Schezwan sauce
2 tbsp ketchup
Other ingredients
Eggs
Black and white sesame seeds
Cilantro or spring onion
Any chips [I used Bugles and tasted yum(opl)]
Method
In a pan pour oil when it's hot add garlic and green chilly, saute until it releases its aroma. Then add sliced onion and cook for some time, add mushroom salt and pepper.saute and cook. After some time add paprika and cilantro along with water and let it cook and simmer until the water reduces. Keep it aside.
Mix all the ingredients under crepe and make a semi-thick batter, not too thick and not too runny. Consistency should be like when you swirl the pan the batter should cover the pan.
Mix all the sauces. Keep all the ingredients like eggs, sesame seeds, fillings close to you while prepping the jianbing
Let's start cooking
Heat a large non-stick pan brush some oil and pour a ladle full of batter and swirl the pan and cover the whole pan.
When it dries up crack one egg on top of it mix well and spread it evenly all over the crepe.
Add sesame and chopped cilantro all over it. Then gently flip it.
Spread the sauce and add the filling at the center following by chips.
Then fold the jianbing from both the side cut from the center and serve immediately.
Here is a step by step procedure of making in grid form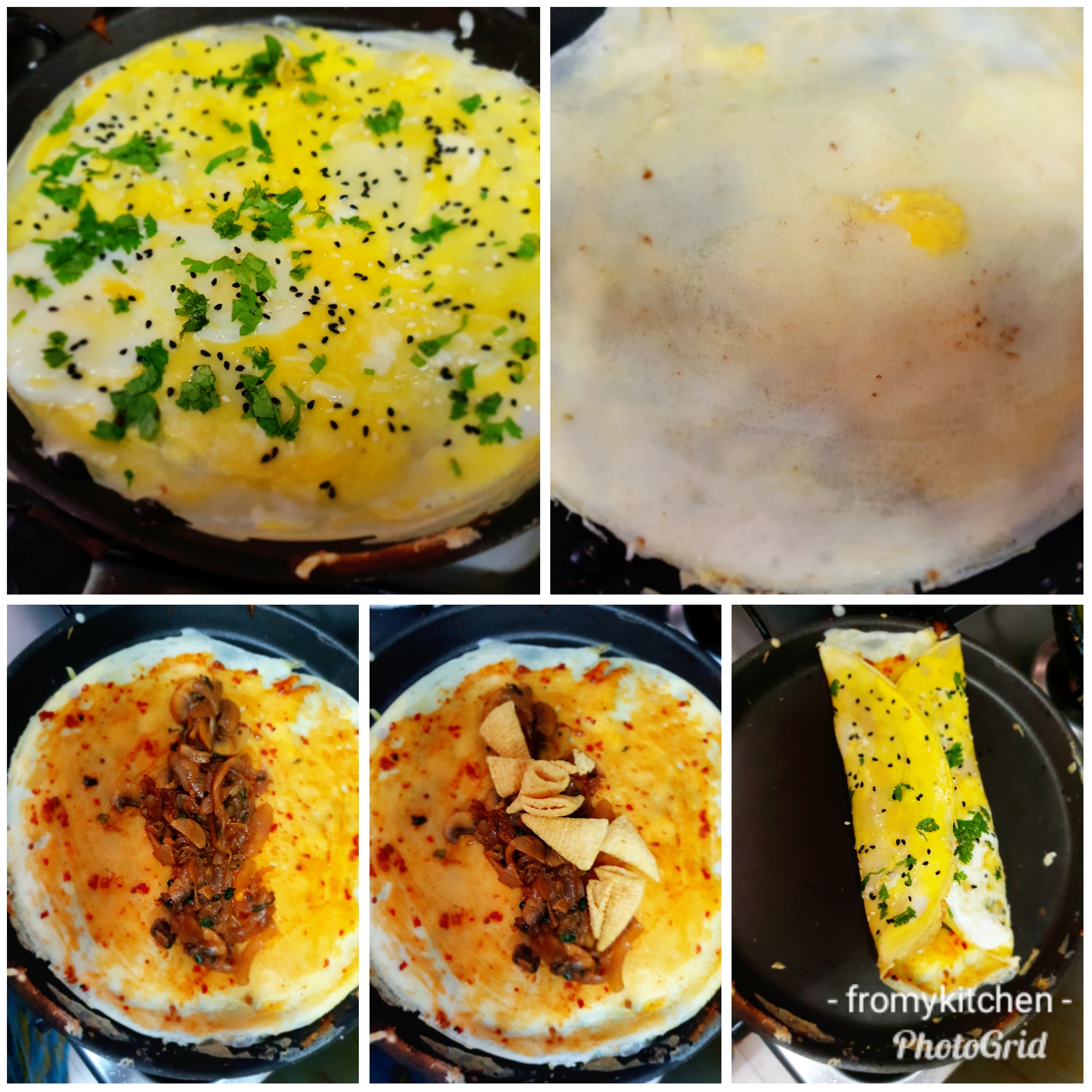 Note: Instead of chips you can also use a fried samosa or spring roll sheet or tortilla chips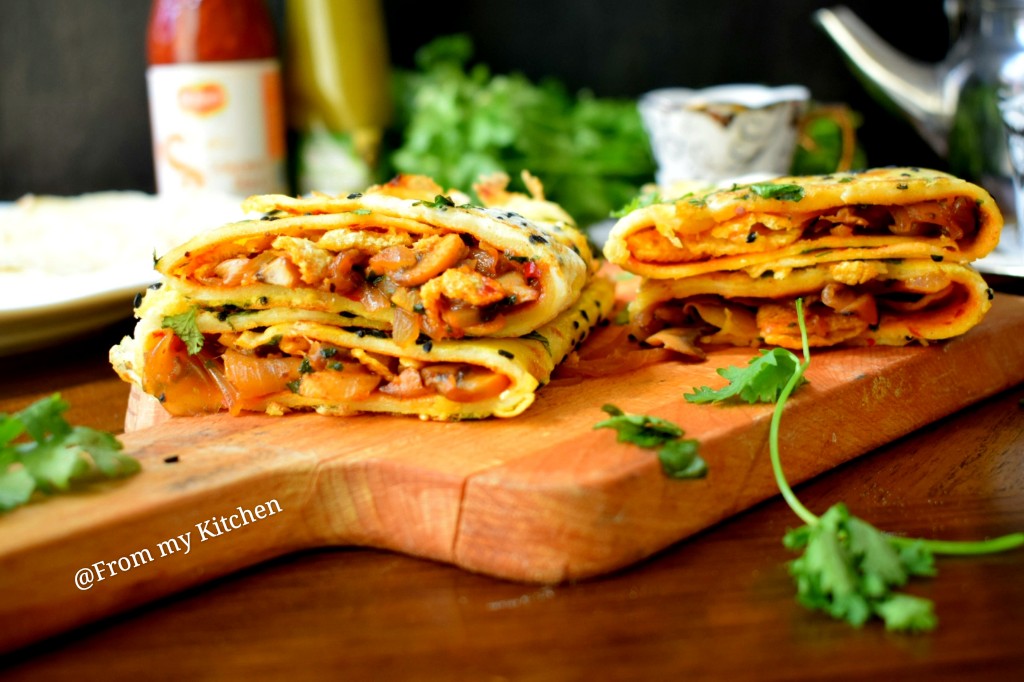 So here i'm introducing you to a new thrilling breakfast! Relish it with a cup of tea or coffee with your dear ones!