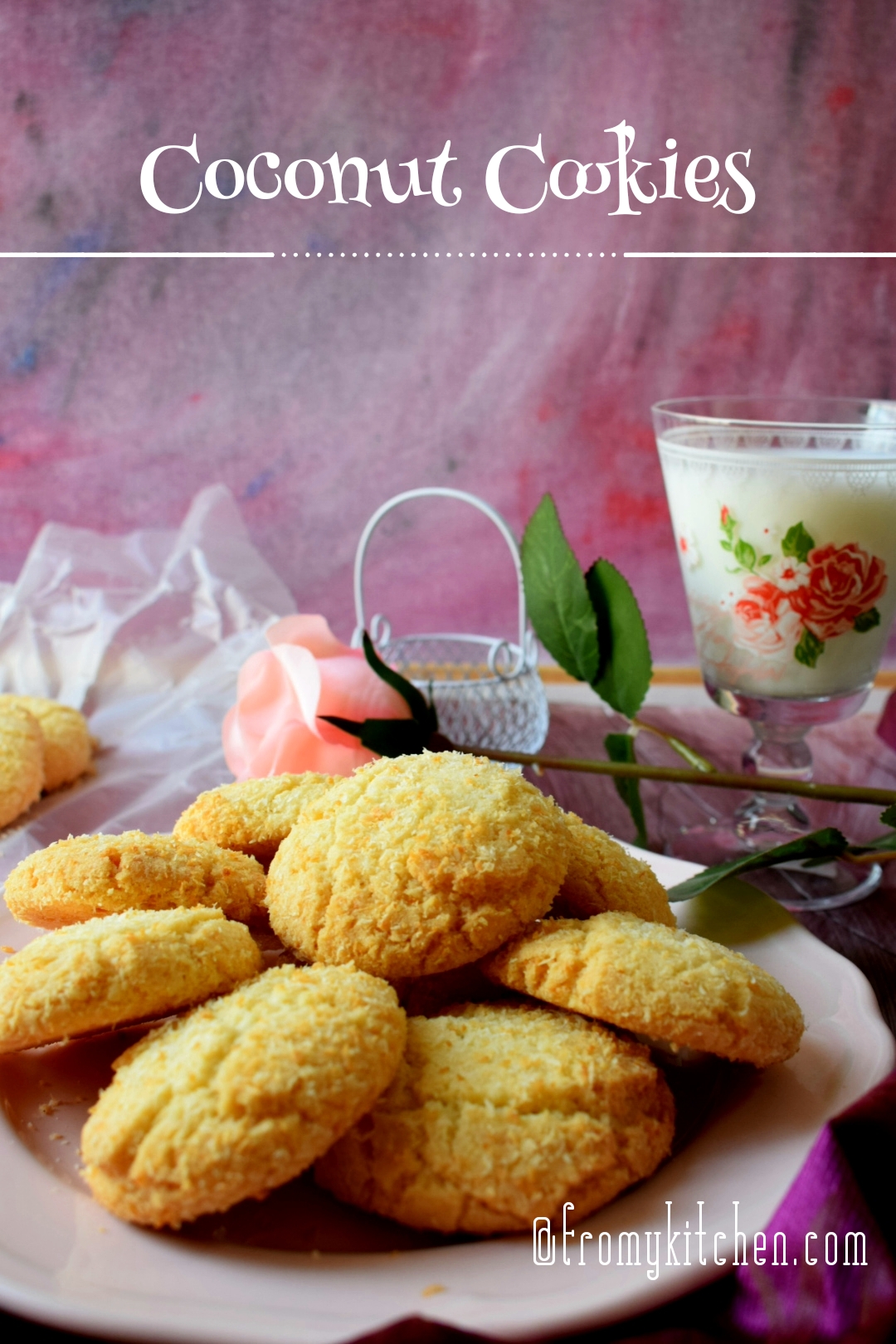 This Coconut Cookie is so addictive, I must say! Crunchy and delicious with all the flavors from coconut is a must try recipe!Buttery base, sweet and coconutty biscuit will be surely a crowd pleaser.This is a perfect crispy biscuit that goes well with a cup of tea or coffee.
Dip it in a cup of hot tea and just indulge in!Is there any other feeling or happiness for a biscuit and tea lovers?hehe!My kids just loved it, especially the younger one. It has a coconut macaroon effect!(Like french macaroon by adding coconut instead of almond flour).It was too sweet for hubby.So i'm reducing sweetness in the recipe.(check in the ingredients)
Can you see that crunchy hollow!It's a must try recipe if your kids are cookie lover.The coconut coating gives a nice crunch and texture to the cookies.Here i used desiccated coconut.Very simple to put together and your bakery style coconut cookies are ready to go.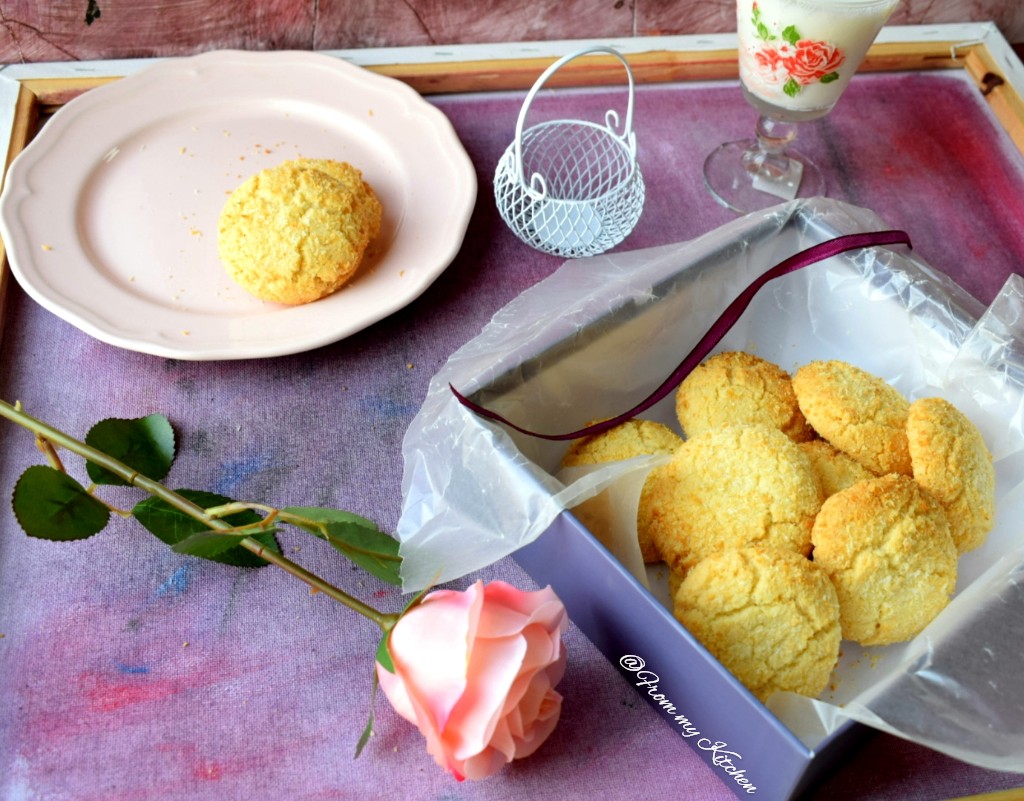 Ingredients
125 gm softened butter
3/4 cup powdered sugar (if you don't like it too sweet reduce 10 gm sugar)
1/2 of an egg
3/4 cup all-purpose flour
1/4 cup desiccated coconut + extra for coating
A pinch of baking soda or 1/2 tsp baking powder
Pinch of salt
Method
Whisk together room temperature butter and powdered sugar until it's soft and creamy.
Mix an egg well with a fork and add half of this to the butter and blend well
Add vanilla.
Add all the dry ingredients and mix well
Line a parchment paper on a baking tray.
Now form small lemon size balls and coat it in desiccated coconut and tap gently with your hands place it on the parchment paper by leaving 2 cm between each cookie.As we are adding baking soda it will become bigger in size.
Preheat the oven to 180 degrees and bake it for 15 to 20 minutes.
 While your oven is preheating put your cookie in the refrigerator for 10 minutes.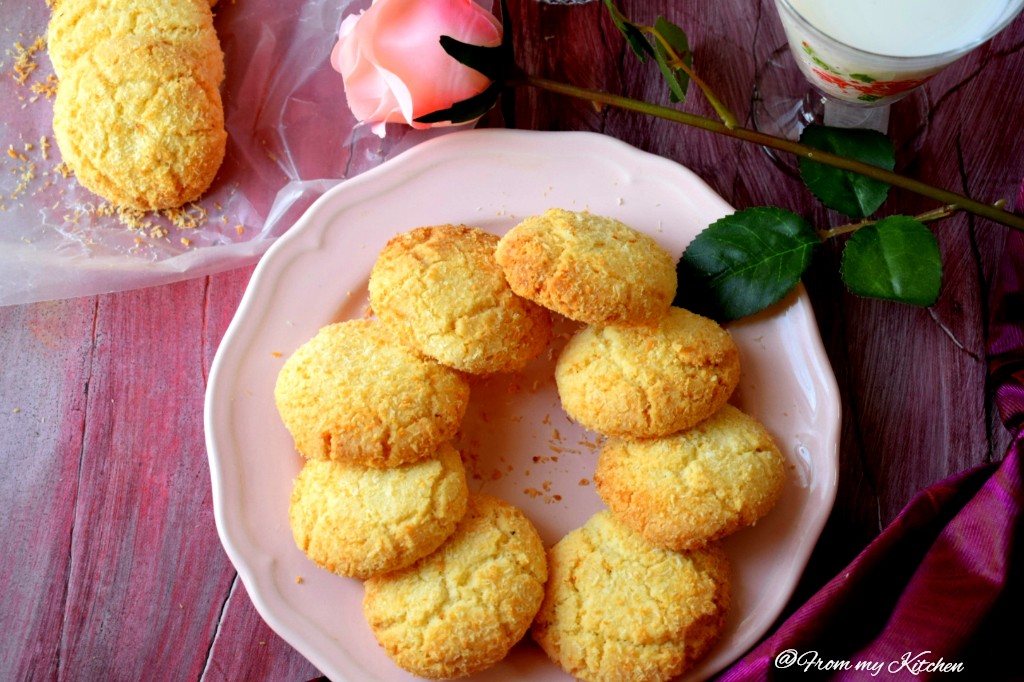 I'm warning you once again it's so addictive!I bet you can't stop by one or two!Hope you will definitely try this easy peasy cookie and do let me know your feedback.