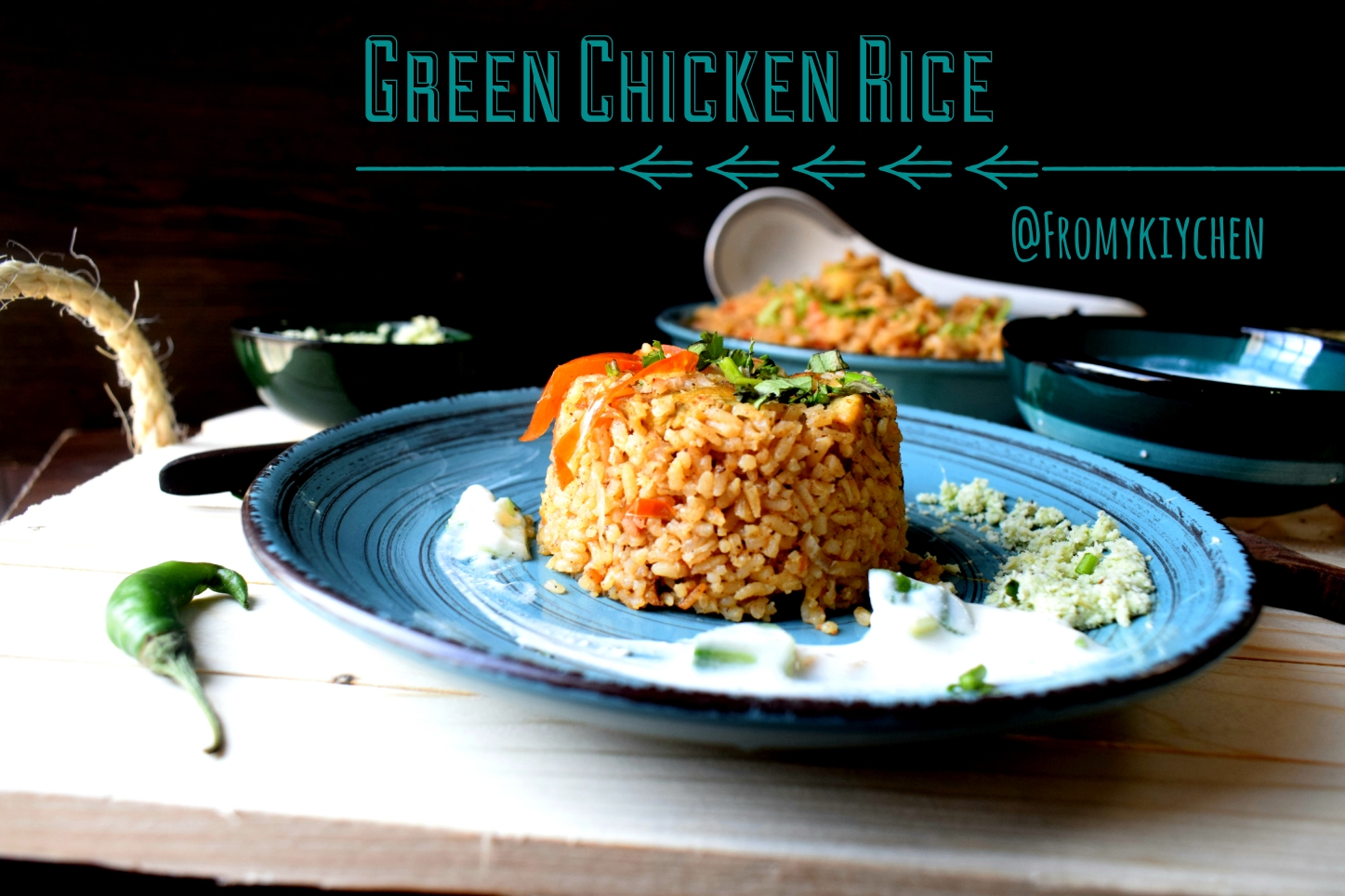 This rice is so flavorful with minimal ingredients.It's spicy one pot dish with all the heat coming from the green chilies.Here the chicken chunks are marinated and fried in a spicy green paste and then  the masala and rice is cooked in the same pot.If you are in short of time and you want something exotic here you go!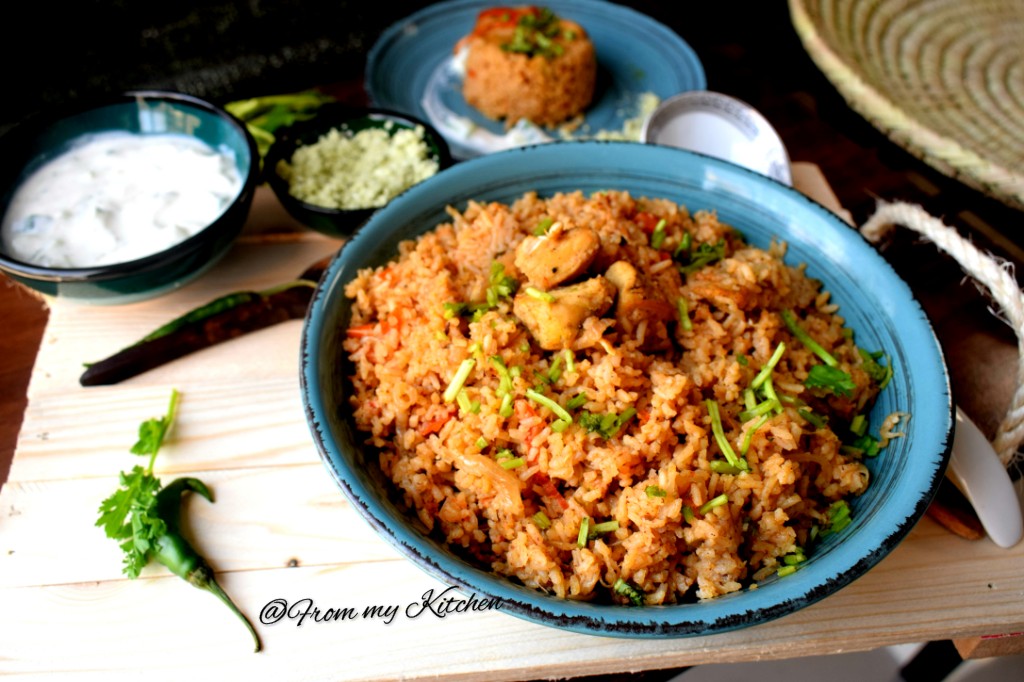 I know the green color is not vibrant here,because when we mix it with rice it will lose it's color.It was a Friday and hubby was in a mood to have biriyani,but i don't have any meat other than chicken breast fillet,so thought to make something that suits our taste buds with the things available here,to end up our biriyani cravings!!And this one was perfect!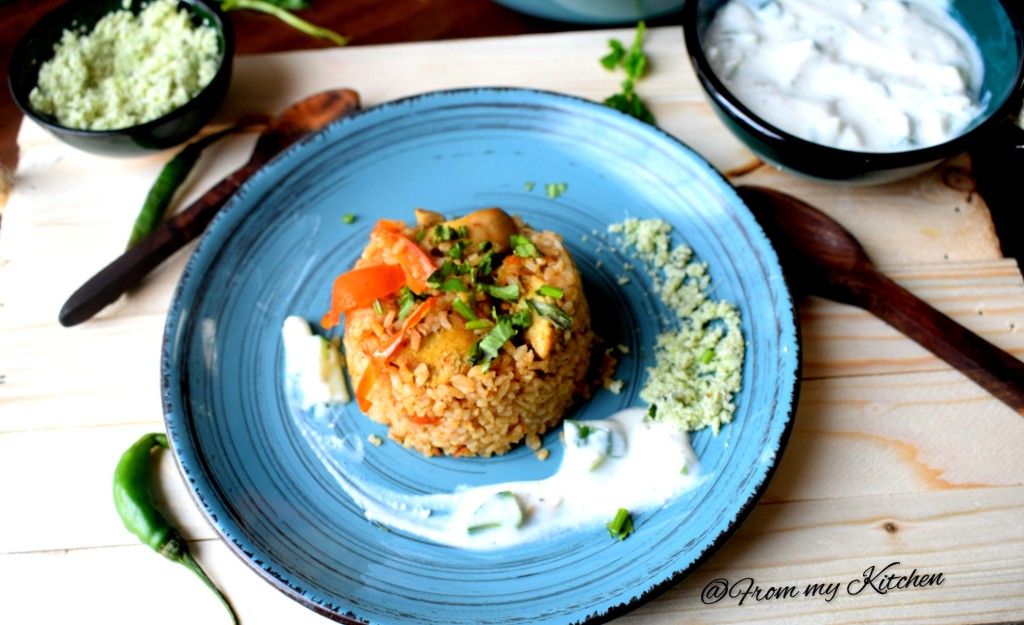 Here everything is cooked in a single pot,from chicken to rice so all the flavors are well packed in the rice.I added half of the chicken in the masala and other half when the rice is almost done.I made it very simple and the spices are minimal,lets check out how to make this.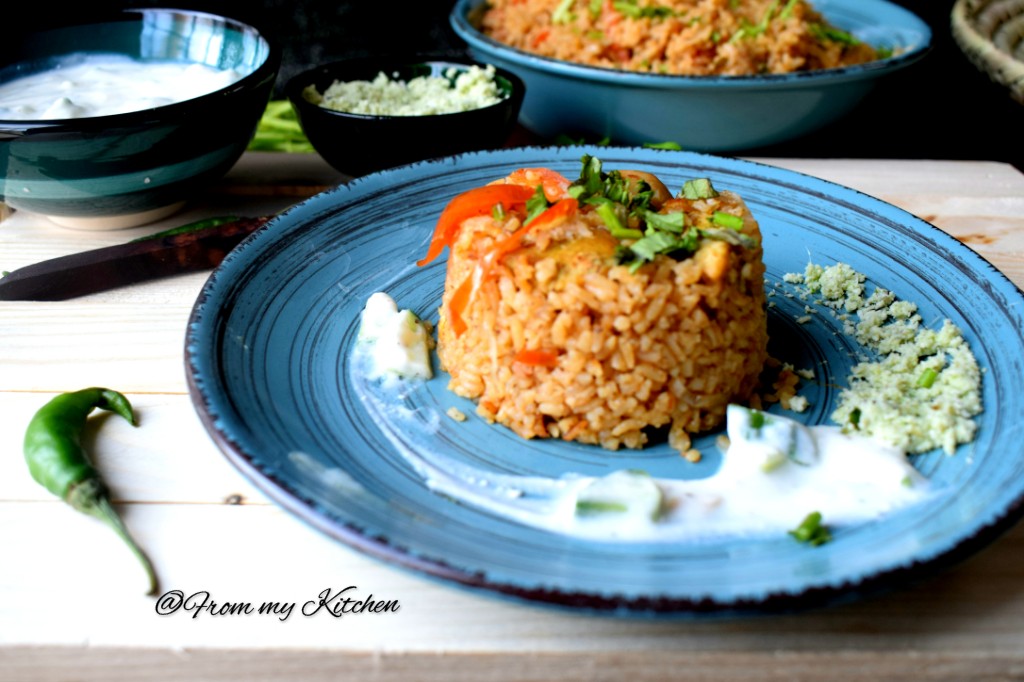 Ingredients
For Chicken
300 gm chicken breast fillet(i used 2 n 1/2 piece
small bunch of coriander leaves
4 to 5 green chilies
5 cloves garlic
Small piece ginger
1 tbsp lemon juice
2 tbsp yogurt
For Masala
2 large onions
2 large tomatoes
Salt to taste
1 tsp pepper powder
1 tsp cumin powder
1 n 1/2 tsp garam masala
lemon juice
2 to 3 tbsp oil+2 tbsp ghee
To grind
6 to 8 green chilies (adjust according to your taste)
1 large piece ginger
Some garlic cloves
Again a bunch of coriander leaves
Mint leaves (optl)
For Rice
2 cups basmathi rice or small grain biriyani rice
4 cups water
Method
Cut chicken into small pieces,wash and drain it.
Grind all the ingredients listed under marination except chicken.
Marinate it with chicken for at-least half an hour.
In a large pot put the chicken pieces and let it  cook for few seconds until the water is fully simmered,Now pour 3tbsp oil and fry the chicken pieces.Take it out when its done.
Grind the ingredients listed to grind
In the same pan pour ghee and dump the chilly,coriander mix and cook it until the raw smell disappear.
Now add sliced onion and salt cook until soft and translucent.
Add sliced tomatoes and cook until its mushy.
Add pepper powder,garam masala ,lemon juice and mix.
Now add half of the chicken pieces and combine.
Then put the rice in the same pot and roast it for few minutes.Meanwhile boil the water needed for cooking rice.
Pour the boiling water to the rice,check for seasonings and add it.Cover and cook the rice.When the water is almost dry add the preserved chicken pieces and mix well.Let it sit on dum,for 1/2 an hour after cooking, for the flavors to be fully infused.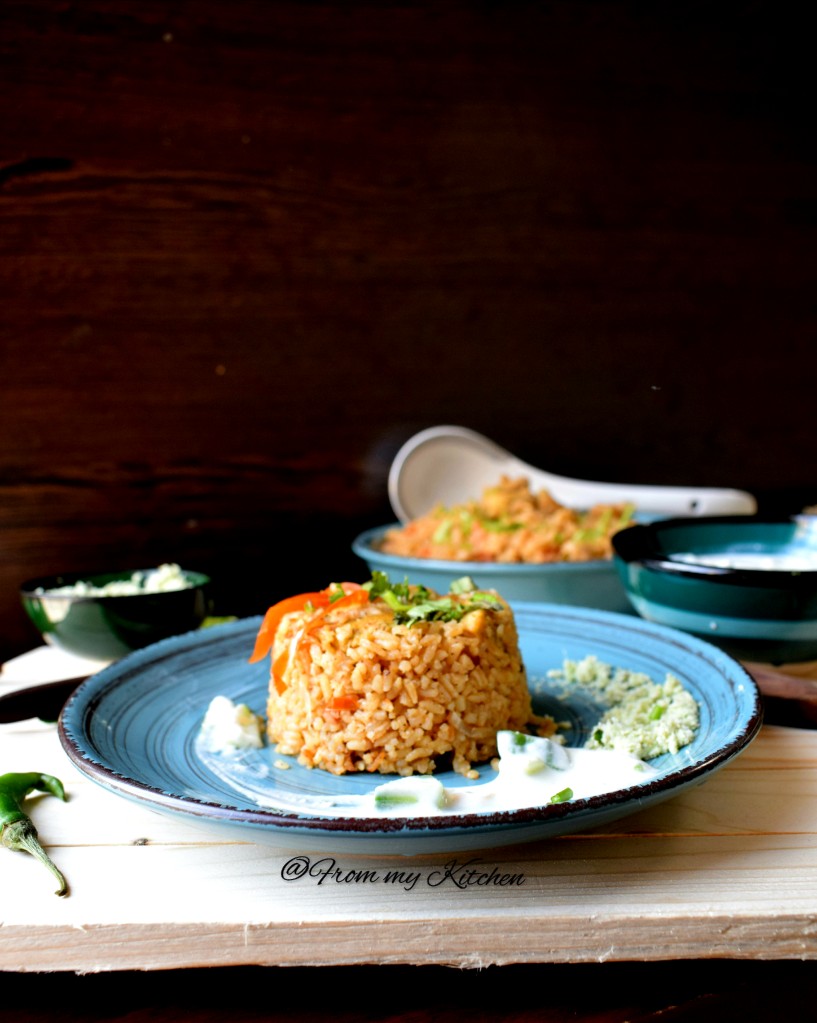 As we are doing everything in one pan the color comes to a light brown and not the green.This tasted delicious!Hope you guys will like it too!If you are  craving for a biriyani and really not in a mood to go through a long process of cooking it, this recipe is for you.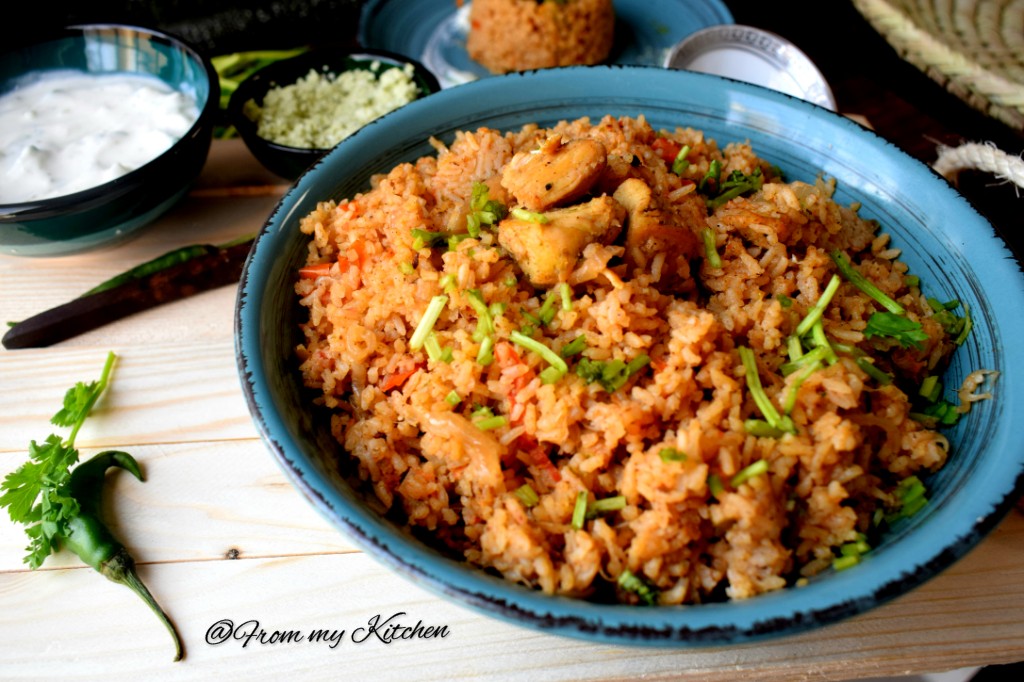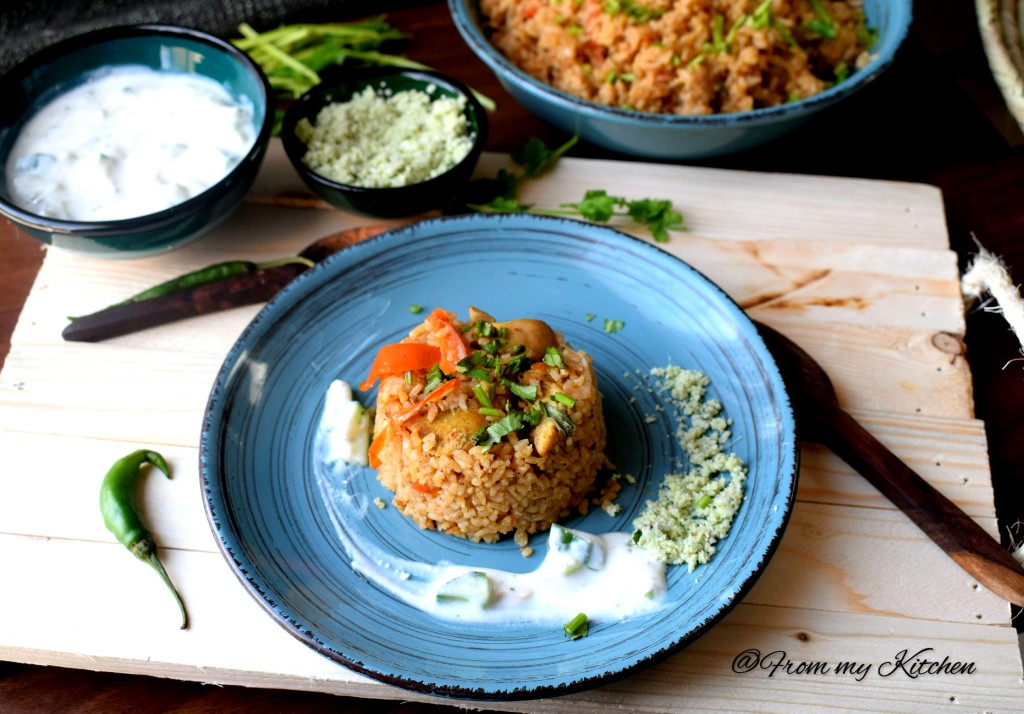 Happy Cooking!