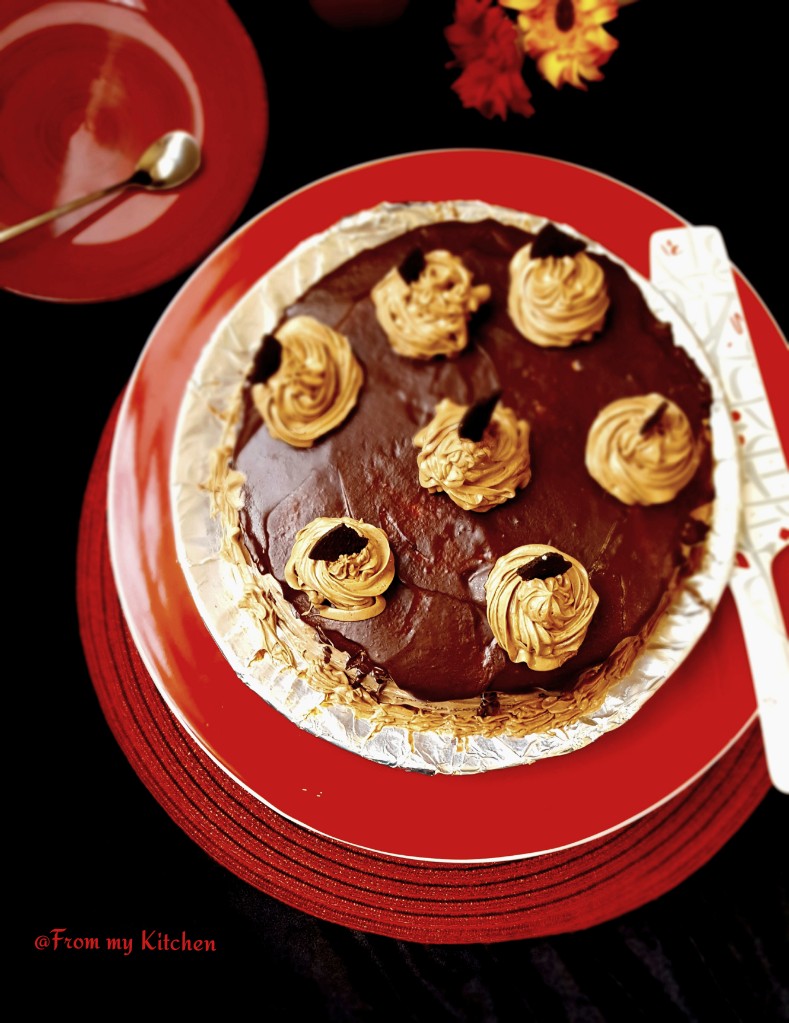 The simplest chocolate cake ever with all those moistness and richness of chocolate.Within 15 minutes your batter is ready to bake.Eid is around the corner and why not a Moist and chocolaty cake with all those mouthwatering chocolate butter cream icing!Yay That means double dose of chocolate!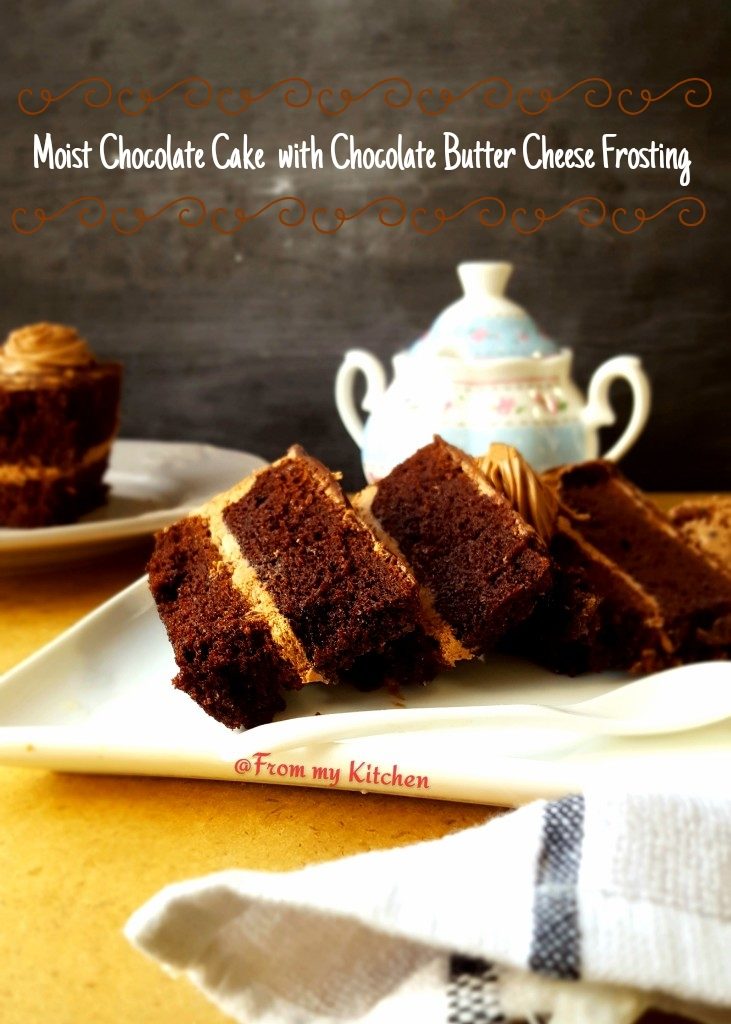 Isn't that slices looking gorgeous? For almost all cakes that require icing, i used to bake this chocolate cake.Made it on Kshif's request and saved it to share during the time of Eid.Kashif was eagerly waiting for Azaan so that he can have a slice,and until I've clicked was hiding it from my toddler hehe!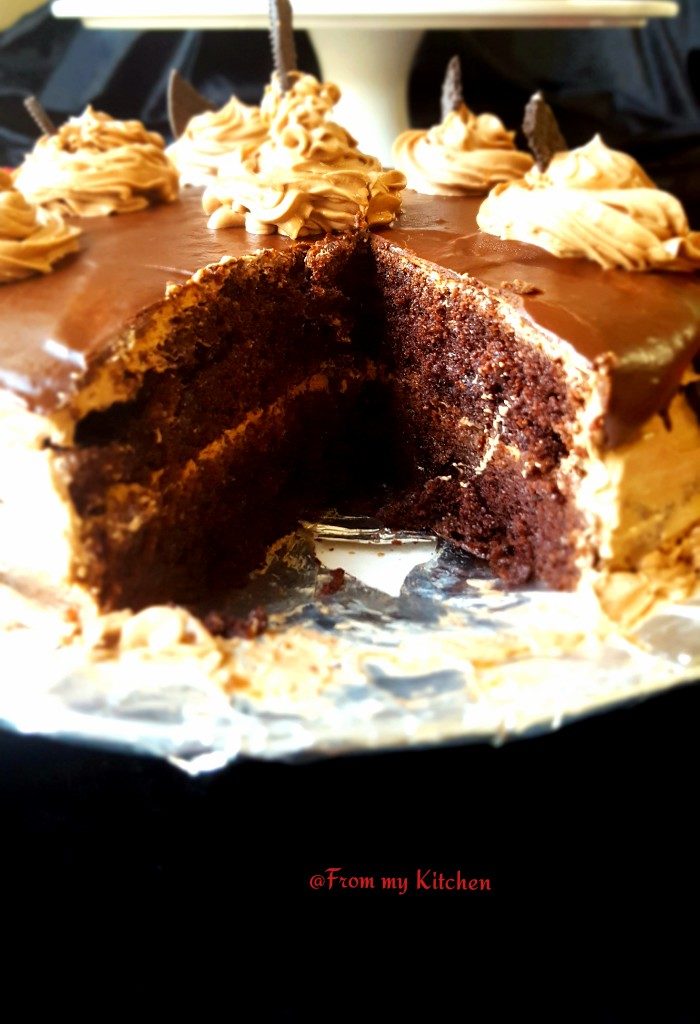 This cakes need only a hand whisk and spatula for mixing.No electric blender ,no kitchen aid nothing fancy.Perfect Eid treat isn't it????Even kids can do it.I added cream cheese along with the butter cream to cut the over sweetness and the icing was perfecto!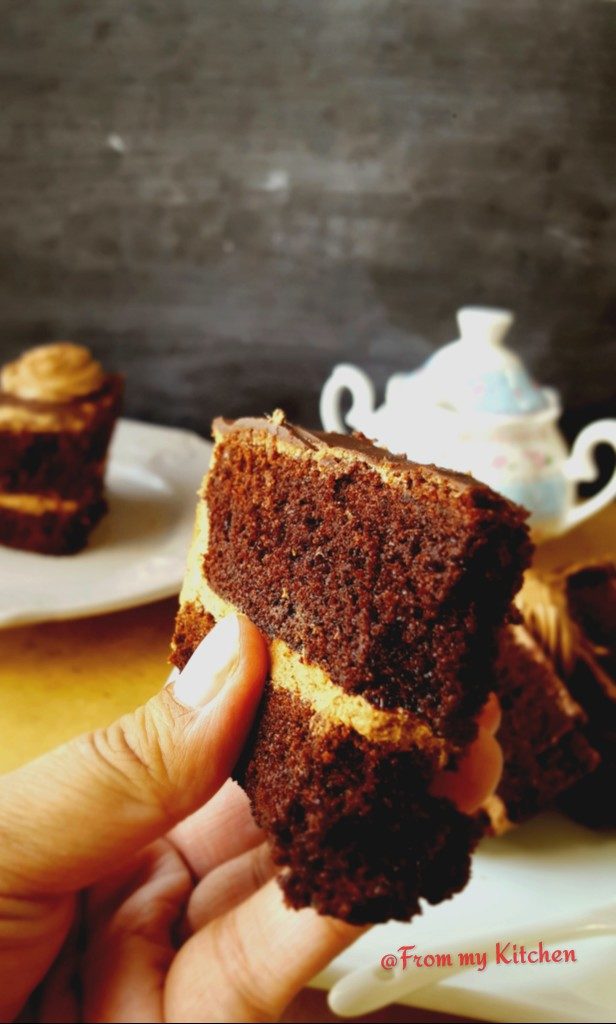 Come on take a piece,my Eid treat for you all!
Over to the recipe
Ingredients
1 cup all-purpose flour
1 cup powdered sugar
1/3 cup unsweetened cocoa powder
1/2 tsp baking powder
1 tsp baking soda
pinch of salt
1/2 cup milk
1/4 cup vegetable oil (or melted butter)
1 tsp pure vanilla extract or essence
1/2 cup HOT brewed coffee
(1/2 tsp. of instant coffee mixed in 1/2 cup of hot water)
1egg
For Icing
150 gm butter
50 gm cream cheese
1 & 1/2 cup icing sugar (you can add up to 2 cups)
1tsp vanilla essence
120 gm cooking chocolate
1 tbsp cocoa powder
Method
Preheat oven to 180 degrees and prepare two 8 inch cake pan.
In a bowl, mix together all the dry ingredients.
Create a well in the centre and add all the rest of the wet ingredients except coffee. Mix well until combined and then add the hot coffee. Mix once again.
Pour into greased pans and bake it for 30 to 40 minutes or until a skewer inserted comes out clean. Cool the cake completely before icing
For Butter Cream
Make sure your butter and cheese are at room temp
Mix together butter,cheese and beat it to make smooth.
Now add in the sifted icing sugar and cocoa and beat until you get a stiff and fluffy frosting.
Pour 3tbs of the melted chocolate in icing while beating it and preserve the other half to pour on top of the cake
Now ice your cake and chill it to set for 1/2 to 1 hour.Relish it
Notes: I halved the measurement of cake.If you want a big cake double the qty.
This cake is so moist that it doesn't need any simple syrup.
You can skip the cream cheese in icing and stick on to butter if you don't like it.