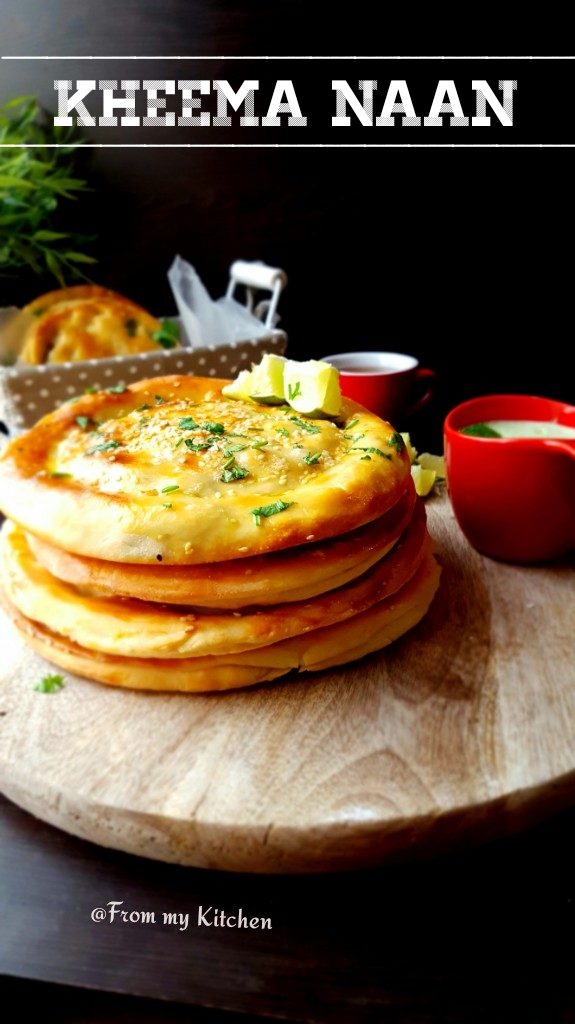 I'm here with a grease free recipe!I noticed it's long time I've been shared a baked goodness!So here comes the delicious Kheema Naan prepares in no time.Soft naans stuffed with scrumptious Kheema masala and cooked to perfection.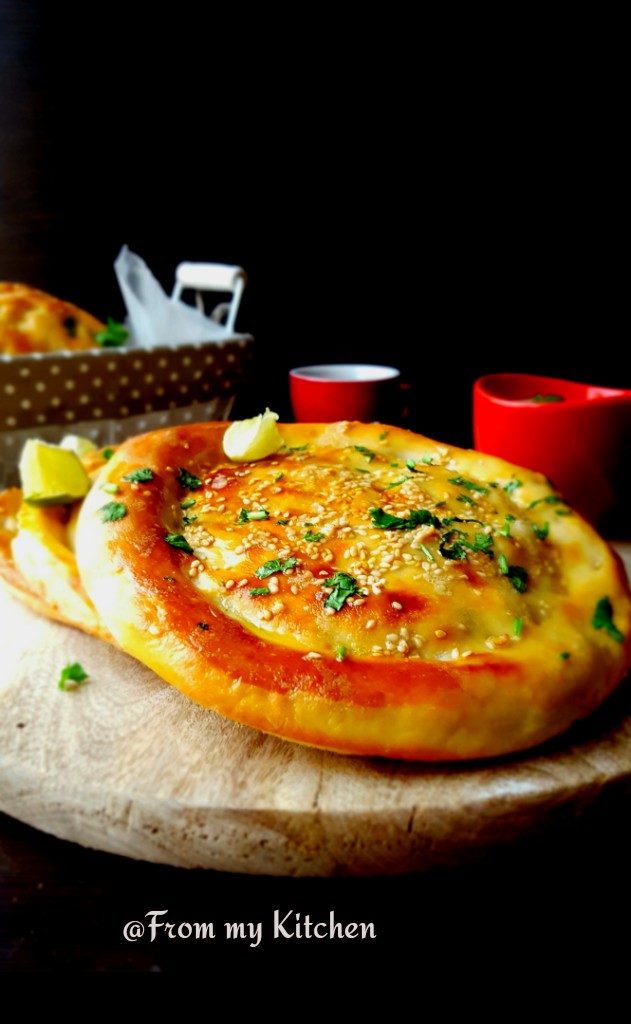 Here i used mutton mince and all the cooking process is done in an oven.We need to just mix everything thoroughly with our clean hands stuff it and bake it.I always doubt that meat cooks or not if directly put it in the oven without cooking,and i'm pretty sure many of you have the same doubts too.Usually we used to cook our meat for more than 15 to 20 minutes.So here too we are baking it for 20 to 25 minutes,that means your meat will cook through for sure.I want to clear that doubt first so no worries the meat will be done completely.
A comfort food that makes your tummy happy with soul satisfying flavors!The combo with this kheema naan is a very simple coriander mint raita.Here we all loved it,I made some small naans to have while breaking fast ☺So if you want to make it in smaller size go for it.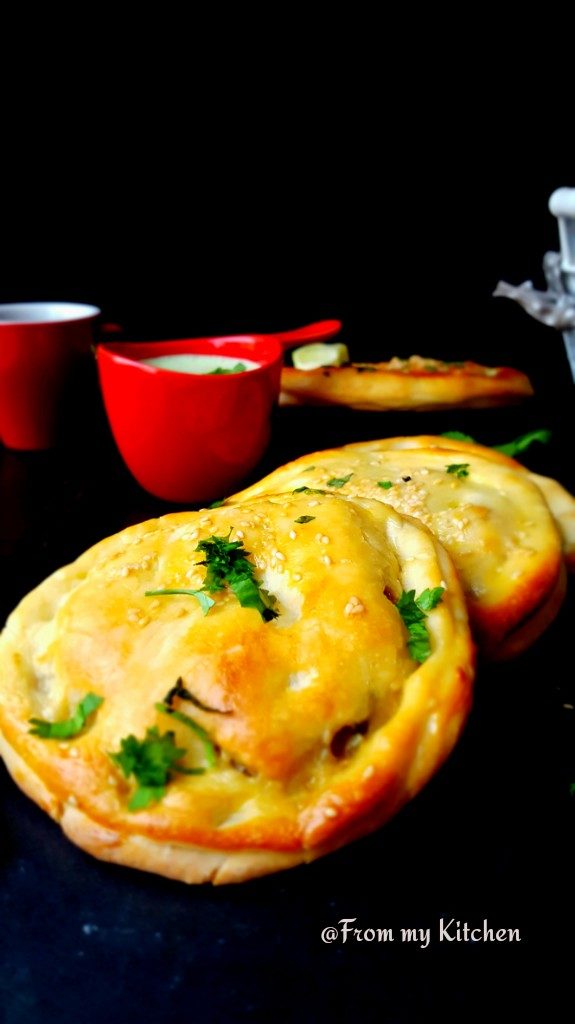 Shaping this is a little tricky all other process is so simple and easy.I made step by step tutorial here.I'm sure kids and adults will relish it alike.You can make it with chicken mince too.Over to the recipe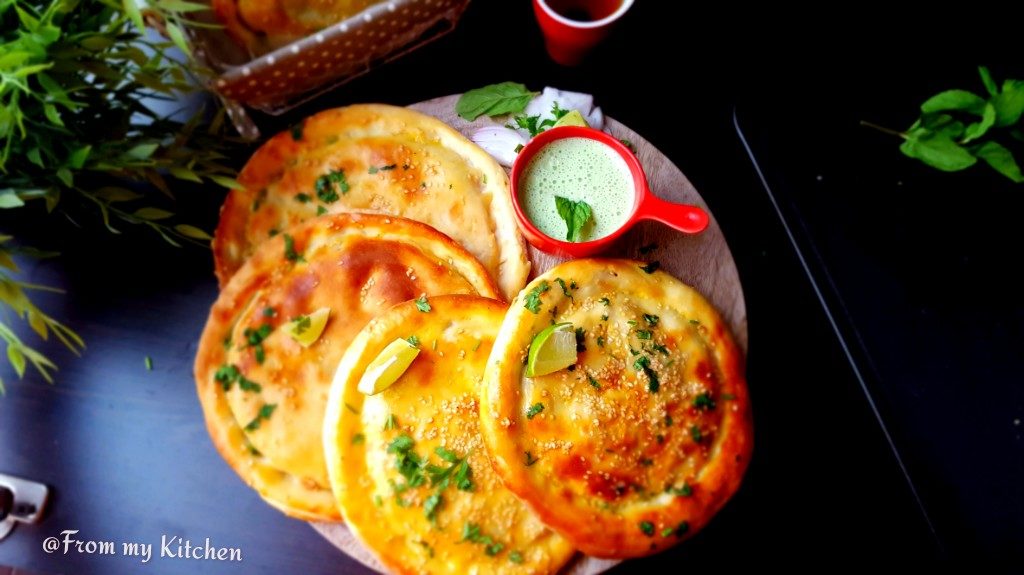 Ingredients
3 cups all purpose flour
Salt to taste
1 tsp sugar
1 tbsp yeast
A pinch of baking powder
3 tbsp oil
3 tbsp yogurt
3/4 cup milk
1/2 cup water
Butter to apply after cooking
For Kheema
400 gm mutton/chicken mince
2 small onions
2 tbspn garlic chopped
1 inch piece ginger chopped
3 green chilies
1 tsp chily powder
1/2 tsp coriander powder
1 tsp cumin seeds
1/2 tsp cumin powder
Salt to taste
1/2 to 1 tsp pepper powder
1 tbsp lemon juice
lots of cilantro
2 pinches of Kasurimethi(dried fennugreek leaves)
Method
Knead the dough.
First mix dry ingredients and then wet and knead it to a soft and pliable dough.Let it sit in a warm place for 2 hours and proof.
For Filling
Finely chop all the veggies like onion,ginger garlic,green chillies and cilantro
In a large bowl dump in the mince add onion,ginger garlic,green chillies and all other seasonings and salt.
Add cilantro and lemon juice mix it well with your hands.Make sure it's mixed evenly.
Keep it aside for 1/2 an hour.
Assembling.
1.Divide the dough into 10 equal portions.If you don't want it that big divide it into small equal portions.
2.Roll the dough in to equal size discs,Fill a heaped table spoon of Kheema on top of it and spread it evenly with your hands.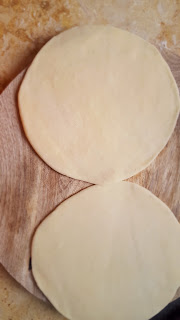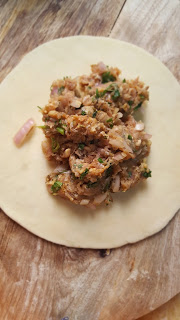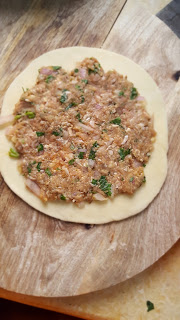 3.Now cover it with other disc.Tuck it inside and make a dent with you fingers like shown in the picture.Start pressing the dough from the centre with the tip of your fingers and make it even.Apply egg wash sprinkle some sesame seeds on top.and bake it on a preheated oven at 180 degree for 20 minutes.
For the dip
A handful of coriander leaves
A handful of mint leaves
2 hot green chillies
1/2 tsp cumin seeds
Salt to taste
1/2 cup yogurt
First pulse the greens and then pour yogurt in it and pulse once more .Here ready the dip.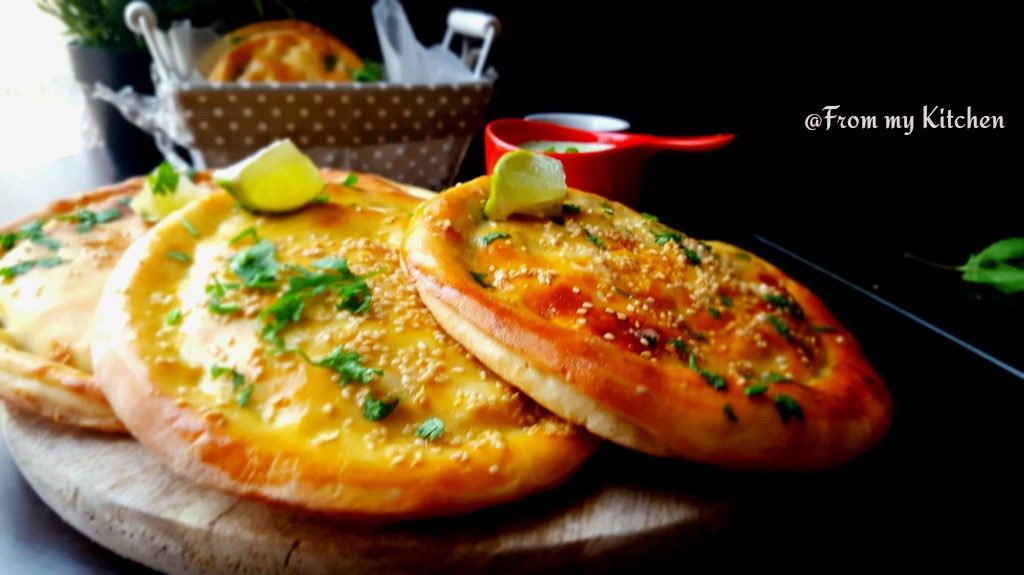 Serve it hot hot with mint raita!