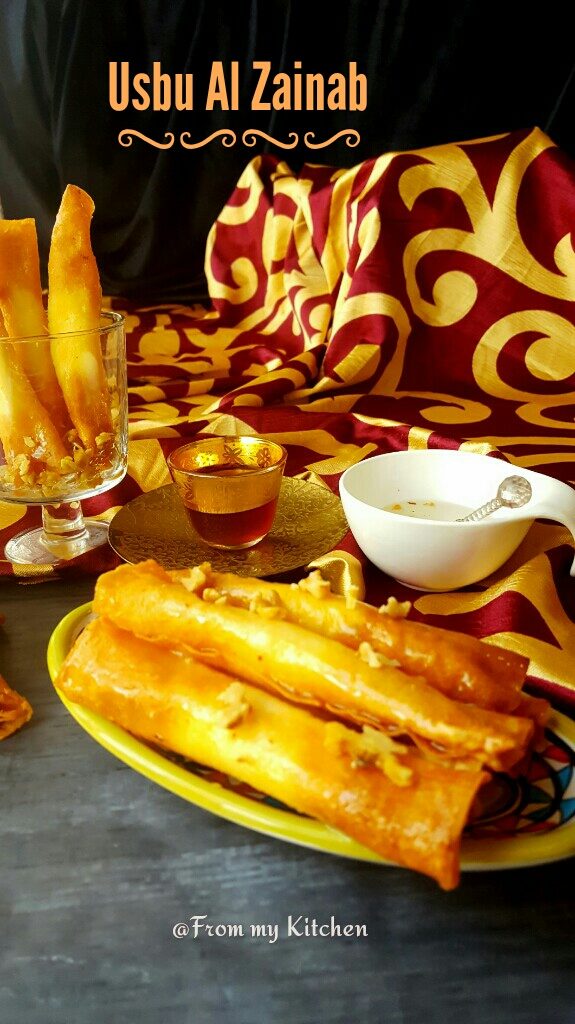 Its time for another MFB Challenge !!This time it's again recipe from a particular blog as how we did in our first challenge! I thought i will miss this challenge as i totally forgot about it and this recipe from the blog saved me!An easy peasy last time rush!I'm glad i tried it. This one will be my go to recipe for the coming Ramadan Insha Allah!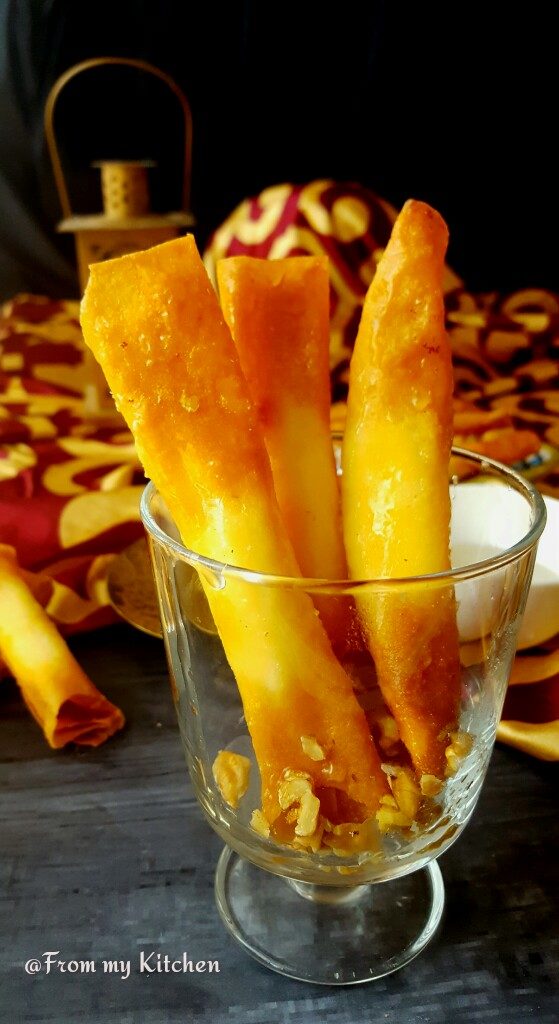 This time the blog is "Shab's cuisine"which is rich in recipes for different varieties and cuisines with wonderful visual treat!It has lots of Malabar recipes too!Loved the collection of recipes over there!Coming to today's recipe Usbu Al Zainab is a common evening snack made during Ramadan!It is a crispy cheese roll made with tiny bits of cheese rolled in samosa pastry then deep fried in oil and served with sugar syrup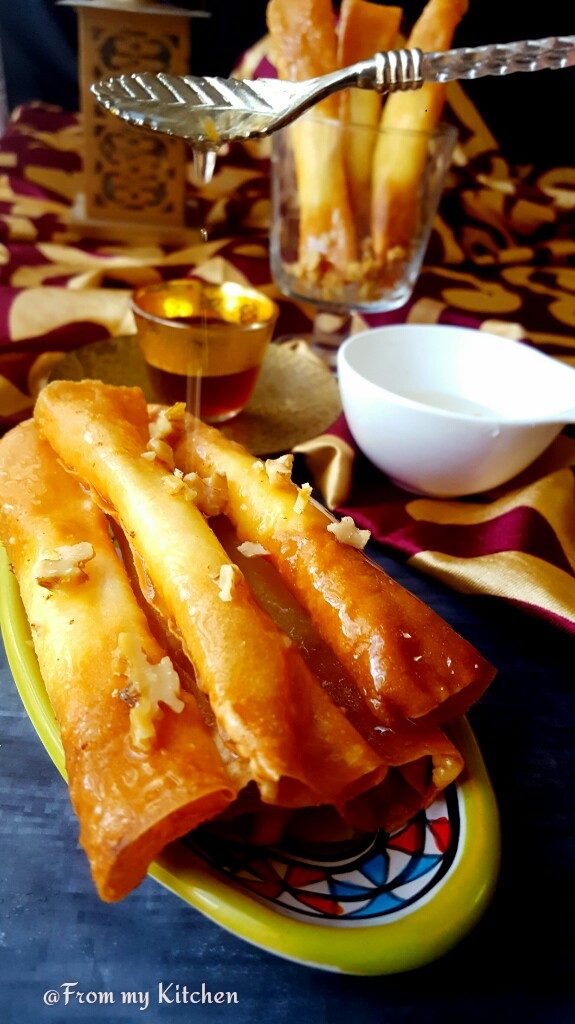 Really it's so crispy and delicious with minimal ingredients.As i have no samosa pastry in my pantry i used spring roll sheet so sides are not so neat as it its longer than samosa sheet.If you use samosa pastry it will come out in perfect rolls!This will be a great idea for the cheese loving kids to pack in lunch box. Crispy,cheesy and sweet.What else they want!hehe!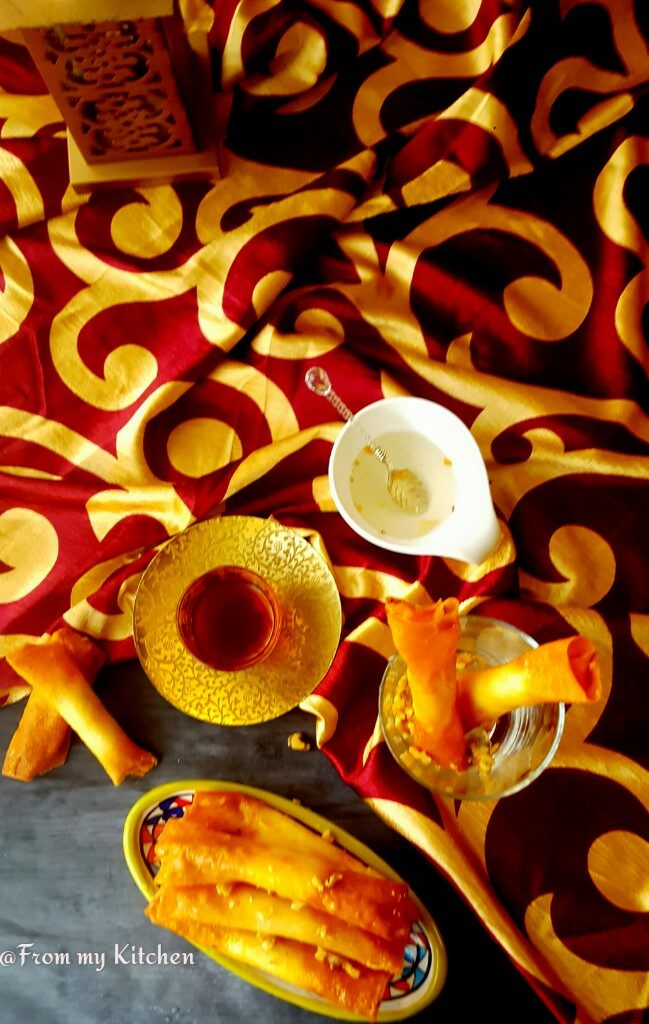 Over to the recipe
Ingredients
15 to 20 spring roll sheets or Rectangular samosa pastry
6 to 8 cheese cubes
For sealing the pastry
2 tbs plain flour
4-5 Tbs water
For syrup:
Sugar – 1/3 cup
water – 1/3 cup
cardamom – 3 nos.
lime/lemon juice – 1 tbs
Oil – for deep frying the rolls
Preparation
1. For preparing the sealing, mix well the flour and water until u get a thick paste. This mixture is used to seal the edges of the pastry after rolling. Keep them aside.
2. Place a small piece of cheese in the tip of the short end, leaving a cm form the edge. Follow picture instructions.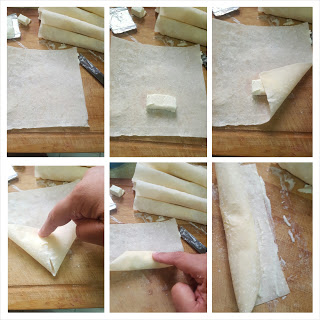 3. Seal the cheese completely by folding the edges. Then roll the pastry until the edge. When it reaches the end, spread a very thin coating of the flour and water mix to the tip of the pastry and seal the edges. With one cheese triangle you should be able to make around 6-7 rolls. Repeat the same process with all the samosa pastry sheets.
4. Fill a frying pan half way with oil and set the flame to medium. Put few rolls at a time. when it turns golden on one side, turn it over until other side also turns golden. At this stage, sometimes, if the cheese is not completely covered in, the cheese inside will start to melt and ooze out in the oil. This will start crackling and oil will start spluttering a bit. So be careful to use long handed spoon or tongs for this. And as soon as this happens, remove the rolls from the oil and place them on kitchen towel to drain extra oil. NEVER USE A SPOON WITH SMALL HANDLE.
5. Preparing syrup: Heat a saucepan and add water and sugar. Let it simmer gently for about 10 minutes until thick and syrupy. DON'T stir the mixture using spoon, just swirl the pan, incase necessary. Add crushed cardamom and lemon/lime juice, boil for a minute turn the flame off. Set aside to cool.
6. Serve the rolls on a serving plate and sprinkle the syrup all over. The rolls remain crispy for very very long time even after pouring the syrup over!! I dont know how.
N.B. You can prepare as many number you want, and If you want to avoid cheese, that works very well too. Also any other choice of filling like paneer,cream so on..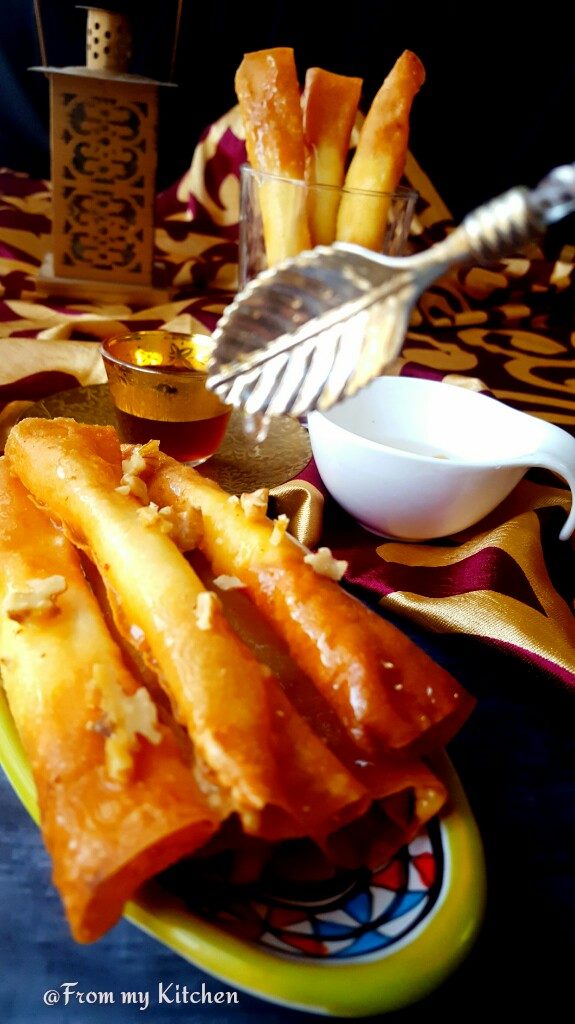 I'm sure this will be a great recipe for the coming Ramadan!Hope you guys will give this a try!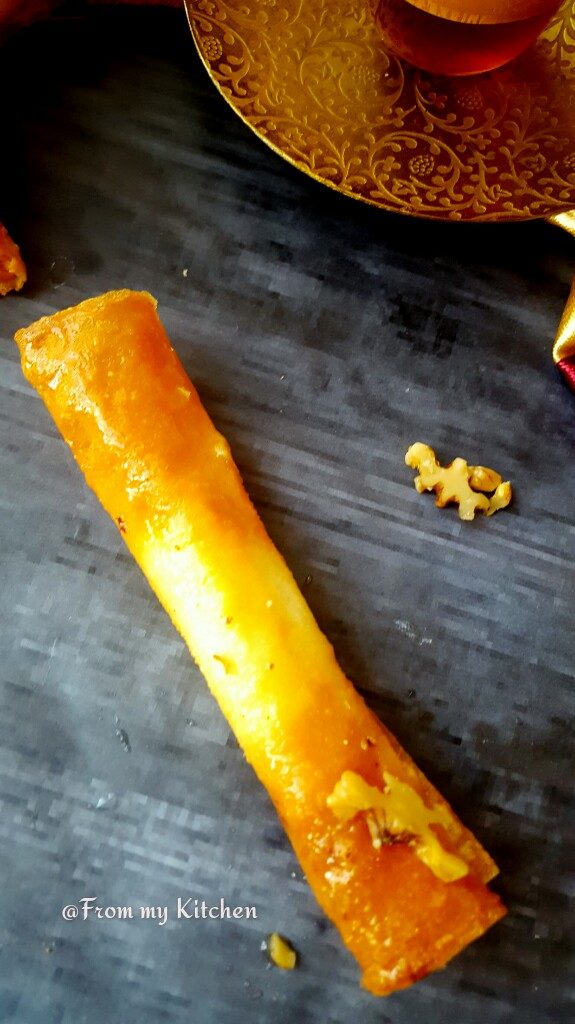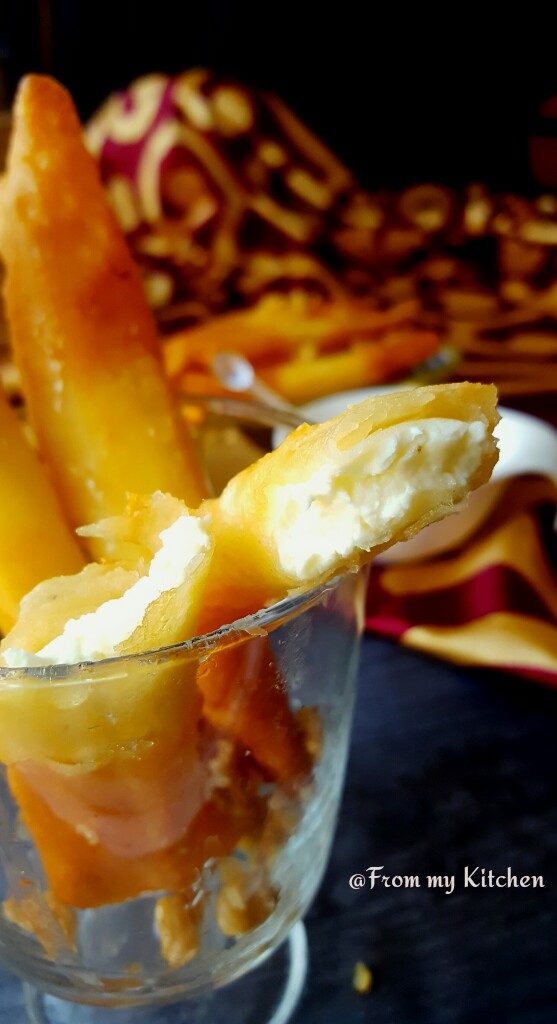 Happy Cooking!!