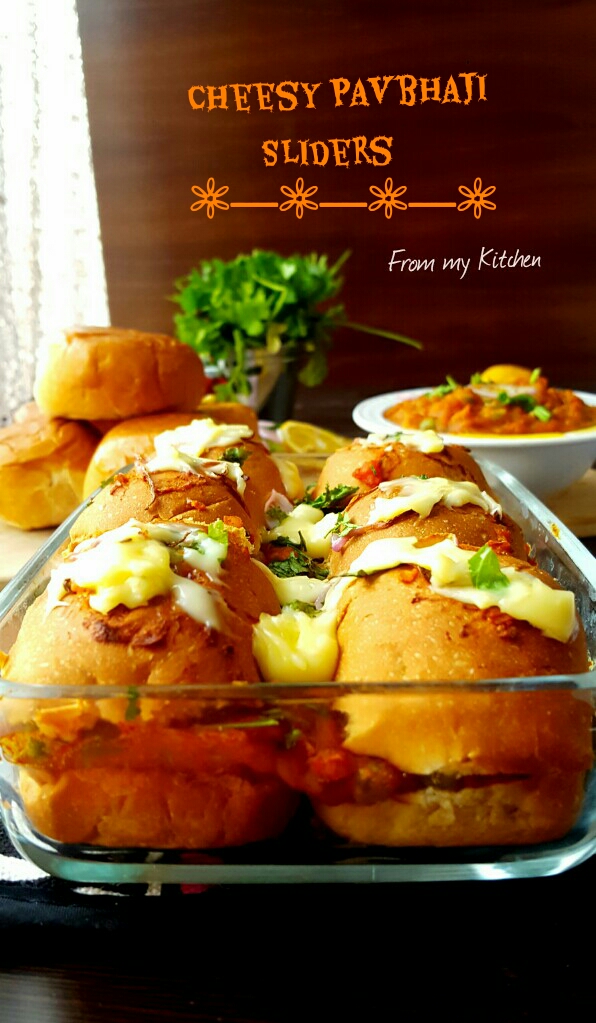 Cheesy Pavbhaji sliders!By the name itself you can imagine the deliciousness in it!Yes a small twist in our famous pav bhaji and the result is divine.Fusion of Indian pav bhaji and American cheesy sliders!Pav bhaji is a well known street food in India that consisting a spicy veg gravy (bhaji) topped with butter mostly served with soft and small buns(pav).This is such an amazing combo in itself.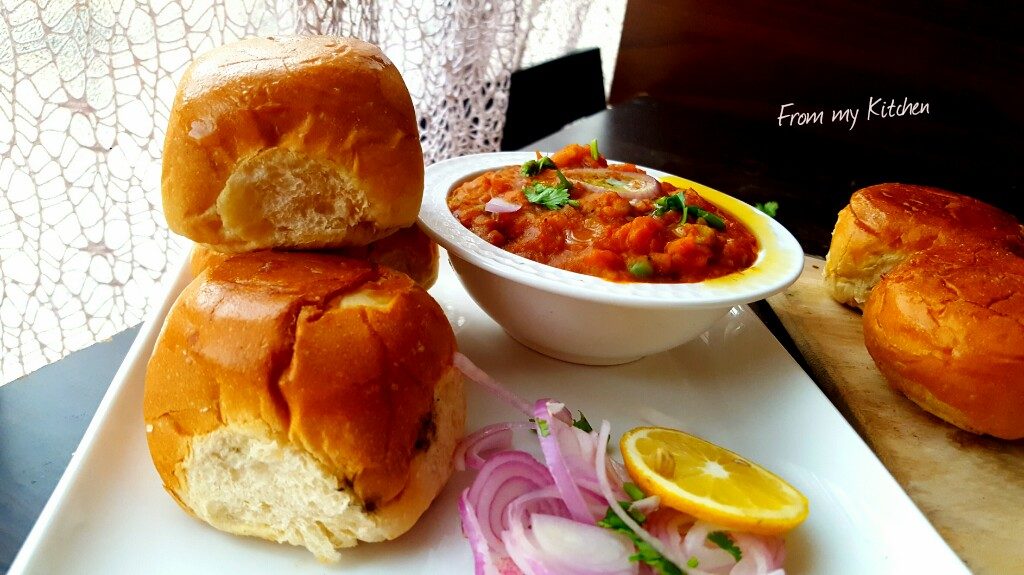 I'm sure most of you tried this at least once in home,so i want to make a twist and bring fusion to our lovely humble delicacy.Soft melt in mouth bread filled with thick,spicy vegetable gravy topped with some onion,coriander leaves and thick slice of cheese.Close the bread apply some butter ,some more cheese on top and bake for 10 minutes.Baking gives nice crust to the sliders.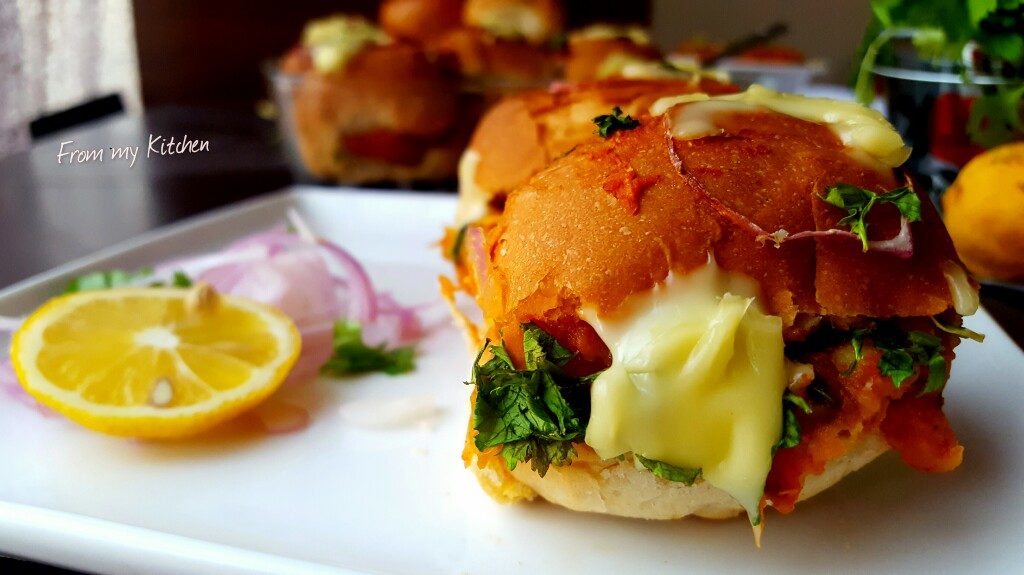 I made some with cheese and leave the rest like pav bhaji.But the demand was highly for cheese sliders!hehe!This was our Monday dinner.My family just loved it,Make it your fav too!This will be a gr8 option for a tea time snacking!Here the bhaji too cooked in very simple and easy manner.Hope you all will like this.There are many methods and ways to make this gravy but smartness is to choose the simplest and the tastiest one!So here is it for you from my side.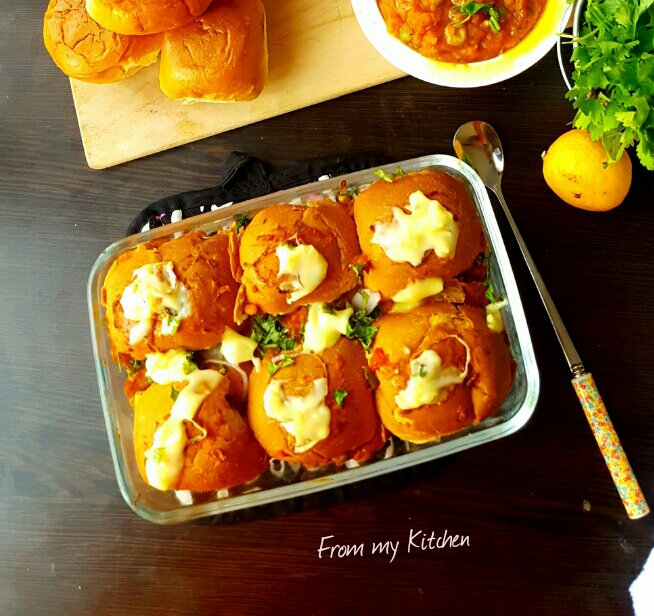 Here i boiled veggies-potato,carrot and tomato together and mashed,Then made the onion masala and mixed the veggies.In pav bhaji the vegetables are mashed or chopped finely.It's a smooth and delicious buttery flavored curry.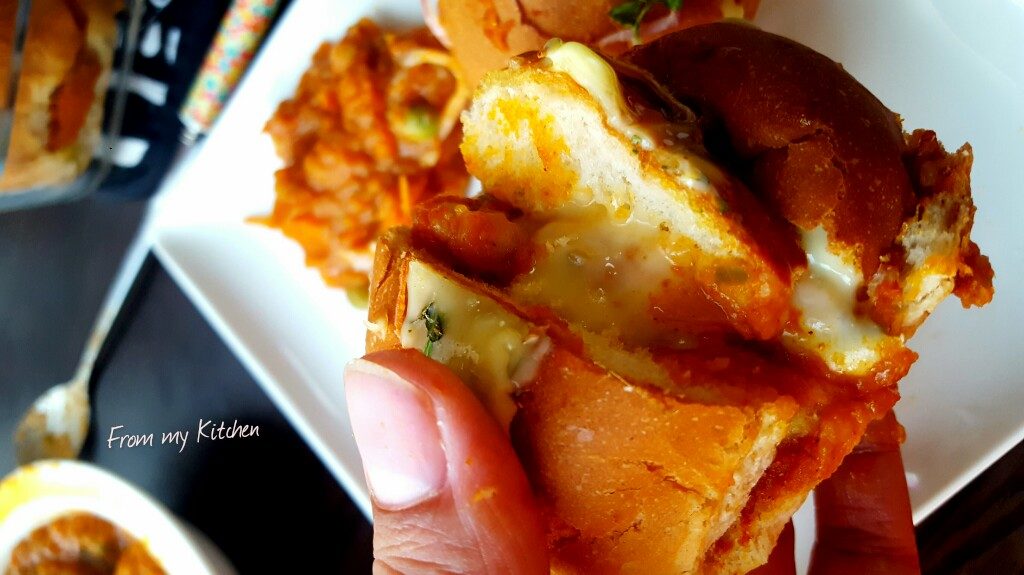 Without further delay lets check out the recipe.
Ingredients
Pav bun recipe on the blog if you want check here
For Bhaji
2 tbsp butter+1 tsp
1 big potato
1 large carrot
Handful of green peas boiled
Some cauliflower florets crushed or grated
3 tomatoes
2 medium sized onion finely chopped
1/2 bell pepper finely chopped
1 tsp ginger paste
1 tsp garlic paste
3 to 4 tsp pav bhaji masala
1 tsp chilly powder
1 tsp cumin powder
Salt to taste
Water as required
Lots of coriander leaves
Lemon juice
Other ingredients
Mozzarella and slice cheese
Some onion rings
coriander leaves
Method
Boil together potato,carrot, and tomato with some salt and water.If there is excess water drain and reserve it for later use.Mash the veggies including peas and keep aside.
Half Boil cauliflower grate it and keep aside.
In a pan melt butter and add onion,ginger garlic paste cook until soft and tender.add salt in between.
Add bell pepper and cook for a while,Then add pavbhaji masala,chilly powder(if need) mix well and cook for few minutes.
Now pour some of the vegetable stock we preserved and dump in the mashed veggies and cauliflower.Mix well with the back of a spoon or a potato masher.Add required water.
Add cumin powder,squeeze in some lemon juice and add lots of coriander leaves.
Check for the seasonings
Remember we are using it as a filling for sliders don't make it too watery.We need a thick gravy here.Or else you may add required mount of water.Add a dollop of butter on top while serving.
To assemble
Preheat the oven to 180 degree
Half the pavs and arrange it in a glass pan,spread good amount of the bhaji,followed by cheese,onion and cilantro,close it apply some butter, brush some gravy on top with some cheese slices.Bake it for 10 minutes or until the cheese melts.Serve it hot hot.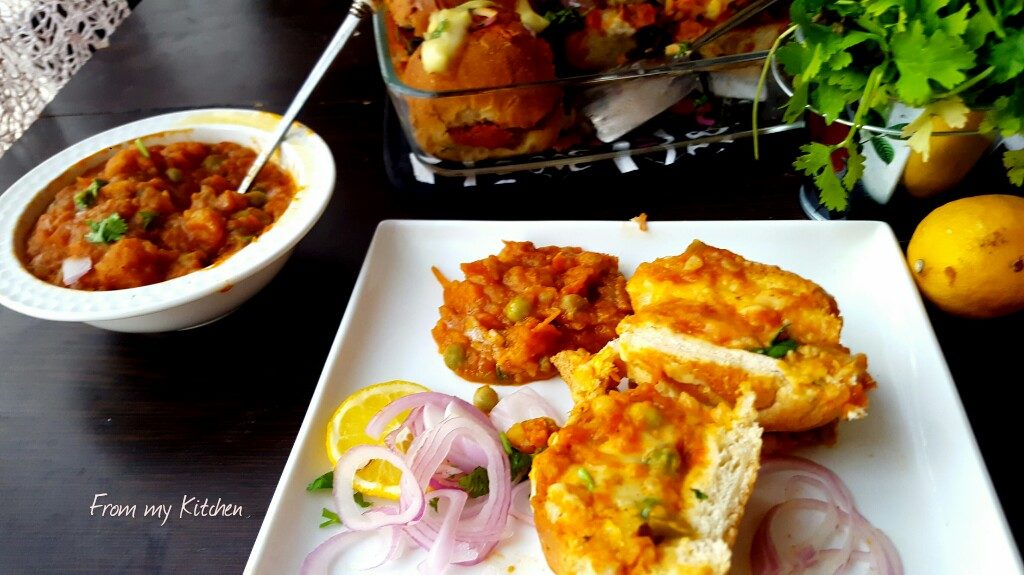 Here is the inside view of gooey,cheesy,spicy bhaji sliders!I highly recommend you to try this version of Pavbhaji!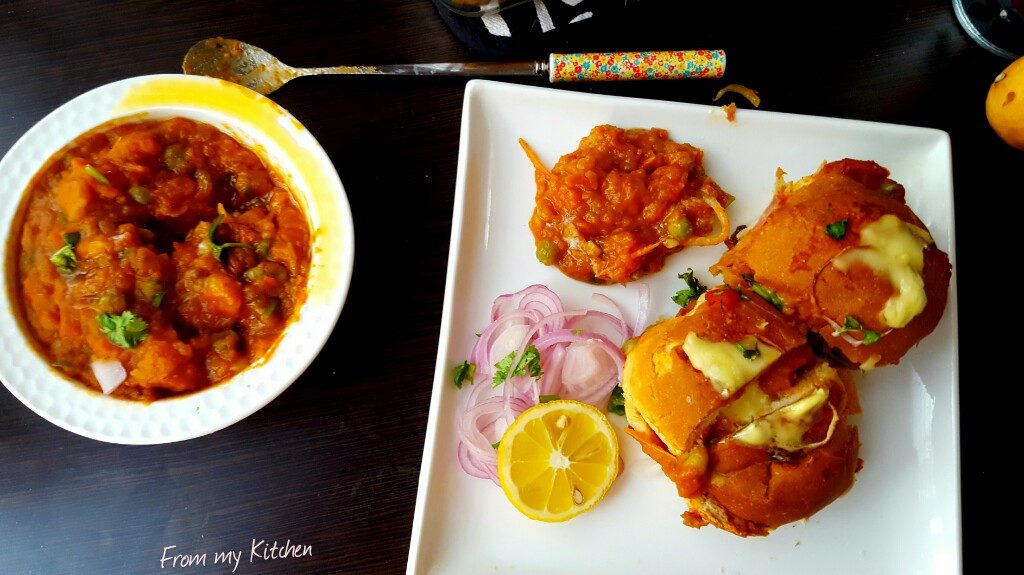 Make it spicy if you can handle the heat.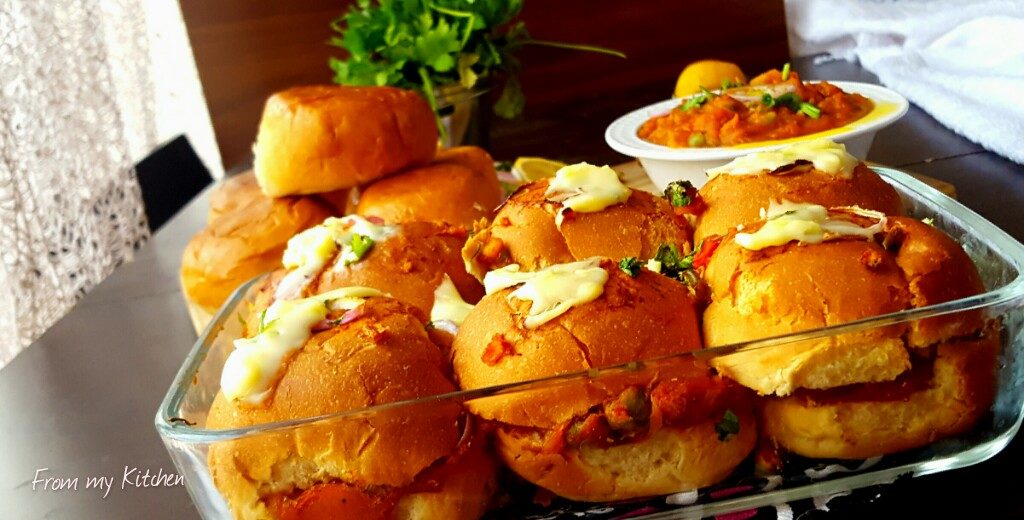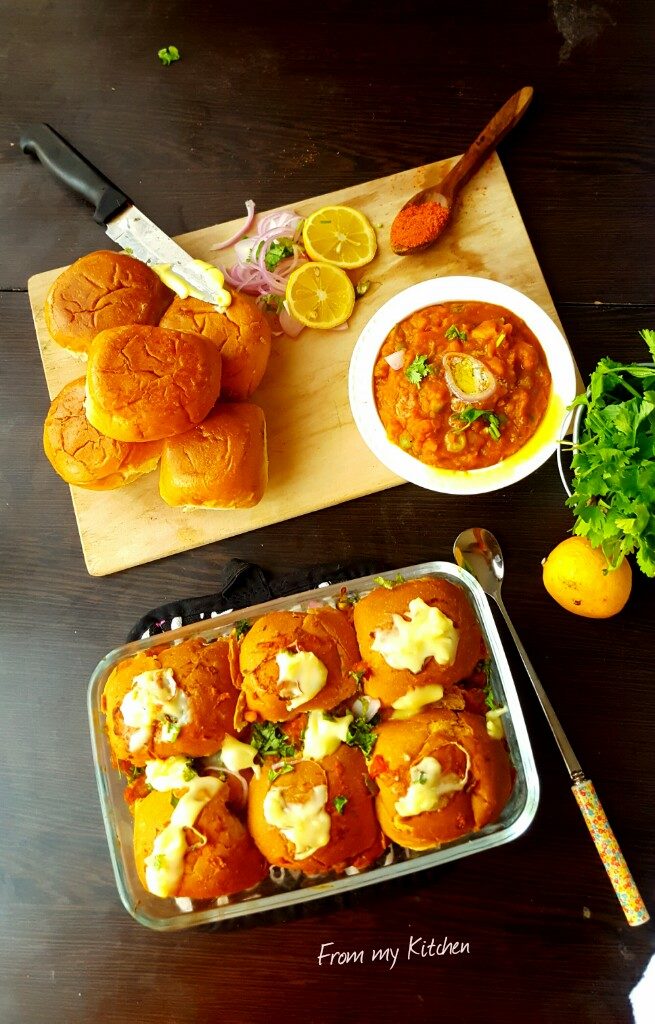 Happy Cooking!