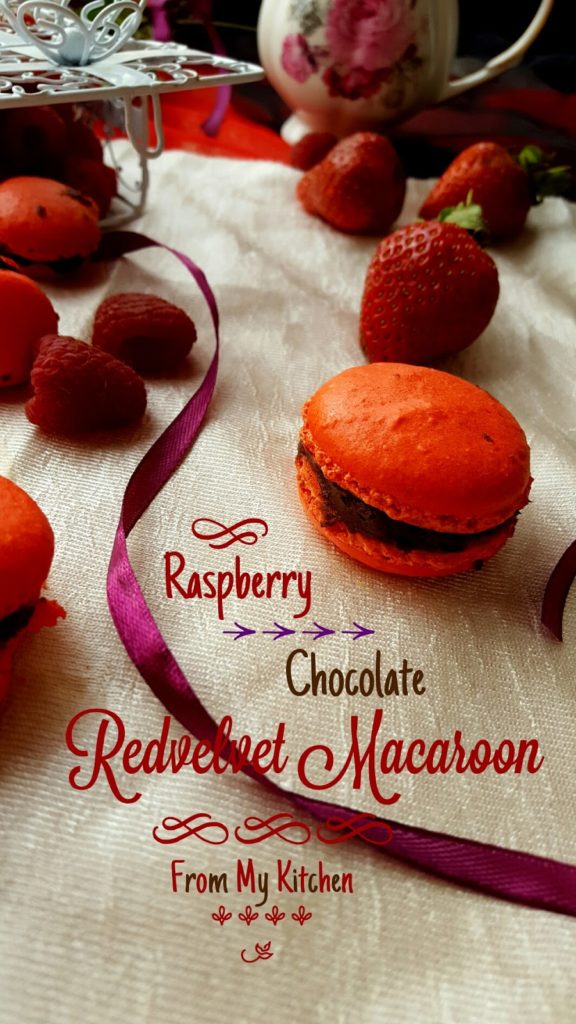 I'm so so so in love with these beauties!hehe!Addicted to macaroons!Really can't stop by one or two even if it's too sweet in nature!The crispy crust and the chewy center with a chocolate filling!!I have no words to explain the flavors blast!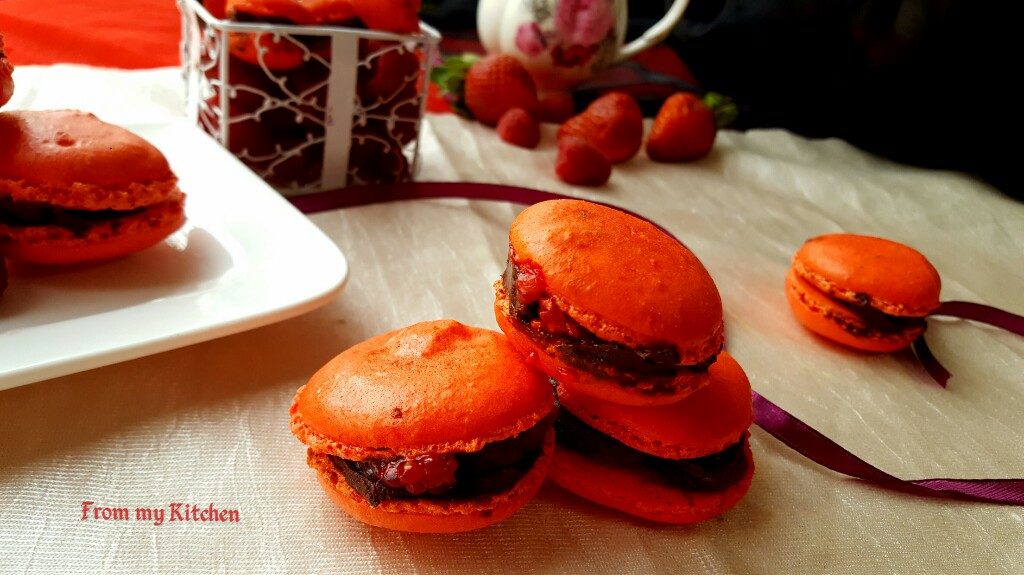 Here i added raspberry to cut down the extra sweetness from the macaroons and frosting!But if you don't want skip it.Raspberries are added in some of them,and rest left with chocolate frosting,because not sure if kids love fruit in it.But trust me it was just awesome.We all love it and have it like crazy!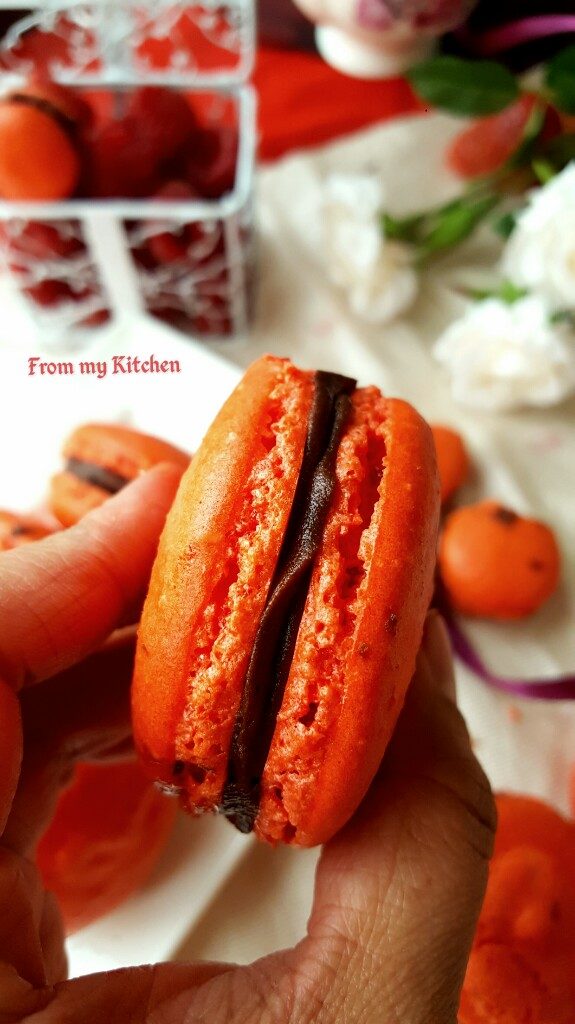 I love to make meringues because there are no much fats in it!No egg yolks,no butter,no flour , but it's extra sweet in nature! Whenever it's fine !RYT?So the month of love is here!I love February 😊because there are many special days and occasions for me in Feb…!If you are planning to give something sweet and surprise your valentine, then nothing better than this!😊😊(But we never celebrate such days!)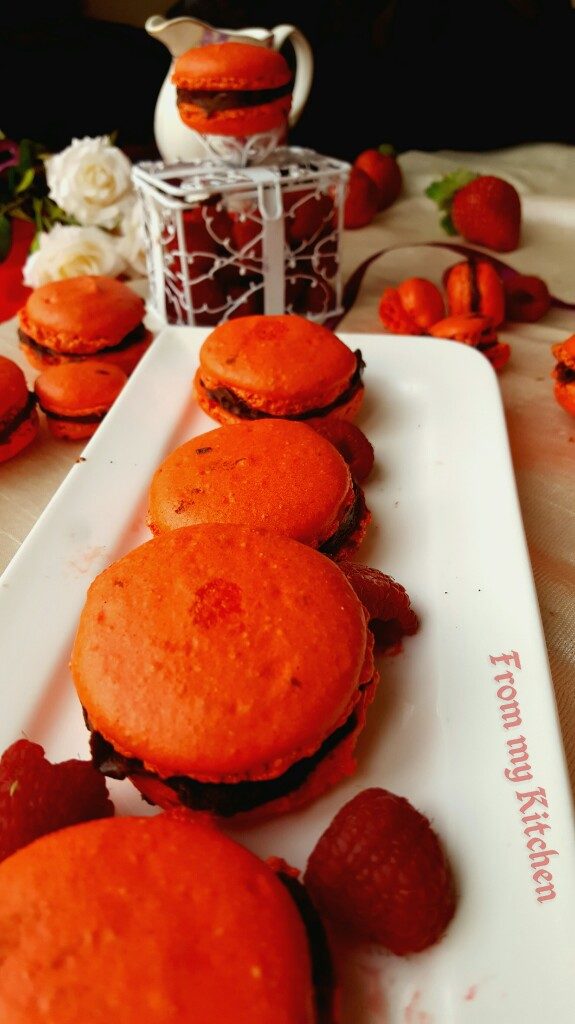 Here i used chocolate butter cream!You can also use chocolate whip cream or cream cheese frosting.For red-velvet always cream cheese frosting are used,so for a change i made it chocolate!All i have to say is you need to try these beauties for sure!It's that good!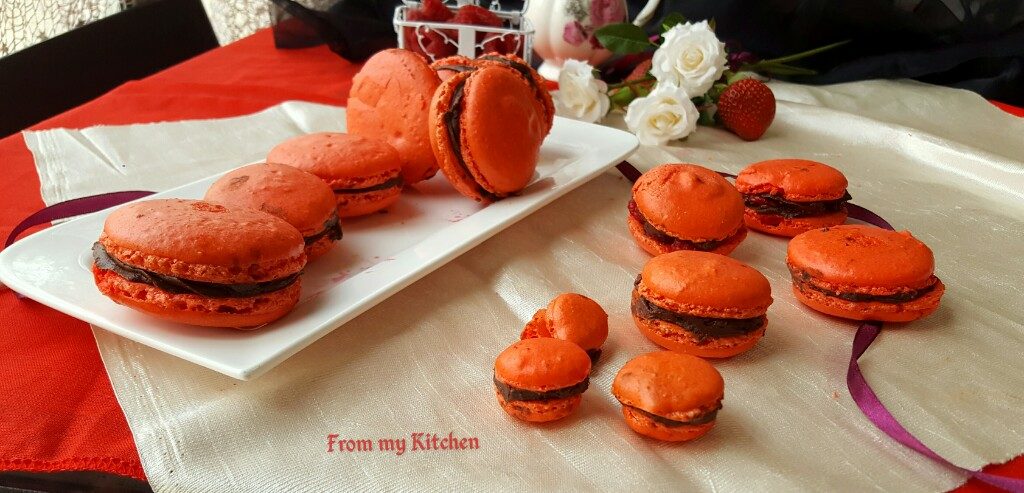 For macaroons the key ingredient is almond flour!This will be easily available in supermarkets at the spice section.So let's see how to make this!
Ingredients
3 egg whites
1 cup almond flour
1 tbsp cocoa powder
1 n 1/4 cup powdered sugar
2 tbsp sugar catser sugar
1/2 tsp of salt
1/4 tsp of cream of tartar(optl)
1 tsp vanilla extract or Almond extract
2 or 3 drops of red food color
For Filling
125 gm butter
125 gm icing sugar
25 gm cocoa powder
A tsp of vanilla
Some raspberries cut into thin slices
Method
In a large bowl sift together icing sugar.almond flour and cocoa stir to combine.
Beat the egg whites, salt and cream of tartar in a large bowl with an electric mixer on medium speed until they hold soft peaks. Increase speed to high and slowly add the sugar,red color continue to beat until the whites hold a stiff peak and they are glossy.
Using a spatula fold the sifted almond flour and icing sugar mixture into the egg whites mixture. Do not worry because the egg whites will deflate a little.
Spoon the batter into either a piping bag or in a zip lock bag. Snip off one corner of plastic bag to create a ¼ inch opening.
Pipe little mounds the size of a chocolate kiss on the parchment line baking sheets, about 1 ½ inches apart. Let the cookies stand uncovered for 30 minutes.After resting, the batter should not stick on to your finger on touch
Preheat the oven to 160 degree.
8) Bake cookies for 15 minutes. Make sure to rotate the baking sheets half way thru the baking time so they cook evenly.
If it's cooked perfectly it will not stick on to parchment paper.This temp and timing was perfect for me!
For Butter Cream
Cream together butter and icing sugar along with cocoa and vanilla until you get nice creamy filling!
Sand-which the frosting and sliced raspberries in each macaroons and enjooy!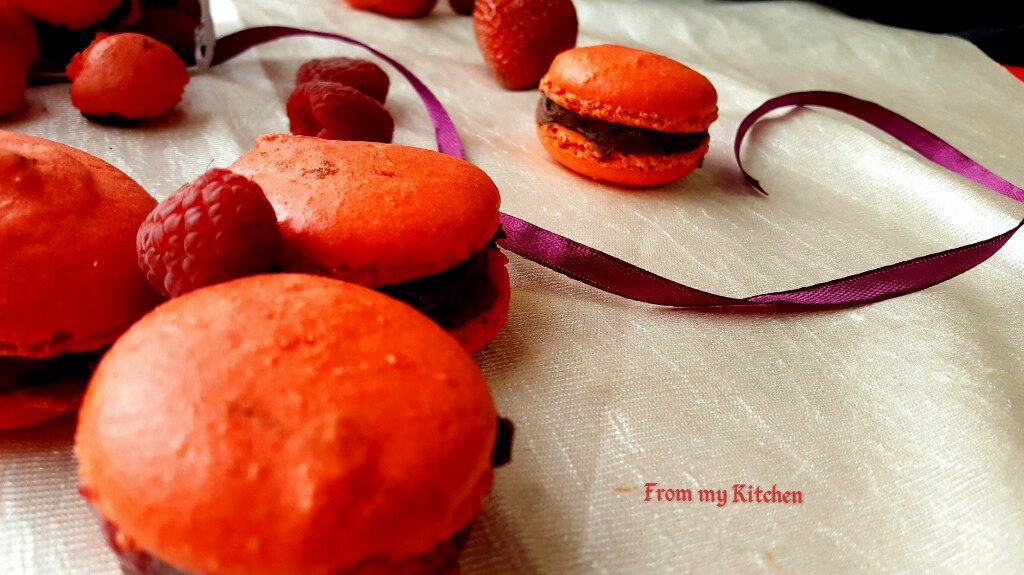 Really making macaroons are not at all a big deal or rocket science ! It's so simple to make and the taste i can't express in words…It's fantabulous!
In this picture can you see the texture?The chewy center and the crispy outer cover filled with chocolate butter cream and the juicy raspberries!Oh it was delicious!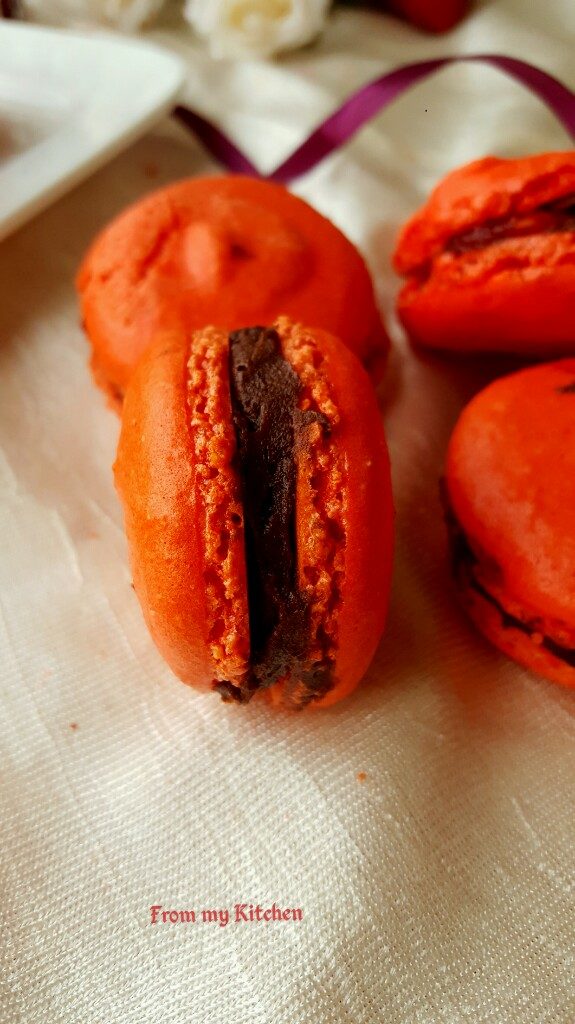 Hope you all like it!
Happy Baking!