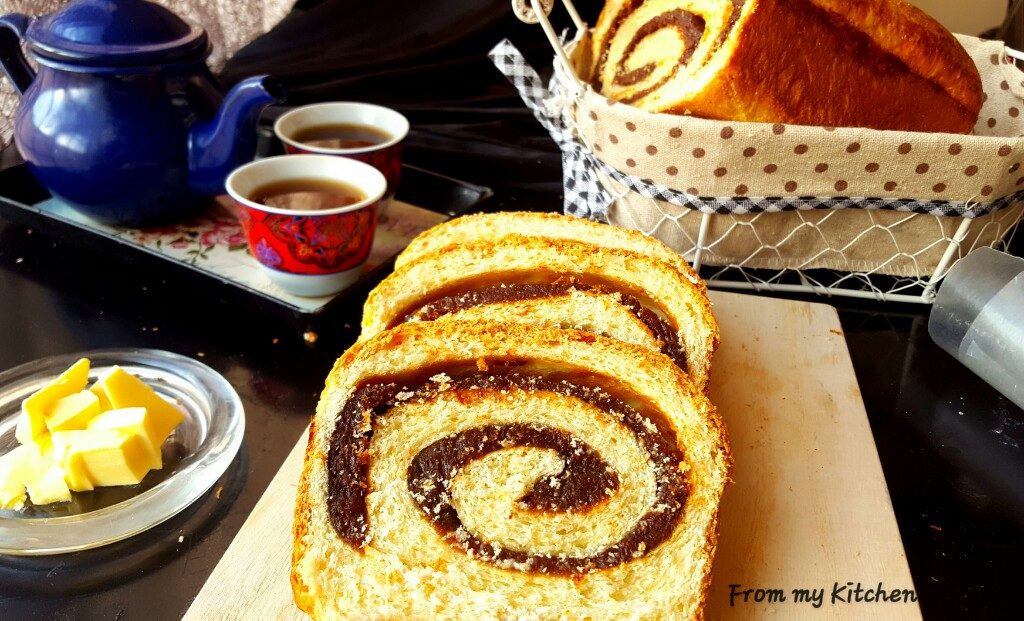 Back with yet another challenge from Muslim Food Bloggers group.Last time it was a recipe from a particular blog and this time it's with a core ingredient.Yes it's getting more interesting!The challenge is "Cooking with Dates".Anything we cook the core ingredient should be the dates.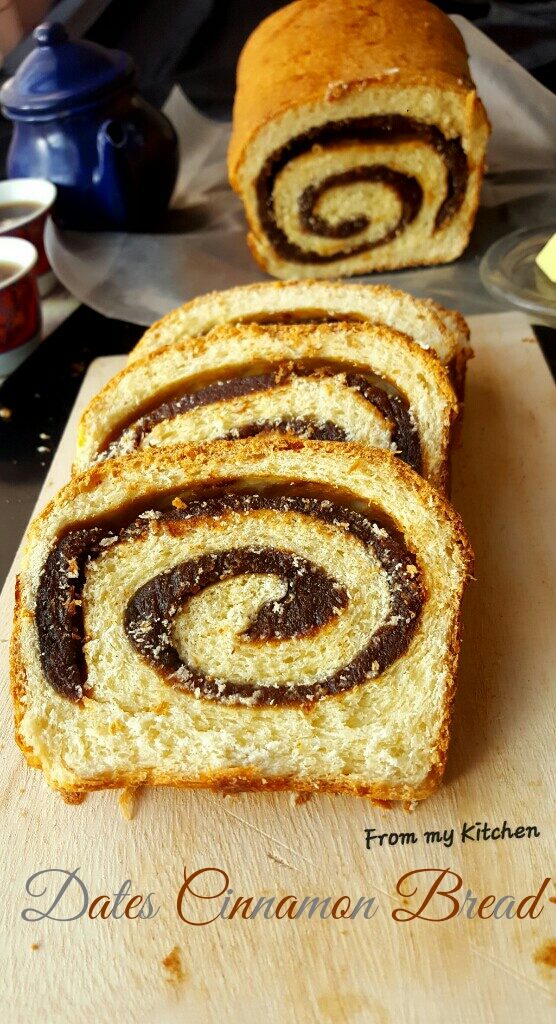 Everyone knows how massively healthy it is.Dates are one of the very best sweet and versatile foods that can regulate the digestive process. It can boost energy levels in people within half an hour of consuming it.Dates are rich in vitamins, minerals and fiber that helps in constipation,bone health and strength and level of iron in it make them a perfect dietary supplement for people suffering fro anemia.List continues ….Most importantly during the month of Ramadan Muslims through out the world break the fast with this fruit,only because of the health benefits of the dates.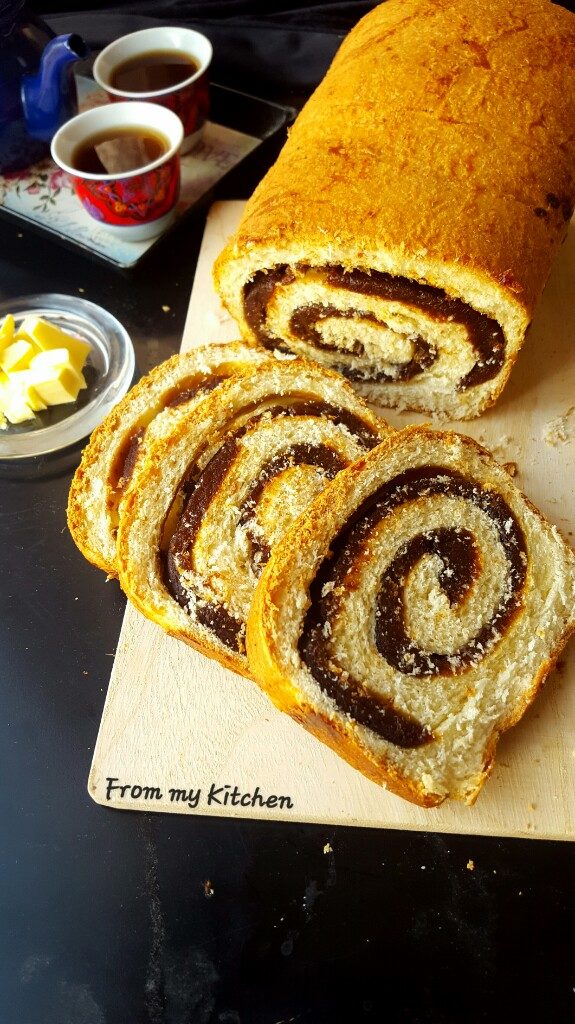 In this challenge i want to do something different and a complete food,And here is it a bread with dates.So happy i choose this one.A healthy breakfast for family!!But my filling was little thick ,next time when i'm making this i need to make it a little thinner so the sweetness doesn't overpower the bread.
For Bread Dough
3 cups all purpose flour
4 tbsp sugar
Salt to taste
2 tbsp instant yeast
4 tbsp milk powder
1 eg
3 tbsp oil
1 cup and 2 tbsp warm water
For filling
5 hands full of soft dates pitted
20 gm butter
2 to 3 tsp sugar
2 tsp cinnamon powder
2 tbsp sugar to sprinkle on top.
A handful of desiccated coconut(optl)
Note: you can replace the dates with dates paste.
Method
Mix dry ingredients and then add egg,oil and water and knead the dough until everything comes together. Turn the dough onto a floured surface and continue to knead until the dough is nice and smooth for 8 to 10 minutes.
Lightly grease a large bowl place the dough in the greased bowl, brush the top with a little oil and cover and keep it in a warm place for proofing.
Meanwhile lets prepare filling
In a sauce pan add butter when its melting add the pitted and chopped dates with sugar(if need) , and cook until its soft and mushy.Stir in between.If its not so smooth paste blend it in a grinder and make it to a smooth paste,If you feel like your paste is too thick and can't spread on the dough make it thin by adding a little milk.That's it your filling is ready.
Mix 2 tbsp sugar with 2 tsp of cinnamon powder and keep aside.
Assembling
Grease a loaf pan with some oil and set aside.
Dump the dough onto a lightly floured surface, Roll it into into a rectangle shape which is equal to the length and width of your loaf tin.Like this
Smear some softened butter. Spread the dates mix Sprinkle the cinnamon sugar and desiccated coconut.
Starting from one of the short ends roll it as tight as you can and pinch the edges. Place it seam side down in your prepared loaf pan, cover it with a kitchen towel and allow it to rise above the edge of the loaf pan.You can see the below pictures.
In the meantime, preheat your oven to 180 degrees.
Egg wash the top and Bake your bread for about 30 to 40 minutes or until golden brown. If you see the bread turning brown too quickly,cover it with a foil to stop it from getting too dark. Allow it to cool completely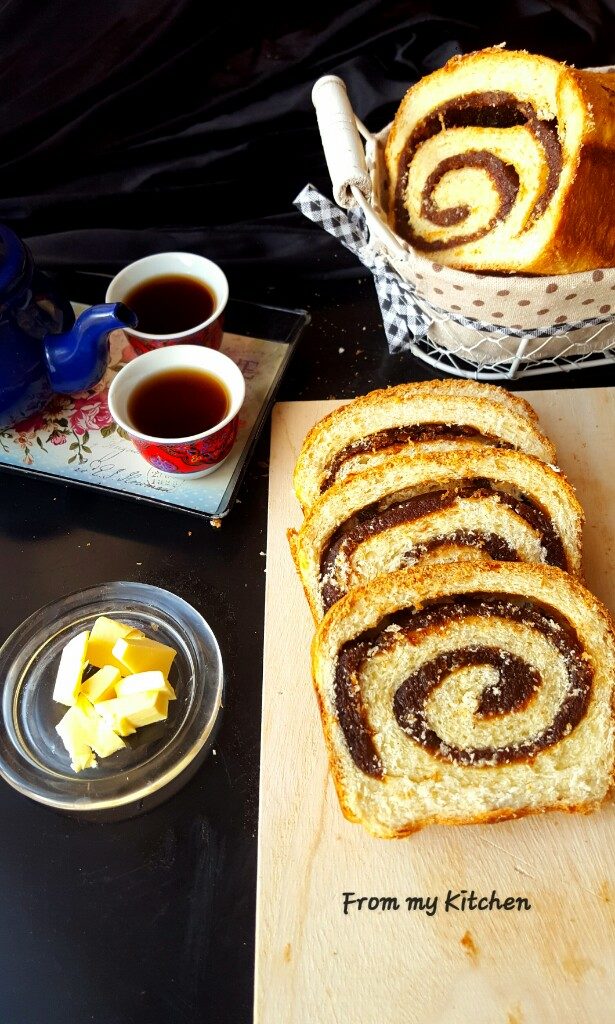 Enjoy it as it is when its hot or smear some butter and use it with a cup of black tea..A way to begin soothing and refreshing morning is with gr8 breakfast!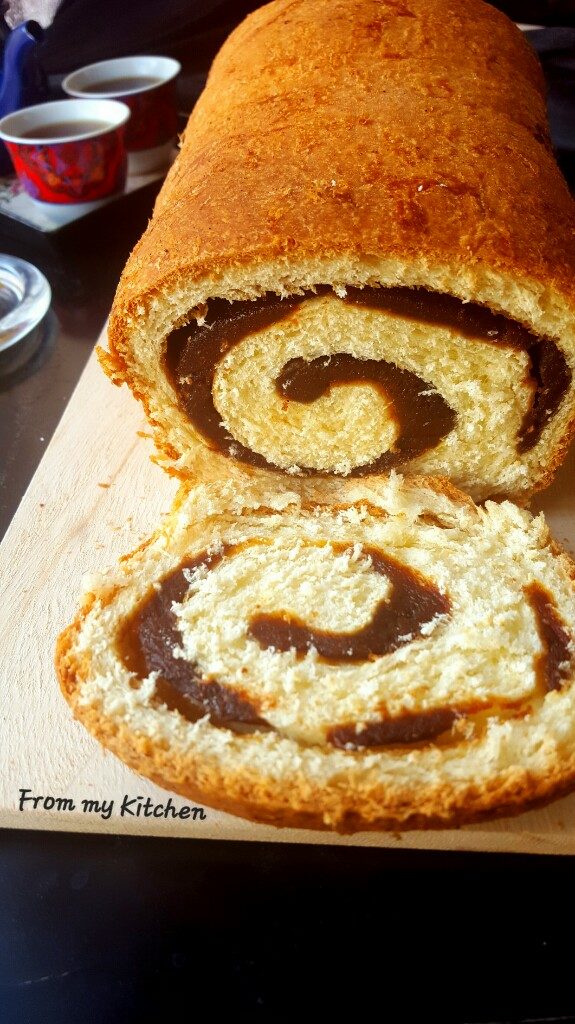 Happy Baking!!