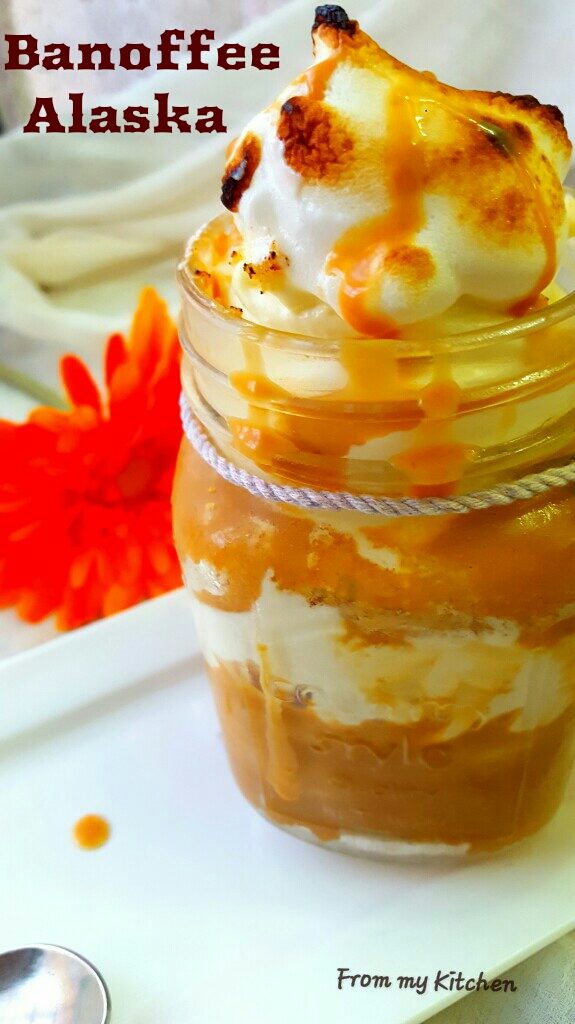 My first recipe for the year 2017! With this i'm wishing all my wonderful readers a sweet and delicious year ahead!:-) Banoffee pie is fore sure one of the most yummiest dessert!A small twist in this dessert and it was heavenly!Baked Alaska is a dessert with cake,ice cream and topped with browned Meringue(whipped egg whites and sugar).But here its not cake!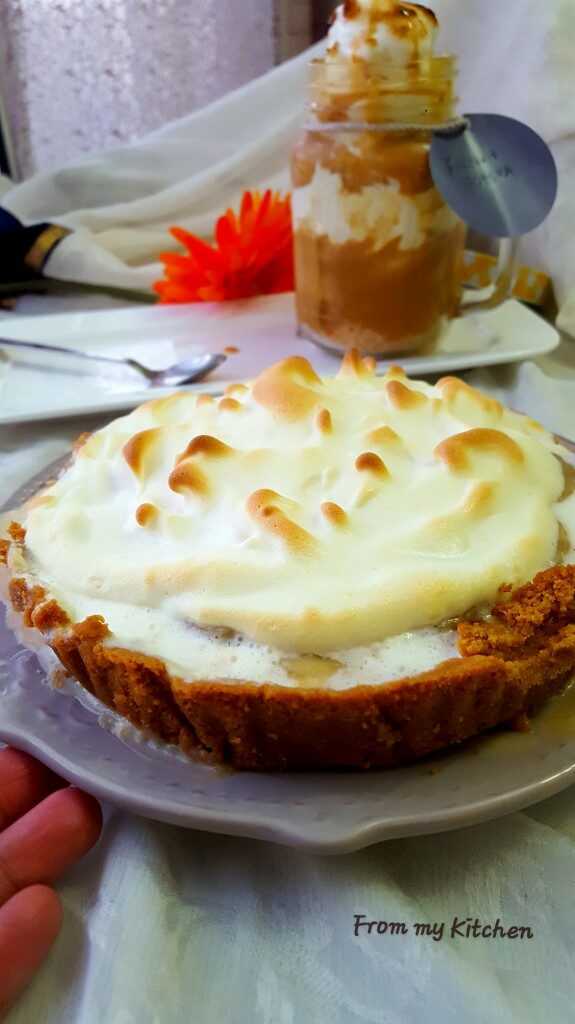 For those who don't know about banoffee it's a dessert with a decadent combination of toffee and banana with some whipped cream and cookie base.This recipe Banoffee Alaska is inspired by Jamie Oliver.When i saw we can brown the meringue without a blow torch i'm exited and tried it.He baked it in an oven at 220 degree for four minutes.I did and browned too,but ice cream melted.His came out perfect!!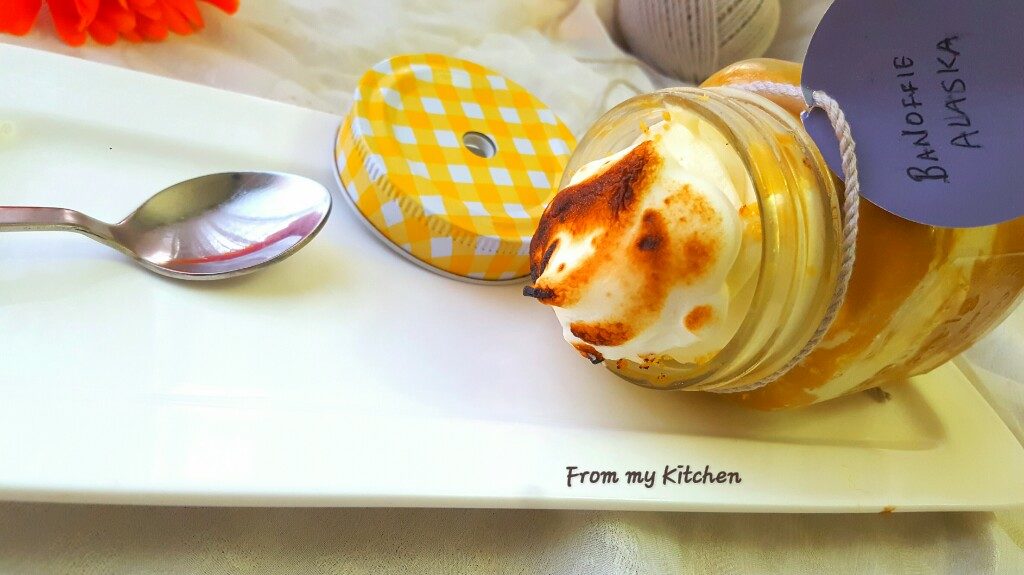 But the one in jar came out perfect because you know what i did?I show it on direct flame and hurray it came out beautifully!Yes you can make it without a blow torch!Only u need is a lighter or if you fill it heaply like this and your pudding is well set you can show it on direct flame.Serve it in individual small cups with handle and when the dessert is well set pipe it with meringue hold the handle and show it on direct flame,Or i think lighter too works here!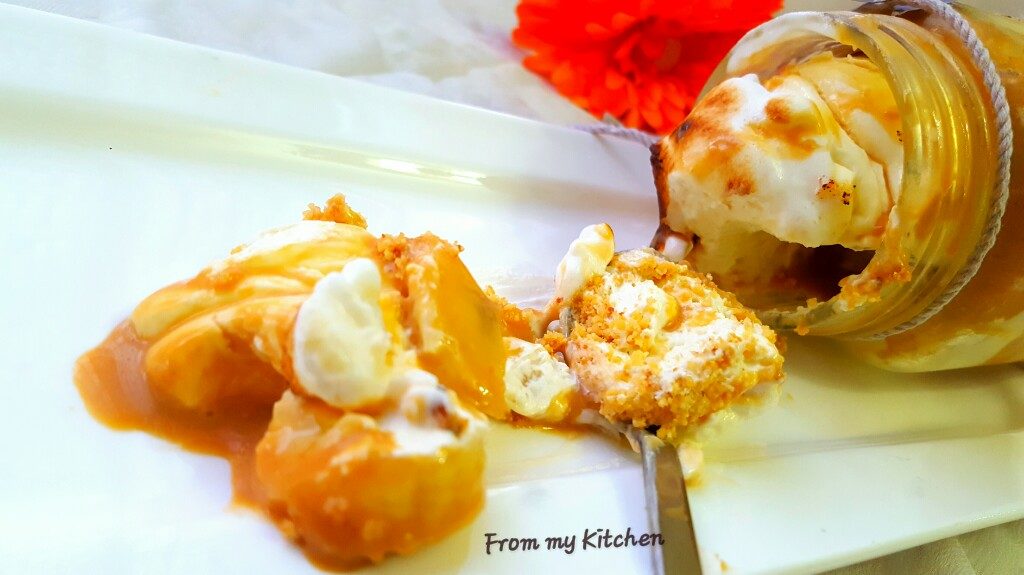 So if you don't have a blow torch i suggest you to serve it in jar or small cups…so that its easy for you to brown the meringue.Also another thing i noticed here as we are freezing it.the biscuit tart gets very hard.Instead of biscuit tart use a sponge cake as a base.(In jar biscuits are fine)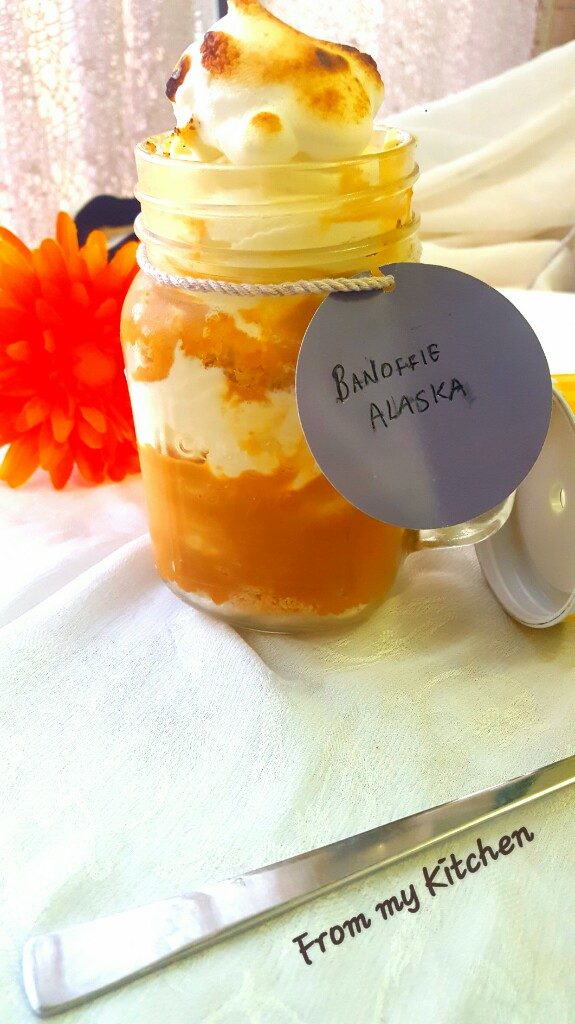 So lets see how this cuties are made.I used medium sized tart mold and a Jar.
Ingredients
For base
20 to 25 Digestive biscuit
20 to 30 gm melted butter
Or cake
For Other layers
3/4 tin of dulce de liche
Vanilla ice cream
Banana
For meringue
2 egg whites
1/4 cup sugar
2 or 3 tbsp water
1 tsp vanilla essence
Tiny drops of lemon juice
Method
Grind the biscuits to a fine powder.
To this add melted butter and mix well. It should look like a wet sand.Put this mixture into a greased tart mold and spread evenly including the sides of the tart pan.
Press the biscuit mixture lightly with the fingers or with the bottom of a glass so that it will set neatly.Leave it to set it in the refrigerator for half an hour
Note:If you are making in tart mold i highly suggest you to use sponge cake.(because it's very difficult to cut when it freeze)
In jar just put the biscuit mix and press it lightly with any object.
Layer it with creamy dulce de leche(if your dulche de leche is too thick make it spreading consistency by adding some milk or cream)
3rd layer vanilla ice cream(Make sure it's lightly soften so that its easy for you to spread)
Freeze it until firm
4th layer bananas.
5th layer Meringue.To make meringue:In a small sauce pan melt sugar with water.Start beating egg whites with lemon juice..when its frothy start adding this hot sugar syrup(hot to touch(not too hot))Beat it until stiff and glossy
.Now pipe the meringue on top of your well set dessert.If you have blow torch go for it,Or else if you have a lighter try browning with that, it works.
To show directly on flame it will be easy only with individual serving cups:You have to set the pudding up to top of the serving glass or jar and then pipe it with meringue so that it will be easy for you to show on direct flame(Take well care while doing this don't burn your hands..)It will brown so quickly!
Serve it immediately !
Note
:If you don't want the frozen dessert instead of ice cream you can layer it with whipped cream and keep it refrigerator to set.