Burger Pizza/Pizza Burger…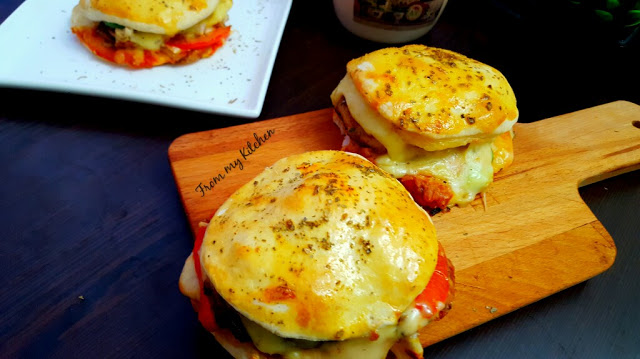 Have you ever tried the pizza and burger together?I'm updating my old post with new
pictures!!Almost all loves pizzas and burgers so why not to put together both in one.Best of both. Yes it's finger licking good.Saucy,cheesy,burgery .Yum Yum!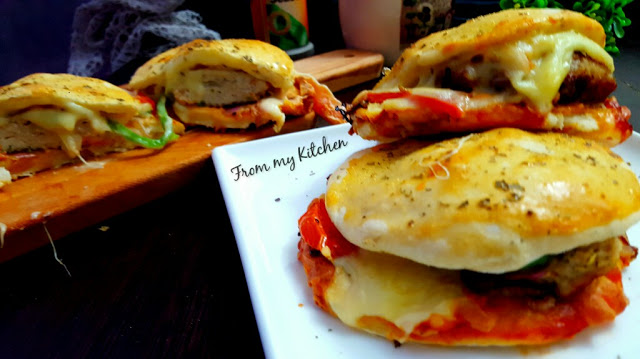 I had this from Burger King and they served it with small chunks of chicken inside not like a burger patty.You can make it according to your convenience!!Whatever it is,the idea of putting together the pizza and burger in one go is just a delish!
Ingredients
Pizza Base
2 cups All purpose flour
salt
1 tsp sugar
3 tbsp oil
1 tbsp yeast
A pinch of baking powder
1/2 to 1 cup warm milk
Pizza Sauce.
6 tomatoes
1 tbsp soy sauce
1 tbsp tomato sauce
i tbsp chilly sauce
2 green chilly
1/2 onion
Some mint leaves
1/2 capsicum
Note:If you are in a hurry just mix mayo,ketchup,some tomato paste,pepper and oregano to make a spread.
For Burger.
1 cup chicken mince
1 onion chopped
1 tbsp garlic
1 tsp pepper powder
2 green chilies
1 egg
A small bunch of coriander leaves
Salt to taste
Note:If u don't have minced chicken use chicken breast fillet mix all ingredients and put it in a chopper except egg.(add it after mincing the meat)
Other Ingredients.
Some onion rings(Caramelized)
Some capsicum rings
Mozzarella cheese
Slice cheese
Oil for shallow frying
Method
1. Knead pizza dough to a soft pliable dough and let it rest for 2 hours for proofing.
2.Blend all ingredients under pizza sauce.In a saucepan pour some oil saute finely chopped garlic and some finely chopped onion in this pour the blended mixture and simmer it and cook until u get a thick sauce.
3.Preheat oven at 180 degree
4.Mix all the ingredients for burger patty divide it into small equal portions and shape it to a round burger(if the mixture is runny and if you feel like you can't handle it add some bread crumbs in it)
Shallow fry it till golden and evenly cooked from both sides.
5.Divide the pizza dough in equal portions and flatten it into small disc.
6.Spread pizza sauce on base grate some mozzarella on top.Place capsicums onion rings,place the patty on top with cheese slice and some more mozzarella on the top .Take the other disc apply sauce flip cover the burger with it.Gently press the top .Place it on a baking tray and bake it for 15 t 20 minutes.Serve hot.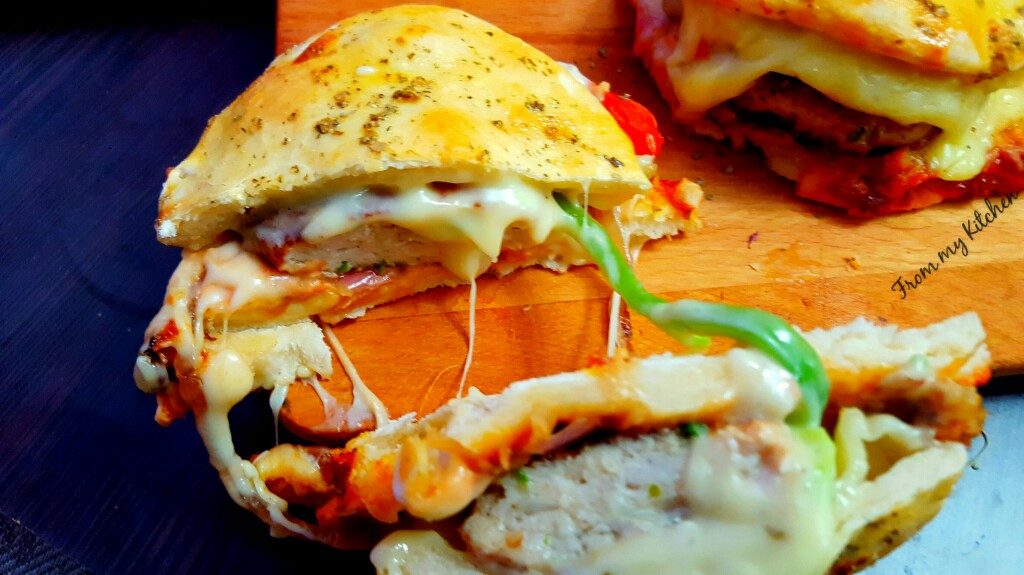 Can you see that meaty,gooey cheesy goodness?Go for it guys!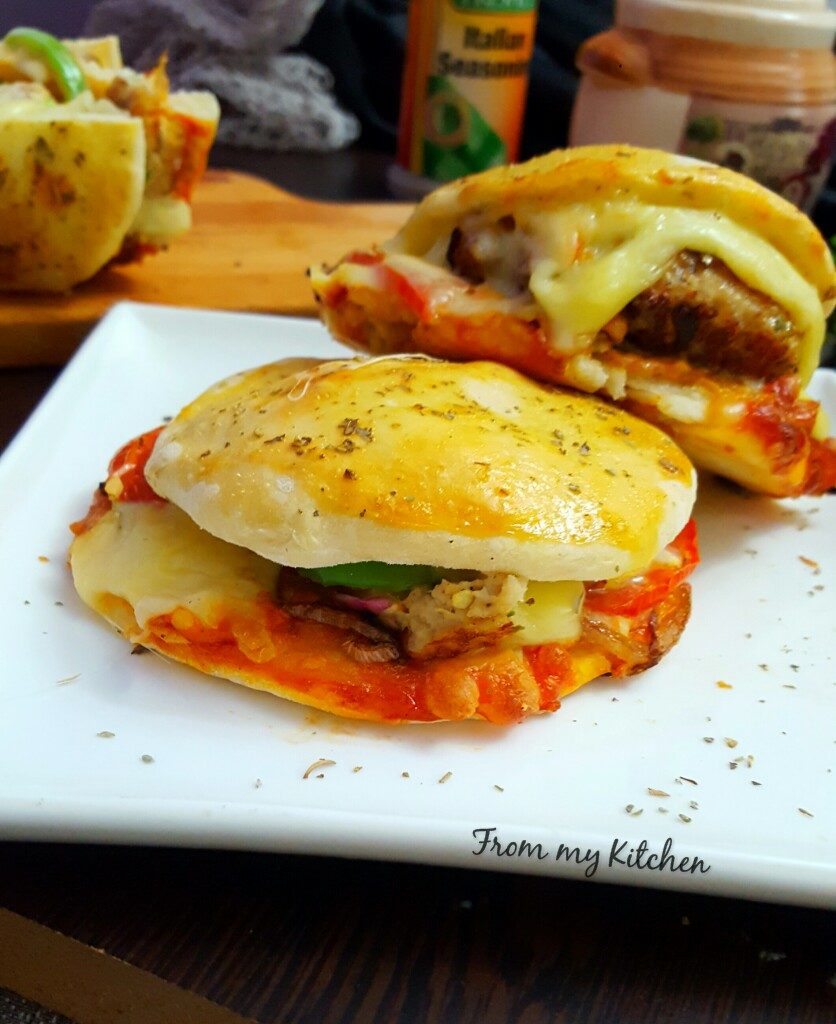 Relish it!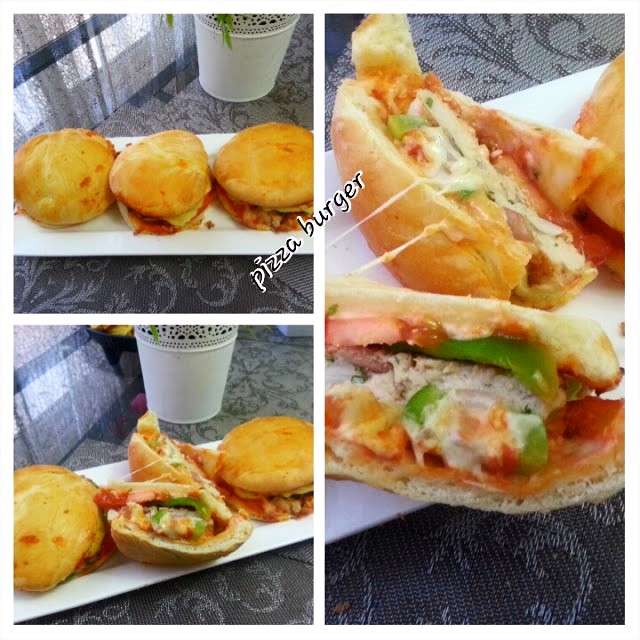 My old picture is this!
Happy Baking!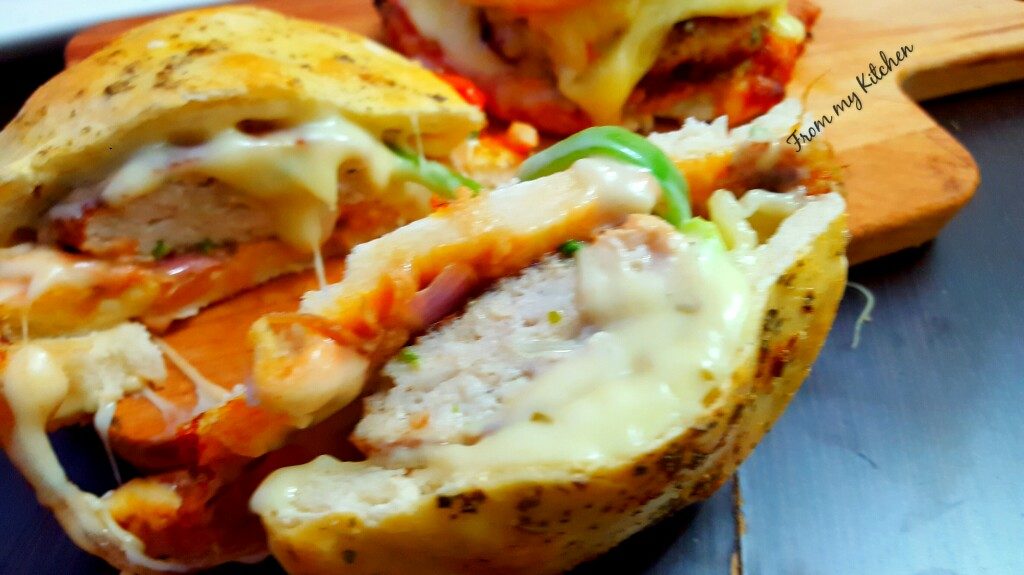 :-)))