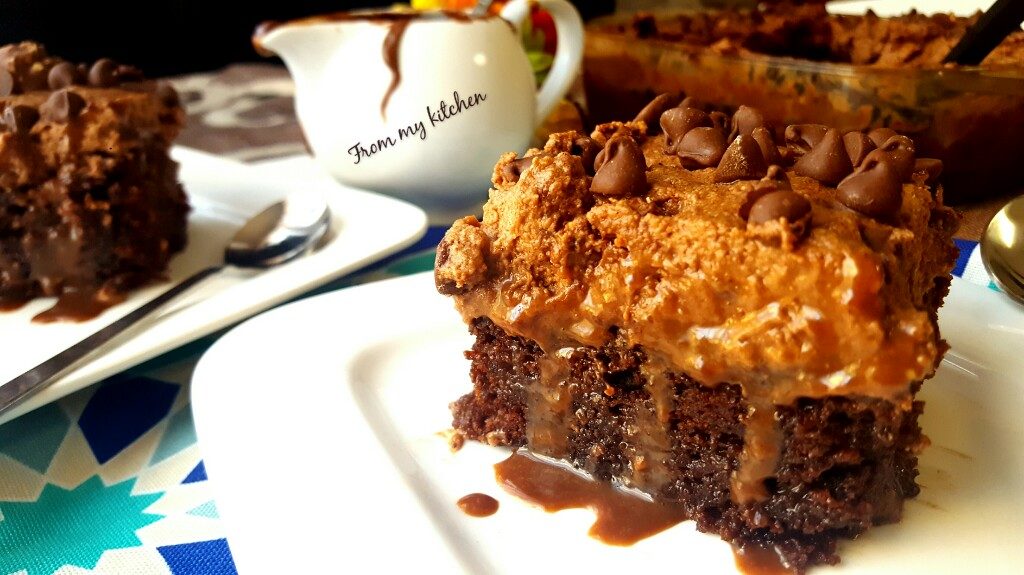 This one is a very special post for me!My first blog anniversary!!Yaay!1 year of blogging with 170 recipes in it!So i want to celebrate it with something special and simple which my whole family could enjoy!That's chocolate,chocolate and chocolate.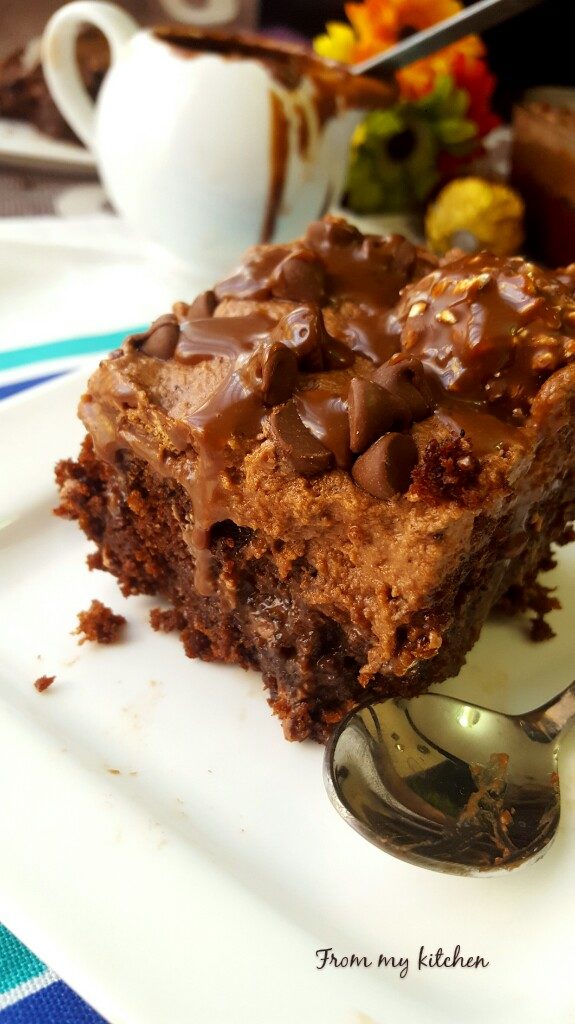 I'm so glad that i completed 1 year of blogging and i'm thankful to all those who supported me and encouraged me to take this wonderful step of blogging!Got few blogger friends, Rafeeda from The big Sweet Tooth (who is a humble person with more than 800 recipes in her blog) and Famida from My life in Yanbu(who i like to mention as a Paratha Queen,she has a good collection of stuffed rotis in her blog along with many International cuisine) thank you for being there!Now I like to include one more blogger who inspired me a lot in blogging through her wonderful blog is Sadia from Savory&Sweet Food (No words…here)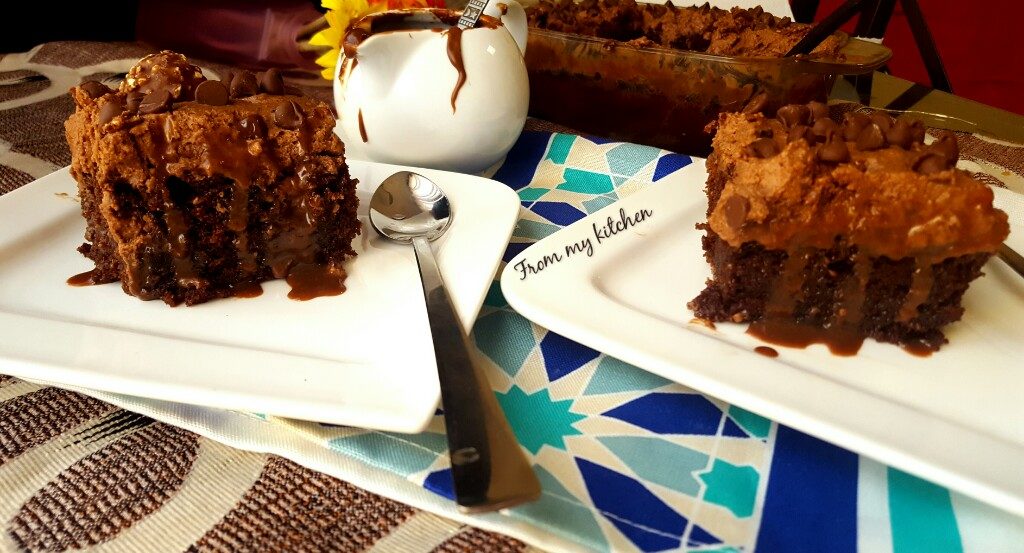 Not only cooking,but food photography also turned in to my passion now! At times my hubby used to tease me by asking if i am making this for them or for my blog. Now that really irritates me because even before blogging i use to cook and experiment a lot!hehe!I use to reply in such times as "no only for you" !haha!because you all are having it with pleasure so i'm experimenting more!Even I don't know what's the fact! 🙂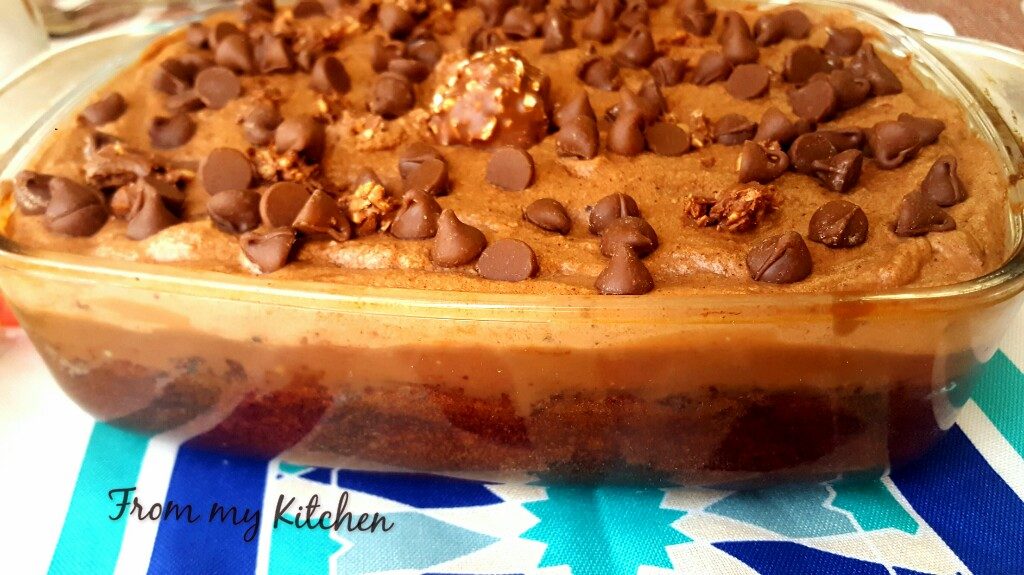 Back to recipe!Look at that three layers of chocolate!May be this is what we call "Death By Chocolate"Wohoo!It's full of chocolate,as base a soft and spongy chocolate cake,then a quick chocolate fudge sauce,3rd layer whipped chocolate cream with chunks of ferrero rocher in it!Oho isn't it a real chocolate indulgence?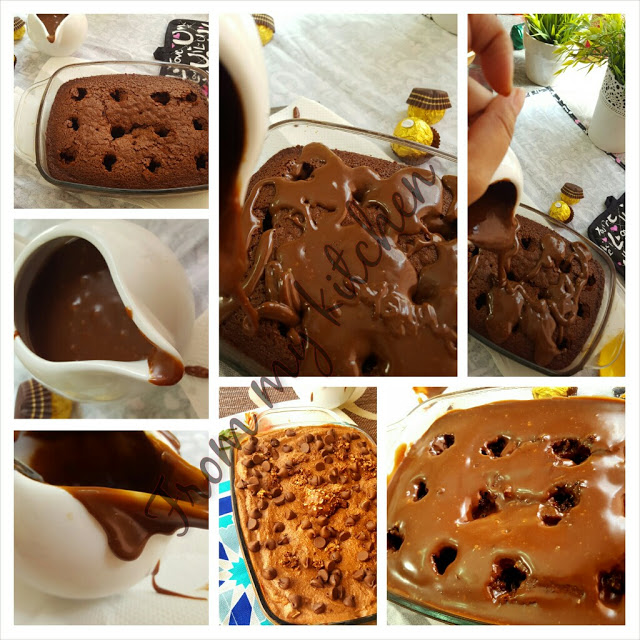 Now you may know why this is called as poke cake!After baking you need to poke the cake then pour the fudge sauce.So the cake will be soaked well in that sauce and then layer it with whip cream filling.Yumm!It's very simple to whip up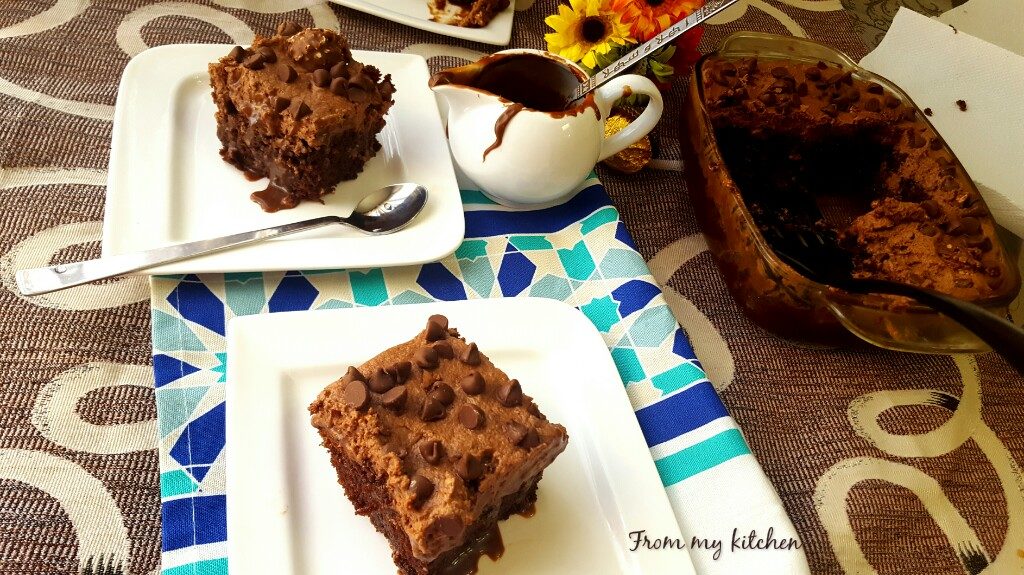 This cake has three steps the cake, the chocolate sauce and the whipped chocolate frosting Sounds time consuming right? No worries though because all the steps are crazy easy!
Ingredients for Cake
1 cup flour
1/3 cup cocoa
1 tsp baking powder
1/2 tsp baking soda
A pinch of salt
1 cup powdered sugar
1/2 cup milk
1/4 cup oil
1/2 cup hot water + 1/2 tsp coffee
1/2 tsp vanilla
2 eggs
For Chocolate sauce
1/3 cup semi sweet chocolate
1/2 cup condensed milk
2 tbsp nutella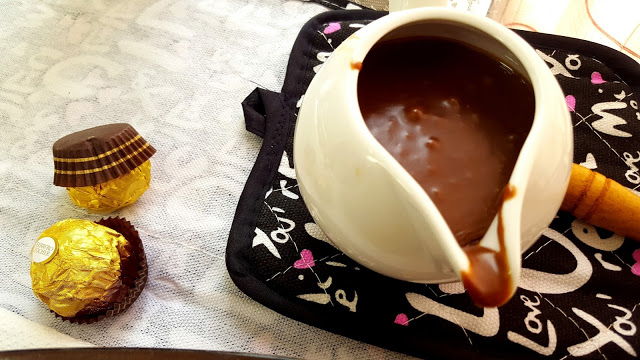 Chocolate Fudge Sauce
CHOCOLATE WHIPPED CREAM
1 n 1/2 cup heavy whipping cream
¼ cup cocoa powder
½ cup + 2 tbsp powdered sugar
½ teaspoon vanilla extract
5 to 6 ferrero chocolate +2 or 3 for garnishing
Some chocolate chips for (garnish)
Method
For cake
Preheat your oven to 180 degree
Grease a rectangular baking pan and set aside
Mix together all the dry ingredients in a large bowl.
Make a well in the center.
Add all rest of the wet ingredients except coffee .
Mix well all these with the help of a hand whisk and then gently pour the coffee and combine well.
Pour this batter to the prepared baking pan and bake it for 40 minutes or until the toothpick inserted comes out clean.
Note :If you don't like coffee in your skip it and add hot water
To prepare the filling
Add sweetened condensed milk, chocolate chips and nutella into a microwave safe bowl.
Stir and microwave in 10 second intervals until chocolate is melted. Set aside.
When cake comes out of the oven, Poke small holes all over the cake about an inch apart.
Pour the chocolate filling all over cake.
Let cake cool completely. place it in the fridge
Note: If you are not using nutella skip it and add 1/2 cup of chocolate chips.
To make the whipped topping,
Add heavy cream and icing sugar in a medium bowl.
Mix until cream begins to thicken and fluff.
Add cocoa and mix well
Fold in vanilla extract and crushed ferrero rocher
Spread whipped topping over cooled cake.
Sprinkle with mini chocolate chips and some more ferrero chunks
Refrigerate until whipped topping is firm
Store c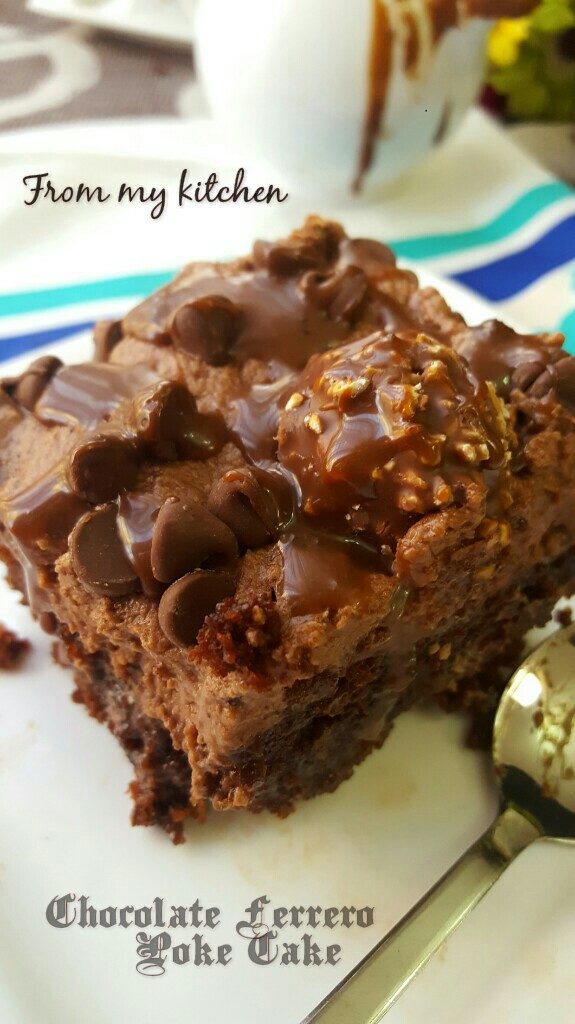 Look at that chocolate insanity!!Gooey chocolate sauce with soft chocolate cake, chunks of ferrero and chocolate chips….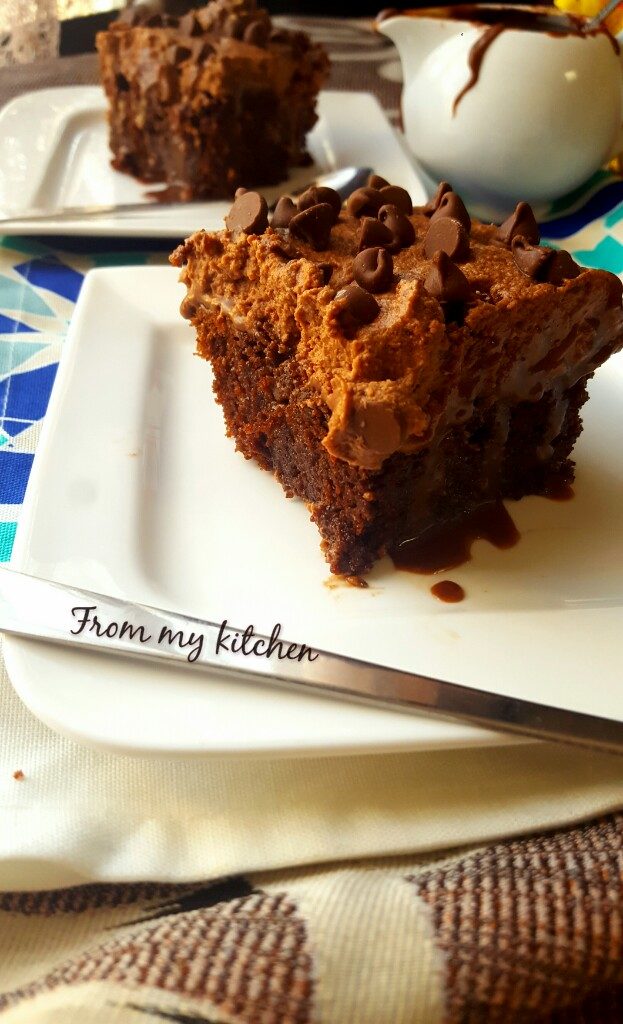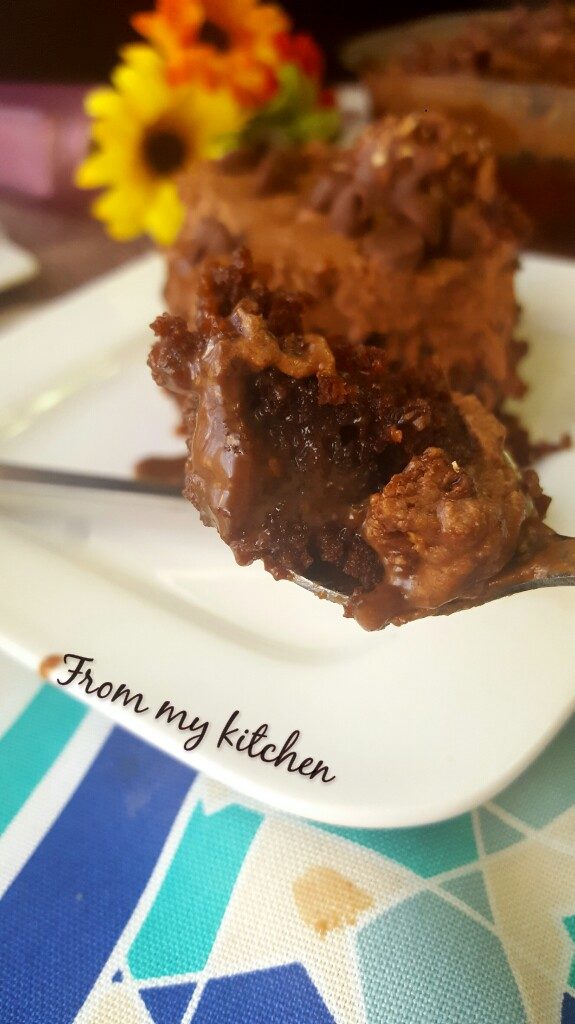 Dig in!