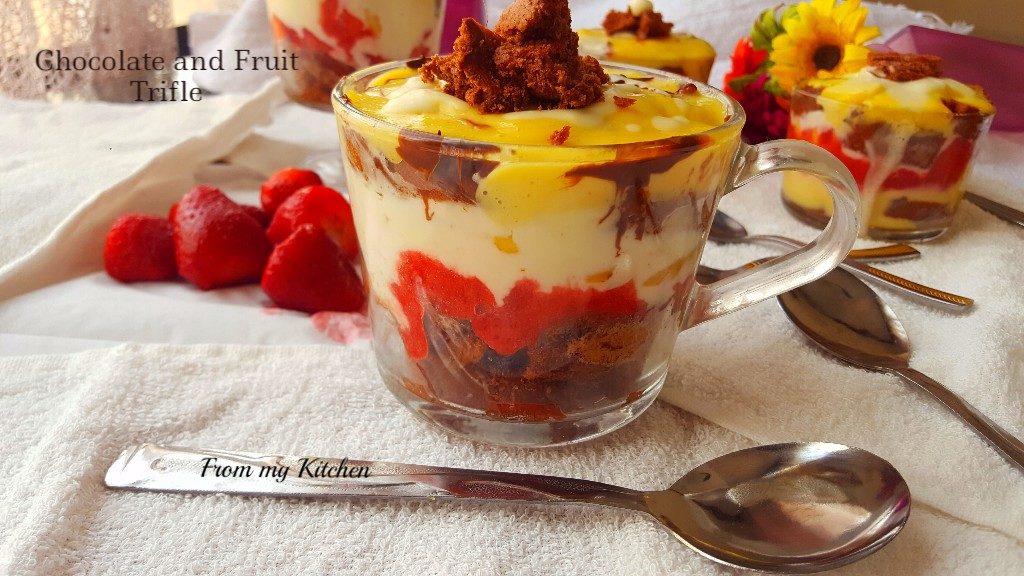 It was my dream to make a colorful trifle in a big trifle bowl.Still a dream!Because i didn't get that trifle bowl yet!haha!So adjusted in these short glasses and mugs!Seriously this one is a delicious dessert that includes chocolate cake,fruits.nuts,custard.whip cream and chocolate sauce!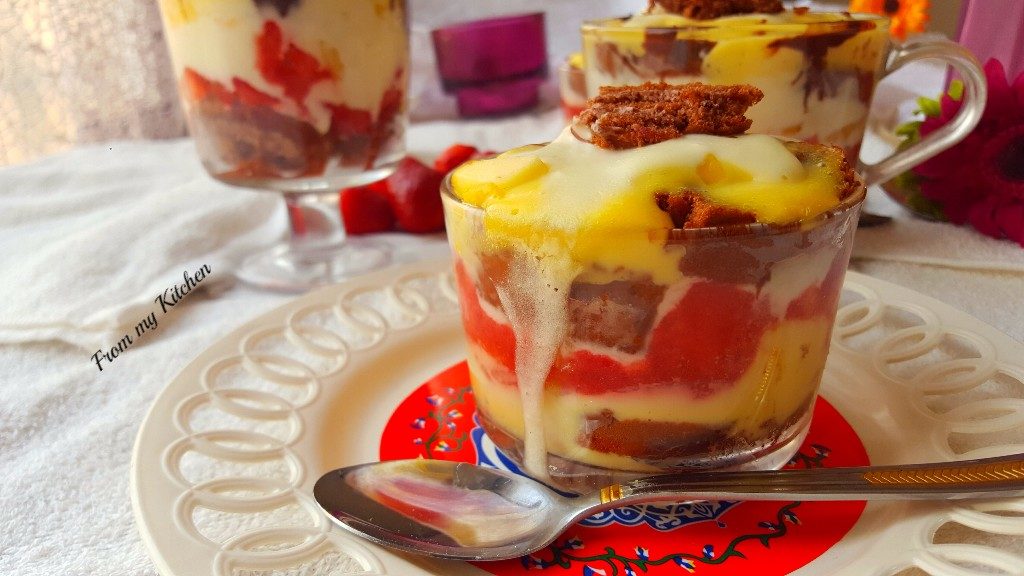 All the heavenly goodness in one dessert!I'm sure most of us love fruit custard,cream puddings and chocolates. And here is the ultimate combo of everything in one plate.We enjoyed it!Here i used store bought chocolate swiz rolls as a cake layer.You can use even a brownie or chocolate cake with this.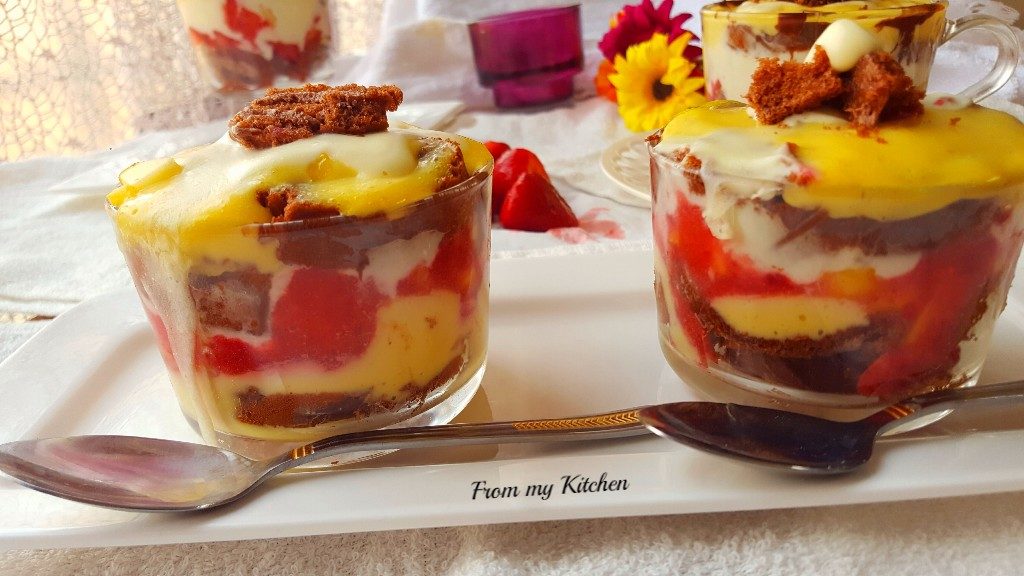 Look at that layers!chocolate then strawberry,custard,fruits,nuts and whip cream!Repeat it!Also drizzled some chocolate sauce in between.Mangoes in this really gives a refreshing taste to the dessert.Love mangoes in my desserts!(but sweet one)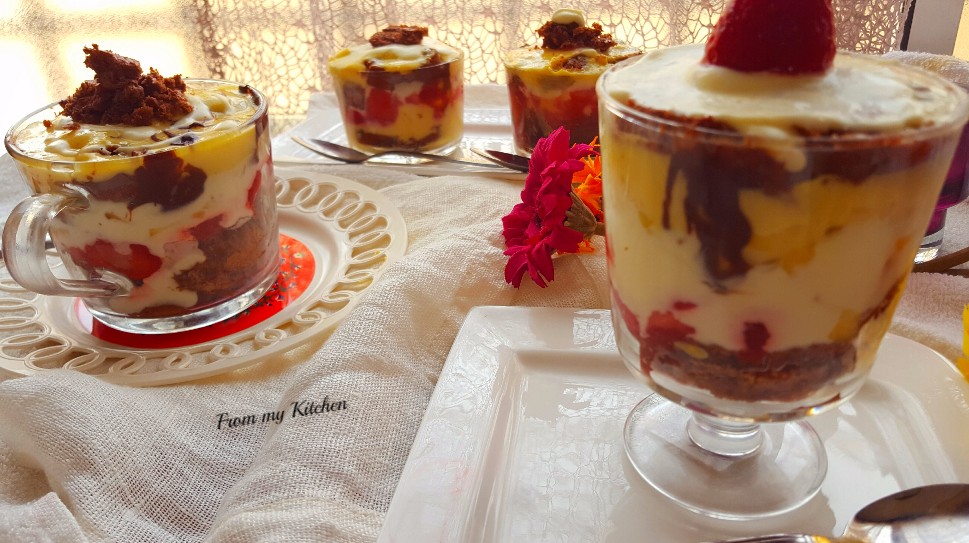 It was sinfully decadent!!
Ingredients
For Custard
2 cups milk
2 or 3 tbsp custard powder mixed in half cup milk
3/4 tin condensed milk
1 tsp vanilla essence
For Whip Cream
1 n 1/2 cup whip cream
3 tbsp heaped icing sugar/powdered sugar
1 tsp vanilla
Other ingredients
Chocolate Swis roll or cake
Cooking chocolate melted
Banana
Apple
Mangoes
dates(optl)
Nuts of your choice
Strawberry(optl)or any red color jelly
Method
prepare custard
In a cup mix together custard powder and half cup milk, keep it aside.
In a sauce pan mix together milk and condensed milk and let it comes to a boil (stir in between )Now add custard mix and stir continuously until it bubbles and you get the desired consistency.Add vanilla.It should not be runny.Let it cool
Prepare the whipped cream by beating together sugar and whip cream until the light peaks form.Add vanilla.
Chop up all the fruits and nuts keep it aside.
Strawberry i used frozen 5 to 6 added 3 tsp sugar and blend it chunky.This will help you to layer it easily.(If you don't like strawberries skip it add prepared jelly for that colour contrast.)
Melt chocolate for ganache in microwave.
Cut cakes.Now all the components are ready to go in the bowl
Assembling Layers
Thick layer of cake or Swiss roll.
Then i added strawberries.
Custard
Fruits and nuts
Whipped cream
Again repeat the process until you finish it off.Let it set in refrigerator for good 4 to 5 hours and relish.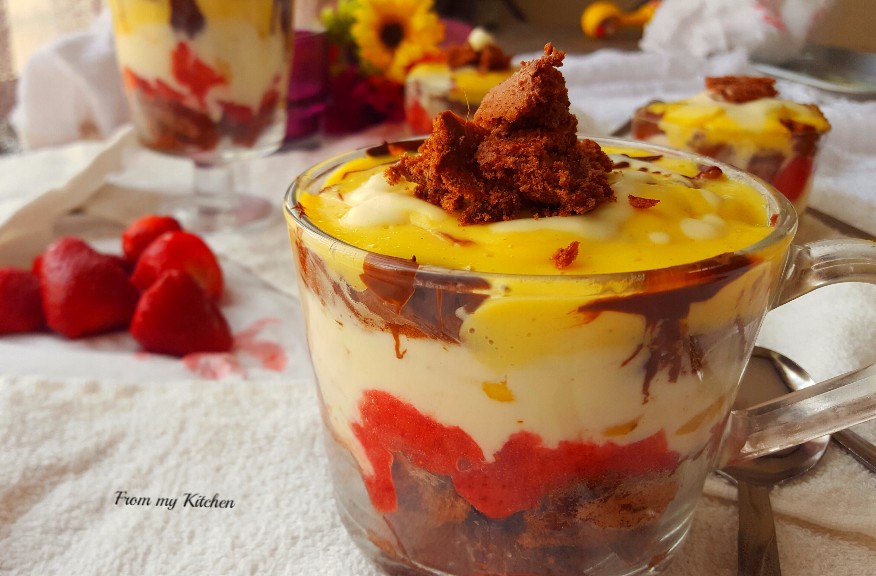 Dig in.Make sure that all layers are there in a single bite!:-)Cake,fruits,crunchy bites of nuts and chocolate,custard and whipped cream!hmm…………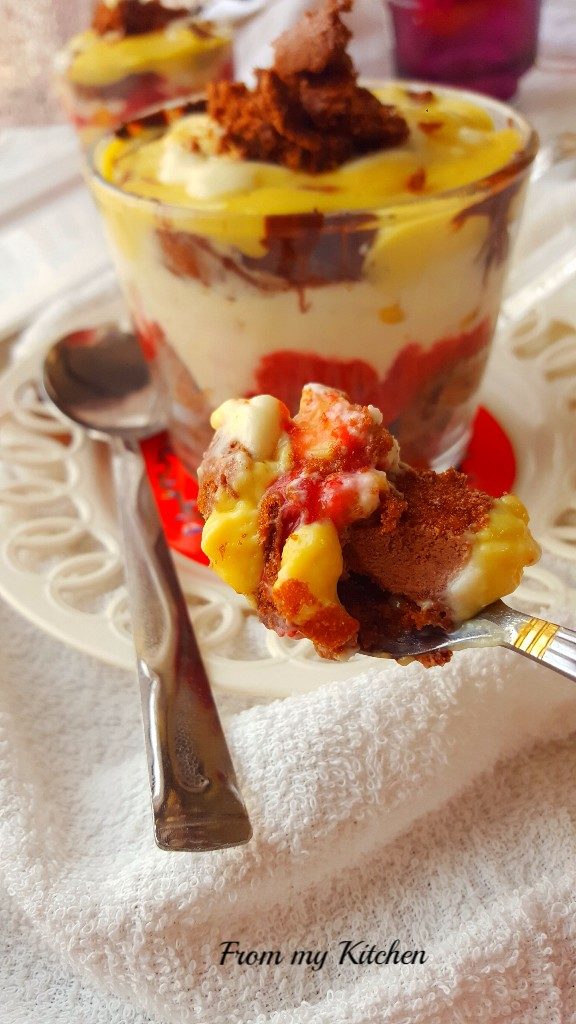 I can't tell you how heavenly that mangoes tasted in this.Also you can skip chocolate sauce(but what it does is,it hardens when it sets,so you will get a bite of chocolate in this,)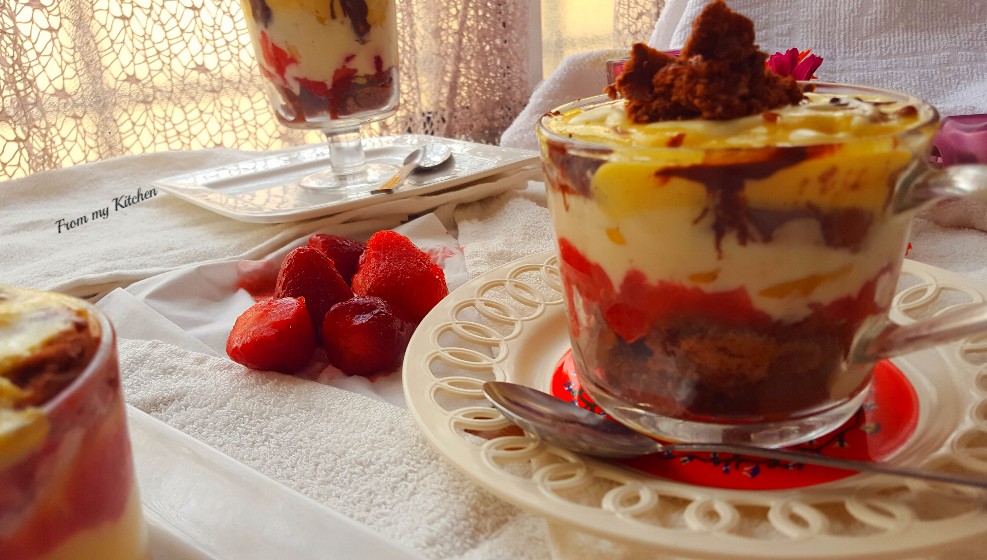 Very simple to put together and the result is awesome!You can serve it in small individual cups too!Instead of making usual fruit custard make this and enjoy!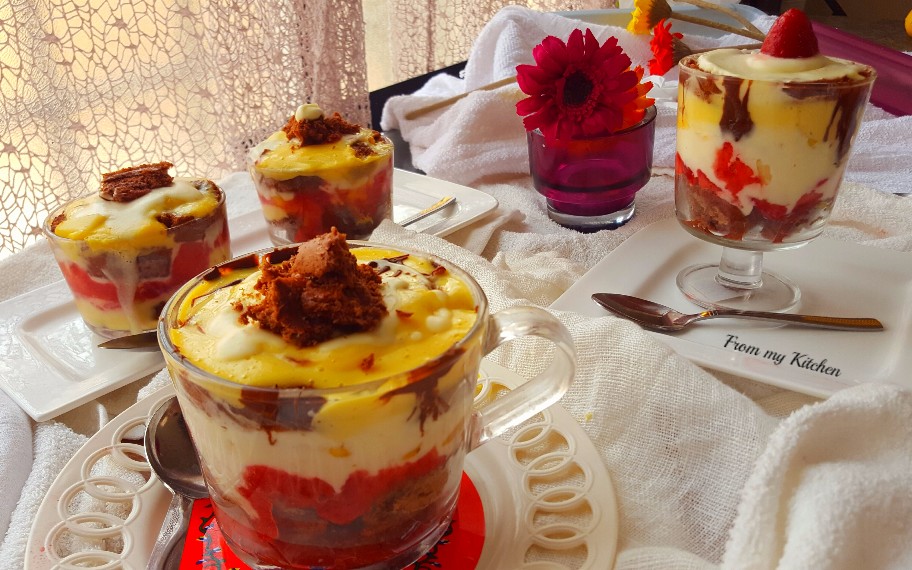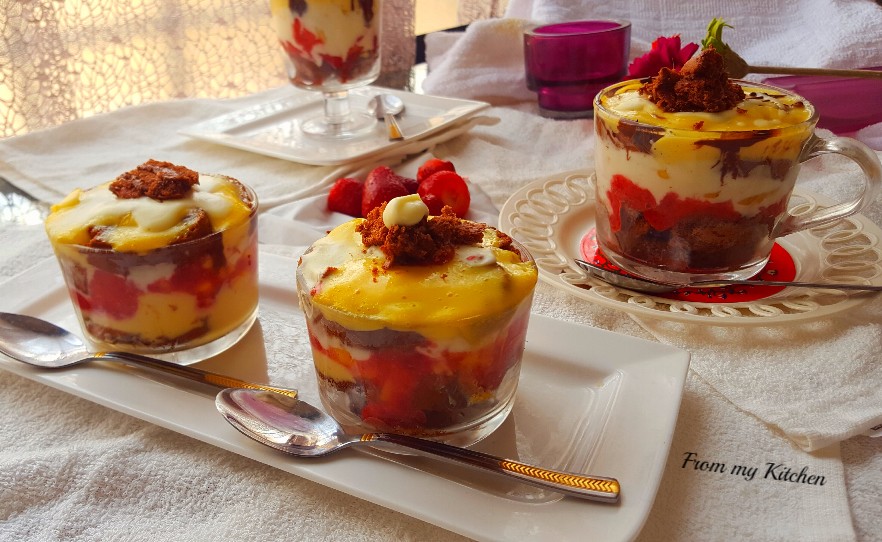 Hope you all like it!
Happy cooking!