Cloud from the sky!
It is Heaven! A very awesome dessert in my lifetime, I don't know if all like this but this is our favorite one, and in my opinion, all should give it a try. Its an Australian dessert, no butter, no flour.no egg yolks cake.still very yummy melts in the mouth texture.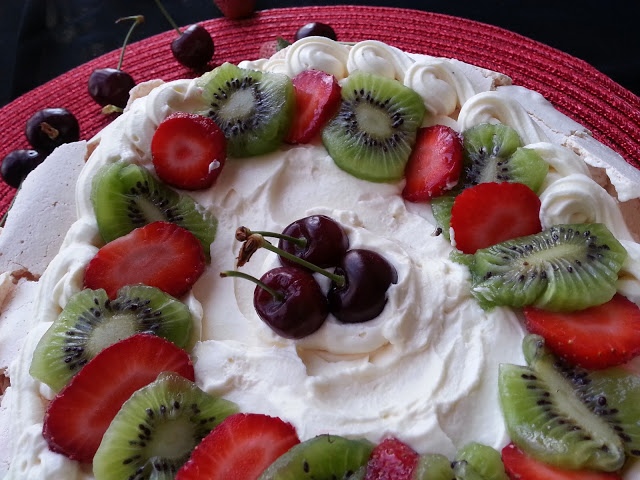 Its a meringue cake with a crispy crust soft light fluffy inside,topped with some whipped cream and tropical fruits,a fabulous combination of sweet dessert and sour fruits.Pavlova is made of egg whites and powdered sugar,very easy to put together and then bake into perfection.
Look at that fluffiness inside,woow na then what are you waiting for go and make it.
Recipe adapted;Joy of baking
Ingredients
4 egg whites
1 cup powdered sugar
1 tsp vanilla essence
1/2 tbsp cornstarch
1 tsp vinegar
Method
Preheat the oven to 140 degree
Beat egg whites until frothy start adding sugar 2 tablespoons each and continue to beat on high speed till you get stiff and shiny peaks( test to see if the sugar is fully dissolved by rubbing a little of the meringue between your finger if it's smooth the batter is done)
Beat in the vanilla.
Sprinkle the cornflour and vinegar(these 2 ingredients will give pavlova a crispy crust and marshmallowy interior)fold it gently with a spatula.
Arrange a baking tray with parchment paper and pour the batter in the middle and make it an even circle.do not spread the batter all around.
This is the meringue before baking.If you want a guideline draw a circle on the parchment paper and flip it upside down and use it as a guide to spread the meringue.
Bake it in the preheated oven for 45 to 50 minutes.
Let it cool completely before applying whipped cream.
Top it with whipped cream and some fresh fruits,I prefer berries or sour fruits,it goes very well with this dessert,as its very sweet the sourness from the fruits will balance it.
Crispy,delicate outer crust and fluffy marshmallowy inside with some whipped cream and fresh fruits.haa amazing combination!
Even if its crispy it melts in your mouth.
Happy baking and enjoy Pavlova
And if you tried don't forget to share your feedback;)