Wow!You can eat even the cups.
I loved to make this.You can easily make your kids to finish them their milk, in this chocolate glass.So that they can eat their chocolate ;)Yes you can fill whatever you like in this beautiful chocolate cups.Desserts,mousse,icecreams,simply whipped cream and fruits,whatever you want.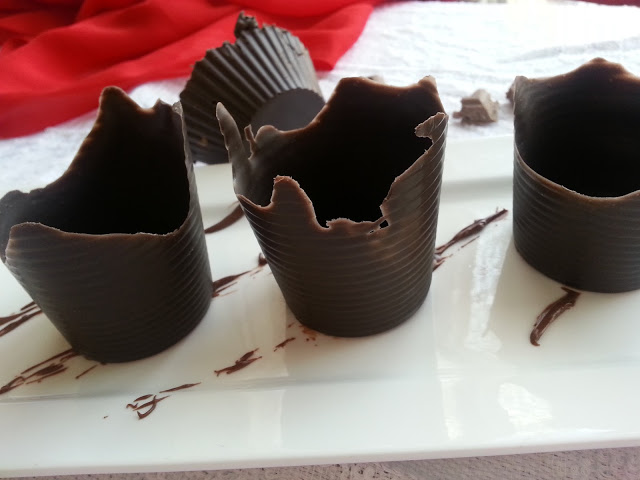 Really very simple to make this beauties,but make sure you have a good quality cooking chocolate and the other important thing you have to temper the chocolate, then this recipe will never go wrong.
Tempering means you have to bring the chocolate to room temprature after melting the chocolate.Otherwise you will not get that glossy, shiny effect and also it will stick to the mould and it will melt when its in room temperature.So please don't skip this step.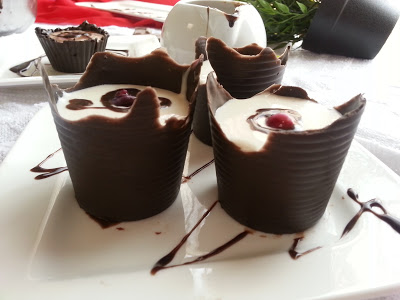 I used simple whipped cream and cream filling in this with some blueberries and chocolate sauce.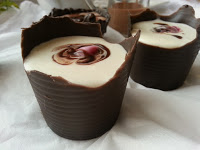 Ingredients
1 cup cooking chocolate.
For Cream Dessert
1 cup whipped cream
3 can fresh cream
1/2 cup icing sugar
1 tspn vanilla
Some blue berries
Nuts of your choice

Method
Boil the chocolate using double boiler method. Keep it aside until it's cool.
Here I used Paper glass.First give a small slit at the top of the glass then pour the tempered chocolate in the glass and swirl it with your hands and pour the excess in the bowl.(paper glass idea got from Sanjeev Kapoor Khazana)
Repeat the process until the chocolate is finished.Keep it in the freezer and it will set within 10 minutes.
Meanwhile let us make our filling dessert,cream together all the ingredients and chop in the fruits and nuts of your choice.
Now the fun part(fingers crossed)and let us demould the chocolate.Tare slowly from where we give slit and let the chocolate come out clean.
Its very easy to demould if we use silicon mould.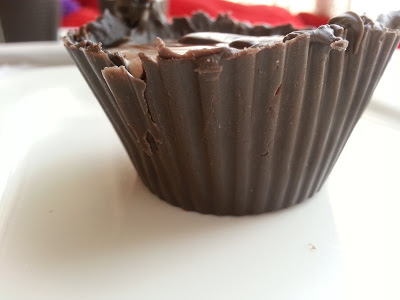 Enjoy every single bite!slurp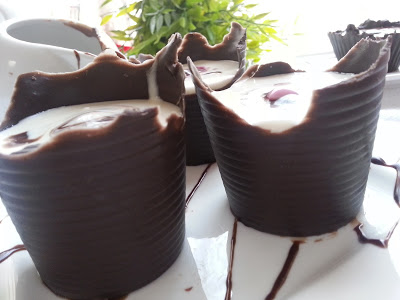 Try it once and see the happy face of your chocolate loving kids!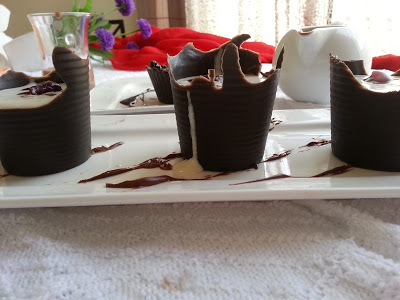 My Son is like ehh?how you made this chocolate glass.hehe!He enjoyed eating it.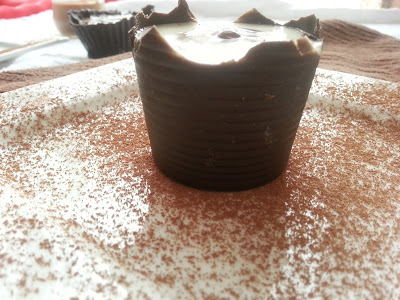 Try it and please give me feedback.It means a lot for me!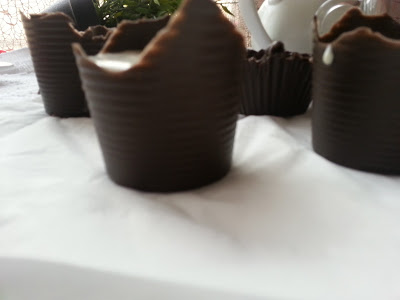 Stay tuned for more such exciting recipes!
Happy Cooking..