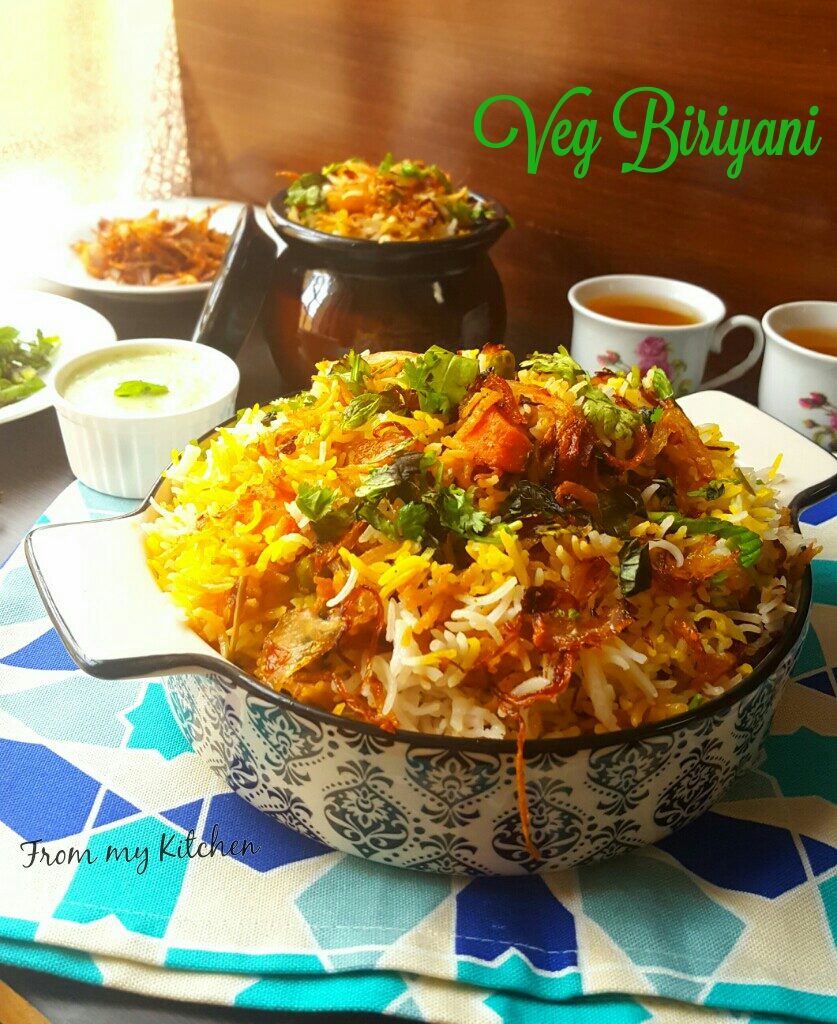 A comfort food that most of us adore equally may be the great BIRIYANI!Hehe!This is my first biriyani post on the blog.Yes i have some rice recipes but biriyani for the first time.For some of us veg are those alternative when there is no meat or fish in our pantry!!Especially for rice category.I have one
Veg Pulao
on the blog. While making this I was not sure if we like it ,but to my surprise the biriyani turned out too good !!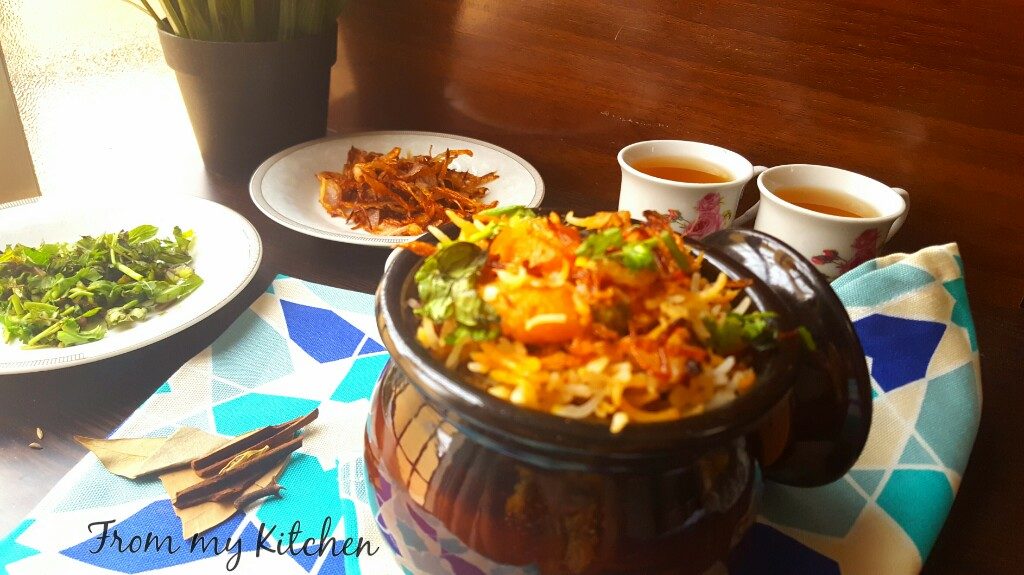 In this the cooking process is totally different,No need lots of onions!The veggies are first shallow frying with spices!So the vegetables are well coated in masalas and they came out so flavorful.I served it with mint coriander raita.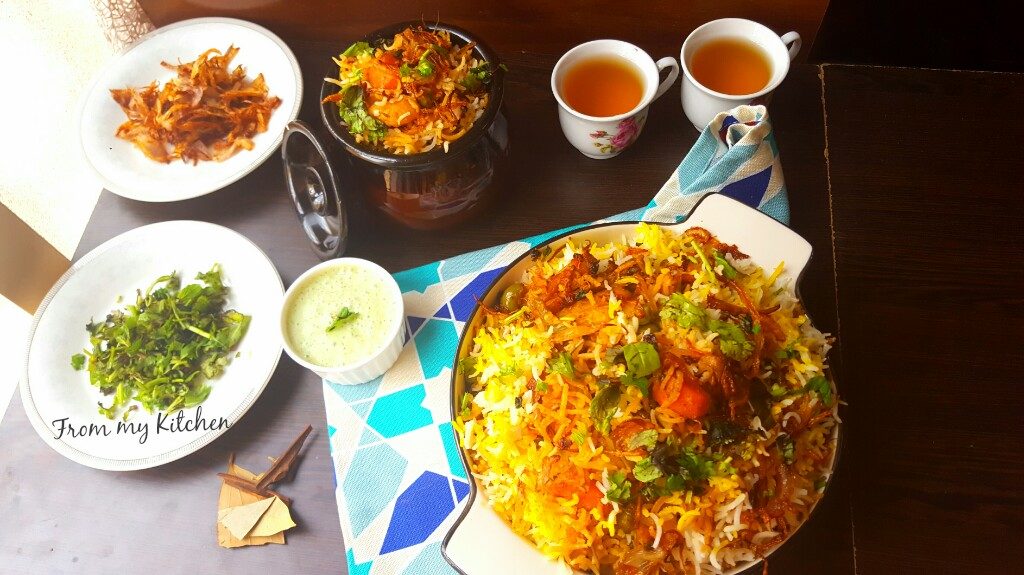 The aroma while cooking biriyanis are just ridiculous!!isn't it?Even if it's made up with full of veggies, biriyani was bursting with flavors…I loved the bite of that well coated potato and cauliflower in this.Mint gives a nice refreshing flavor to the dish.
Ingredients
2 cups Basmati rice
3 cups water
1 stick cinnamon
2 or 3 cloves
2 pods cardamom
1 bay leaf
Some shahi jeera / cumin seed
few pepper pods
1 tbsp ghee
For Masala
3 tbsp oil +3 tbsp ghee(to fry onion)
1 large onion
2 big tomatoes
Cumin seeds
1 tbsp ginger paste
1 tbsp garlic paste
4 to 5 hot green chillies
1 big potato
1 big carrot
Some beans
Some peas
Cauliflower florets
Lots of mint and coriander leaves
1 tbsp coriander powder
1/2 tsp turmeric powder
1 tsp chilly powder
1 tsp pepper powder
2 tsp garam masala
1 tsp cumin powder
1/2 cup yogurt
juice of 1/2 lemon
Saffron or yellow food color
Method
To prepare rice
Soak the rice for 1/2 an hour
Boil the water along with whole spices.Add ghee ans salt too.
Add the rice and cook until 3/4 done.
Instead of draining the rice i used less water(for 2 cups of rice 4 cups needed but i used 3 cups) and cooked the rice 3/4th with less water.Rest will cook while its in dum.
You can use whatever way comfortable for you.
Note:If you don't like the whole spices in your rice just discard it after cooking.
For masala
Thinly cut the onions
In a large vessel pour oil and ghee enough to fry onion.
Fry the onion until golden brown and keep it aside.If you feel like the oil is too much for the veggies take out the excess oil and reserve it for dum process
Cut the veggies in medium sized cubes(not too small)
In the same pan add cumin seeds when it splutters add ginger garlic paste green chilly slits and saute for a while.
Then add veggies like carrot,potato.beans, cauliflower and salt fry it for few seconds or until the veggies get a slight golden brown coating .
Then add all the powders mix well and let it fry for few more minutes with the masala or until the rawness from the spices are all gone.Add frozen peas at this stage,mix well.
When the veggies are half done add finely chopped tomatoes some mint and cilantro mix well and cook until the tomatoes are mushy.Add garam masala and squeeze in lemon juice.
Add yogurt and 1/4 to 1/2 cup water and mix well.Let it boil for 2 minutes
Sprinkle half of the fried onion and mix well.
Now for Dum
Get ready fried onions,cilantro,mint and some saffron infused water or yellow color mix
Make sure your fire is on low
On top of the masala add rice then add sprinkle some onion fried oil,mint coriander ,fried onion, and saffron.Put the lid and let it sit for 15 minutes on low flame.
All the veggies and rice will cook completely by that time.
When you open the lid…haa you will get that nice aroma of biriyani with ll those spices and masalas..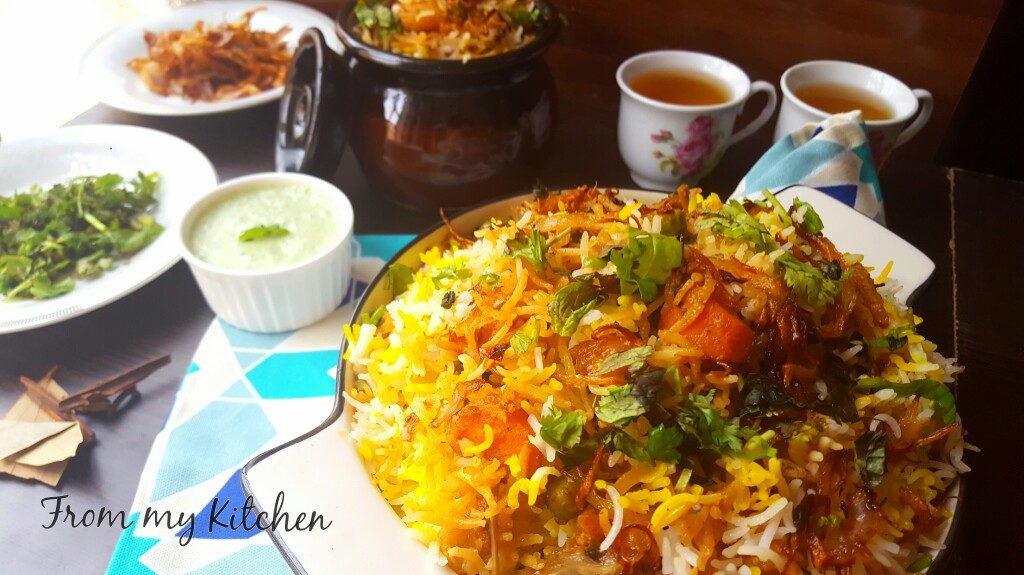 You can accompany it with boiled egg,mint coriander raita along with a cup of lemon tea…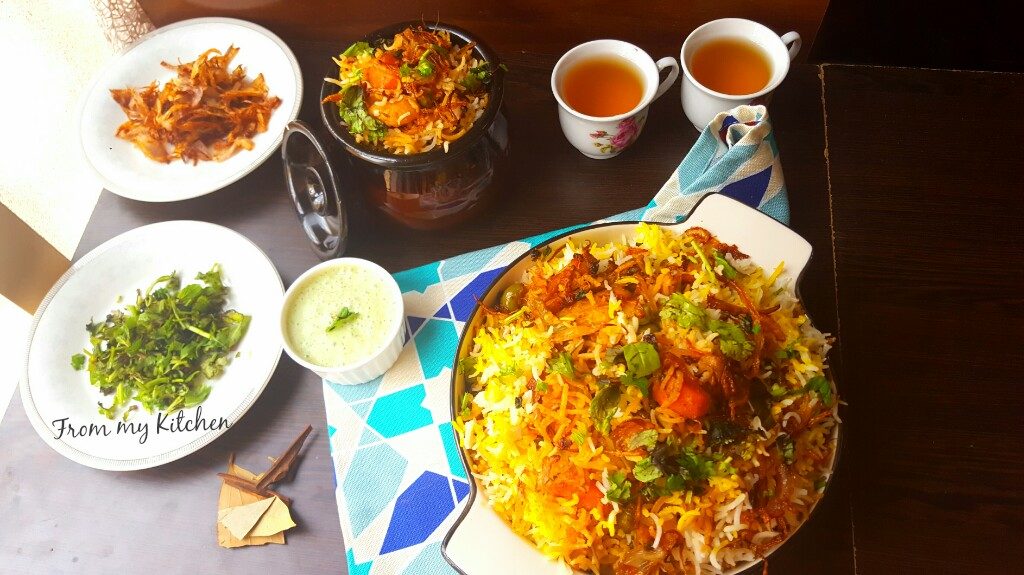 It's the best veg biriyani i've ever had!It's spicy.tangy and well coated veggies with masala with perfectly cooked rice!!Yum!
Relish!