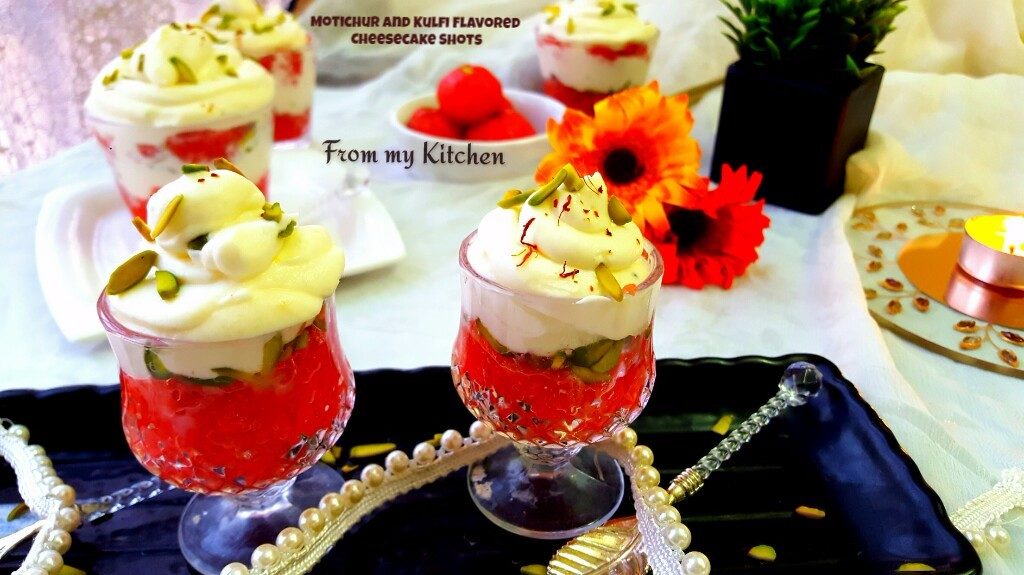 All those Diwali sweets made me crazy, and my sweet cravings ended up with these cute little dessert shots.All i have to say is this one is a must try dessert!!!!!Layered with motichur ladoos and the light cheese cake mousse like texture with the flavors of kulfi in it!!!Yummilicious!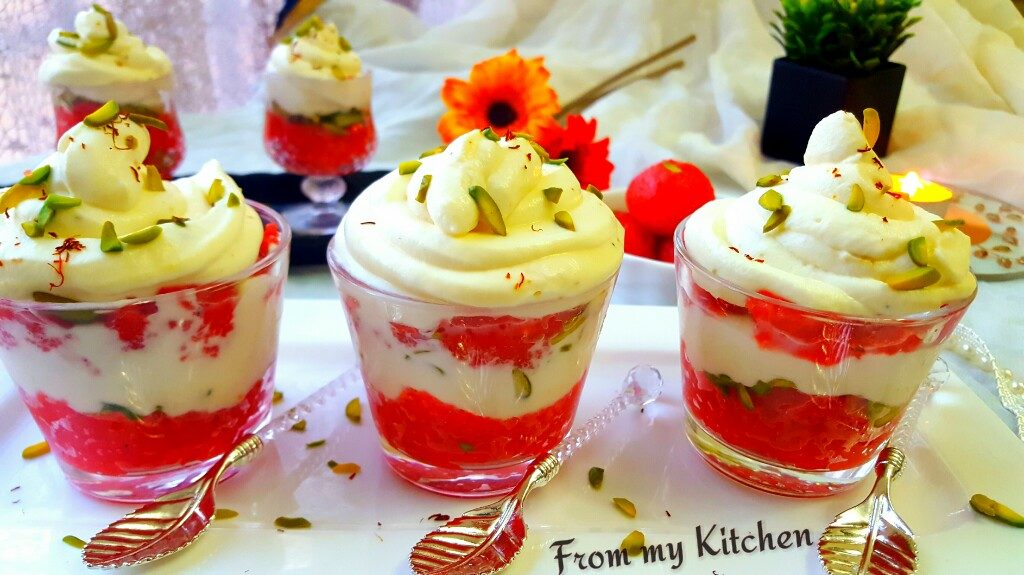 Motichur ladoo is absolutely a crowd pleaser in Indian sweet world.I'm sure it's a favorite for all!Here is a heavenly version of motichur dessert which is so tempting and innovative way to make your festivals and parties more delightful.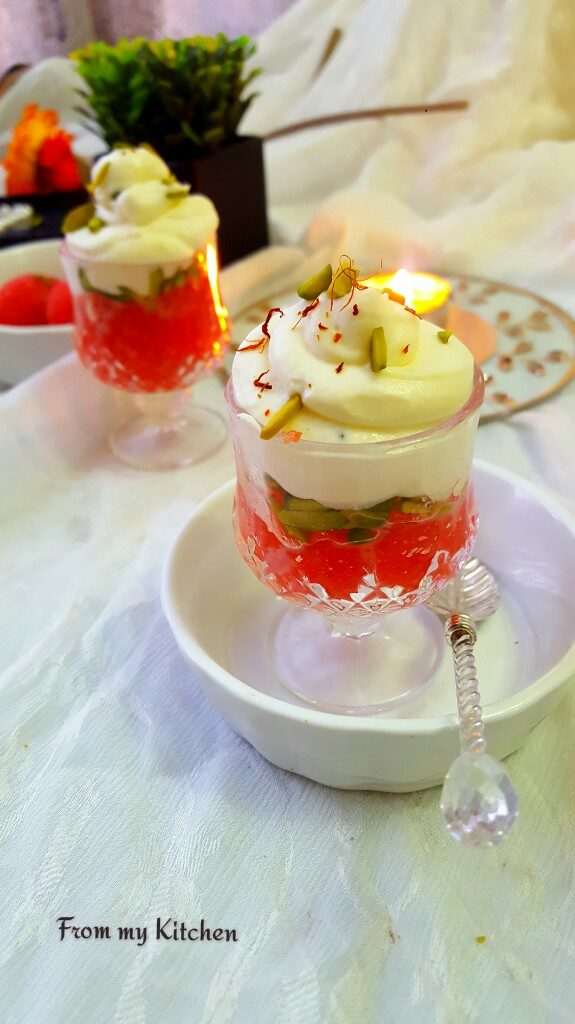 I want to make some Indian sweet(or you can say my cravings for Indian sweet:-)) and thought why not my favorite ladoo!So here comes the fusion dessert of motichur with kulfi cheese cake mousse.Ladu itself is a sweet one,so i need something less sweet to go with it.That's why cheese cake!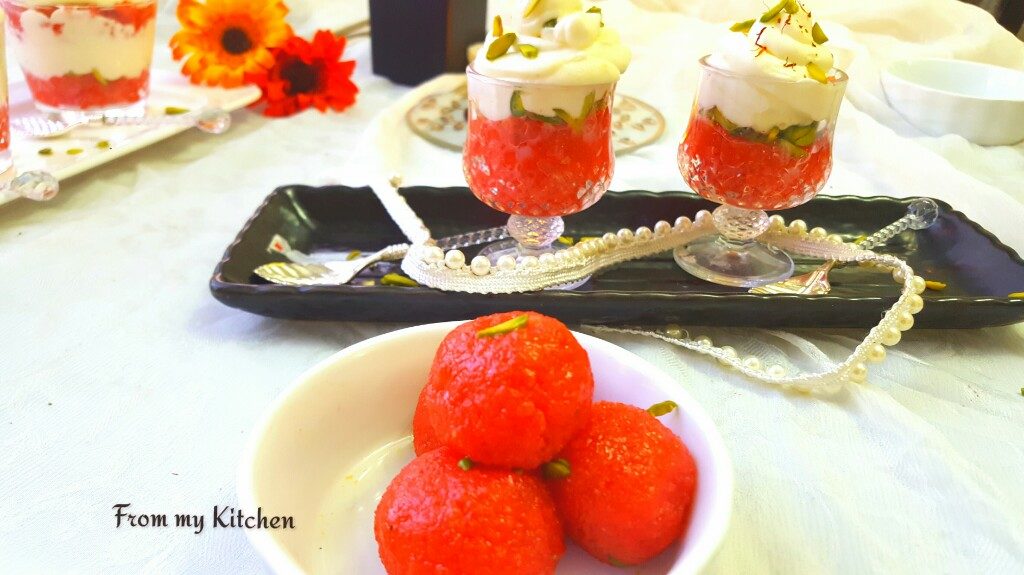 Ingredients
For Motichur Ladoo
Sugar Syrup
1 cup sugar
1/2 water
1/2 tsp cardamom powder
1/2 tsp lemon juice
A pinch of saffron
For boondi
1 n 1/2 cup gram flour
Water to make it a thin batter
1 tsp ghee
A pinch of red food colour
Oil for frying
For Kulfi cheese cake
1 cup heavy cream
4 to 6 tbsp icing sugar
1 tsp vanilla
1/2 tsp cardamom powder
a pinch of saffron
Crushed pistachios
Crushed almonds
4 to 5 tbsp cream cheese spread
Method
For Sugar
In a pan mix together sugar and water and let it melt completely and comes to a boil.Add saffron and cardamom. The consistency should be 1 string.
For Boondi
Start by mixing the gram flour, a pinch food color, ghee in a bowl. Add water little by little and make a batter. Add more water and make a super thin, kind batter.
Heat oil to fry the Motichoor boondis, in a kadai/pan.
You'll need a perforated ladle or a colander for making the boondis,
On the other side, keep a plate/tray where you'll keep the fried boondis in.Above the plate, either keep a strainer or a colander so that the excessive ghee can come out.
Now place the ladle or colander above the hot oil and pour a spoon full of batter and tap that ladle.(Be careful while doing this,oil is super hot,Also don't place the ladle very close to the kadai )
As soon as you feel all the batter has been dropped into the hot oil, take the boondis out from the oil You don't want to over cook them, they would cook in a second as the oil is super hot as well. Keep the fried boondis over a colander/strainer.
After all boondis are made
Warm the sugar syrup a little and add your boondis in it.Mix well and let it rest for 15 minutes to soak the syrup in boondis.
Now take out the boondis in a mixer and pulse it twice,not more than that
At this time if you want to make ladoos,make balls out of it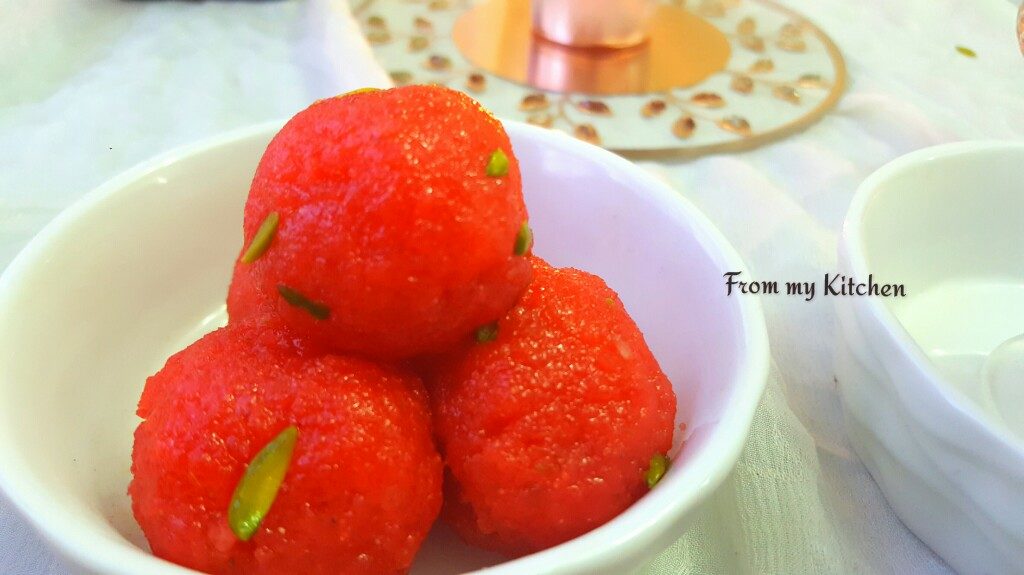 Now for cheesecake filling
Beat together whip cream and icing sugar.
When it's half done add in vanilla,cardamom,saffron and beat again to form a light and fluffy whipped cream.
In a small bowl Whip together cream cheese and 2 tbsp milk to make it light,then fold in the whip cream gently to this cheese mix and fold lightly.
Here ready your light and fluffy kulfi flavored cheese cake .
Note: If you want it more sweet add more icing sugar
Layering
Motichur boondis
Crushed pistachios and almonds
Cream mix.
Layer it in shot glasses and refrigerate it and serve chilled.
Recipe inspired from Kanak's Kitchen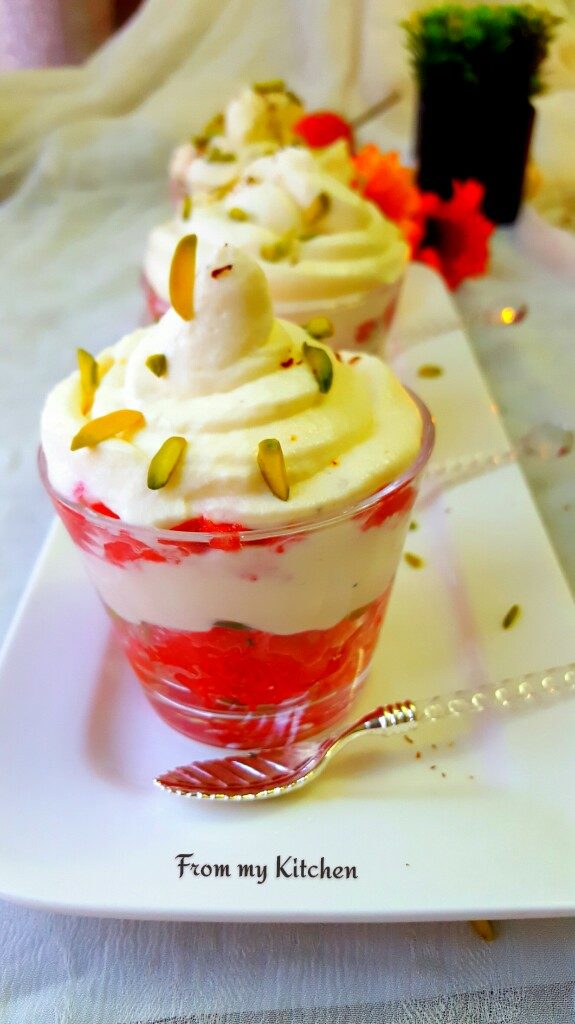 If you get ready made motichur ladu then grab it and make this wonderful dessert.It will be quite simple and delicious.We relished it to the core!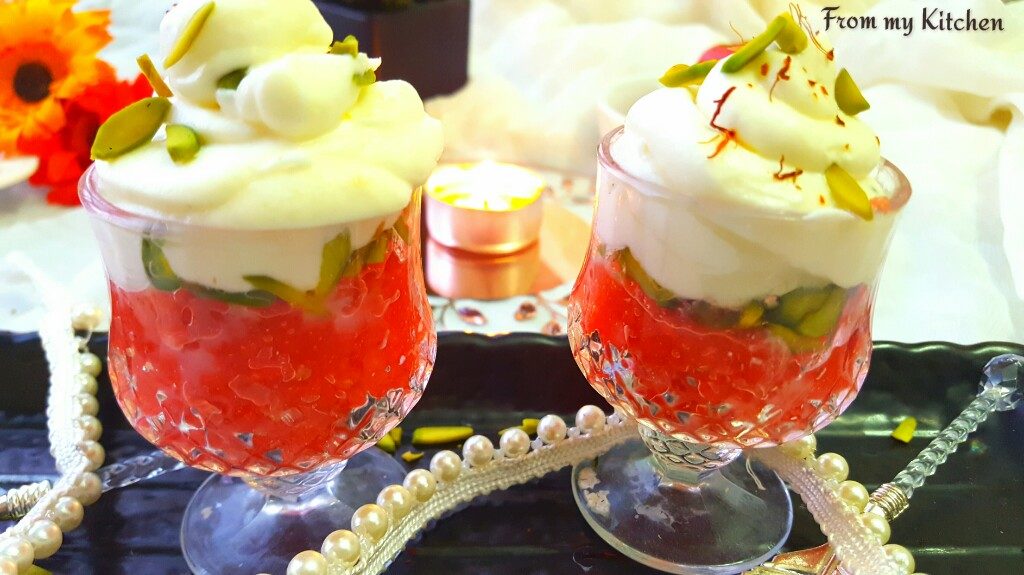 The juicy sweet ladoos and the light sweet cheese cake which has an airy mousse like texture was just lip smacking!This will be a great party stopper for any parties.