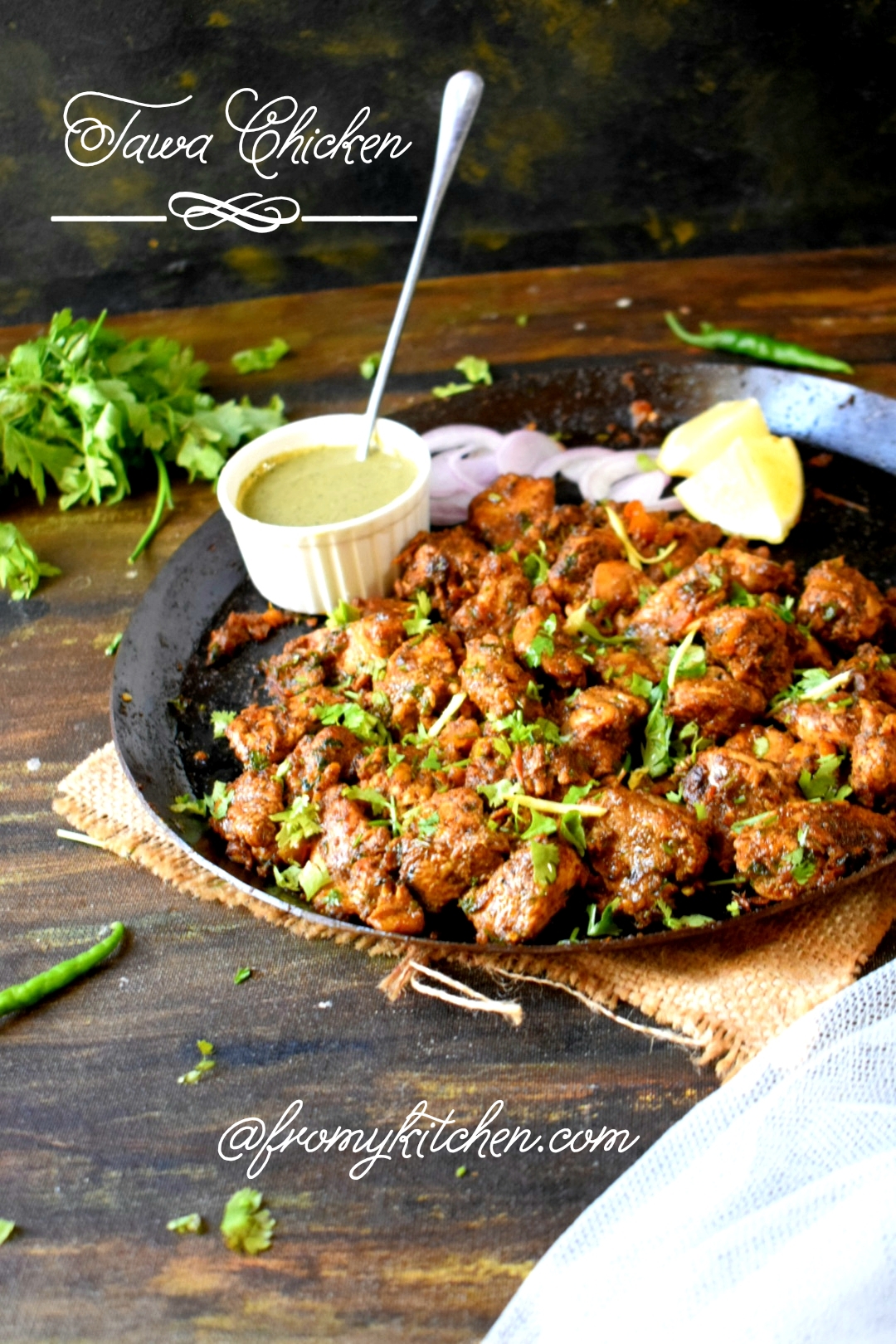 Tawa chicken is a  popular dish in Pakistan and India. It is an extremely easy and lip-smacking dish with very simple steps. Everything in a single pan with a blast of flavors even if we are using only a very few basic ingredients. Its made on a tawa or flat pan (i used cast iron), so the name Tawa chicken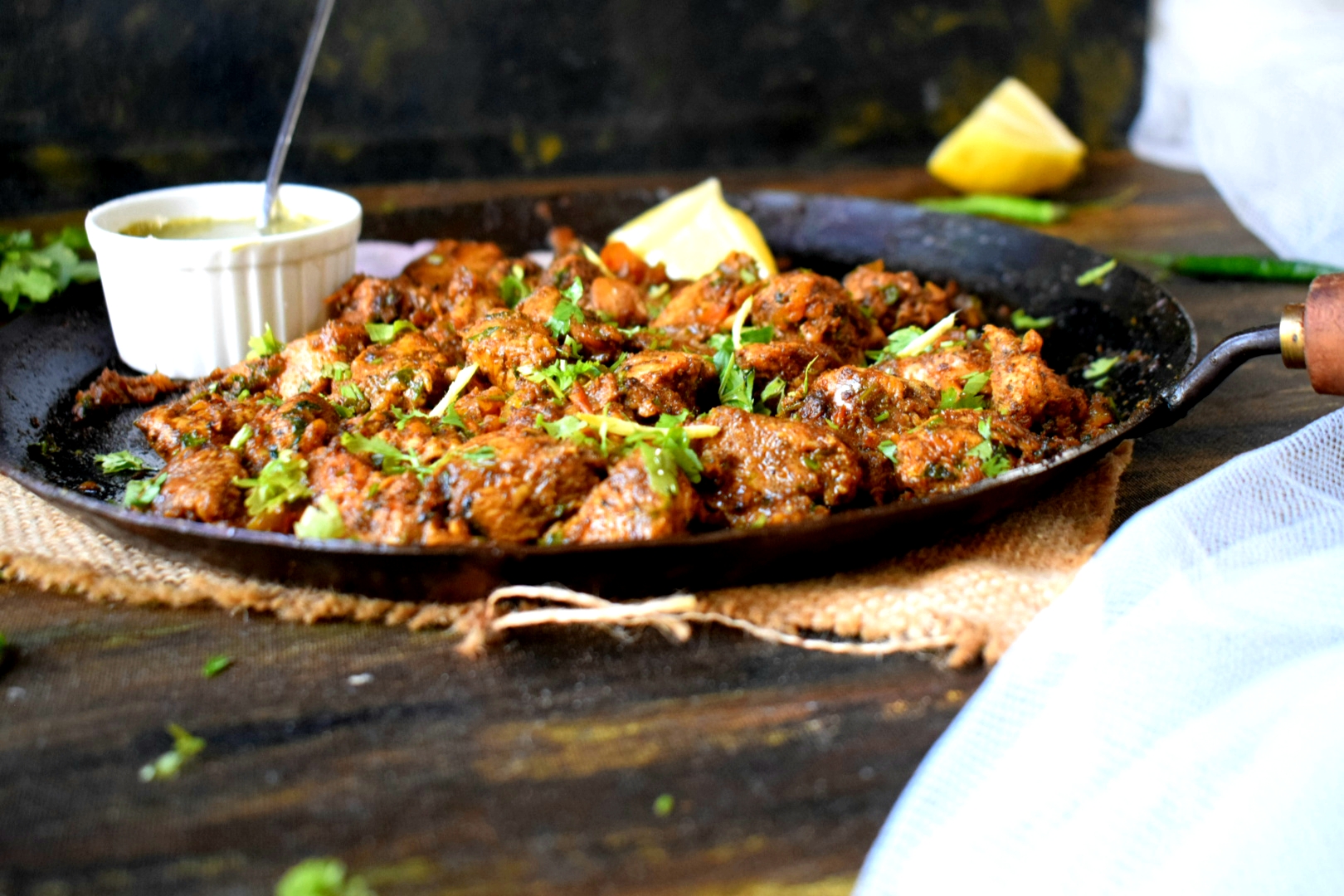 You can obviously make it on any other pan or vessel but as it is tawa chicken I tried making it on a cast iron skillet and it tasted awesome! Also, i enjoyed making it on a tawa, hehe!  You can also use nonstick pan here. Believe me, with these minimal ingredients and easy steps a gravy to be so delectable is a must try peeps!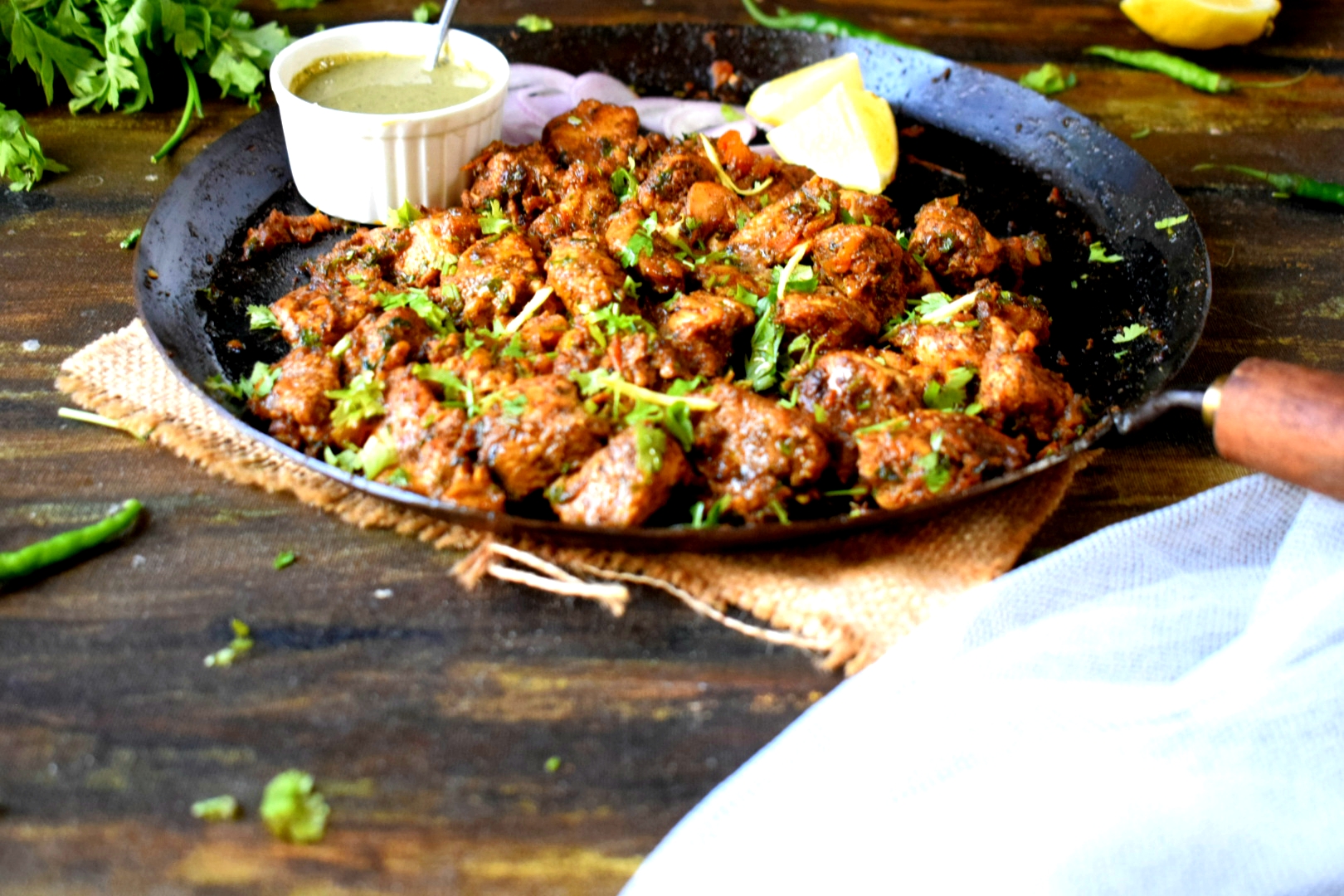 It is served along with mint raitha and slices of onion and lemon! It will be so yummy with lacha paratha, puri or naan. I paired it with puri and was awesome! So if you are hunting for a delicious and easy recipe here you go, this one is perfect for you!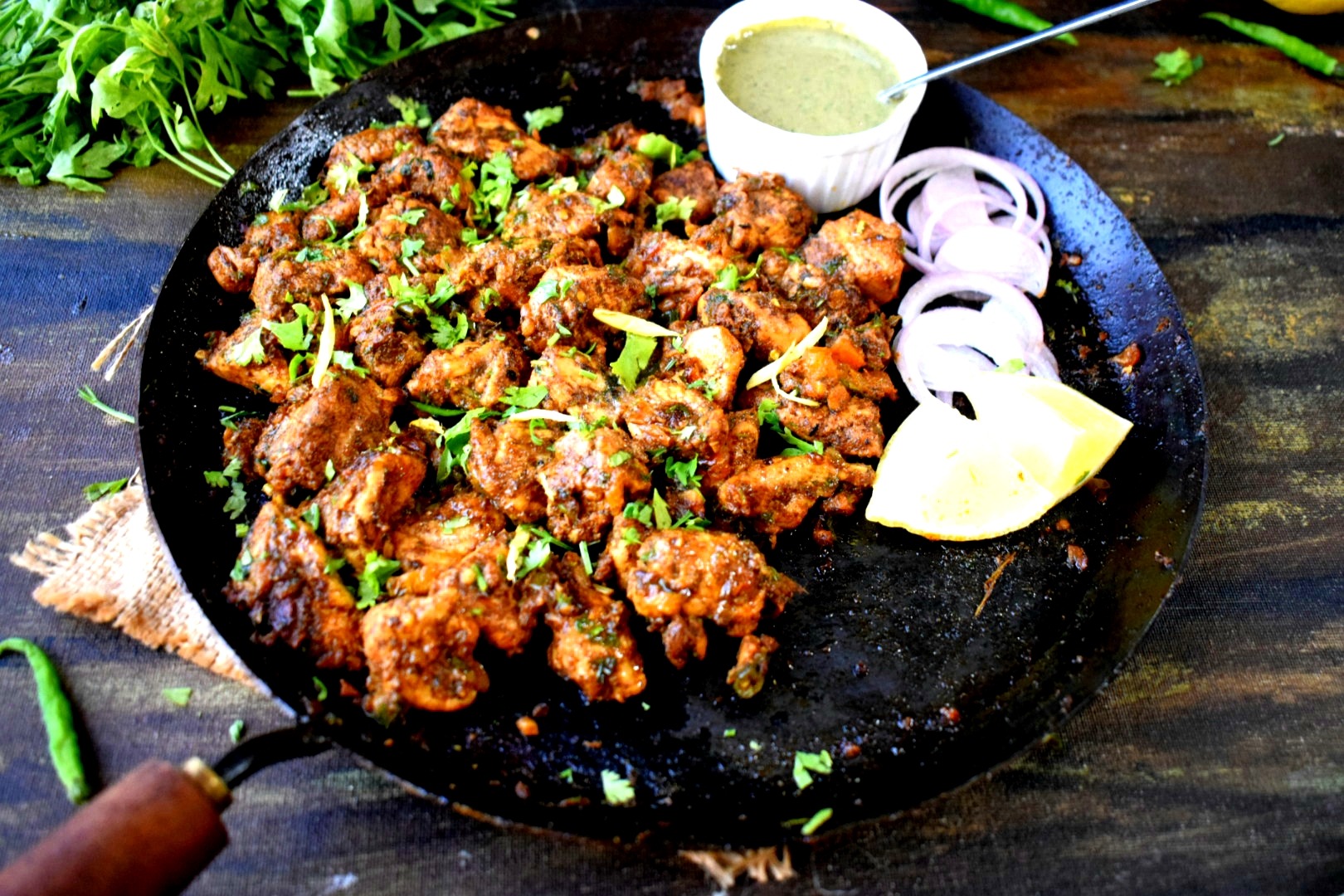 Ingredients
400 to 500 gm boneless chicken
1 tbsp ginger
1 tbsp garlic
4 green chilies
1 tsp chilly powder
1/4 tsp turmeric powder
1 tsp cumin powder
1 tsp garam masala
1/2 tsp kasurimethi (dried fenugreek leaves)
2 to 3 tbsp lemon juice
2 tomatoes
Lots of chopped cilantro
2 tbsp yogurt
3 to 4 tbsp butter or more
3 to 4 tbsp oil
Method
Heat a tawa and pour oil in it.
Add ginger garlic and green chilies and cook for few seconds, then add all the spice powders and mix well(make sure the flame is on low while adding the masalas or spice)mix and cook for few seconds.
Squeeze some lemon juice and add in the cleaned chicken cubes and mix well on medium-high flame cook it for 3 to 4 minutes by stirring occasionally.
Add in the yogurt and mix well(yogurt will add moisture to the chicken)
After few more minutes of stirring and mixing add the chopped cilantro, tomatoes and 1 chopped green chilly.
Without mixing cover it with a lid and leave it for 10 minutes.
After 10 minutes open the lid and you can see the tomatoes are softened and the dish is full of gravy.
Mix it well on high flame and cook the chicken. Simmer the gravy as how thick you want it to be.
When it's almost done add the butter, remaining cilantro and green chilly with a squeeze of lemon juice.
Mix well and switch off the flame and your Tawa Chicken is ready to serve.
Video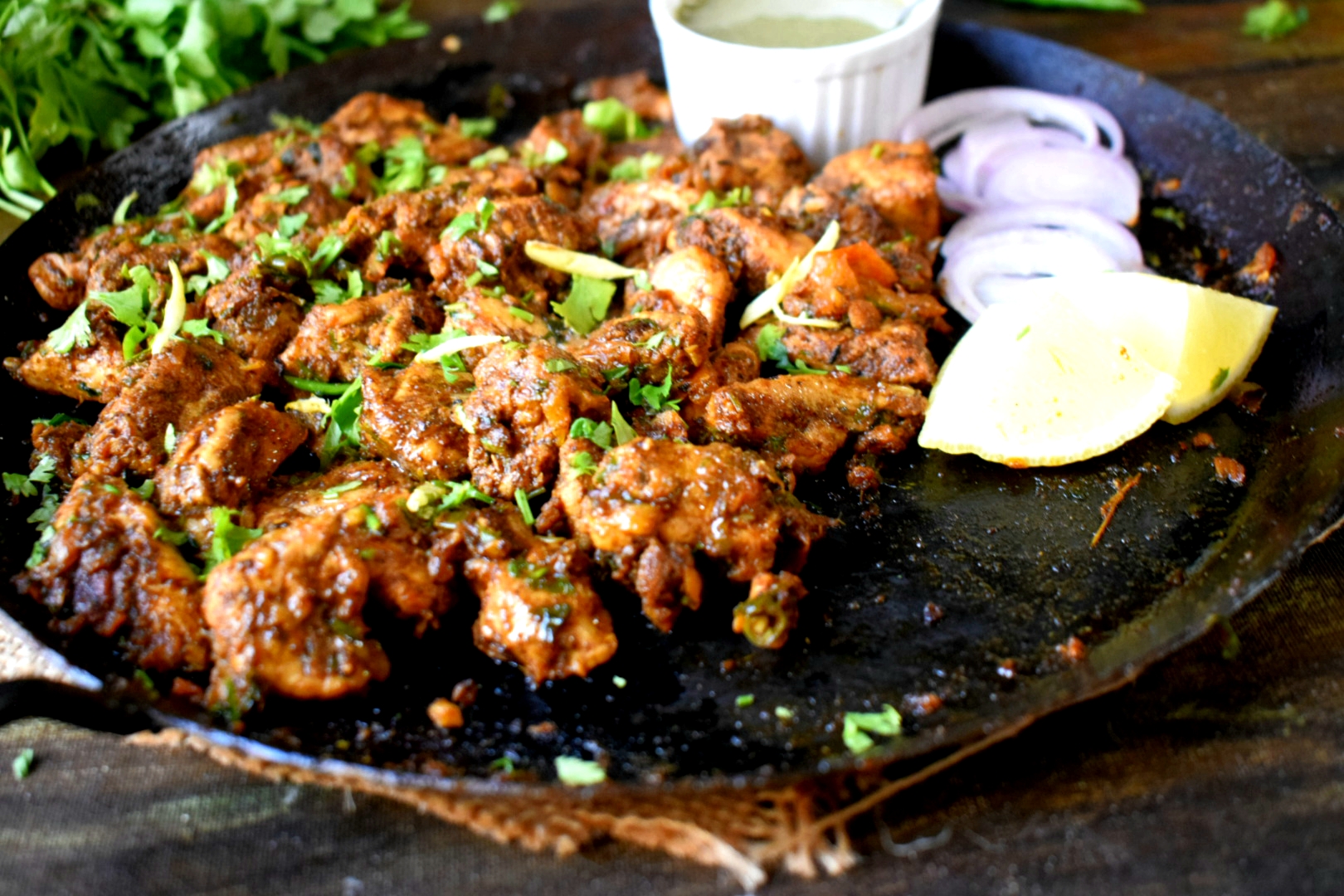 The chicken is moist and succulent coated with all those gravy and delicious flavors from the spices and green chilies! It's really finger licking good! Hope you all try this!