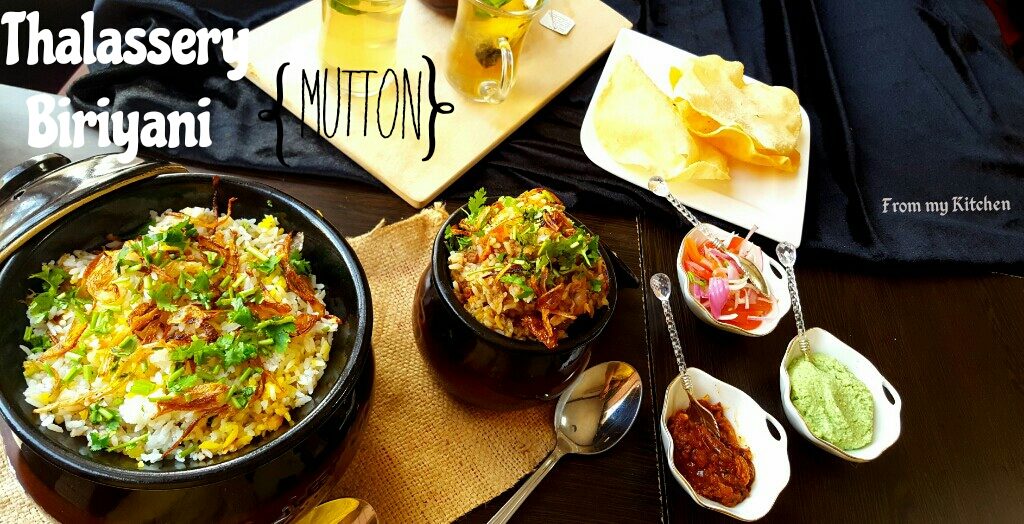 Here i'm back with yet another MFB Challenge. The theme for this month is the front-runner meal  "Biriyani".It's becoming more fun! I'm so excited to know what will be the next one! So this time i'm sure you can see different biriyanis from across the world through fellow bloggers. And no wonder what I selected is The famous biriyani from Malabar side, my favorite"Thalassery Biriyani"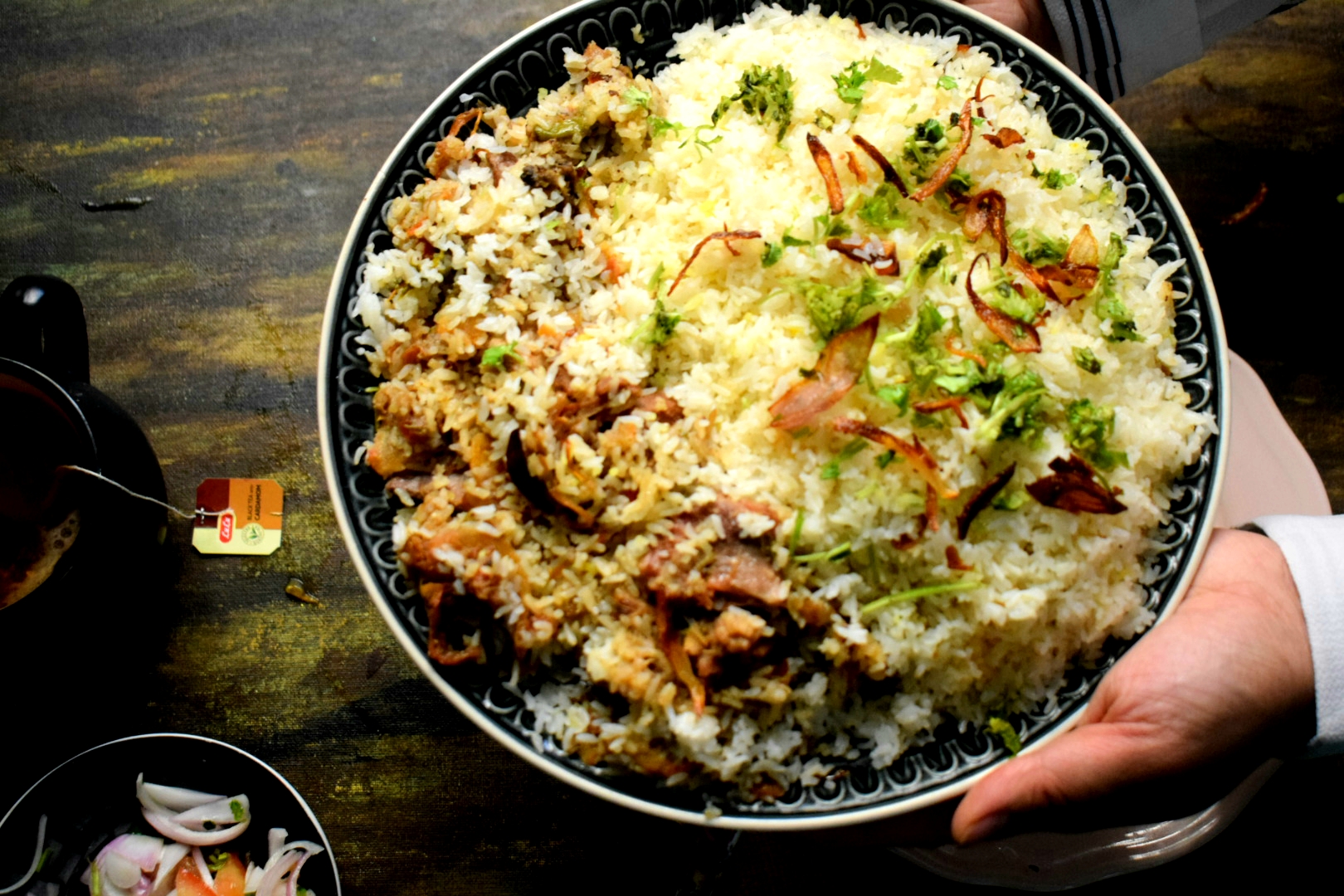 Thalasserry is not only famous for its biriyani but also has tons and tons of recipes and snacks that blow your mind! We are famous for our food!!As a Thalasserian it's a proud for me to share our very own famous Tly Biriyani with you all.I'm sure this is one of the easiest and yummiest biriyanis i have ever made and had.(i think so)Everyone has their own personal favorite right? And here is mine!! And do you know? I heard that Thalassery Biriyani was once there in the menu of Emirates Flight (Business Class )That's a proud feeling!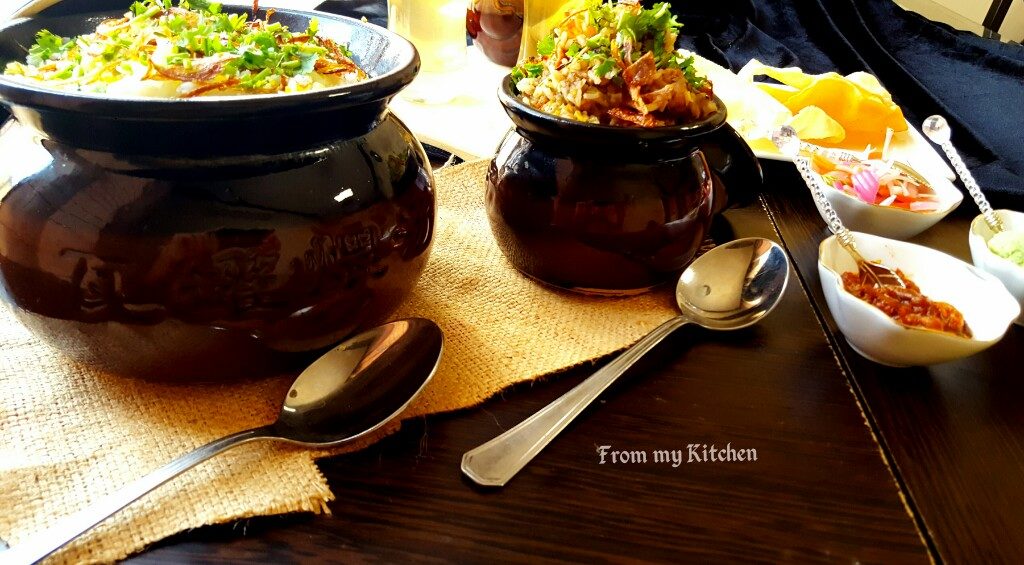 Making Biriyani is always tricky for beginners, but once you are used to it, this will be the easiest dish to make. Unlike other Biriyanis we serve the rice and masalas separately, as you can see in the pics. Also, the rice and masala are cooked separately. While layering the first layer will be masala followed by rice and another garnishing. The masala will be coated with the flavored dum rice. If you didn't try it yet, come on go for it! It's the yummiest Biriyani. I made a step by step pictorial slide for you all.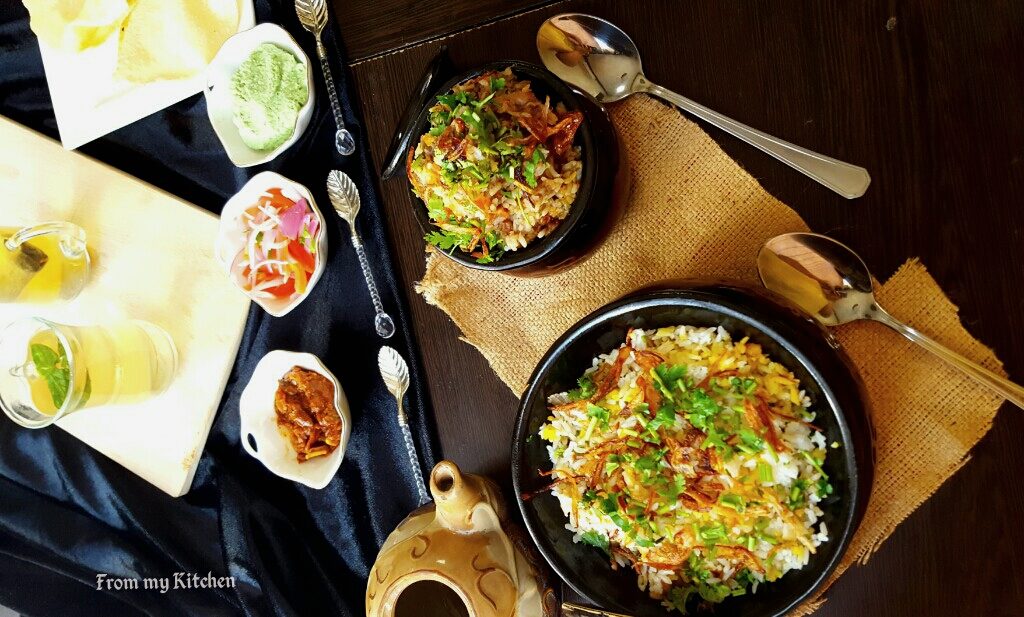 At home, we don't add any spice powders like chilly powder, coriander powders in our masala. But some used to do, i think. Garam masala is a key ingredient here. We make Chicken Biriyani either by frying or without frying the chicken. Fried one is super delicious, will share it some other day. The rice being used here is not basmati but fragrant small grain rice called Jeerakashala or Khaima rice. If you can't find it you can use the basmathi rice too. Over to recipe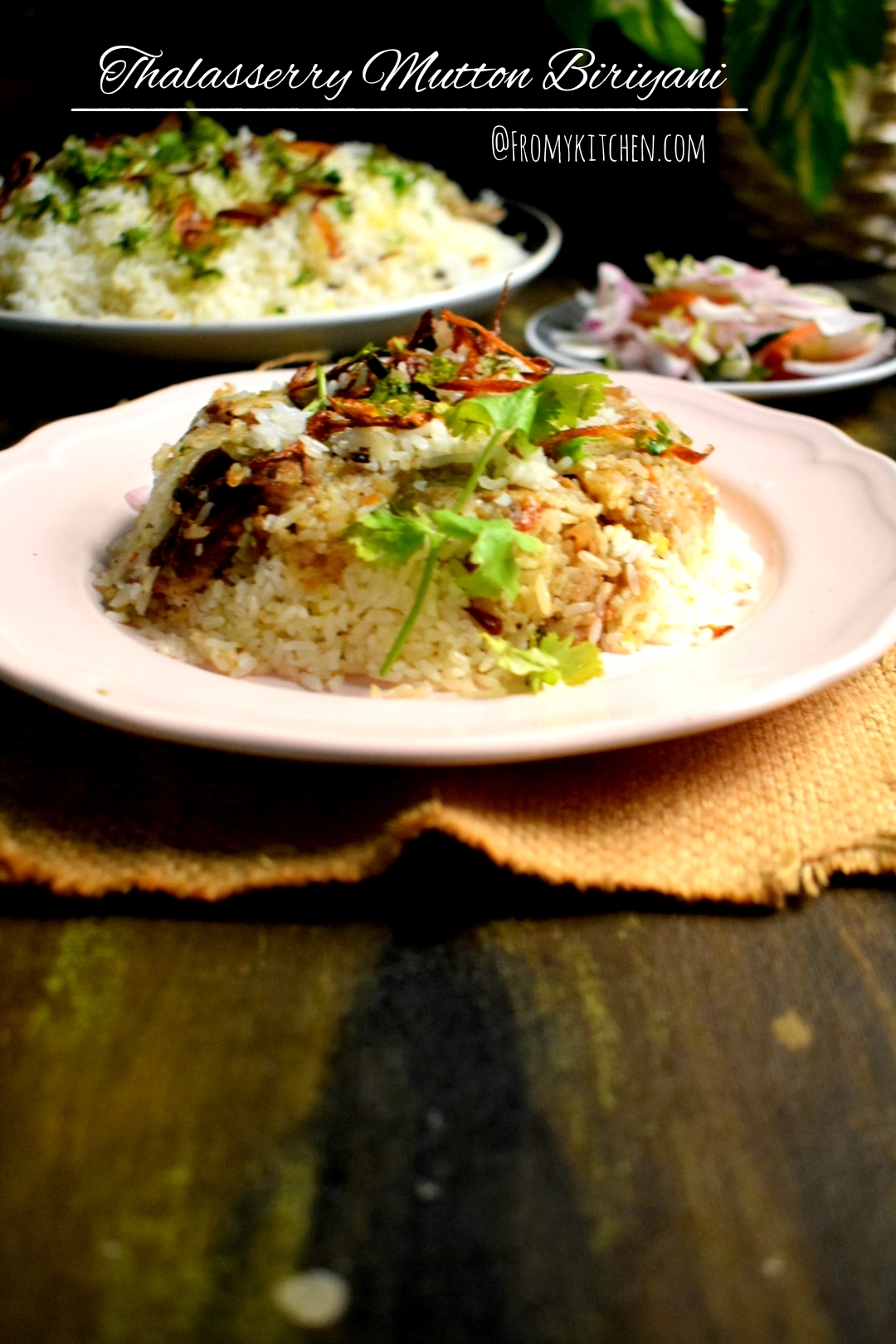 Ingredients
For Masala
1/2 kg Mutton
3 onions
4 tomatoes
5 to 8 green chilies
6 to 8 cloves garlic
A big piece of ginger
Juice of 1 big lemon
Lots of coriander leaves
2 tsp garam masala
2 tbsp oil
For Rice
3 tbsp ghee
Some oil
1 large onion to fry
2 or 3 pods cardamom
1 stick cinnamon
3 to 4 cloves
3 n 1/2 cups Jeerakashala rice or basmati rice
6 1/2 to 7 cups water
For Dum
Yellow food color mixed in some lemon juice and water
Lots of coriander leaves
Fried onions.
Method
Grind together ginger.garlic and green chilies and set aside.
Slice the onions and tomatoes.
In a pressure cooker pour some oil saute onion for few minutes with salt.
Add ginger-garlic paste mix well.
Add tomatoes mix and cook for few minutes. (No need to cook veggies completely as we are pressure cooking it)
Add cleaned mutton stir well add 1/2 to1 cup water close the pressure cooker and cook the mutton until soft and tender.
After the first whistle keep the fire on medium to low and cook it for 15 minutes.Your meat will cook perfectly.Open the lid when the pressure is all gone.
Transfer it to a large pot.Add garam masala,lemon juice and coriander leaves.If you feel there is too much water simmer it for few minutes.(you need some liquid in masala do not dry out completely)
For Rice
In other large vessel pour ghee and oil ,when its hot enough dump in the thinly sliced onions and fry it until golden brown.If you like adding cashews fry it at this stage.
In the same vessel splutter whole spices.
Add washed and drained rice roast it for 5 to 8 minutes with required amount of boiling water and let the rice cook completely.
Now the rice and masalas are ready lets start dum
See the pictorials
After Dum , with the back of a wooden spatula make some whole like shown in the picture. This will bring out flavors of masala to the rice. All dum process is done on low flame. Close the lid and let it simmer for 10 to 15 minutes.
While serving Transfer the rice to other pot and then just mix the last thin layer of rice and masala together and serve it to a separate bowl. Garnish with fried onion and coriander leaves.
Take a look at the Video!
I hope you all enjoy this!
We serve it with Achar, chutney and raita also pappad. A comfort meal that can't beat any other food for sure.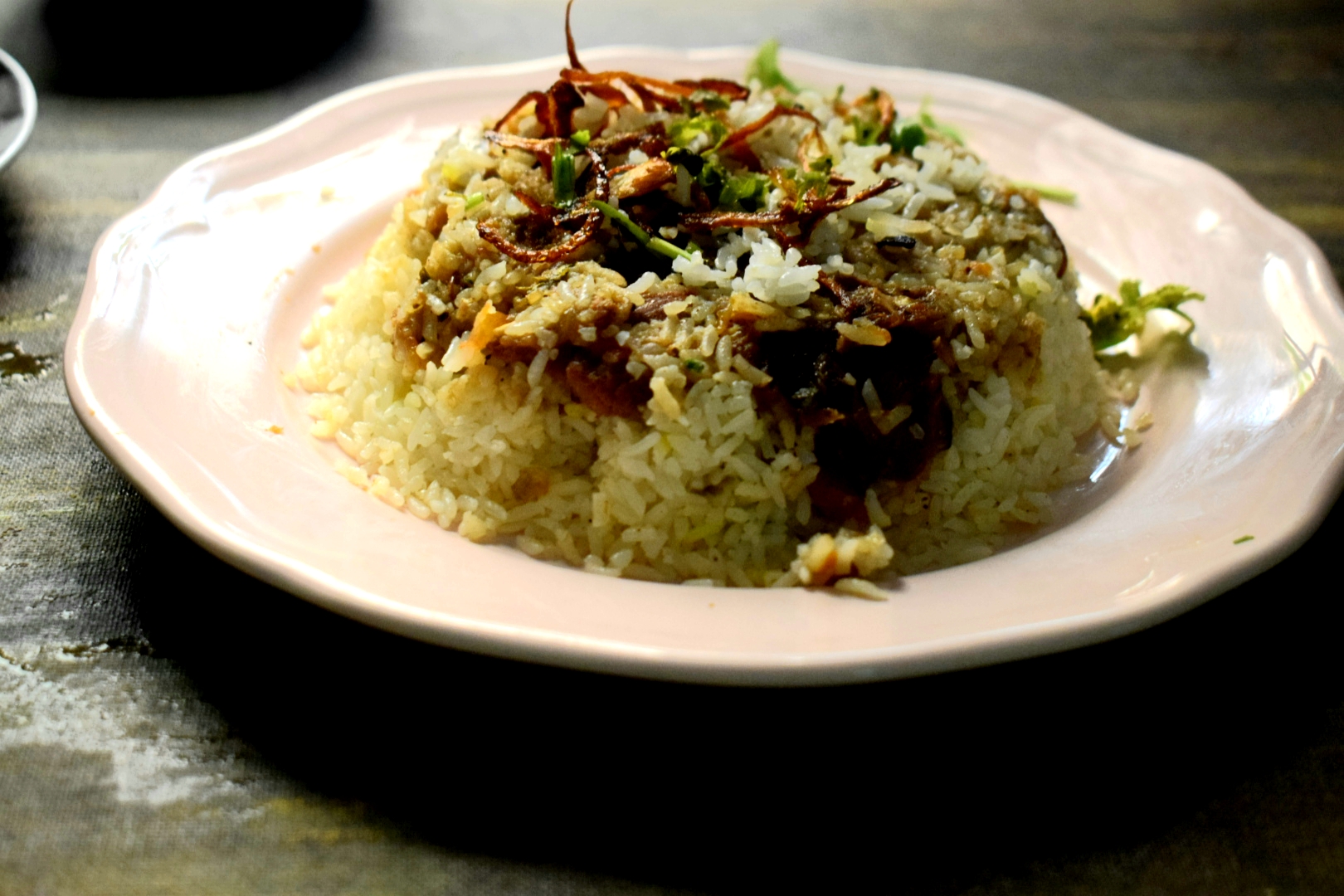 Happy Cooking!
Enjoy the Biriyani and happy weekend!
">ogger.com/Blogger%20and%20other%20custom%20made%20blogs:%20%3C!–%20start%20InLinkz%20script%20–%3E">