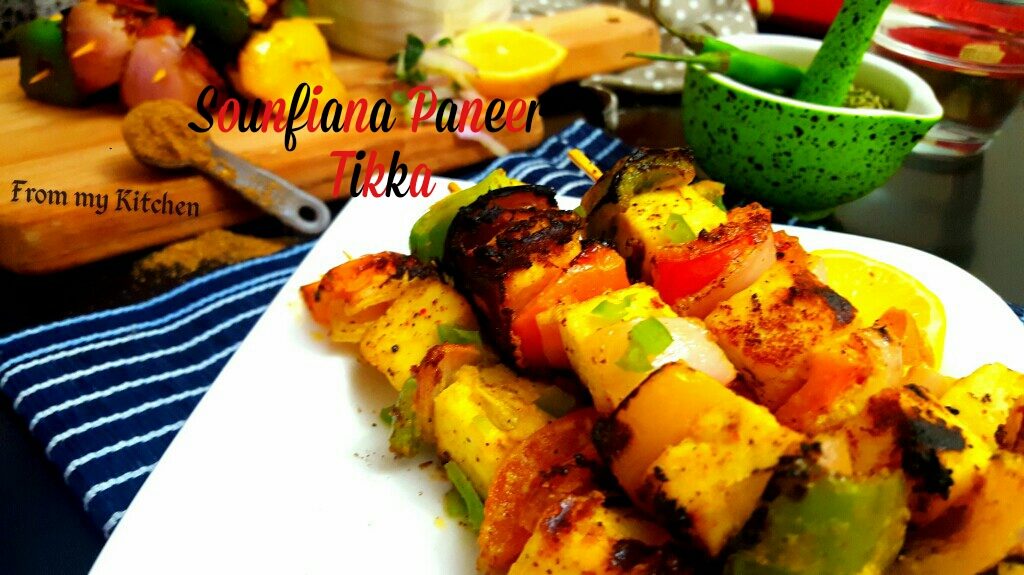 A delicious way of eating paneer is in the form of tikka,isn't it????/It has some different ingredients in the marinade that gives it a rich and amazing flavors.Crispy and juicy veggies along with the soft and flavorful paneer which no one can resist by having just one stick,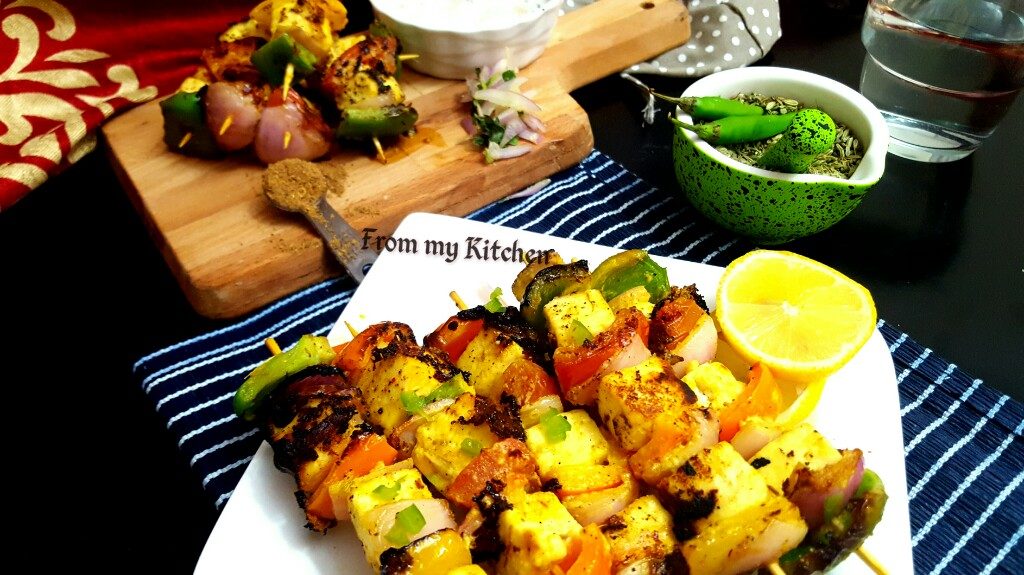 It has fennel(saunf) and saffron in it that gives the dish an outstanding and unique flavor in it.Fennel powder in the marinade is one of my favorite ingredient.I love adding fennel in my chicken marinades.It enhances a wonderful taste to the dish.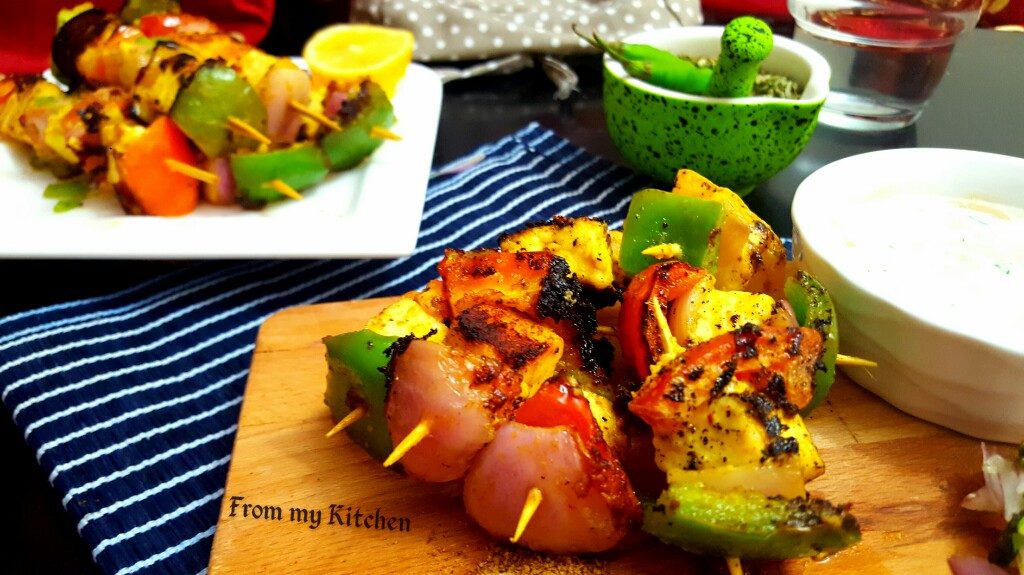 I think this is a royal dish!I mean it has.saffron,cream,butter all those things in the marination,but only in small qty.We loved it.I made small for kids and big one for us,but they too want the big one!hehe!I would like to try it with chicken too!.The marination is made in 3 steps grinding,,adding spices and cream, roasting gram flour in butter.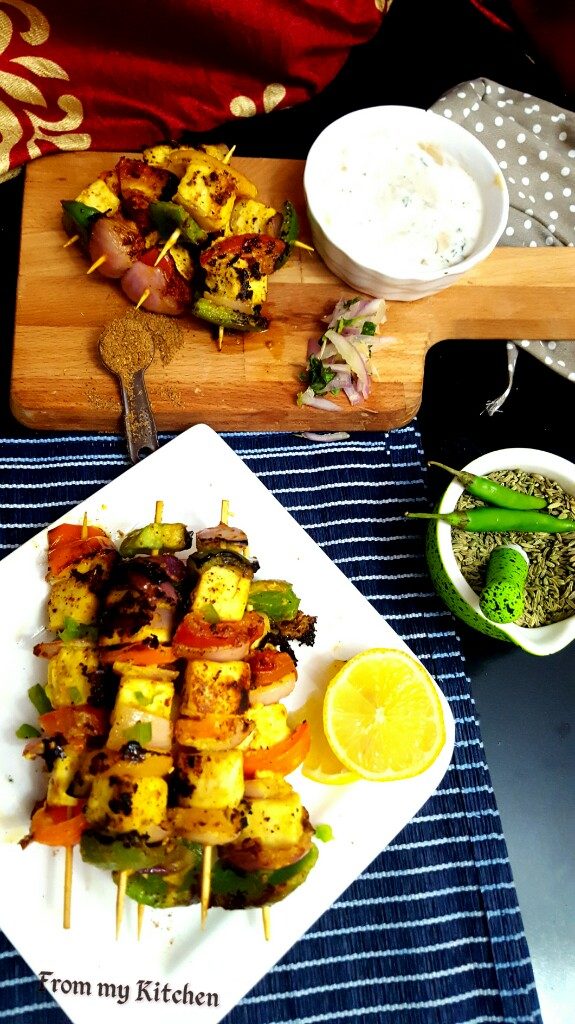 You can make it as party starter by pairing it in a toothpick or as a main dish.
Recipe adapted:Master Chef Sanjeev Kpooor(teeny tiny changes are made here)
Ingredients
400 gm paneer
1 small bell pepper green(,yellow,orange opt )
1 Onion
1 Tomato
For The Marinade
Ginger, Peeled – 1 Inch Piece
Garlic, Peeled – 4 To 6 Cloves
Green chilly – 2 to 3 Medium
Fennel (Saunf) – 2 Tea Spoon
Green Cardamoms – 2 to 3
Lemon – 1/2
Gram Flour – 2 Table Spoon
Turmeric Powder – 1/2 Tea Spoon
Pepper Powder – 1 Tea Spoon
1/2 tsp chilly powder
Chaat Masala – 1 Tea Spoon
Fresh Cream – 1/2 Cup
Yogurt – 3 tbspn
Saffron – A Few Strands
Butter – 1 Table Spoon
Salt – To Taste
For Serving:
Fresh Coriander Leaves – A Few Strands
Lemon Juice – 1 Table Spoon
Chaat Masala – 1/2 Tea Spoon
Method
Soak your skewers in a large glass filled with water.This is to prevent the skewers from burning while grilling.
Cut the veggies in cubes.
In a grinder grind together ginger,garlic,green chilly fennel seed and cardamom with 2 tbsp water and keep it aside.
In a pan heat a tbsp butter and then add in the gram flour and mix until the raw smell of the gram-flour disappear.
In a large bowl add the gram flour mix,grinded paste,pepper,chilly powder,turmeric powder,salt,chaat masala,lemon juice cream and yogurt mix well to combine.
Add saffron and mix well.
Now add paneer cubes and veggies to the marinade and let it rest for 1 hour.
After one hour Take out the skewer and start skewering the marinated veggies and paneer.
Heat the grill pan or tawa to medium flame,smear some oil and grill it on both side until golden brown or charred mark appear on it.I showed it on direct flame for few second to get that exact charred flavor.(that's completely optional)
Tip :When your paneer is cooked grill it on high flame to get that charred marks on it.