Recipe inspired by India's Master Chef Sanjeev Kapoor!So by no means the recipe will go wrong;)What a wonderful collections of recipes and channels he have!Sukha means dry,in this recipe onion and coconuts are dry roasting that's why this name.This dish has a different and unique taste.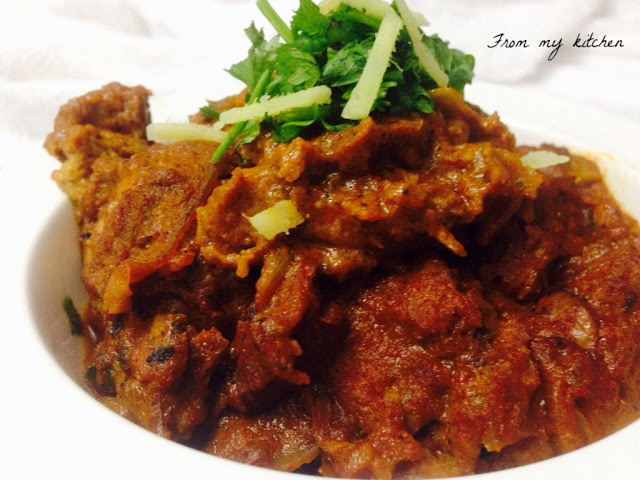 Due to the lack of some ingredients(may be main ingredient kolhapuri masala hehe!)But I really want to give it a try so I made some changes in the recipe,but still the taste was awesome.My hubby loved it as its spicy and something in the dish make it taste divine!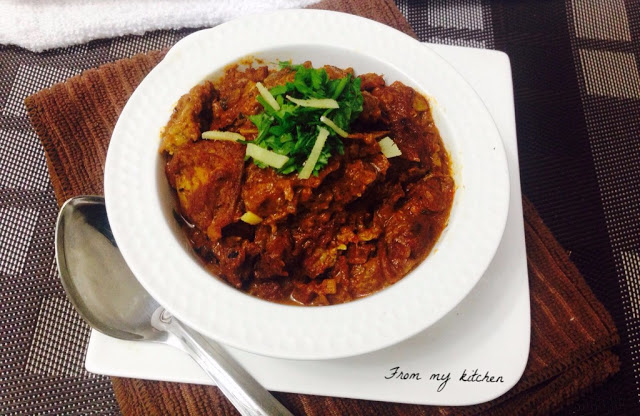 For the preparation of this dish first you have to dry roast the onion and coconut ,cool it and grind it to paste then making gravy with onion tomatoes and mixing the spices, paste and mutton combine together all to make this delicious recipe.Over to recipe.
Ingredients
For Boiling mutton
1/2 kg mutton
Salt to taste
1 n 1/2 tspn chilly powder
Water
For Sukha Masala
1 medium onion
3/4 cup coconut
For Gravy
2 onion
1 tspn ginger
1 tspn garlic
2 tomatoes/tomato paste
1/2 tspn turmeric powder
1 tblspn chilly powder
3/4 tspn coriander powder
1 tspn garam masala
1/2 tspn cardamon powder
Salt
2 tspn lemon juice
Coriander leaves
Method
First boil mutton with above ingredients and keep it aside
Dry roast onion and coconut until reddish colour let it cool and grind it with some water to a fine paste and keep it aside.
In a pan pour oil saute onion and when it's half done add ginger & garlic saute then add tomatoes and cook,when it's half done add chilly powder,coriander powder and turmeric powder mix well and cook for a while then pour the coconut paste add some mutton stock and cook and reduce it.Then add in the mutton combine all. Lastly add garam masala, cardamon powder, lemon juice and mix well,Throw in lots of coriander leaves and switch off the flame.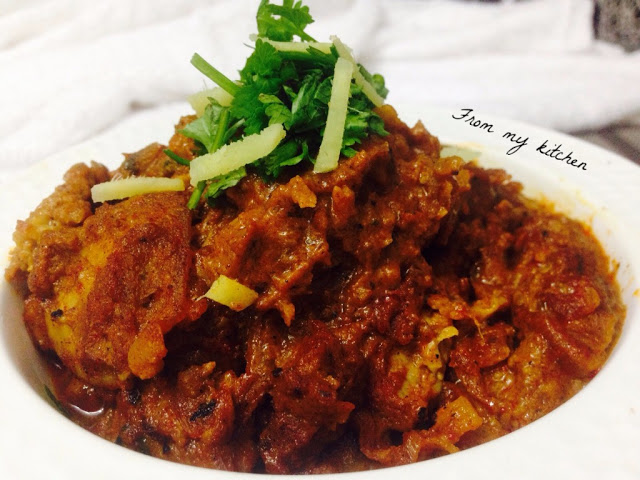 The colour of the dish is lighter than this,here I added readymade tomato paste as I noticed last moment that my tomatoes are all over,That means you can also add tomato paste in this recipe this will give nice colour to your dish.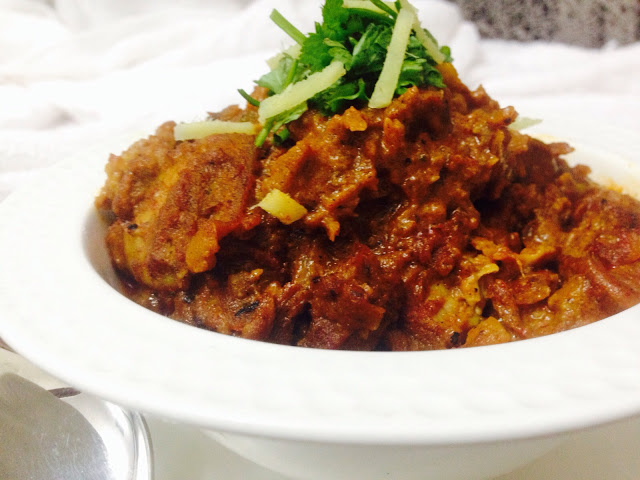 Enjoy it with your favorite rotis!
Happy cooking!