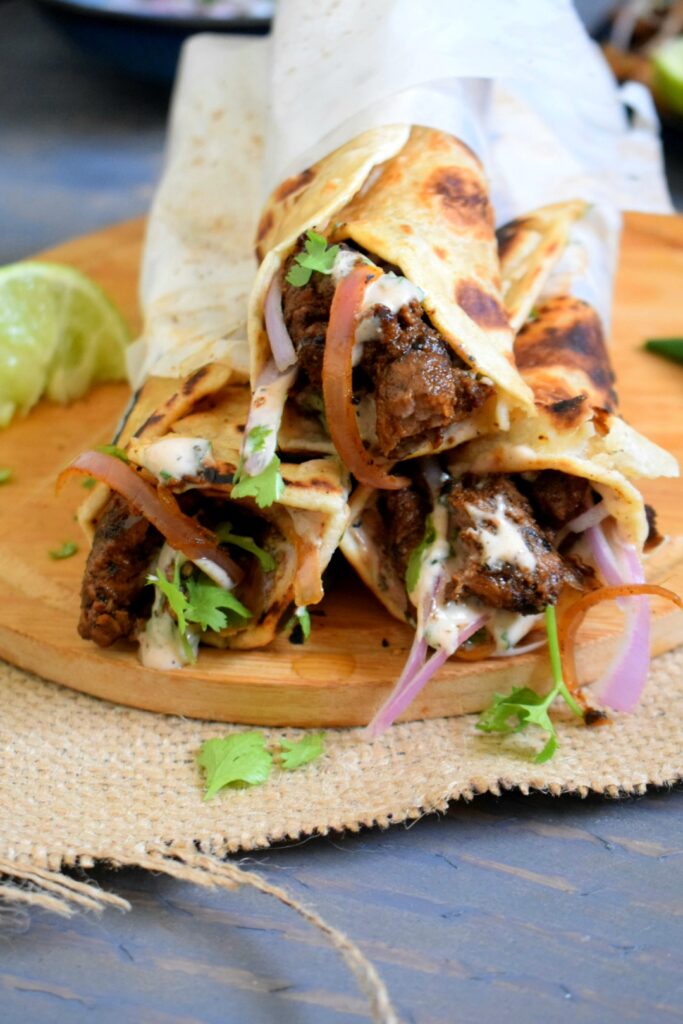 Spicy, juicy, and tangy beef rolls with crispy onion! Happiness is guaranteed in every single bite for all beef lovers! Spicy slow-cooked beef coated with raw onions is enveloped in soft roti with a fresh yogurt and herb spread!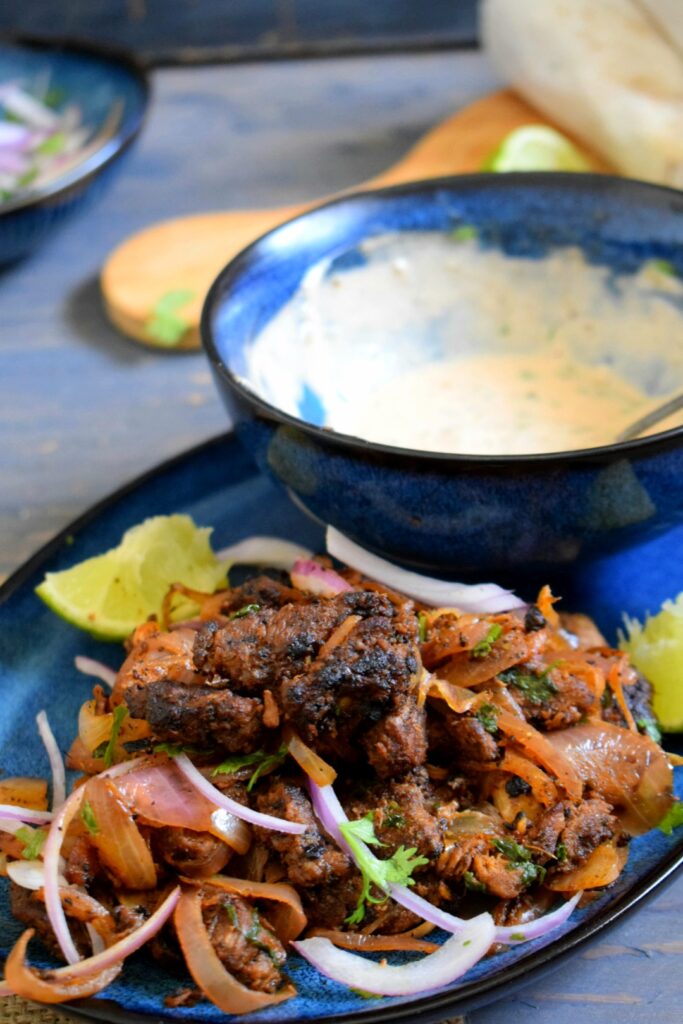 I started loving beef rolls when I tried it once from a restaurant here. It was always a chicken roll or shawarma for me, but after trying it I just loved it! It has got nice tangy flavors from chaat masala, fresh herbs, and yogurt. I just tried to recreate it in my kitchen and was satisfied with the outcome, just loved it!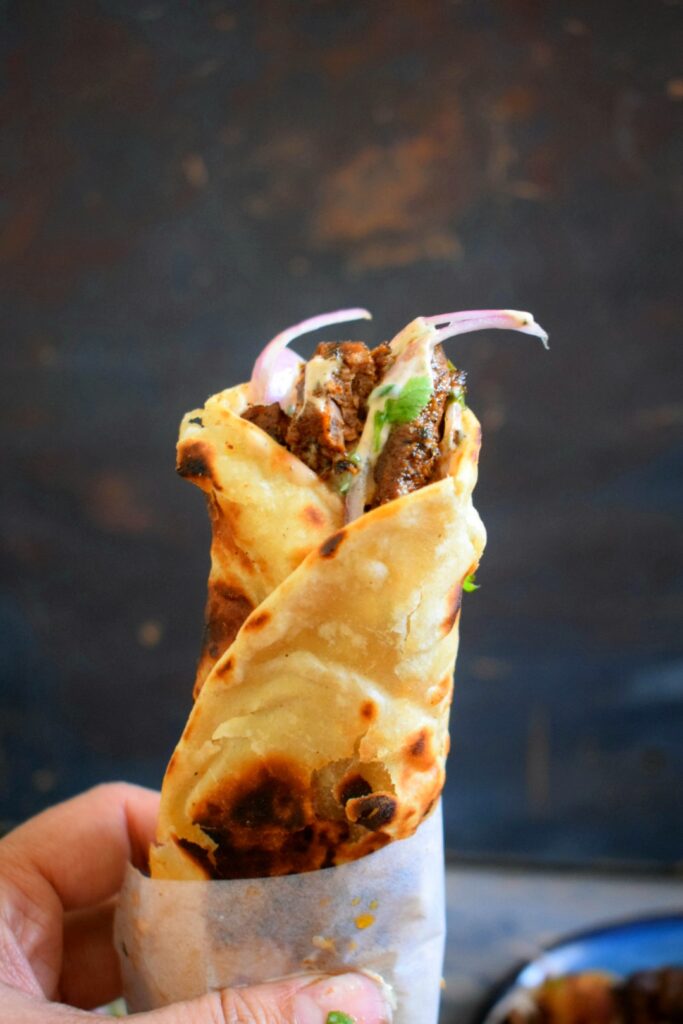 Hope you all will love it too! Instead of deep-frying and making it unhealthy let's cook some healthy nonfried recipes this Ramadan
Ingredients
400 gm boneles beef cut in strips
lemon juice
salt to taste
1 tsp chilly powder
1 tsp pepper powder
Some kashmiri chilly powder for color
1 tsp garam masala
1 tbsp ginger garlic
3 tsp yogurt
Other ingredinets
2 to 3 tbsp oil
3 cloves garlic chopped
2 green chilies chopped
1 large onion sliced
lots of cilantro
lime juice
For dough
1 cup all purpose flour
1 cup wheat flour
salt to taste
1 tbsp ghee
3 to tsp yogurt
Enough water to knead the dough
Knead to a soft dough.
For dip
Finely chopped cilantro, mint leaves, green chilies
3 to 4 tbsp yogurt
2 tbsp mayo
1 tsp chaat masala
salt to taste
pepper if needed
Mix all and keep it aside.
Note: Don't skip chaat masala
Method
Marinate beef strips with the above-listed ingredients and let them rest for at least 30minutes.
In an iron pan pour some oil, add ginger garlic and green chilly chopped, then add this marinated beef. Stir it on high flame for few minutes and then simmer the flame to low cover and cook the beef for 15 to 2o minutes.
Check-in between, it will release the moisture, let the beef cook in that stock.
After 20 minutes, open the lid keep the flame on medium-high and reduce the stock and start to stir fry the beef until it's nicely done and black in color.
Then add the sliced onion, lemon juice, green chilies chopped, some garam masala and cilantro mix well and switch off the flame. No need to cook the onion.
Cook the rotis, spread the dip and place the delicious juicy beef in it roll it and devour!
Youtube video!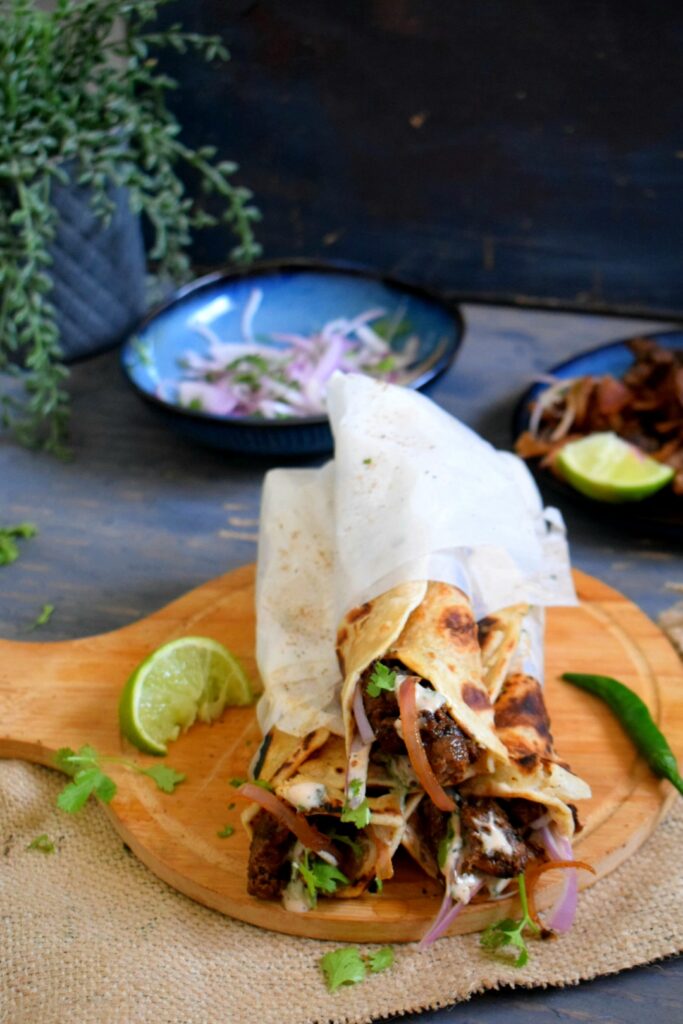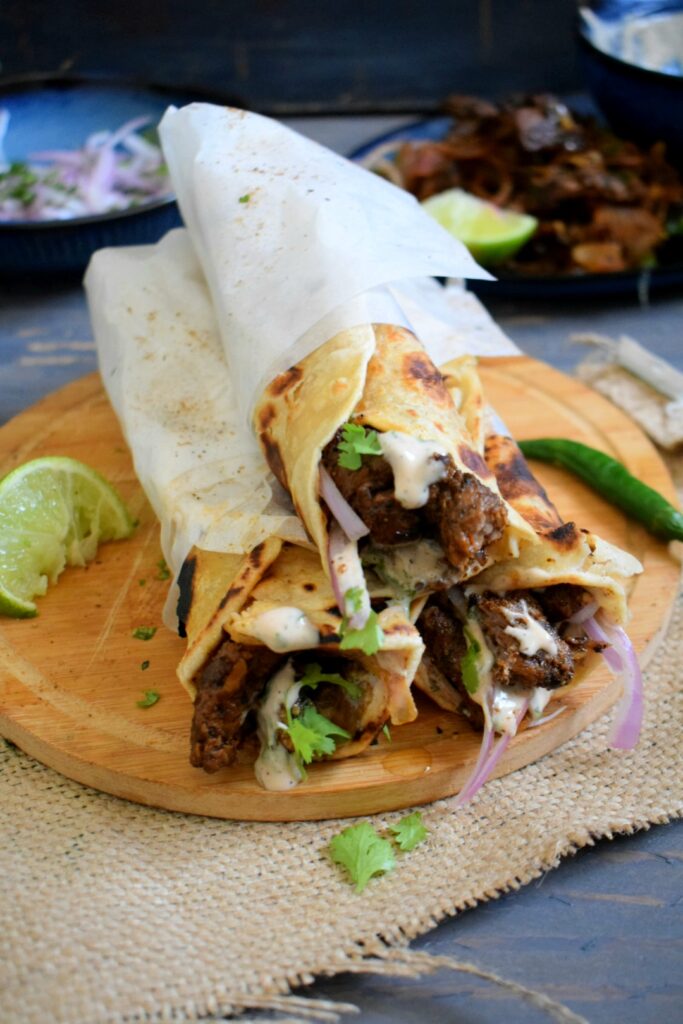 Happy Cooking!