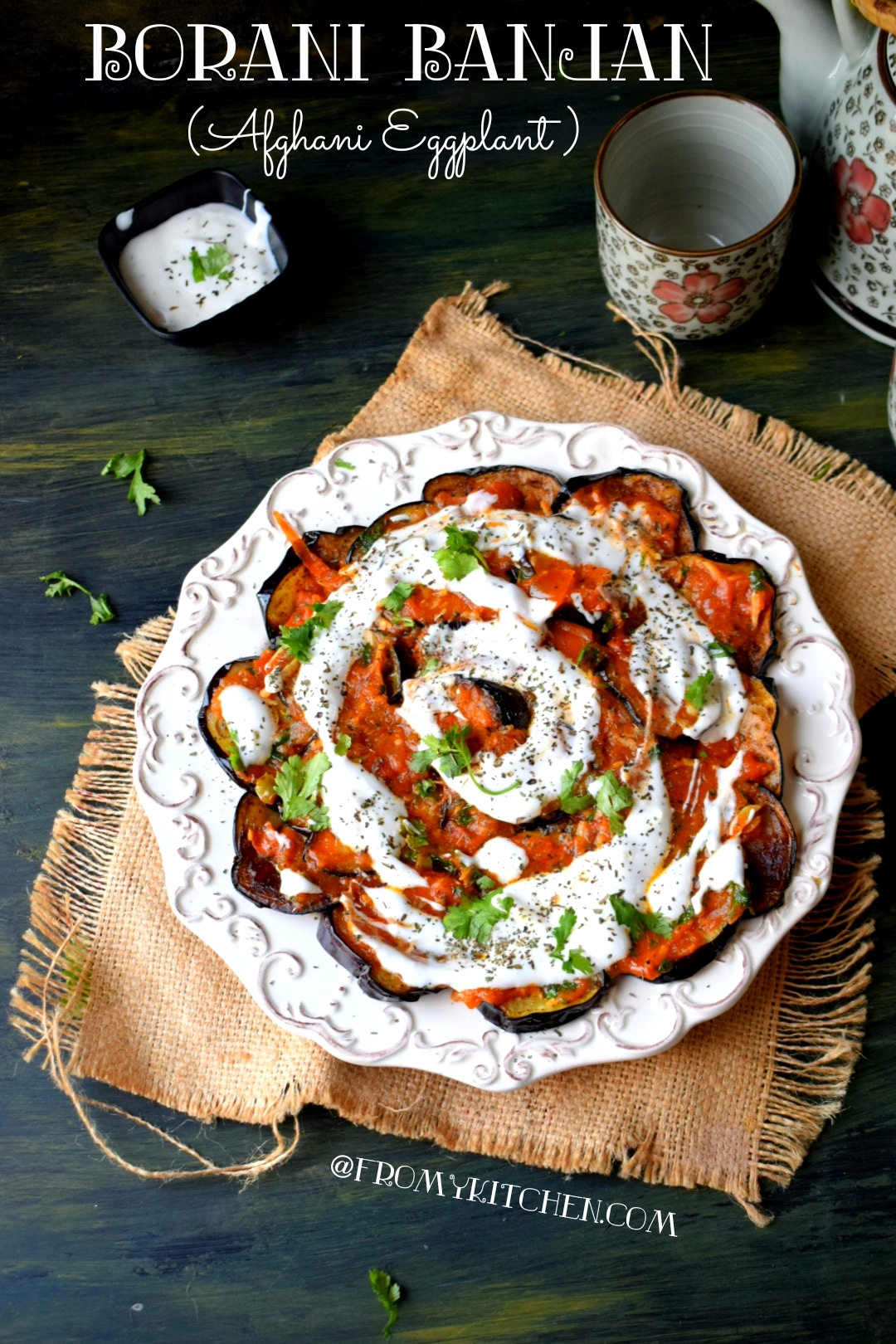 Borani Banjan is a lusciously layered Afghani Eggplant with tomato and yogurt sauce which is beautifully flavored with mint and garlic! Yes this one dish will make you fall in love with this veggie! A tangy and delicious dish with the freshness from herbs and spices is to die for!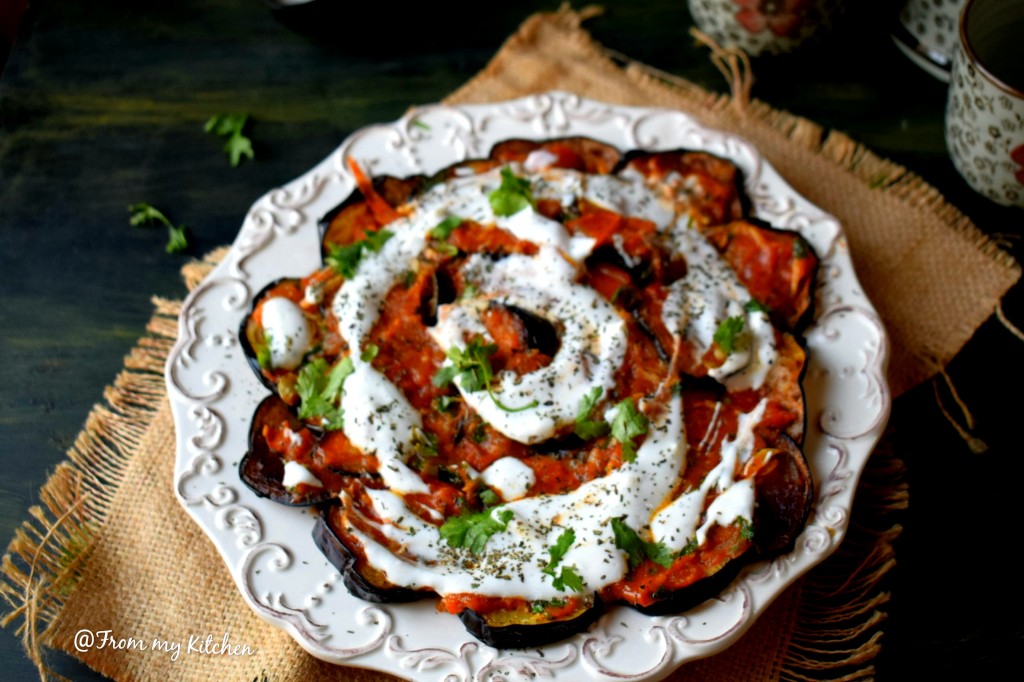 Now I got one more dish to love this particular veggie after achari baingan! Eggplant is a must veggie from now onwards while doing my grocery shopping! Trust me if you are someone like me who doesn't like eggplant then try these dishes and you will fall in love with this.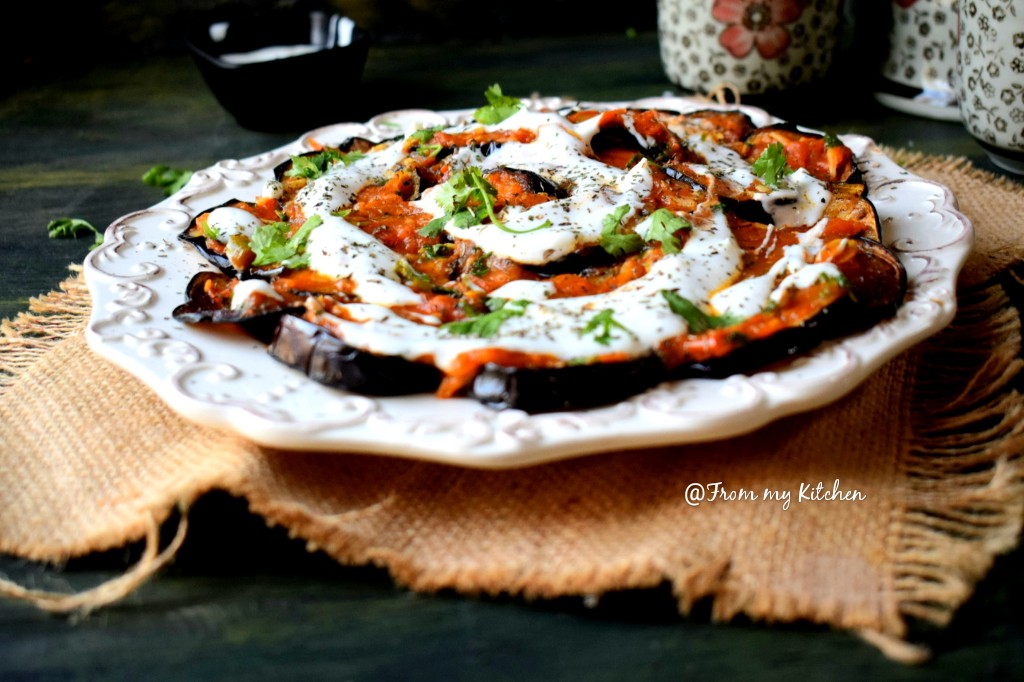 This dish is traditionally made by frying the eggplant, but I preferred shallow frying as it does not need much oil and then layer it with a tangy spicy tomato sauce and topped with yogurt and garlic sauce with lots of dried mint. I made fresh khubs and some salad to accompany it and it was damn good.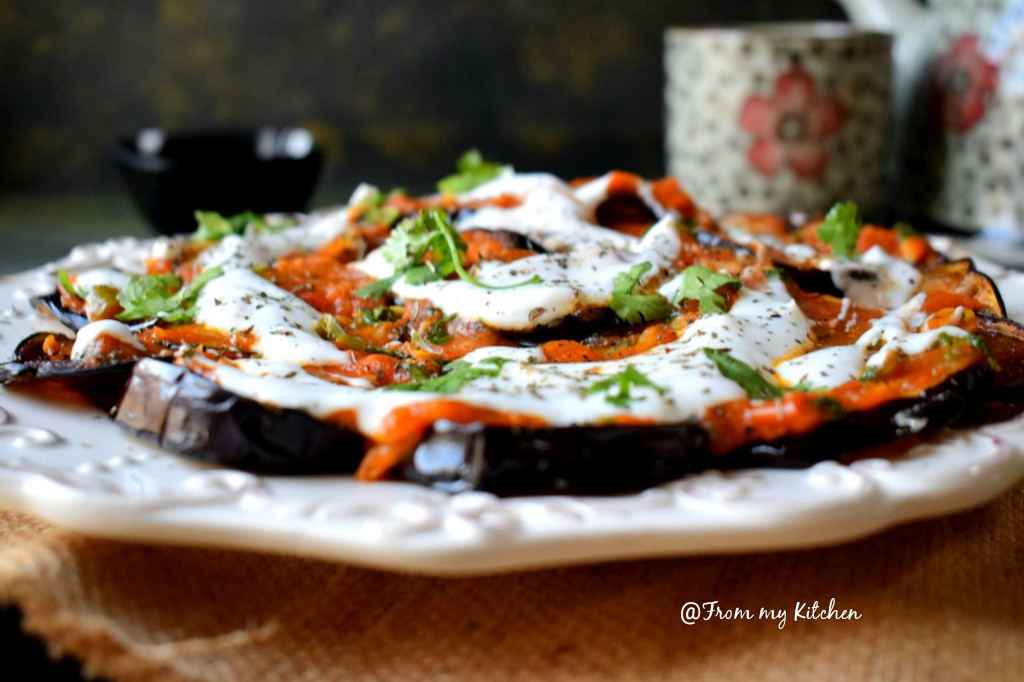 Ingredients
2 large egg plants
3 tomatoes
3 green chilies
5 t0 6 cloves garlic grated
1/2 tsp chilly powder
1/4 tsp turmeric powder
1 tsp cumin powder
salt to taste
1/2 tsp pepper powder
Some cilantro
For Yogurt Sauce
3/4th cup yogurt
1 clove garlic
salt to taste
some pepper powder
Some dried mint leaves (if you don't have it add finely chopped fresh mint leaves)or see notes
Method
Slice the eggplants and dump it in salt water for 15 minutes. Drain and pat dry.
In a pan pour some oil and when it's hot enough shallow fry the eggplant. Drain it on kitchen towel.
In the same oil add garlic and green chilies, when it releases the aroma add in the chopped tomatoes and salt. Mix well cover and cook it.
When its soft add in the spices like chilly powder, cumin, and turmeric powder mix well pour 1/2 to 3/4th cup water cover and cook it.
Lastly, add cilantro, pepper powder and switch off the flame.
Yogurt Sauce
Blend well the yogurt with spoon or hand whisk then add the garlic, salt, and pepper along with dried mint leaves and mix well.
In a plate assemble the eggplants by topping tomato sauce on it neatly and then pour the yogurt sauce on top and make it attractive with some more dried mint and cilantro. You can serve the remaining yogurt sauce separately in a bowl and relish it.
Notes: For dry mint, you can dry roast the fresh mint leaves crumble it and use.
Video