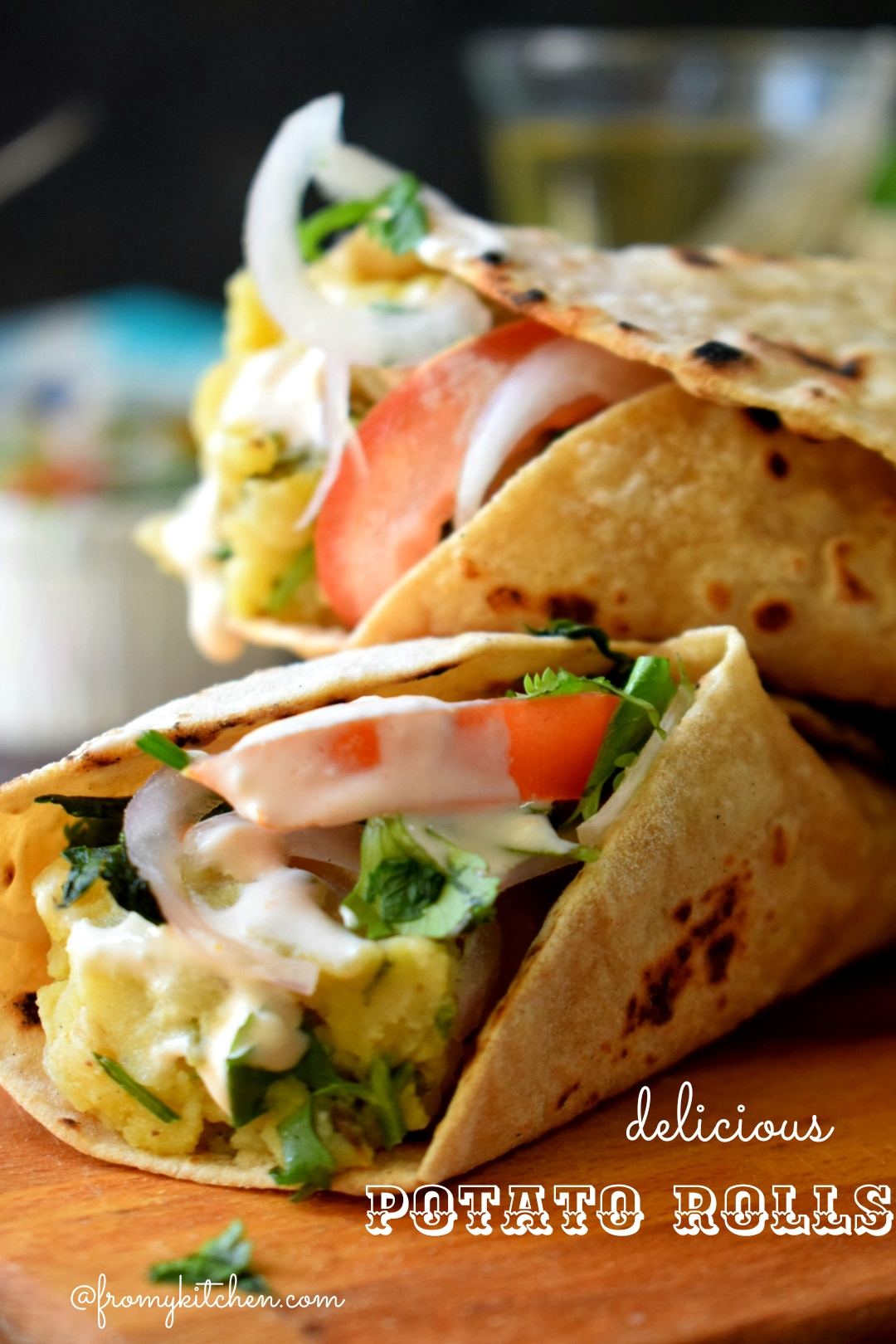 Are you bored with that regular puri baji? Browsing for some interesting recipes for your kids' lunchbox? Then here it is, a luscious and finger licking roll with the same ingredients you use every day in a different avatar that your kids and family will love! I got a big thumbs-up from my greatest food critic my son! hehe! Healthy and delicious that's what you are looking for right?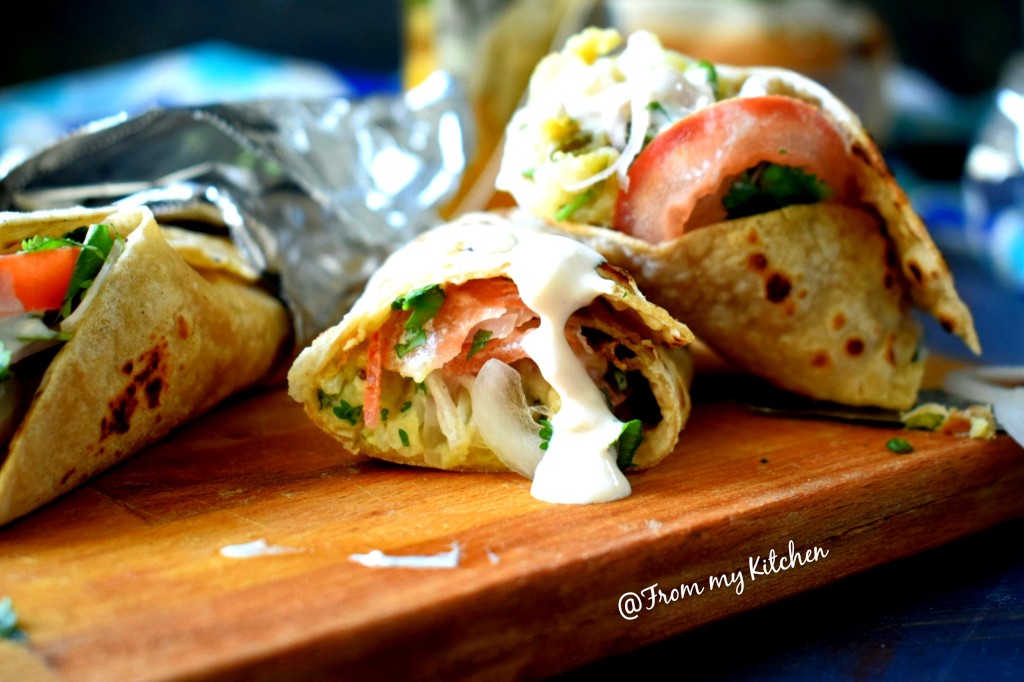 Yes, you can totally change the look and taste of your dish with regular dishes you are making at home. This filling was the leftover from my aloo paratha and baji I prepared before. I mixed it both and then some regular chapathis, to make it interesting and delicious made a simple spread and for that kick some pickled veggies and wala! It was so juicy and yum!
Perfect finger food for kids. Even my hubby loves such rolls and wraps for lunch box as he used to say it's easy to have while on work. Here I will share the filling recipe too. The spread was so yum as it has a mix of Indian and Western touch, so without further delay let's check out the recipe. One more addition to your Lunch Box idea!!Yay!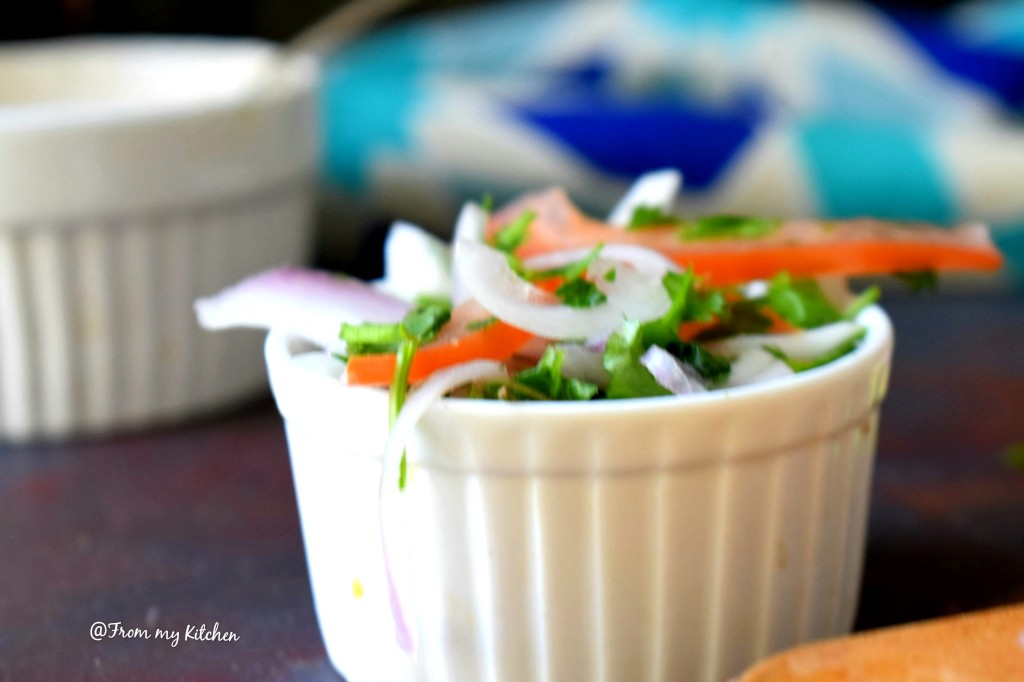 Ingredients
For dough
2 cups wheat flour
salt to taste
2 tbsp oil
Water for kneading
(I made it healthy by using only wheat flour, but if you like to use white flour go for it like half white and half wheat flour)
For Filling
3 boiled potatoes
2 large onions
3 green chilies
1 tsp ginger finely chopped
1 tbsp garlic finely chopped
Salt to taste
1 tsp cumin seeds
1 tsp chilly flakes (opt)
1/2 tsp garam masala
1 tsp cumin powder
lemon juice
Lots of coriander
Mint if you like
2 to 3 tbsp oil
For Spread
 Few mint leaves
1 or 2 clove garlic
3 tbsp mayo
1 tbsp ketchup
2 tbsp yogurt
Pinch of  salt
1 tsp lemon juice
If you like it spicy use a small green chilly too.
Other Veggies
Onion sliced
tomato sliced
Some coriander leaves
lemon juice and salt
You can also use cabbage or lettuce if you like
Some chaat masala to sprinkle
Method
Knead the dough and let them sit for 15 minutes. Then make parathas out of it like how we used to cook normally cover and keep it aside.
For filling
 Boil the potatoes with salt and a pinch of turmeric.
Finely chop the veggies like onion ginger garlic and green chilies.
In a pan pour 3 tbsp, oil splutter cumin seeds.
Add crushed ginger garlic and green chilies, cook it until it releases its aroma, then add chopped onions and salt cook it until soft.
Add chilly flakes, cumin powder, garam masala and mix well,
Add the mashed potatoes and mix well.
Squeeze in lemon juice and throw some coriander leaves mix well and switch off the flame.
Slice the onion and mix it with salt and some lemon juice and keep it aside. Also, slice tomato and cilantro and keep.
For spread
Using motor and pestle crush the garlic and mint to a coarse paste.
Then add mayo, yogurt, ketchup, lemon, and salt mix well
Assemble
Take one (paratha) spread the mayo yogurt dip and put a good amount of potato filling in the center followed by pickled onion, tomato, cilantro and a dash of chaat masala with a little bit of the spread on top and roll it. Cover it using a foil paper or butter paper and you are good to go!
Tips: You can easily make it with leftover potato filling or with baji with some slight modification. If you have leftover parathas then boil some potatoes or even make the filling previous day to avoid last minute rush. Hope this post will help you all! Enjoy!
Video