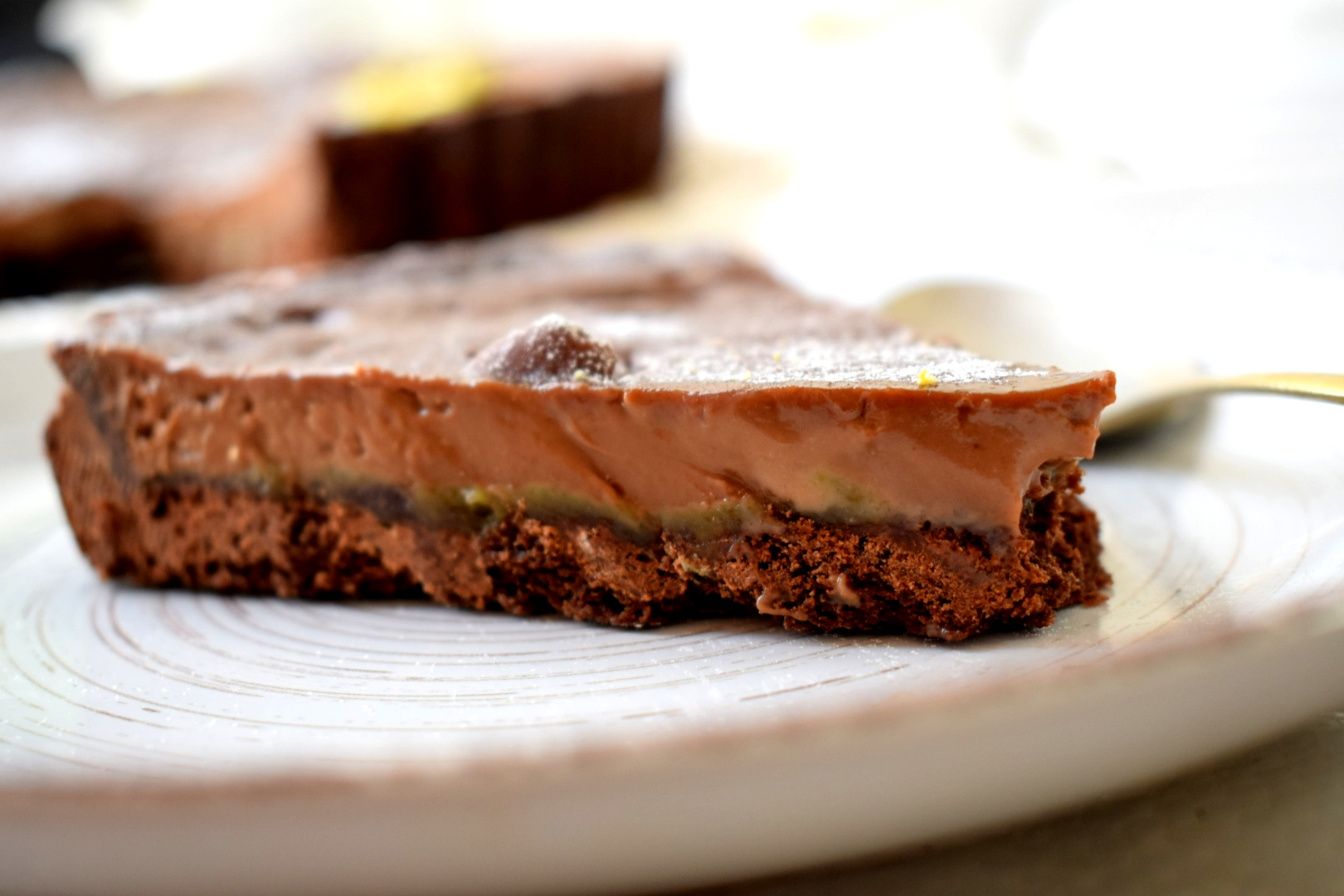 Its vacation time here in the GCC area so thought to share a decadent dessert before leaving for vacation! Yes after a long time trying something sinfully decadent and chocolatey! This was to celebrate the holiday season for Kashif hehe! This chocolate tart has a buttery chocolatey shell with a creamy layer of pistachio paste and silky smooth chocolaty goodness! Mouth is saliving, isn't it? It's too yum!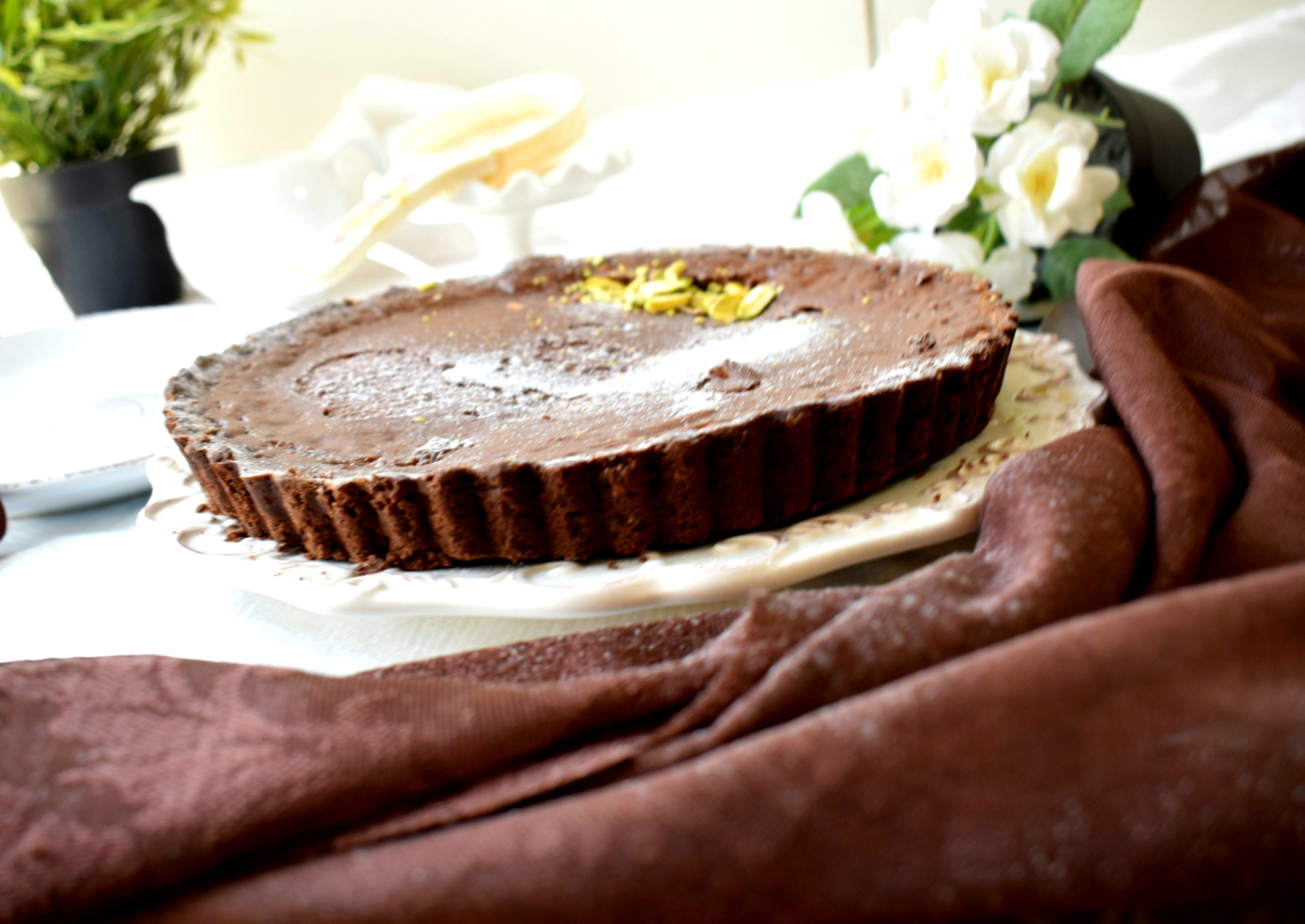 Actually, i'm leaving tonight to India after a long waiting period and i want to share this recipe before I leave, Otherwise, I'm sure il forget the recipe hehe! The recipe is inspired by Martha Stewart. My phone was not working and was out of reach of social media for more than 3 days now! Really missed it too much !hehe, we are so much attached to our gadgets, isn't it?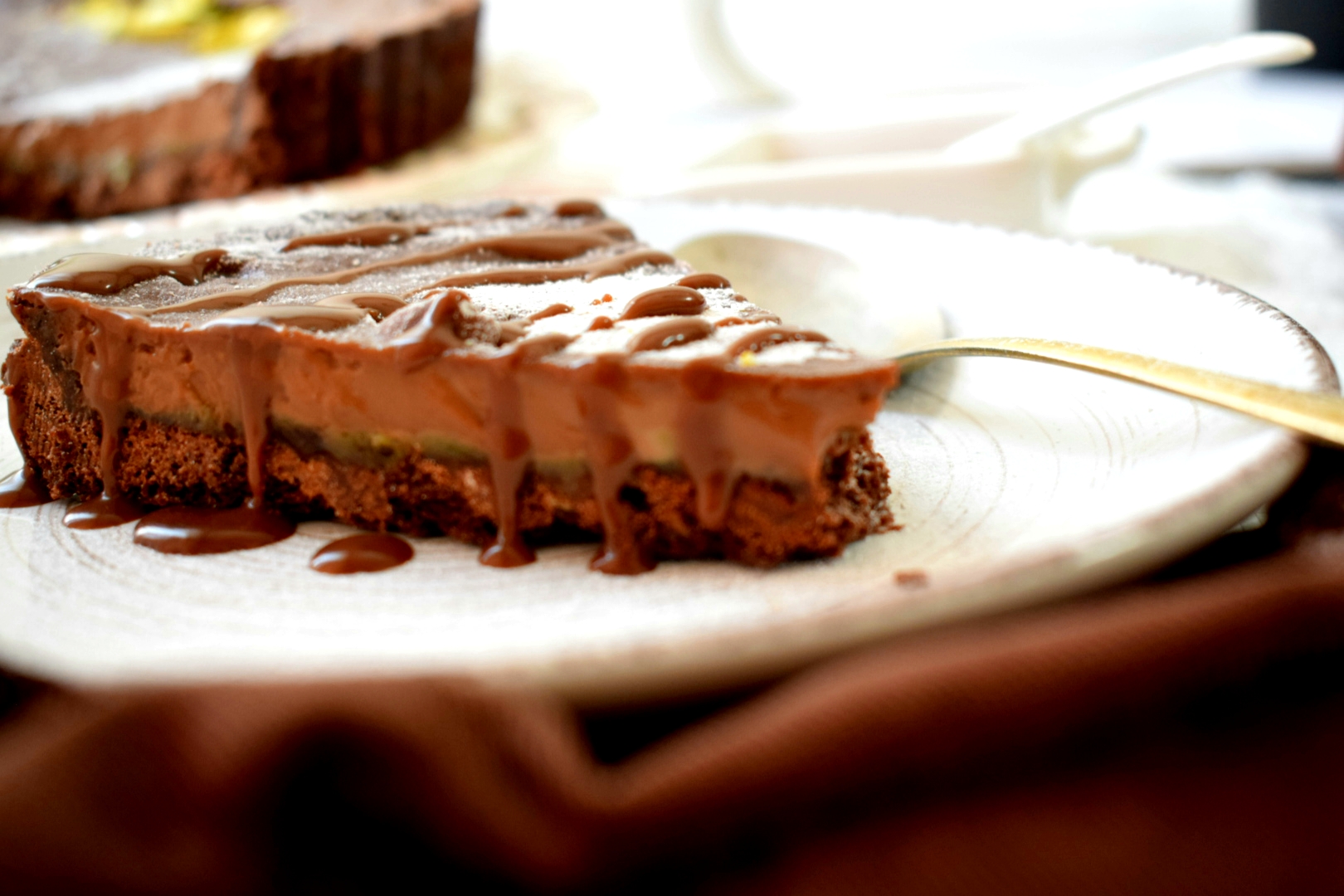 Isn't that drool-worthy??? Kids just enjoyed it! If you don't like that crunchy tart shell you can replace it with soft cake too. Enjoy your vacation!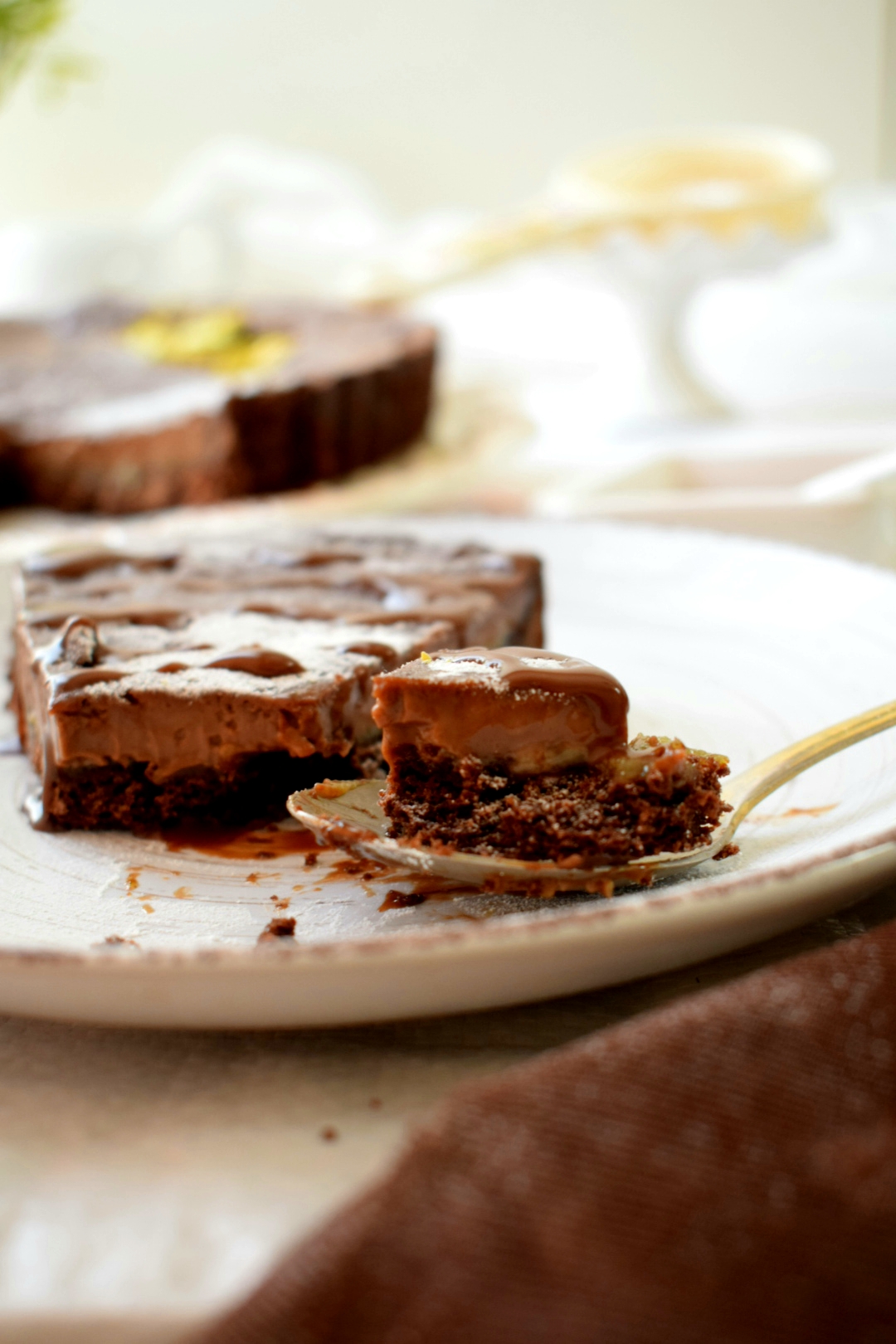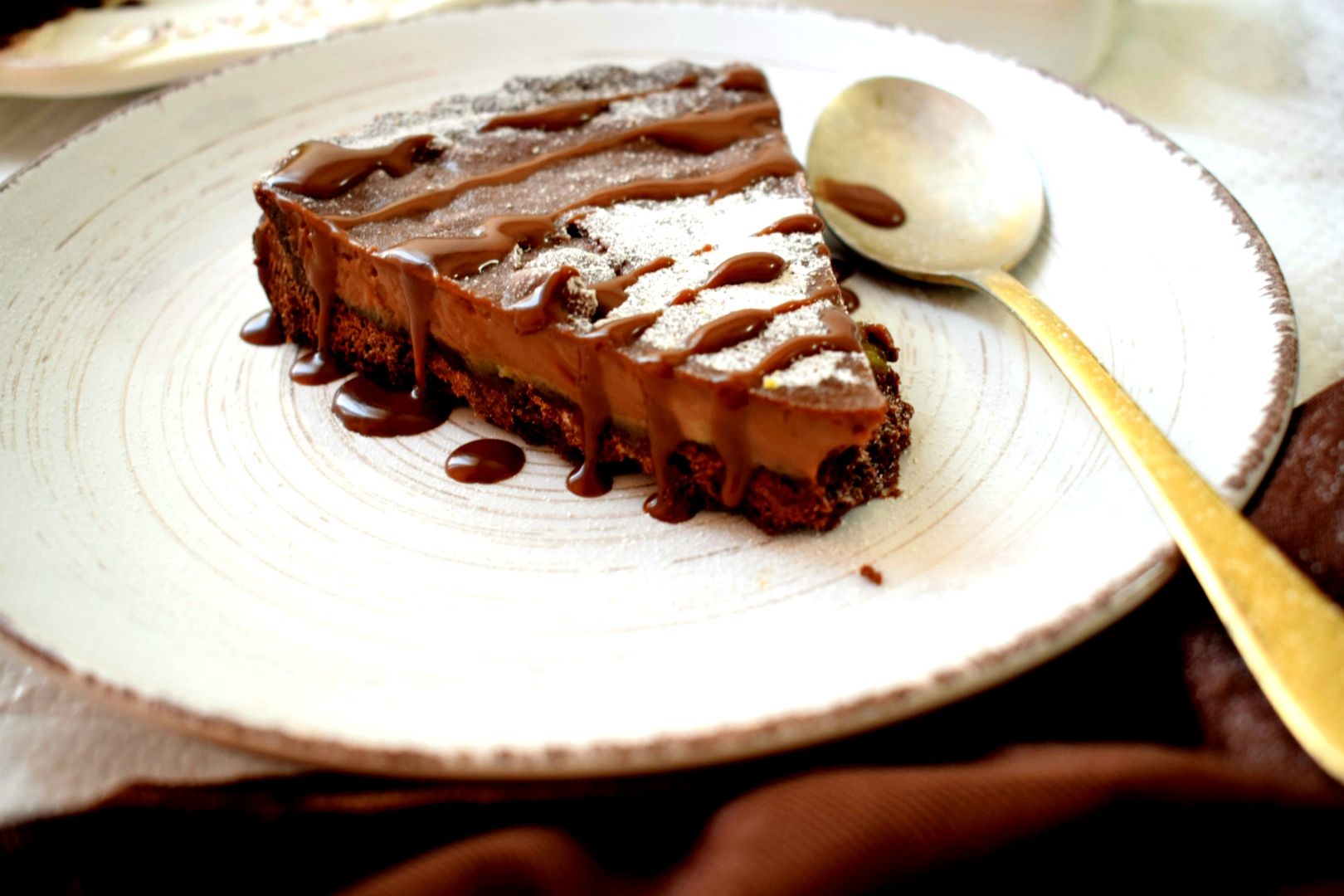 iNGREDIENTS
For TART
1  cup all purpose flour
1/4 cup cocoa powder
1/4 cup powdered sugar
A pinch of salt
100 gm butter
1 tsp cold water
For Pistachio Paste
3/4 cup pistachio
1/4 cup sugar
1 tbsp oil or butter
2 tbsp milk
For Chocolate filling
150 gm cooking chocolate
1 cup heavy cream
1/4 cup milk
1 egg
vanilla essence
Method
For Tart
In a large bowl mix together dry ingredients and then add in the chilled butter and mix it well with your hands or fork. Mix everything well with a spoon add a tsp of cold water if needed. Don't over knead it just mix everything until it comes together. Then wrap it in a cling film and chill it for 30 minutes
Roll out dough to  1/4 inch thick between two parchment paper. Press dough into bottom and up sides of tart pan. Trim excess dough flush with edges of pan using a knife. Freeze it for 30 minutes. Meanwhile, preheat oven to 180degrees

. 

Bake until firm, about 20 to 25  minutes. Let cool completely.
For pistachio paste:
Pulse pistachios, sugar, in a food processor until mixture begins to clump together. Add oil, and pulse until smooth and pastelike. Spread evenly into bottom of the cooled tart shell, if your paste is too thick add 2 tbs milk and blend again.
Make the filling:
Place chocolate in a large bowl. Heat cream and milk in a saucepan over medium heat until almost boiling; pour over chocolate. Let it stand for 2 minutes. Slowly whisk until smooth. Let cool. Stir in egg and vanilla until combined. Place tart shell on a baking sheet, and pour in filling. Bake until just set, 20 minutes. Let cool. Garnish with finely chopped pistachios. Wala your delicious chocolatey tart is ready. But you have to chill it before serving!