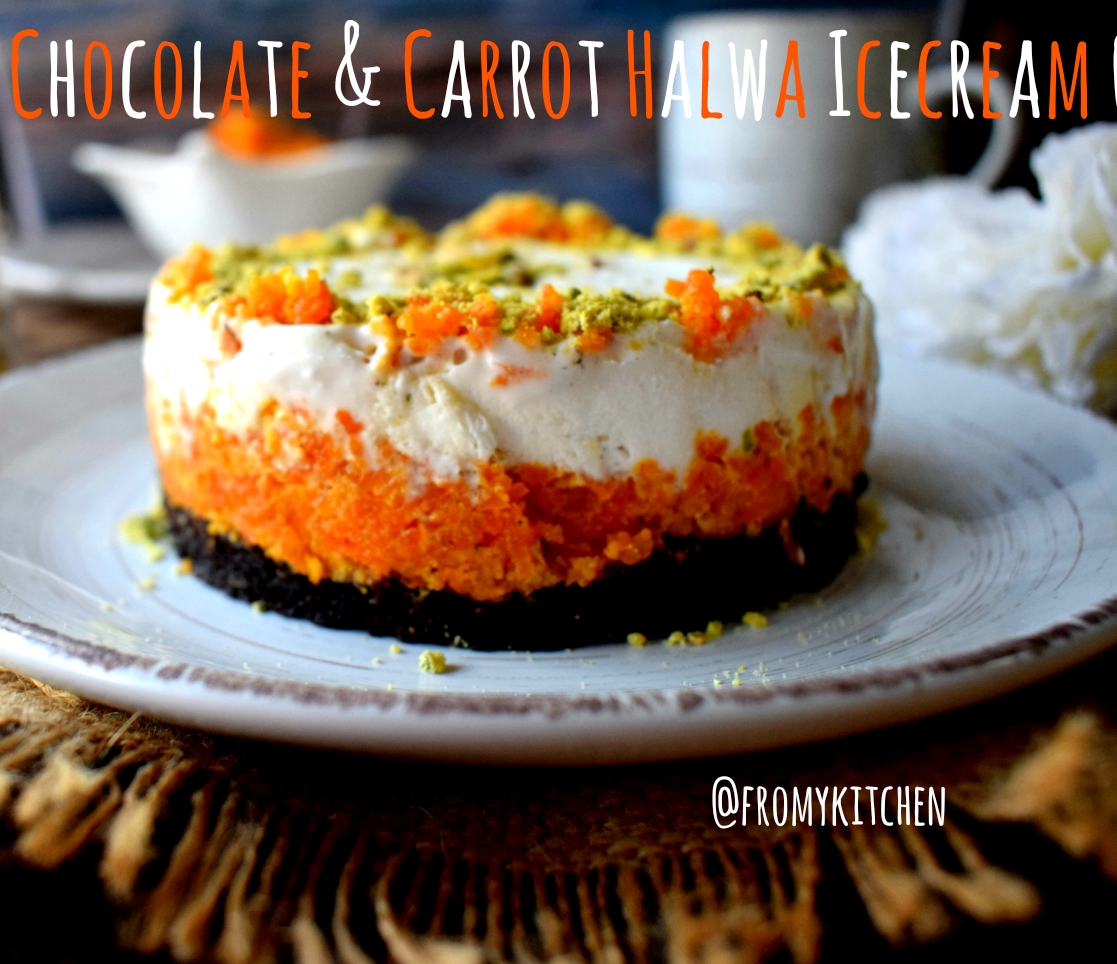 One of the most loved Indian Dessert in a different avatar.Rich and delicious carrot halwa sandwiched between the chocolate sponge and vanilla ice cream with some pistachios and cashews in it!Oh, my god piece of heaven isn't it???Indeed it was!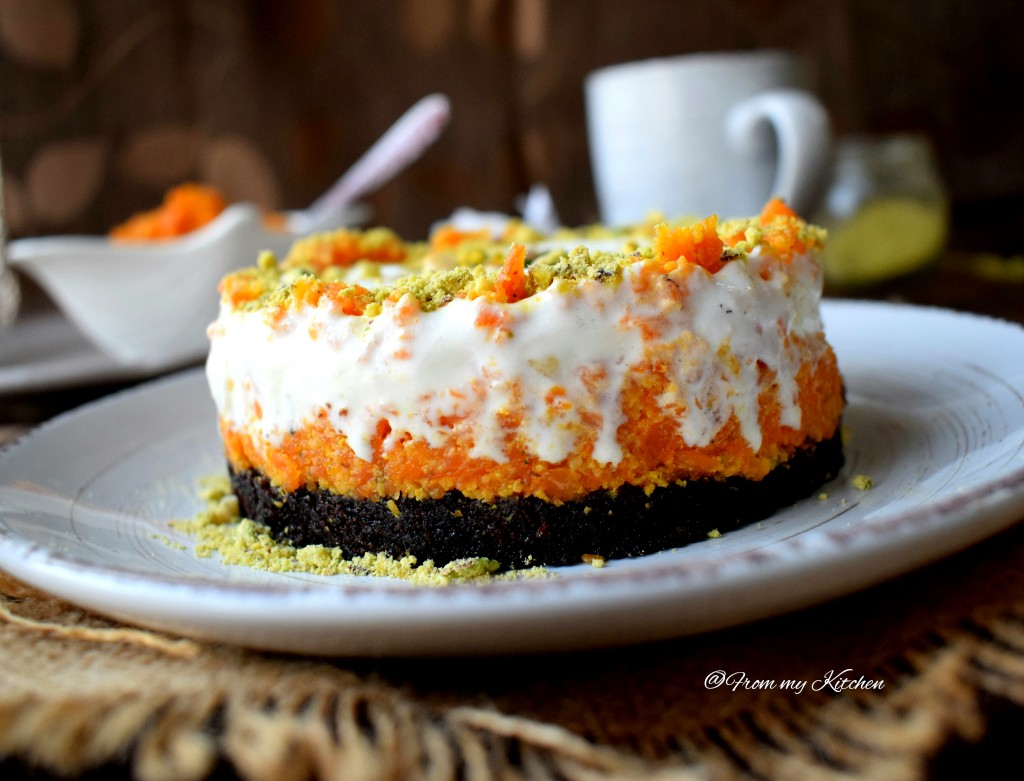 Can you see all those ice cream drippings running throughout the carrot halwa!Kashif was asking me why you made this in such a small quantity!I tested it in small cake mold because the risk of accepting the authentic carrot halwa in modern avatar is high!!But happiness is everyone accepted it wholeheartedly,hehe!What Riz did was after slicing lightly warm it in the microwave and it was too good I must say!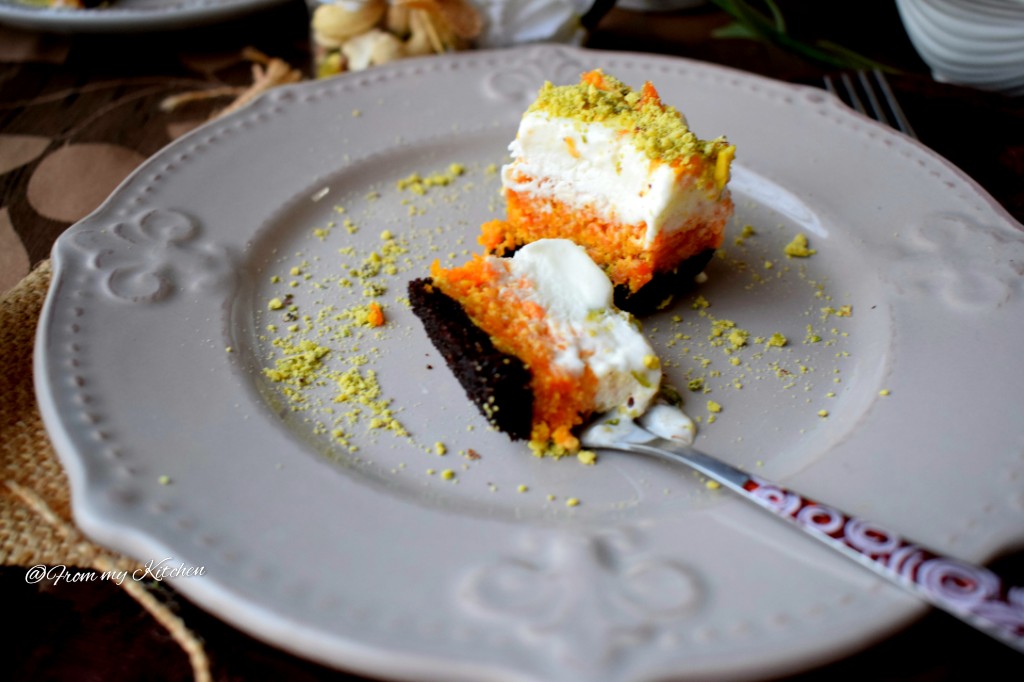 Here i used leftover chocolate cake shavings as the first layer.You can also bake a chocolate cake for this.Vanilla Ice cream i made and added some chopped pistachios and roasted cashews in it for the extra crunch!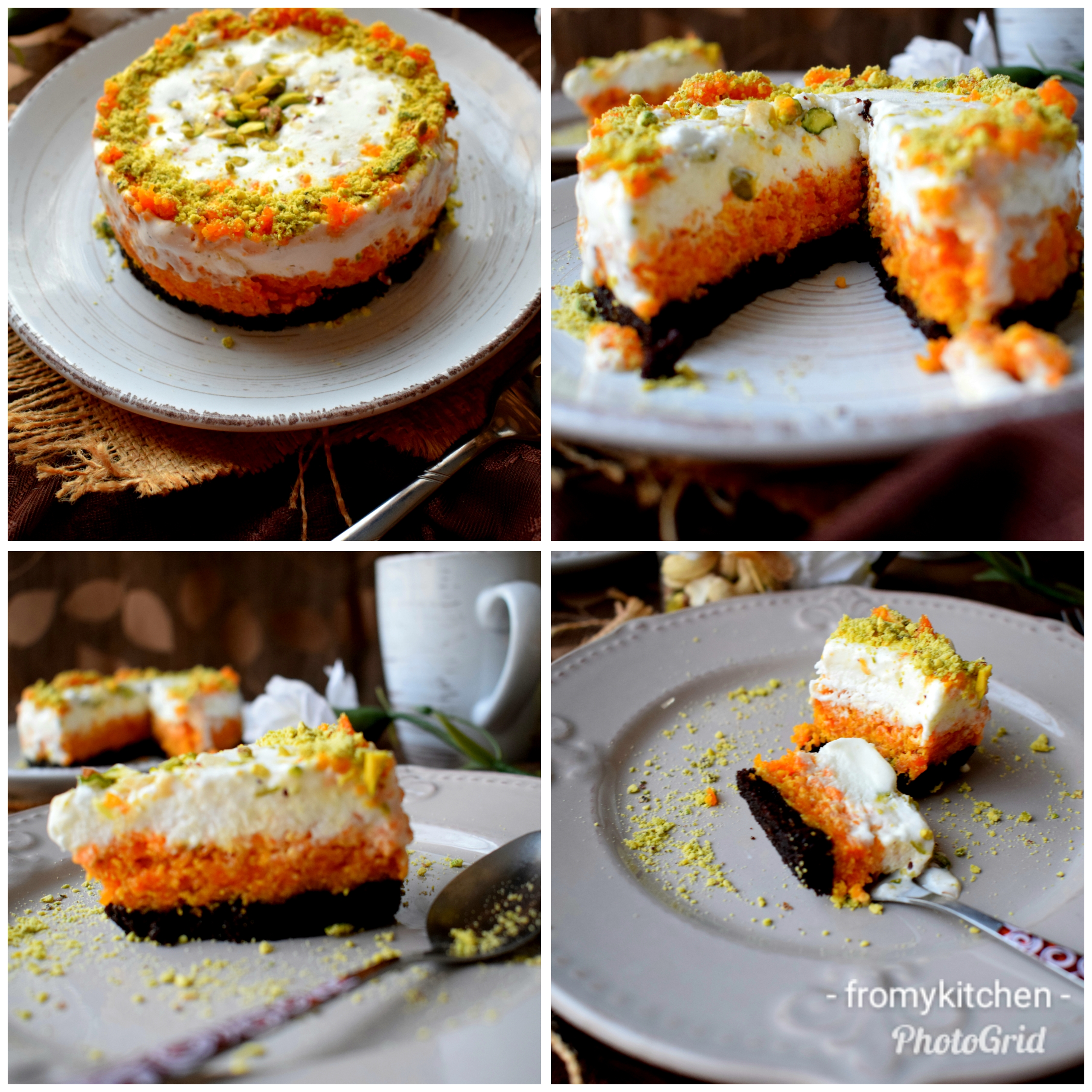 Ok, here I'm sharing my easy-peasy recipe for carrot halwa.What i used to do is just pulse carrots along with some milk until it becomes tiny pieces. You can also grate it and follow my steps.
Ingredient
1 kg carrot (6 to 8 big)
Milk upto the level of grated carrots in a vessel
3/4 to can condensed milk
Sugar if needed
1/2 tsp cardamom powder
2 tbsp ghee
Some Cashew nuts and pistachios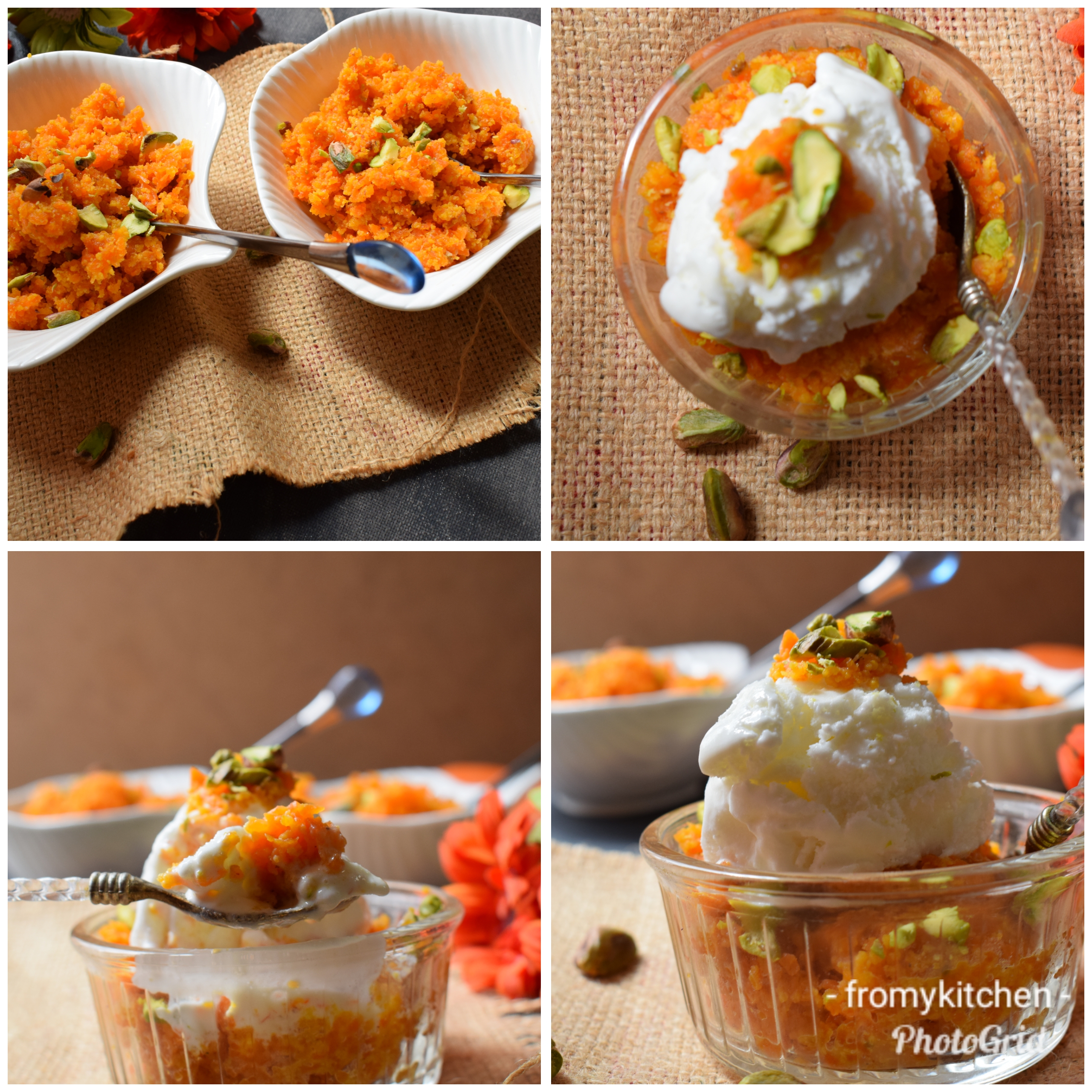 Other Ingredients
Vanilla Ice cream
Some pistachios
For Vanilla Ice Cream
1 cup whipping cream
1/2 can condensed milk
some vanilla
Some pistachios
Some roasted cashew nuts
Whip the cream until stiff peaks form then add the condensed milk, vanilla and beat until everything is well incorporated.Add chopped pistachios and cashew nuts in it.Freeze it until the carrot halwa is getting ready.
For Carrot halwa
Dump in the carrots and milk in a large non-stick vessel let it boil and reduce.Stir in between.
When the milk is almost reduced add condensed milk and let it cook until all the liquid is simmered.Stir in between so that it may not be stuck at the bottom of the pan.
Lastly, add ghee and cardamom powder along with nuts.Let it dry out completely and switch off the flame.Let it cool enough to assemble.
For Assembling
If you are using leftover chocolate cake crumb it using a blender and add some chocolate sauce or ganache or Nutella to make it sticky enough to hold the shape.
Take a springform pan and layer the base as chocolate cake and press it evenly.
Evenly spread the carrot halwa on top of the cake and press it gently.
take out the semi-soft ice cream and spread it on top of the halwa.Add some more pistachios on top.
Tips:
If you are using ready-made vanilla icecream let it thaw for some time so that it will be easy for you to fold in some dry fruits in it and spread it on top of the halwa.
If you freshly baked the cake just cut it as per the size of your mold and then use it as a base.This recipe is easy to make when you have some leftover chocolate cakes.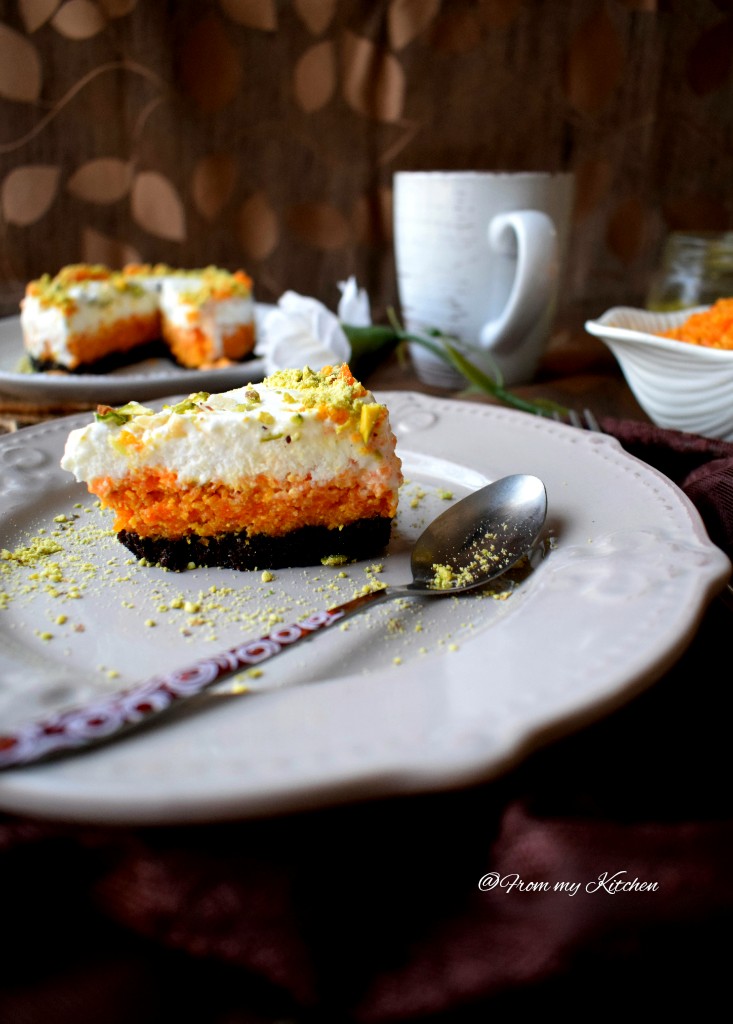 I
Slice it and warm it lightly and di into it!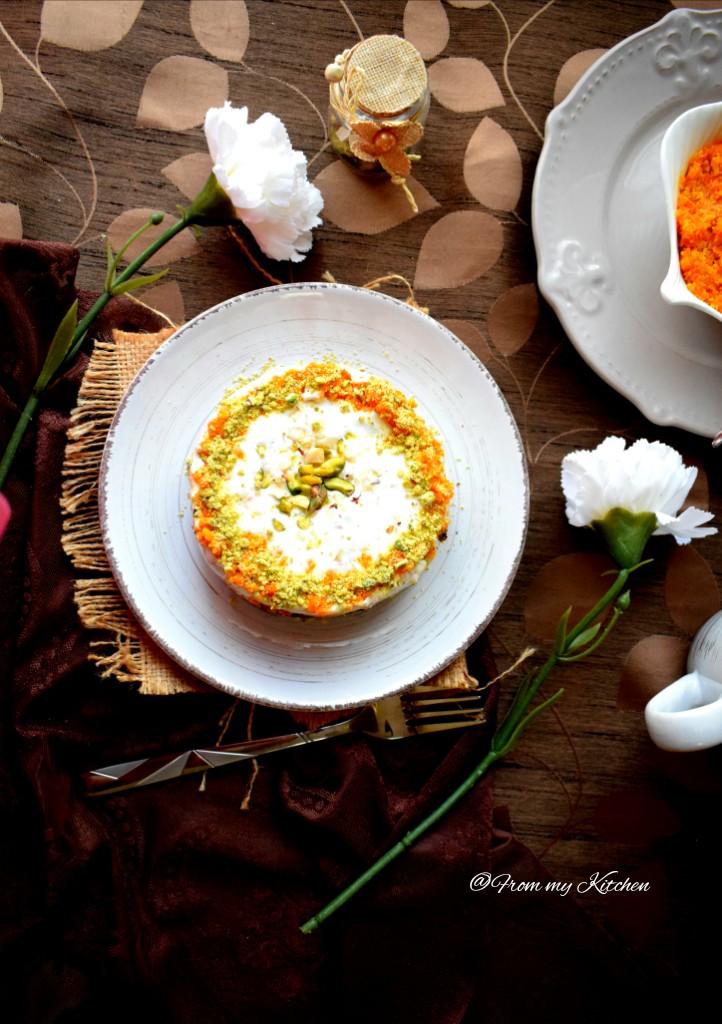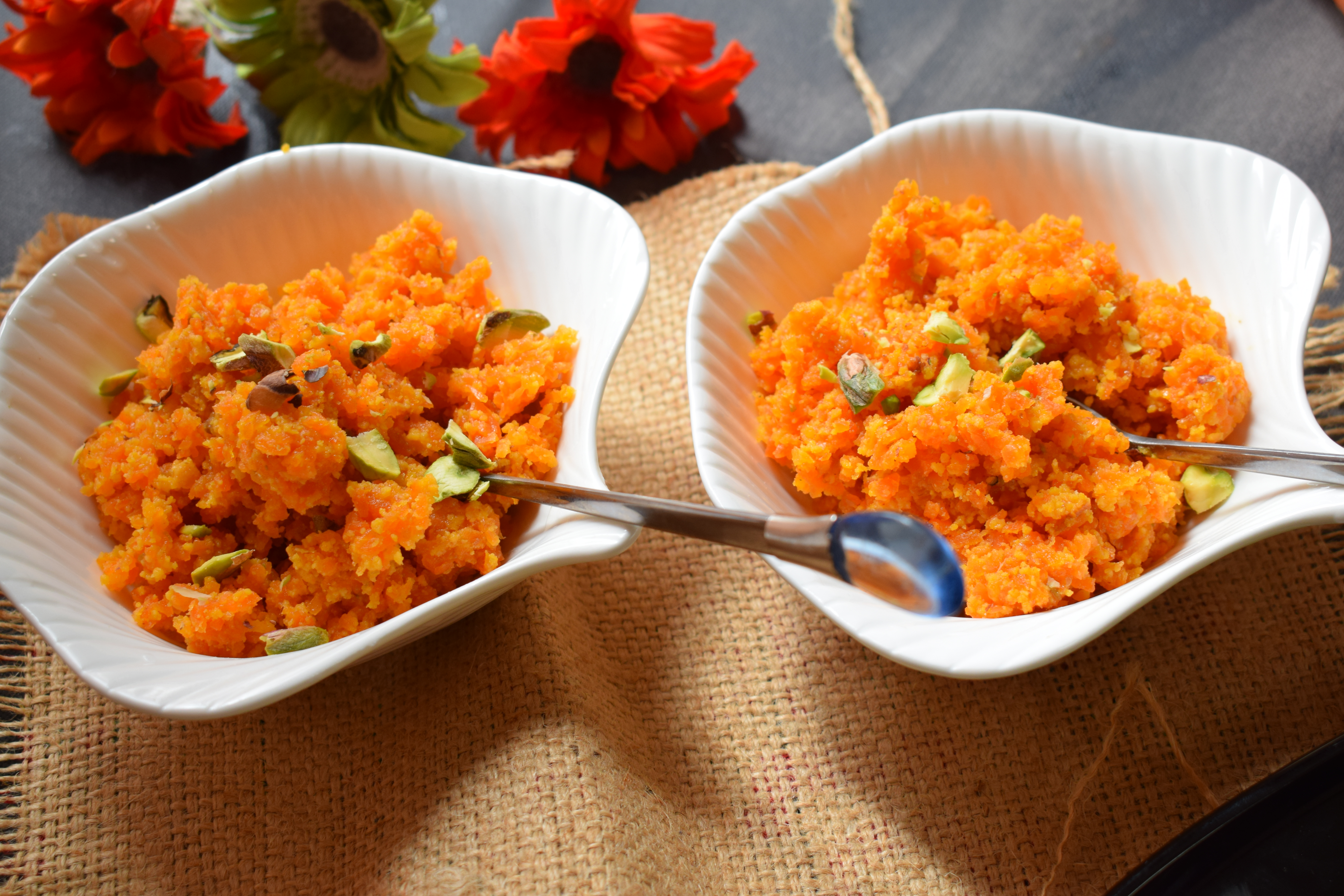 Happy Cooking!