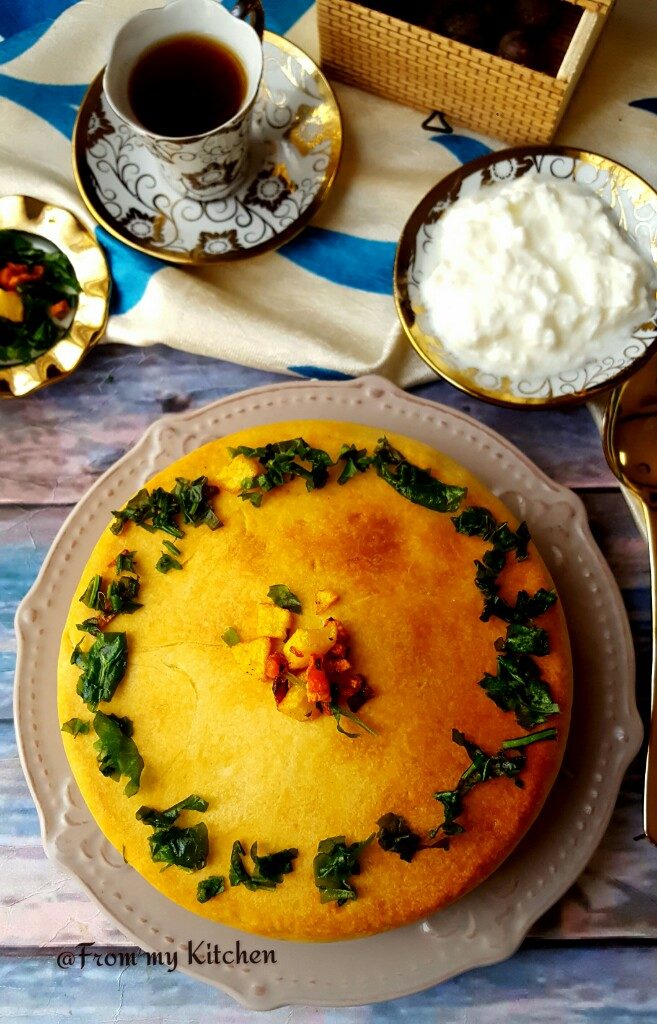 I'm so excited to do this post and share my experience with you all! A special recipe for a special foodie group on the occasion of their rebranding event. My regular viewers already know about this group "Uae Food guide" which i mentioned couple of times in my posts. The group Uae food guide decided to go global and got renamed to
"JorenQ"
which means nutmeg (one among the spices commonly seen throughout the world)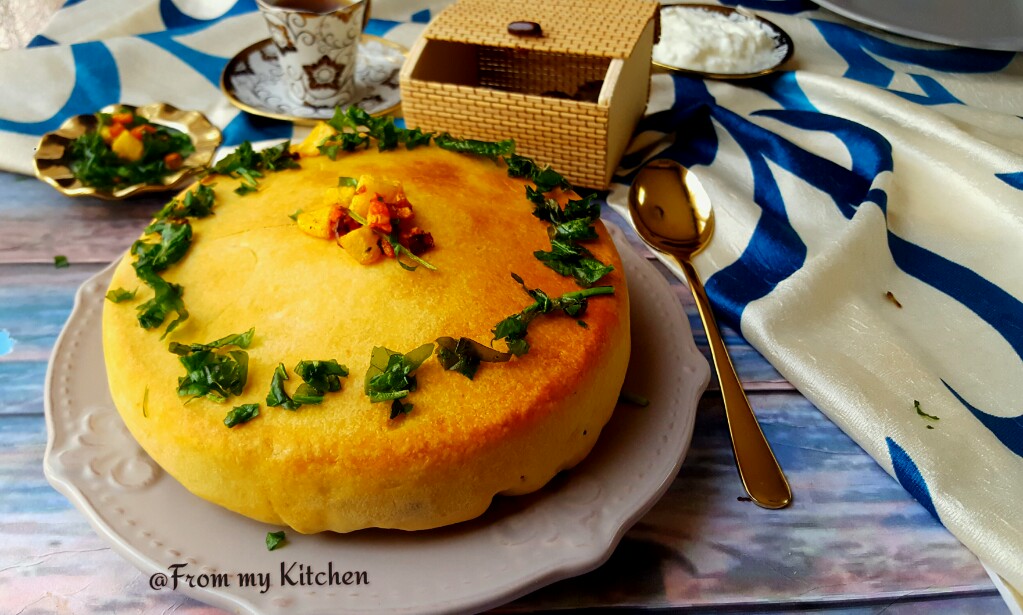 Are you all wondering why am i talking about all these here. Well, the reason is that my name was in the list of few selected to do the Cook Along event with the theme – Nutmeg. I was so excited and honored to participate in the main event. There were 7 of us and each one had to come up with different recipes with nutmeg being the must ingredient in the recipe.All the dishes presented were amazingly beautiful both by the hosts and by the foodies!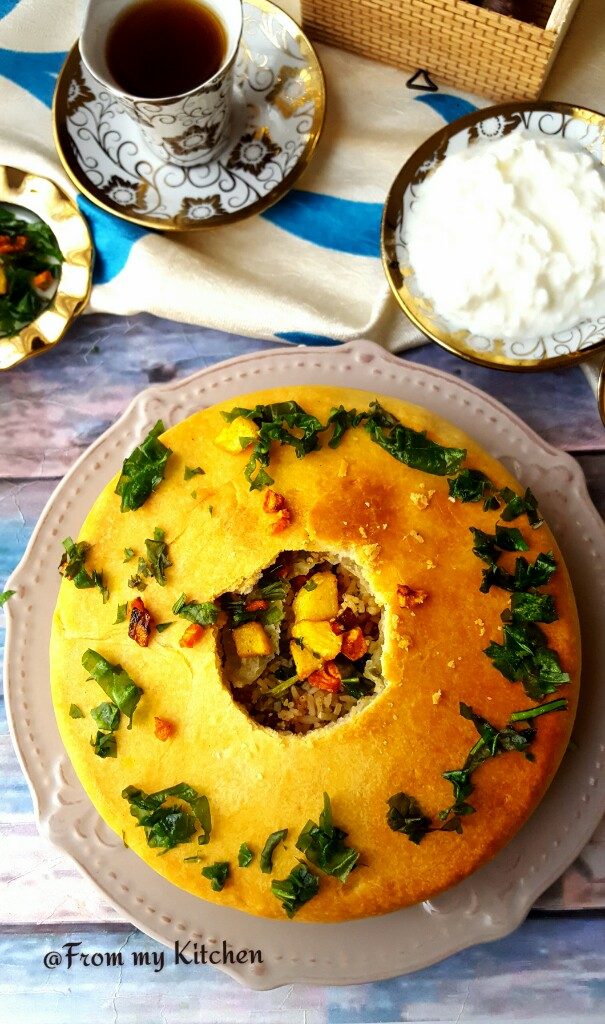 So i needed a unique and a special recipe to post. At first i thought of Parda pulao which is an iraqi cuisine, but that requires filo pastry which i didn't have then. To my surprise some one shared a video which was similar to my thought and within seconds i made up my mind to go for it with my own edition. And here is it.Rice behind the Scene!At first glance everyone assumed it to be a cake!Many guessed it as ghee cake or savory cake and it was fun !A great experience it was!Thanks to the panel for choosing me as one of the hosts.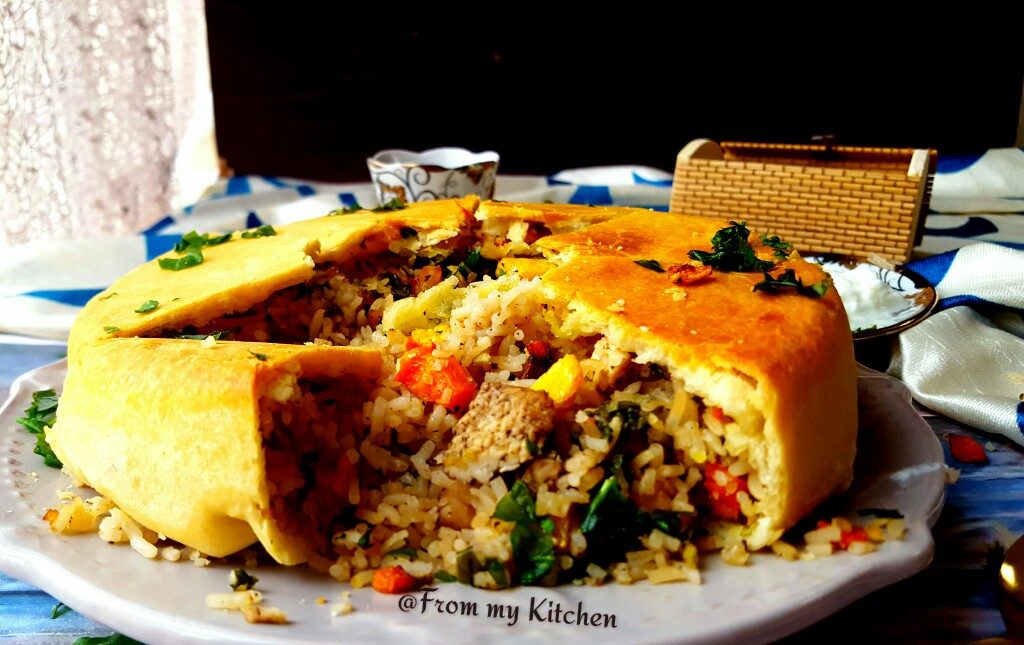 Ingredients
For marinating
2 chicken breast fillet
1 tsp nutmeg freshly grounded
1 n 1/2 tsp pepper powder
salt to taste
1 tsp garlic paste
For Masala
2 onions sliced
3 cloves garlic sliced
2 green chilies
salt to taste
1/2 tsp nutmeg freshly grounded
A pinch of cardamom powder
2 pinches of cinnamon powder
1/2 tsp cumin powder
1 to 2 tbsp pepper powder
1 inch piece ginger cut in julienne
Salt to taste
A bunch of spinach chopped
2 tbsp lemon juice
Cilantro
2 tbsp oil
2 tbsp ghee
Rice
2 n 1/2 cup basmati rice
5 cups water
Other Ingredients
1 big potato
2 carrots
1/2 to 1 tsp chilly powder
a pinch of nutmeg
salt
For the outer cover
2 n 1/2 cups all purpose flour
salt to taste
1 tsp leveled baking powder
3 tsp olive oil
water to knead
Method
Cut the chicken into small bite size pieces.Marinate it with the above mentioned ingredients
Meanwhile slice the onions,garlic,ginger and green chilies.
In a large pot heat the oil and ghee,put the sliced green chilies,ginger garlic and saute for few seconds.
Then add onions and salt cook until half done.
Now add all other spices like cardamom,cinnamon,cumin powders along with nutmeg powder and pepper powder.Mix and cook for few more seconds.
Add the marinated chicken pieces and sear fry it for 5 to 7 minutes.Squeeze some lemon juice and sprinkle cilantro.
Pour the water and let it boil.
Check for the seasonings and add accordingly.
Now Add the soaked rice and let it cook until done and the water dries out completely.
If you are adding spinach add it when the water starts to dries out.
Let the rice cool a little before adding fried veggies.
For Veggies
Chop the potatoes and carrot finely,
Mix it with chilly powder,nutmeg and salt.
In a pan pour some oil and deep fry it until done.I fried some spinach for garnishing .
Now gently mix this fried veggies with the rice and keep it aside.
Knead the dough with ingredients listed above and let it rest for 1 hour
Assembling
Divide the dough into 2 equal portions and roll it into a big circle.Make sure its not too thin nor thick.
Center should be thicker than the sides.
Now grease your pan and arrange the rolled dough on the baking tray.
Put the prepared rice and cover it with another small piece of rolled dough.Stick it well and let it bake for 10 minutes on 200 degree.
Now gently flip it to a serving platter egg wash it and bake it for another 10 to 15 minutes or until it slightly change it's color.
Remove and serve hot.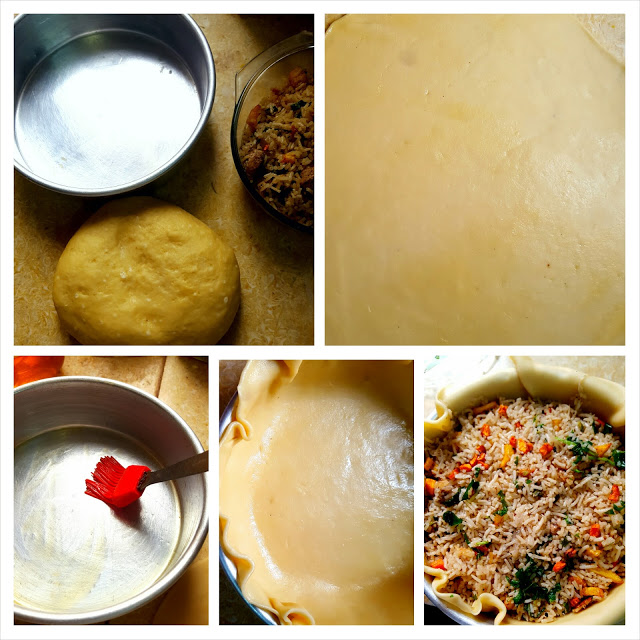 Notes:
I used 2 whole nutmegs and grounded it in a blender. Freshly grounded nutmeg doesn't have a strong flavor.But If you are using the nutmeg powder use accordingly.
This is a mild spiced rice with kick of pepper.
The fried veggies give a nice bite and taste to the rice,so don't skip it.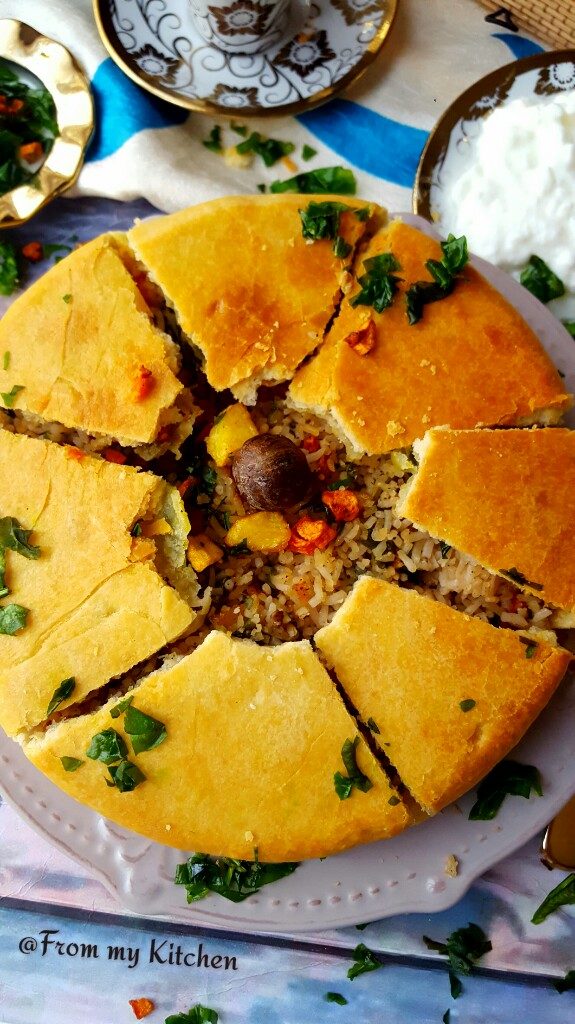 Amaze your guest with this beautiful rice cakes!The best thing about this dum process is you can do it either with leftover pulao or rice too!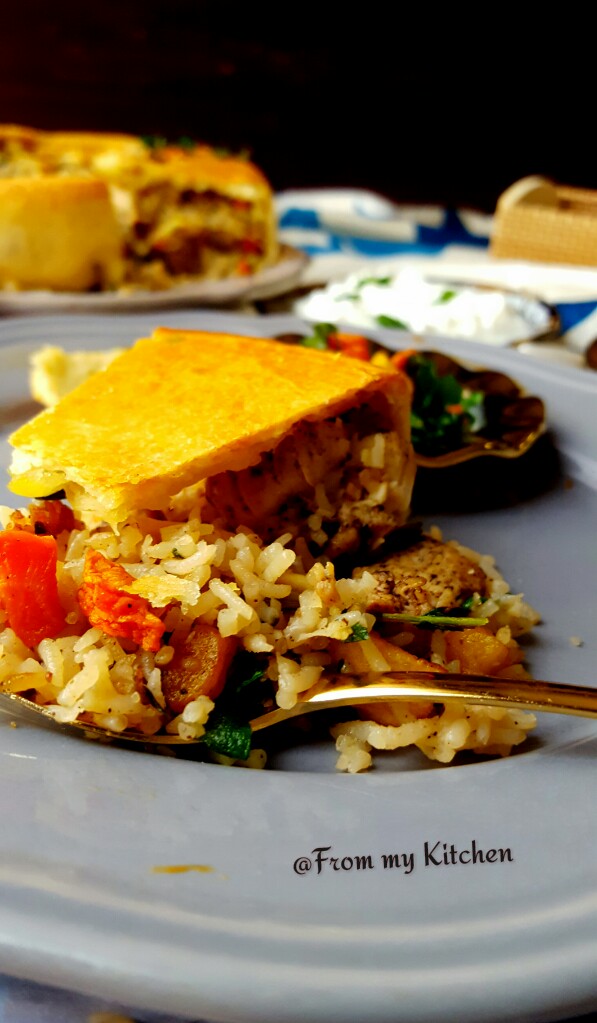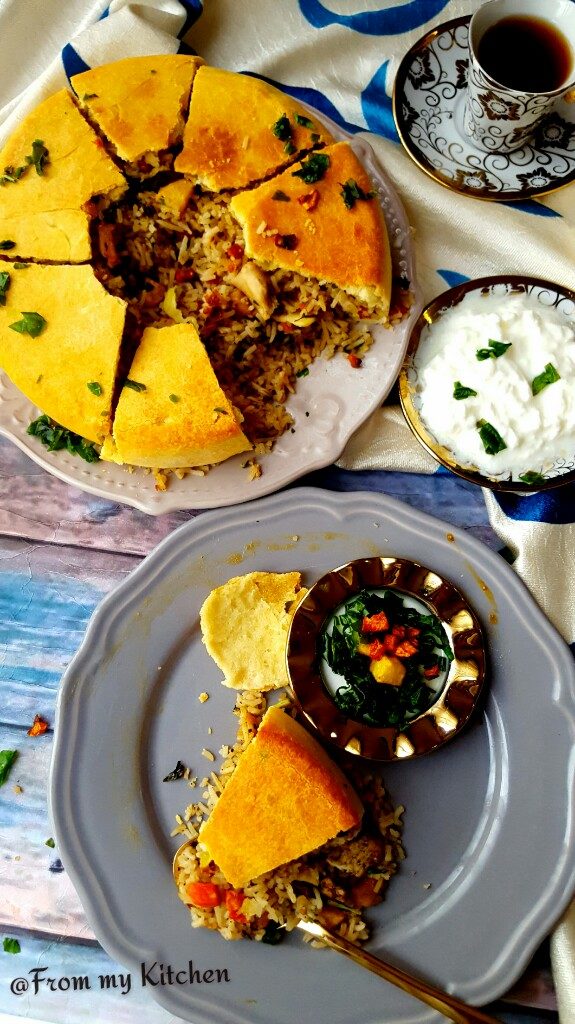 Happy cooking Foodies!