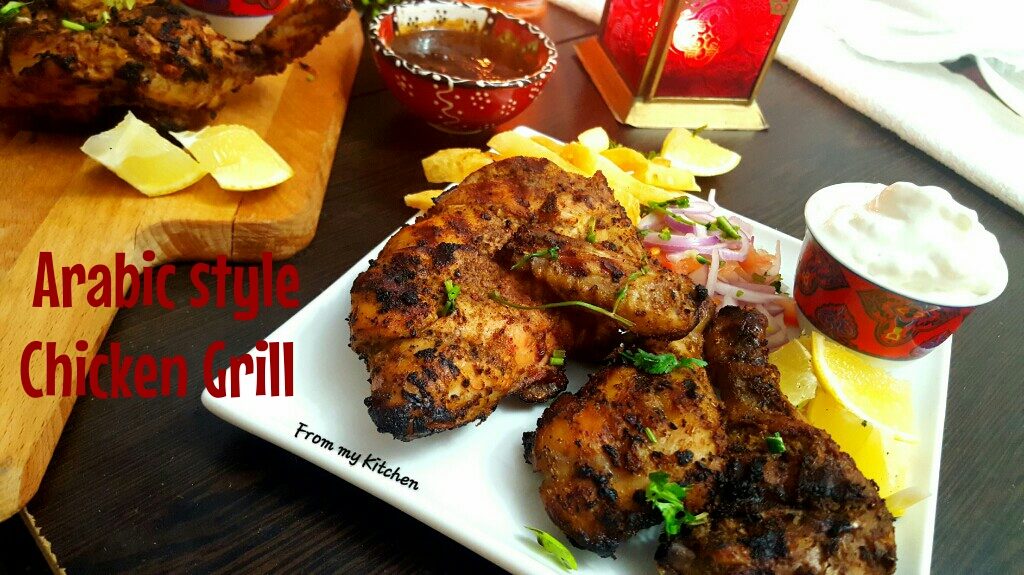 Deliciously marinated and grilled chicken with a flavor burst.Truly aromatic and yummilicious!
Whenever i'm not in a mood to cook rotis and curries i always choose such grilled and baked stuffs.So it can be accompanied by store bought khubs and some salad and dips.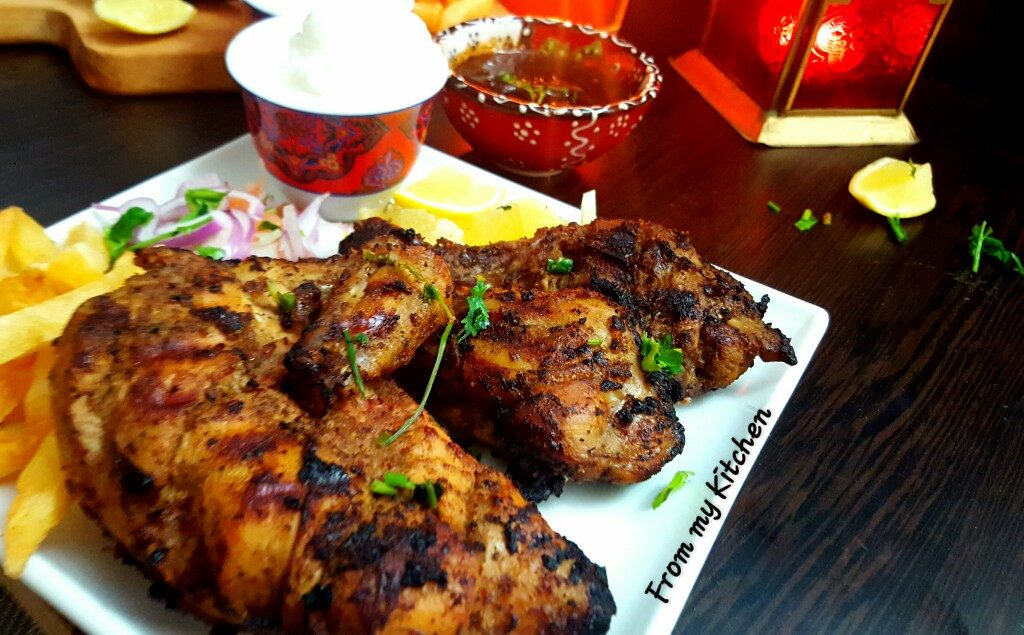 This is marinated by making a paste with some aromatic spices ,garlic, onion & tomatoes.Kids and hubby enjoyed it ! I made a simple salad and garlic paste to accompany with this yummy grilled chicken.For garlic paste check here.Each time i made it, came out perfect,its a foolproof recipe.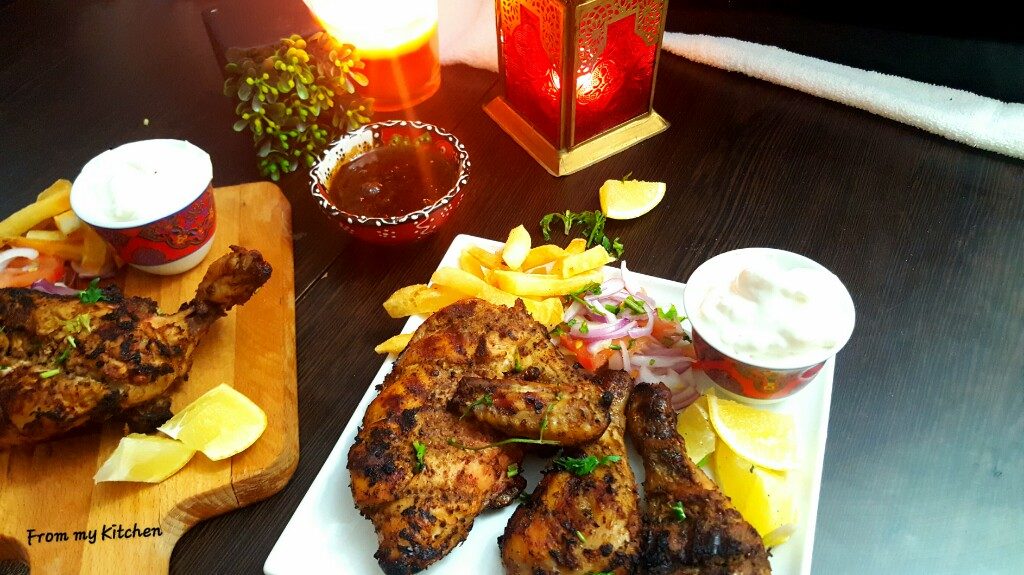 Here only work we need to do is marinating.I baked it in the oven.But if you want you can grill it in a pan or a grill using a charcoal grill.What ever grill dishes i'm doing for the final touch i used to show it on direct flame.Believe me it really enhances that smoky flavor to your chicken.Just for few second with the help of a plucker,that's it the taste will be exactly like the one bought from restaurants.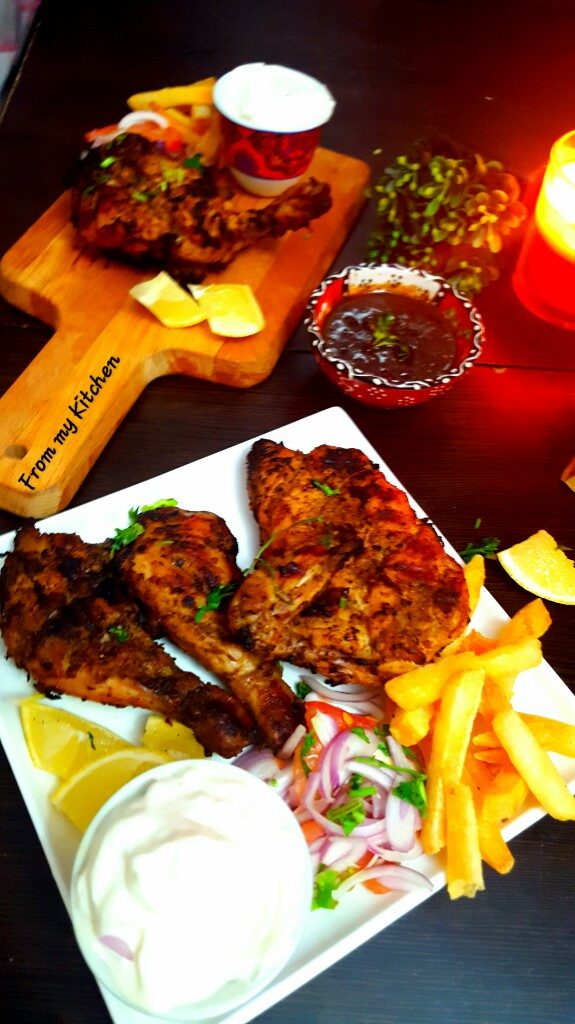 Over to recipe
Ingredients
1st marination
1/2 of a chicken and two leg piece (i used)
1 tsp pepper/chilly powder
salt
1/2 of a lemon
2nd marination
1/2 an onion
1/2 tomato
10 cloves garlic
small piece
1 smll stick cinnamon
3 pods cardamom
3 cloves
1 tsp cumin powder
1 tsp fennel powder
1 tsp paprikaLchilly powder
1 tsp whole pepper
2 tbsp olive oil
1/2 of a lime
Method
Cut chicken into big pieces like how we make for grill or you can use one whole chicken.Clean and make deep slits on the chicken for the marination to penetrate.Now marinate it with salt,chilly powder/pepper and lemon.Keep it aside for 1/2 an hour.
Now in a mixer jar put together all the ingredients mentioned under 2nd marination and make it to a smooth paste,Add salt,lemon juice and olive oil mix well and marinate it to the chicken at-least for 3 to 4 hours.
Preheat your oven to 200 degree and bake it for 20 to 30 minute on each side.Brush oil in between .If you feel like the chicken is drying out lower the temperature to 180 and bake..But don't over cook it (that will give you a dry chicken instead of juicy and succulent)
After taking it out from the oven Switch on the flame and show the chicken on direct flame,until you get that perfect smoky smell and marks.It will take only few seconds.Don't burn it.You have to stand there and do it.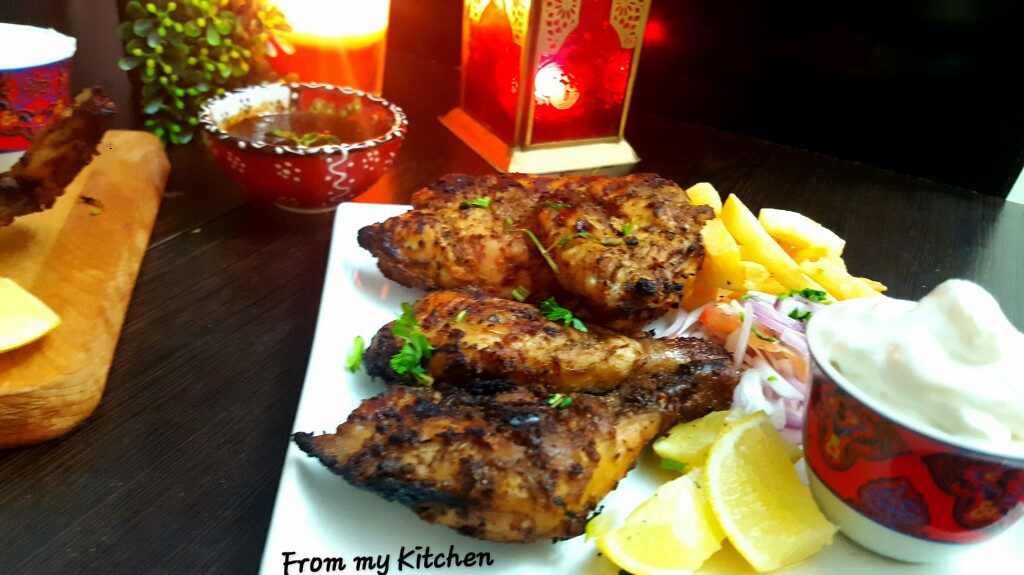 Chicken is ready to serve.While the chicken is baking do all your salads and dips and get ready.Serve it hot.A restaurant style grilled chicken is ready on your dining table.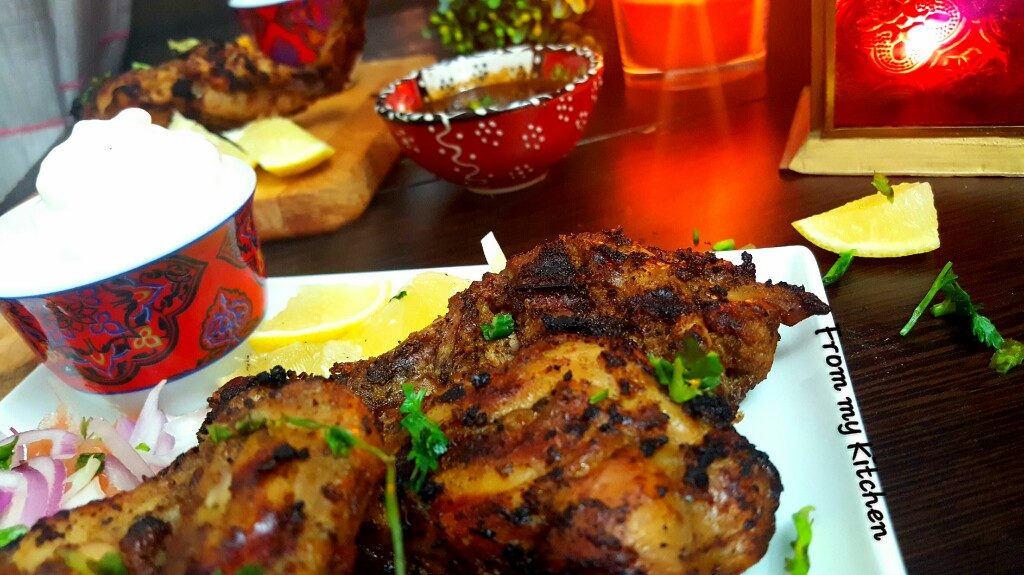 Hope you all like this grilled chicken,