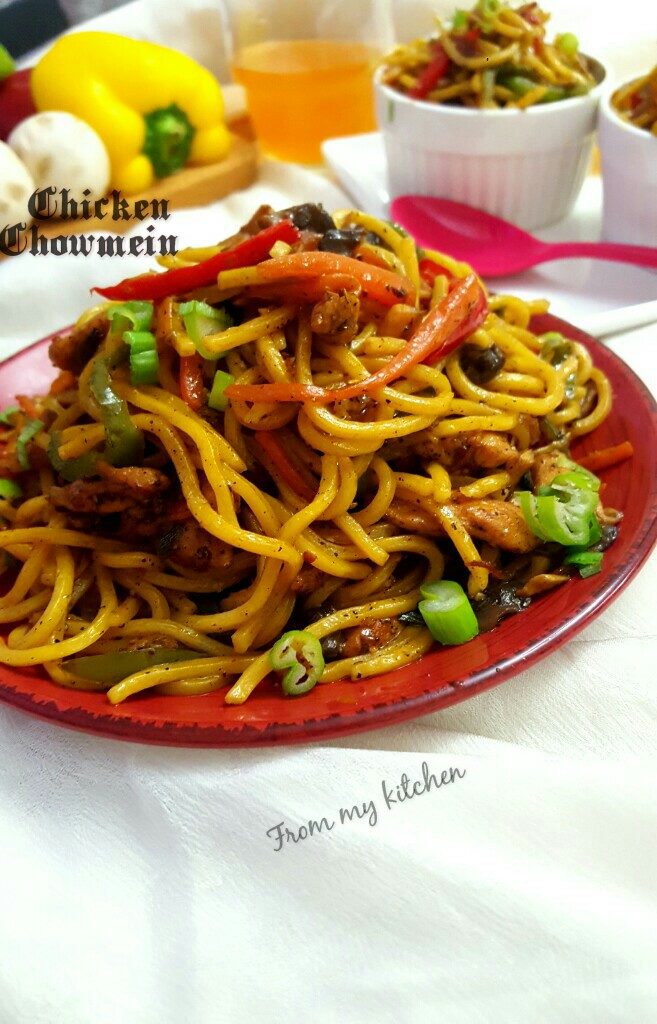 Chinese again!!!! Chicken Chow mein is nothing but stir fried noodles loaded with veggies and meats in it.A little tangy and saucy with the flavor of chicken and crispy veggies with those silky noodles is just incredible!This one is a super delicious treat for those who are fond of Chinese food.We enjoyed it.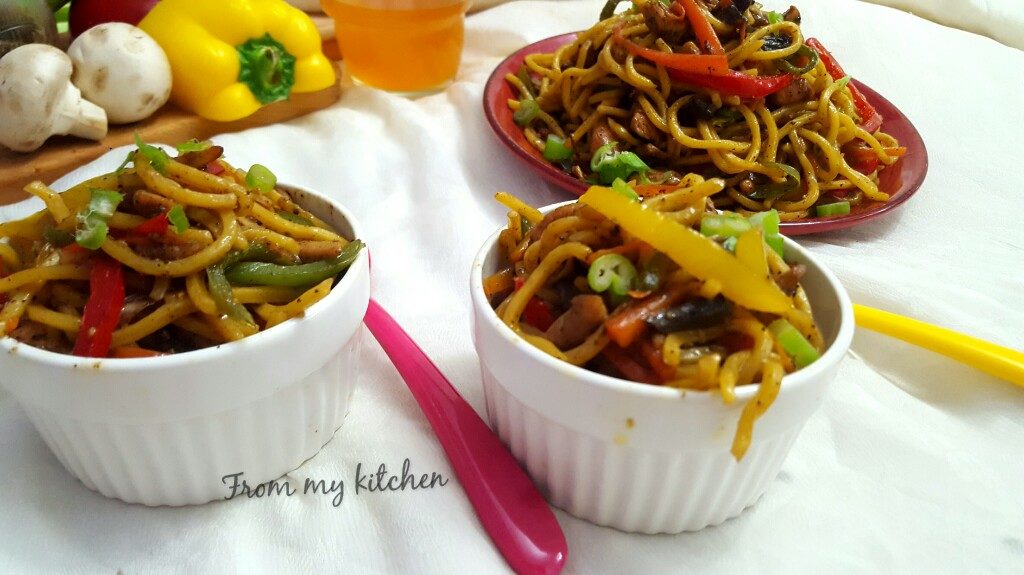 Chinese food is a delight!It's simple and fun to cook!Here i adjusted spiciness and sauces according to our preference .You can see the texture here ,not so sticky and nicely coated veggies and chicken,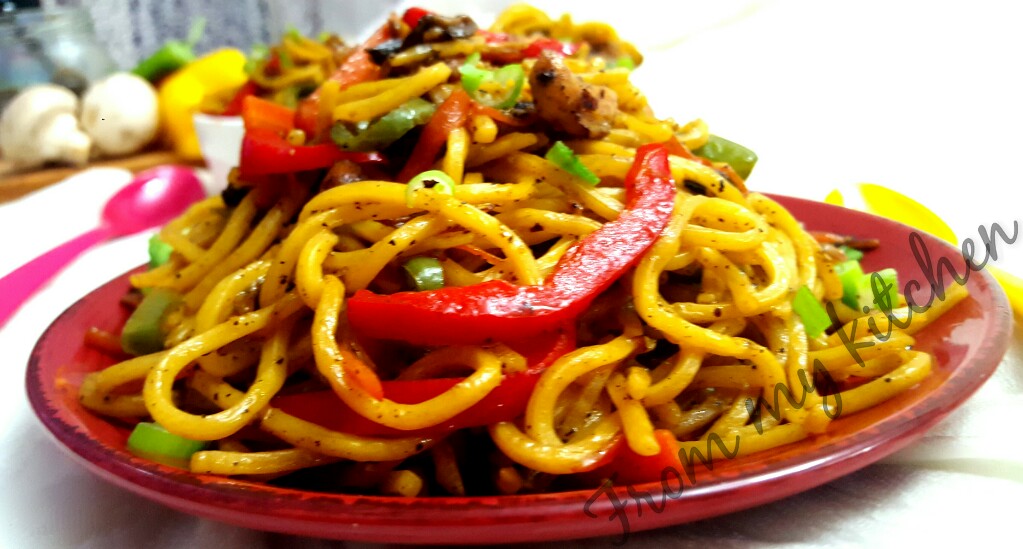 Here i used egg noodles.You can also use Hakka noodles.It includes lots of veggies like,carrot,beans,3 color bell peppers,mushroom,spring onion along with flavorful ginger-garlic and also chicken.You can also make it without chicken.Cornflour concoction are using here,that helps the veggies to stick on to the noodles.It gives a nice texture and silkiness to the noodles.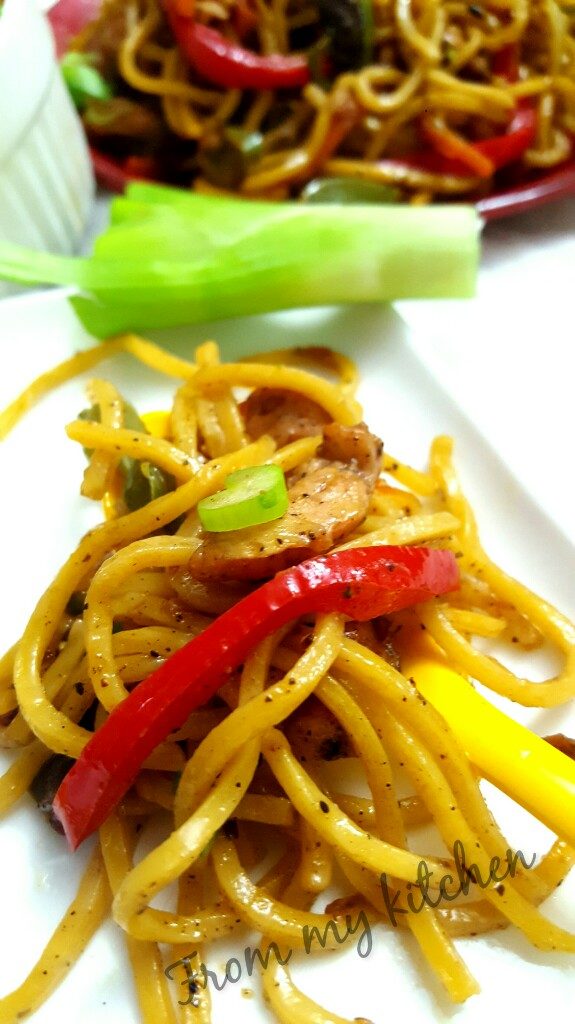 Ingredients
250 to 300 gm noodles
1 chicken breast fillet
Salt 1 tsp pepper and 1/2 tsp soya sauce to marinate the chicken.
Veggies
4 tbsp oil
2 tbsp garlic
1 tbsp ginger
Spring onion whites and greens
1 big carrot
1/2 red bell pepper
1/2 yellow bell pepper
1 small green bell pepper
8 to 10 mushrooms
Some beans
1 tbsp soy sauce
1 tsp tomato sauce
1/2 tsp sweet chilli sauce
Salt to taste
2 tsp pepper
1 tbsp cornflour mixed in 4 tbsp water
salt to taste
Method
Cut chicken into thin strips marinate it for 10 min.
Boil noodles according to the instructions and keep it aside.
Here the time consuming part is cutting and slicing.In Chinese cooking you need to prep everything before you start cooking.Cut all the veggies in julienne and keep it aside.chop ginger and garlic also spring onion whites and greens.
Place large wok on stove on high heat.Put garlic and ginger saute for few sec add spring onion whites and stir
Add marinated chicken in this and stir fry it for 3 to 4 minutes.(Do it in same manner for best result.Chicken will cook fully by the time all veggies are done)
When you feel like your chicken is half done add veggies like carrot,beans,bell peppers and stir fry it for some time (don't overcook it)
Add mushroom and stir for few second.
Now add pepper,sauces,salt and mix well.lastly add the cornflour mix and let it boil for few sec.
Add boiled noodles stir it until everything is well combined and coated with each other.
Lastly add spring onion greens and switch off the flame. Serve it hot.
Adjust the spices and sauces accordingly,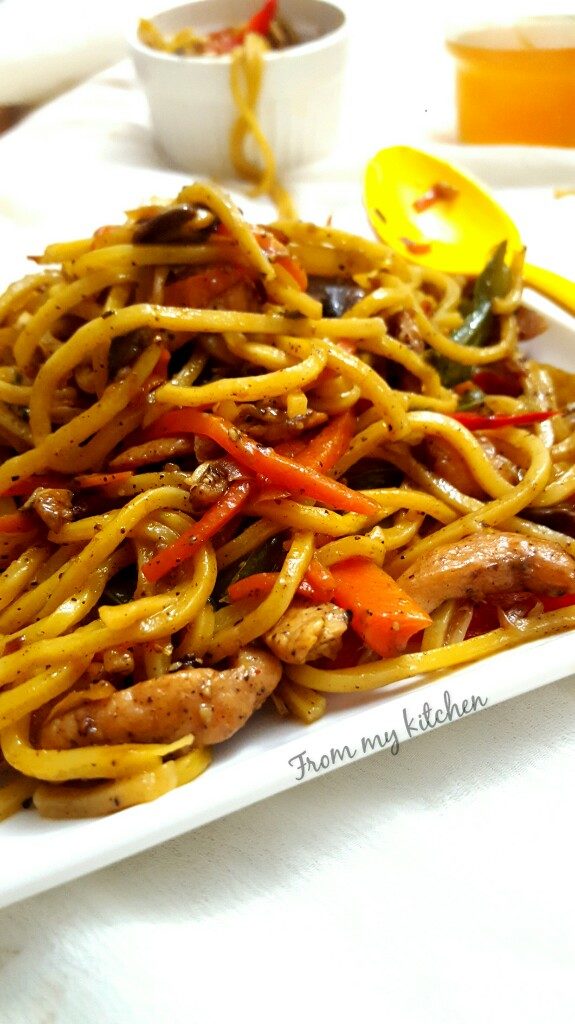 Notes :Don't overcook the veggies.Whole cooking process are done on high flame,so don't burn it
Noodles should be cooked to perfection,It should not be sticky..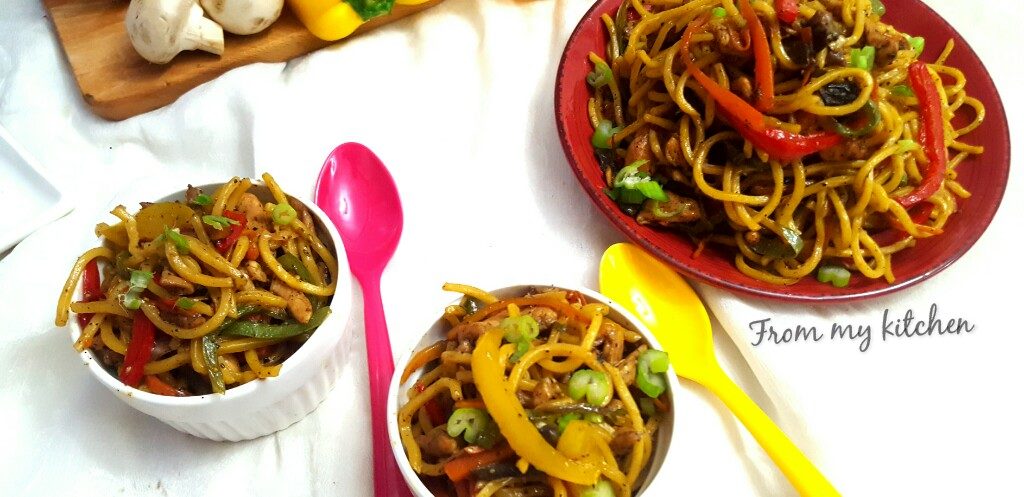 As we are cooking chicken in sauted ginger-garlic it gives a nice flavor to the dish.That's why i said try to cook chicken in the same pan.
Happy Cooking!