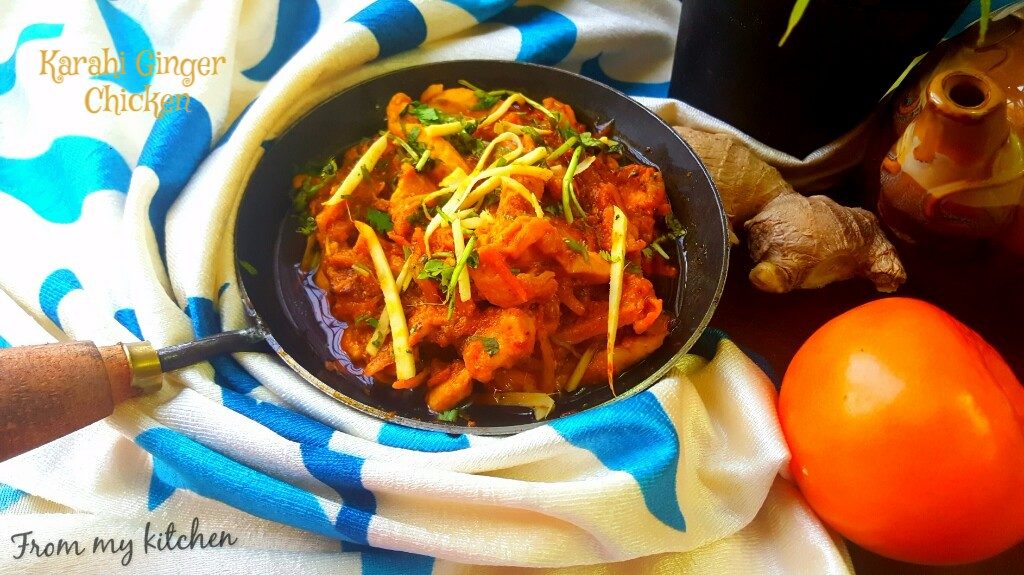 A gravy of chicken packed with full of astounding flavors!!!This one is a must try recipe for all those who love the flavor of fresh ginger.As i told u i'll be back with a flavor packed recipe which is great combo for coin porota!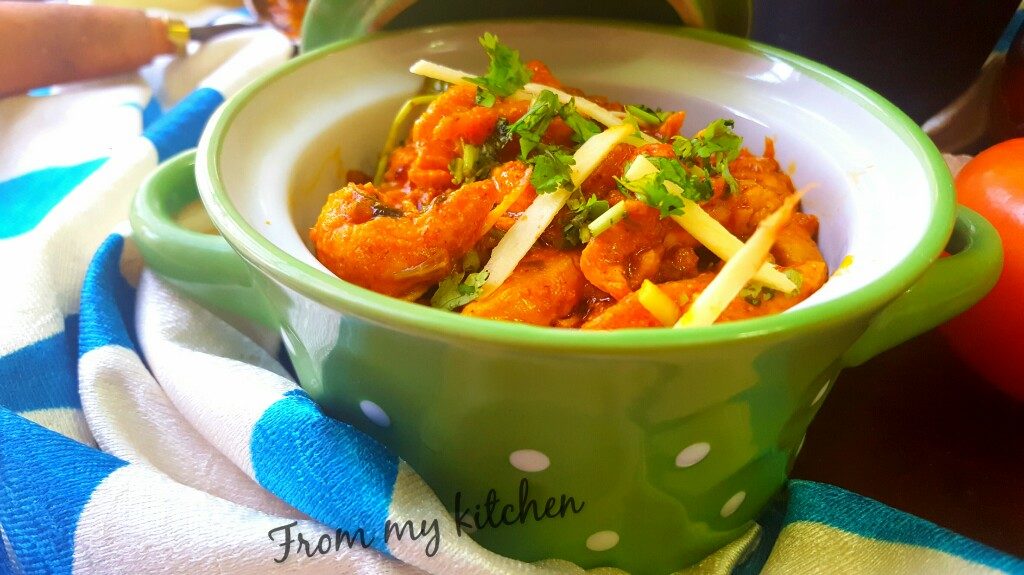 The one i made is in Pakistani Manner.Garlic chicken,ginger chicken all these when we place an order in a restaurant the first picture comes in our mind is a saucy Chinese dish,But whenever i order for ginger chicken from any Indian-Pakistani restaurant i get this type of gravy,and i love it too!So thought why not give it a try!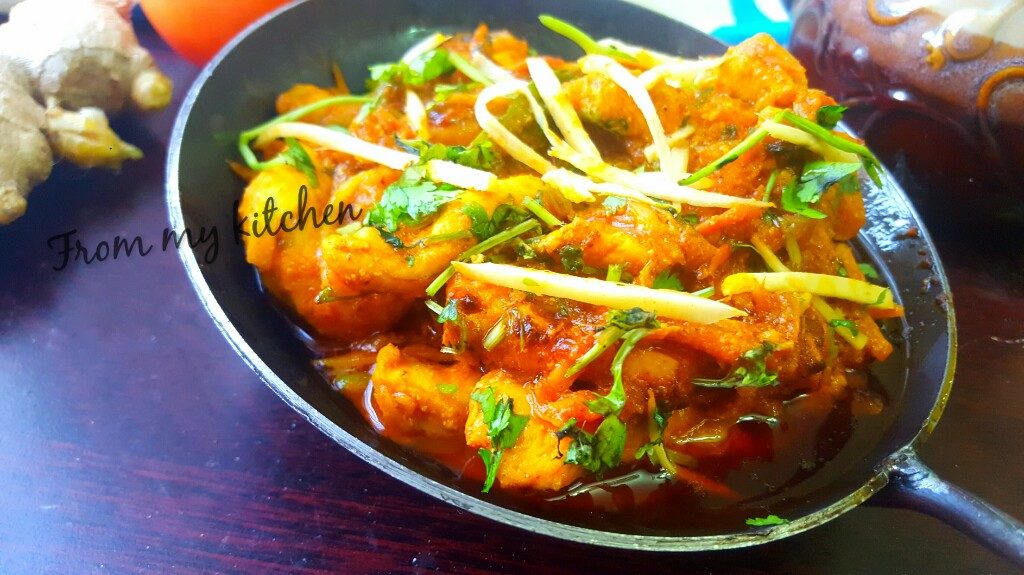 There are tons n tons of recipes in the google and you tube for ginger chicken-Chinese,Indian and loots…Here i bring to you simple and most delicious way from all the recipes!Ya i made it the way how i want it(restaurant style) and loved it.Hope you guys will give this a try and i'm quiet sure you will like it!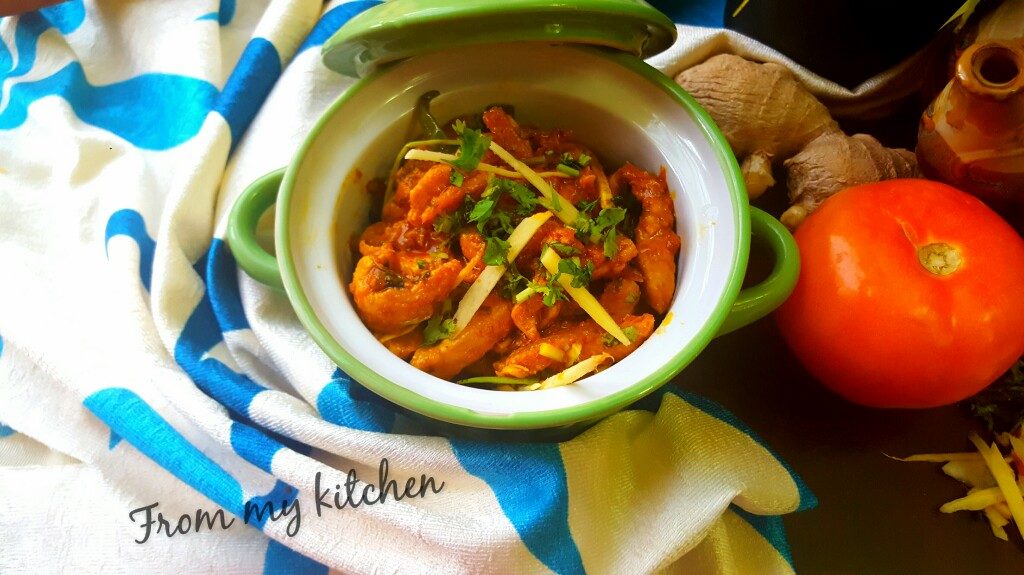 I used chicken breast fillet here.That will cook fast and we can stir fry it easily,Over to the recipe
Ingredients
2 chicken breast fillet
1 large piece ginger cut in julienne
1 onion
2 medium tomatoes
4 green chillies(whole)
Salt to taste
1/2 tbs coriander powder
1/2 tsp turmeric powder1 tsp chilly powder
3 tbsp yogurt
Lots of fresh coriander
3 to 4 tbsp oil
Method
Cut chicken into long strips.
Thinly slice the onion,Cut ginger in julienne(if you don't want ginger to be long piece in your gravy chop it finely and juliene cut some ginger for garnish)
Place large Kadai on stove on medium-high heat.
Add oil.
Add onions and saute till golden brown, this will take 5 to 7 minutes. Don't worry if the onions become golden-dark brown, this will only add to the flavor of the sauce.
Add half of the ginger and continue to saute for 1 minute till fragrant,
Add the chicken and salt,stir-fry for 5 minutes .
Add 2 green chillies (whole) at this time and stir.
Add chopped tomatoes, turmeric, coriander powder, salt and chilli powder and keep stirring till the tomatoes get mushy and the rawness of the masala are all gone.
Add yogurt and stir.
It oozes water on its own,with this add 1/4 cup of water and cook for few minutes.You should begin to see some of the oil appear onto the surface of the tomato sauce.This will take approximately 10 minutes.
Add the rest of the julienned ginger and other 2 green chillies simmer for 5 minutes and remove from heat (Keep some of the ginger for garnishing.)
Garnish with lots of fragrant, fresh coriander/cilantro and some fresh julienned ginger.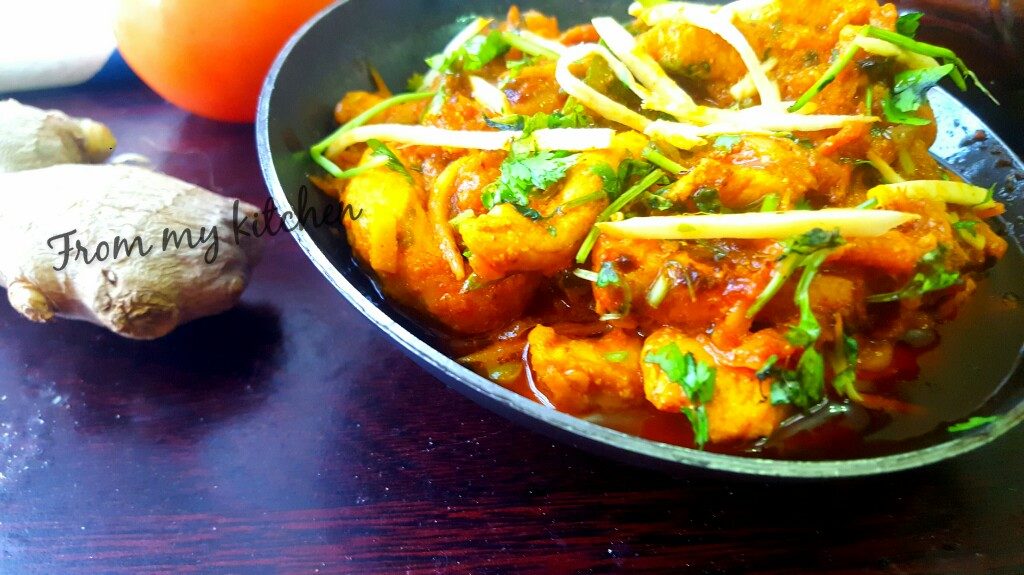 Notes: Don't cut or slit the green chillies,put it whole itself.It has great flavor in it.Also don't forget to garnish with the ginger..that too give you some extra flavor to the gravy.