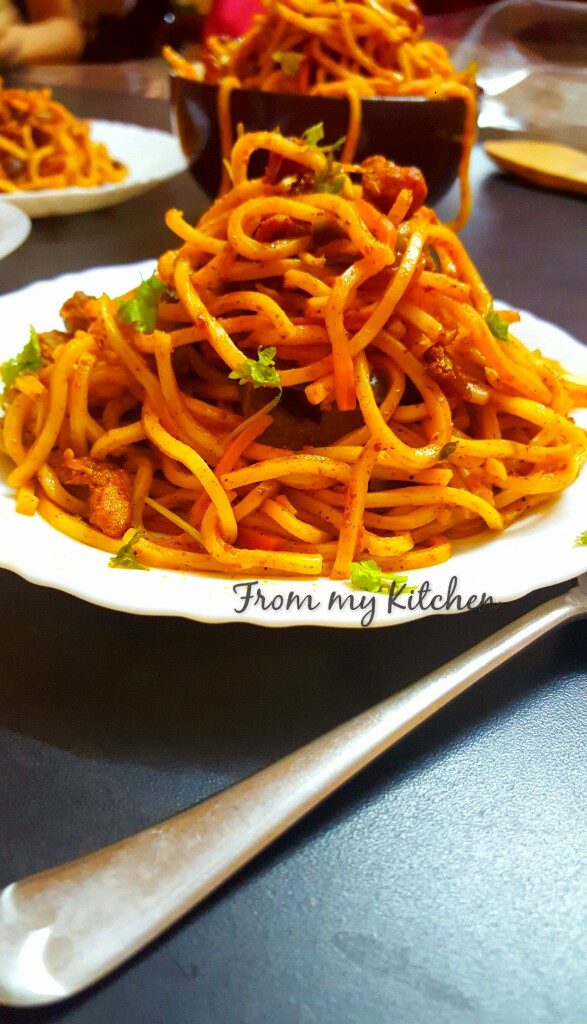 Two most popular cuisine in a dish wohoo!. India's famous chicken tikka with Chinese saucy noodles.i'm sure that all are gonna love this!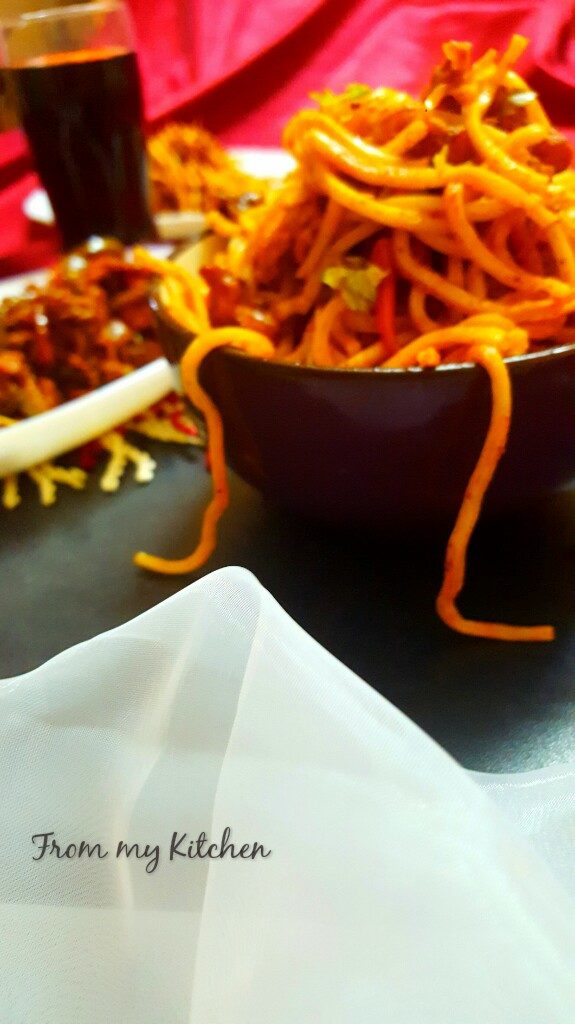 Small chunks of chicken tikka with some veggies and spicy ,saucy filling along with noodles is just incredible.I used egg noodles here.It's really delicious and something different from usual recipe.Those who don't like saucy sweet noodles give this a try,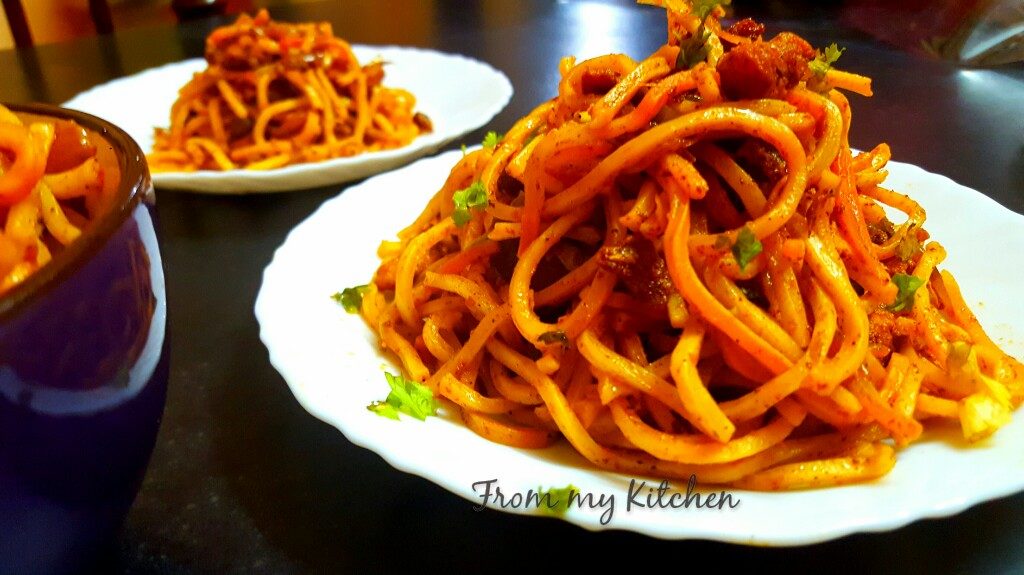 Here both kids and adults liked it alike.Very much apt for the lovely monsoon here!Hot,spicy and saucy noodles with chunks of chicken tikka!who can resist?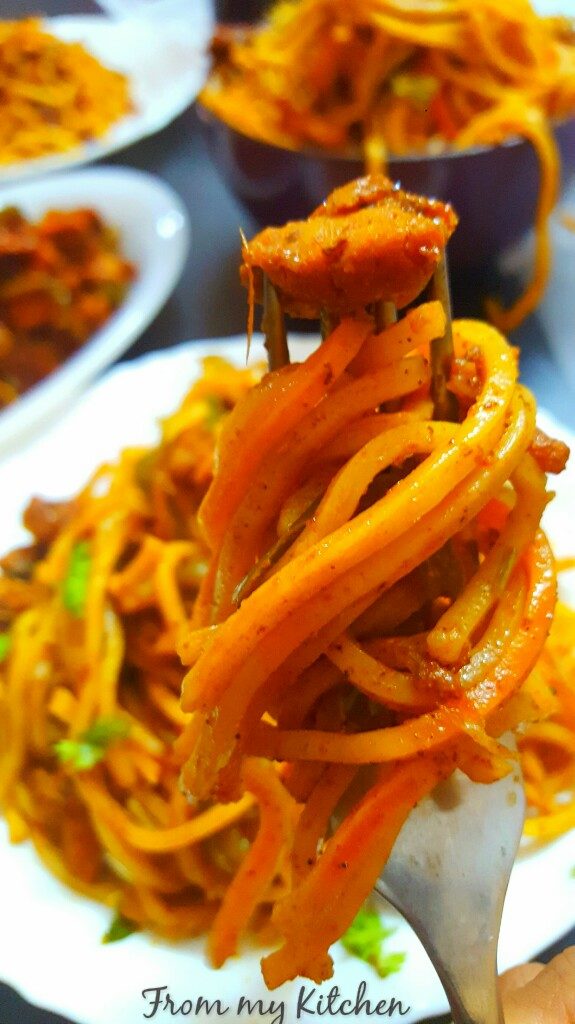 To prepare this first made chicken tikka and then make a spicy,saucy masala including some veggies,spices and sauces.
Ingredients
500 gm egg noodles or hakka noodles
For marinating
250 gm boneless chicken
1/2 of a lime juice
salt
1 n 1/2 tsp chilly powder
1 heaped tsp ginger paste
1 tsp garlic
2 tbs yogurt
1/2 tsp garam masala
Other Ingredients
1 medium onion
2 tsp garlic crushed
1 tsp ginger
1 carrot
1 capsicum
1 tsp red chilly powder diluted in 1 tsp of water
4 tbsp tomato sauce
1 tbsp soy sauce
1 tsp lemon juice
1/2 tsp coriander powder
1 tsp cumin powder
3 tbsp oil
Lots of cilantro
Method


Cut chicken into small pieces and marinate it with above ingredients and grill it using a pan with very less oil.When it's almost done cook it on high flame to get that charred effect.Remove the chicken.
In same pan pour oil saute ginger and garlic,add sliced onions and cook for a while then add veggies and stir it on high flame.
When it's half done add chilly paste,coriander powder,tomato sauce,soy sauce,salt,pepper ,cumin powder and mix well. Sprinkle some water and let it cook until rawness disappears.
Add lots of coriander and dash of lemon juice.Taste the filling and adjust accordingly.Filling is ready.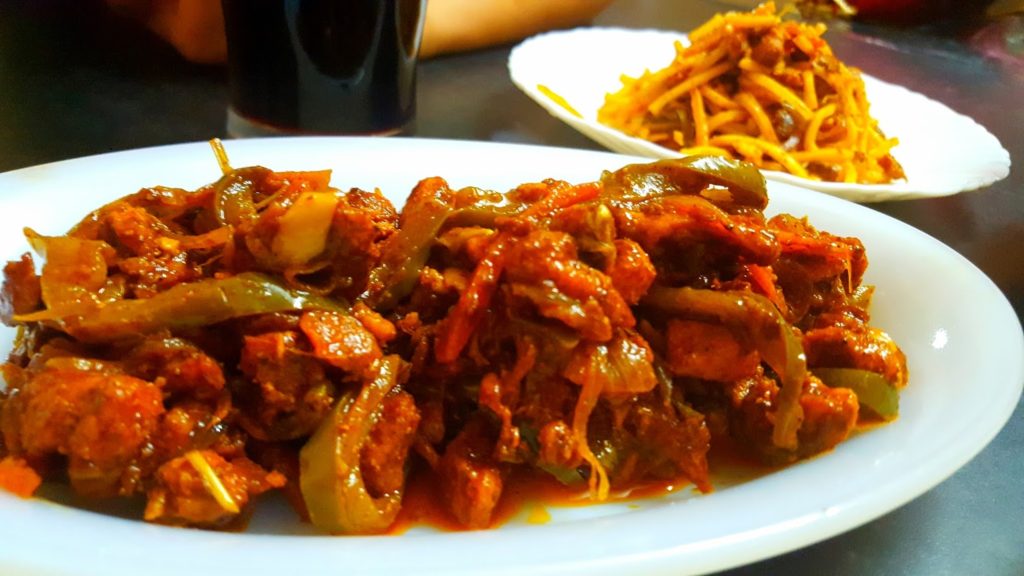 Noodle Filling
Boil the noodles and toss it with the filling.Lastly sprinkle some coriander and dash of lemon. Serve hot,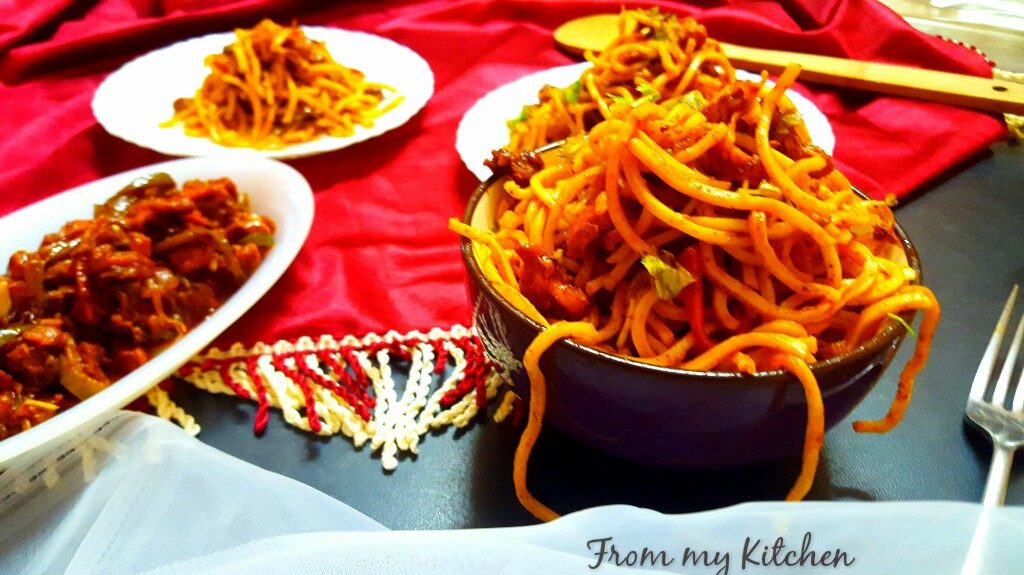 Note: Do not over boil the noodles.Add few drops of oil while cooking noodles to get it non sticky.When you drain the noodles immediately pour some cold water.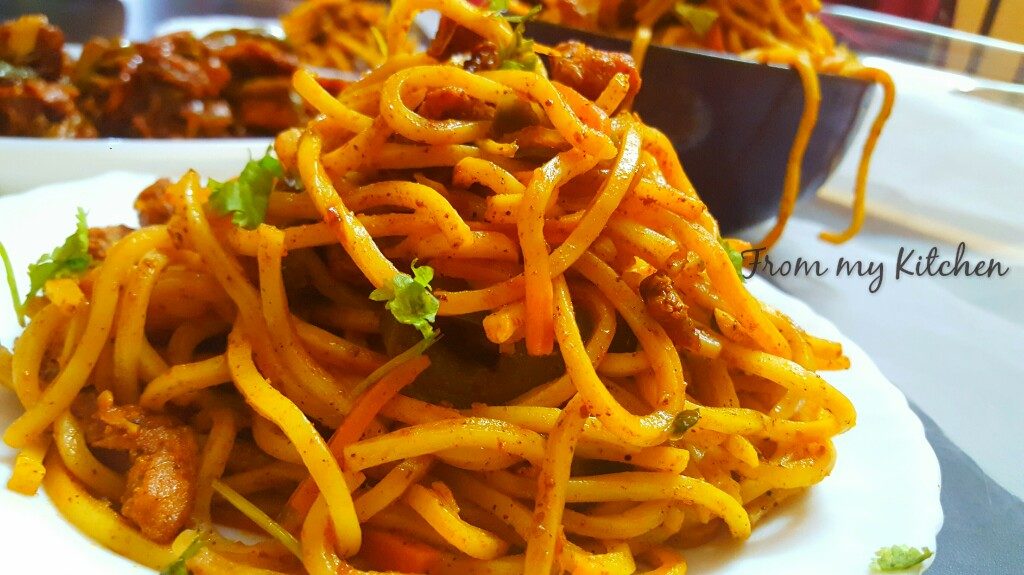 Enjoy it with your dear ones and don't forget to share your feedback.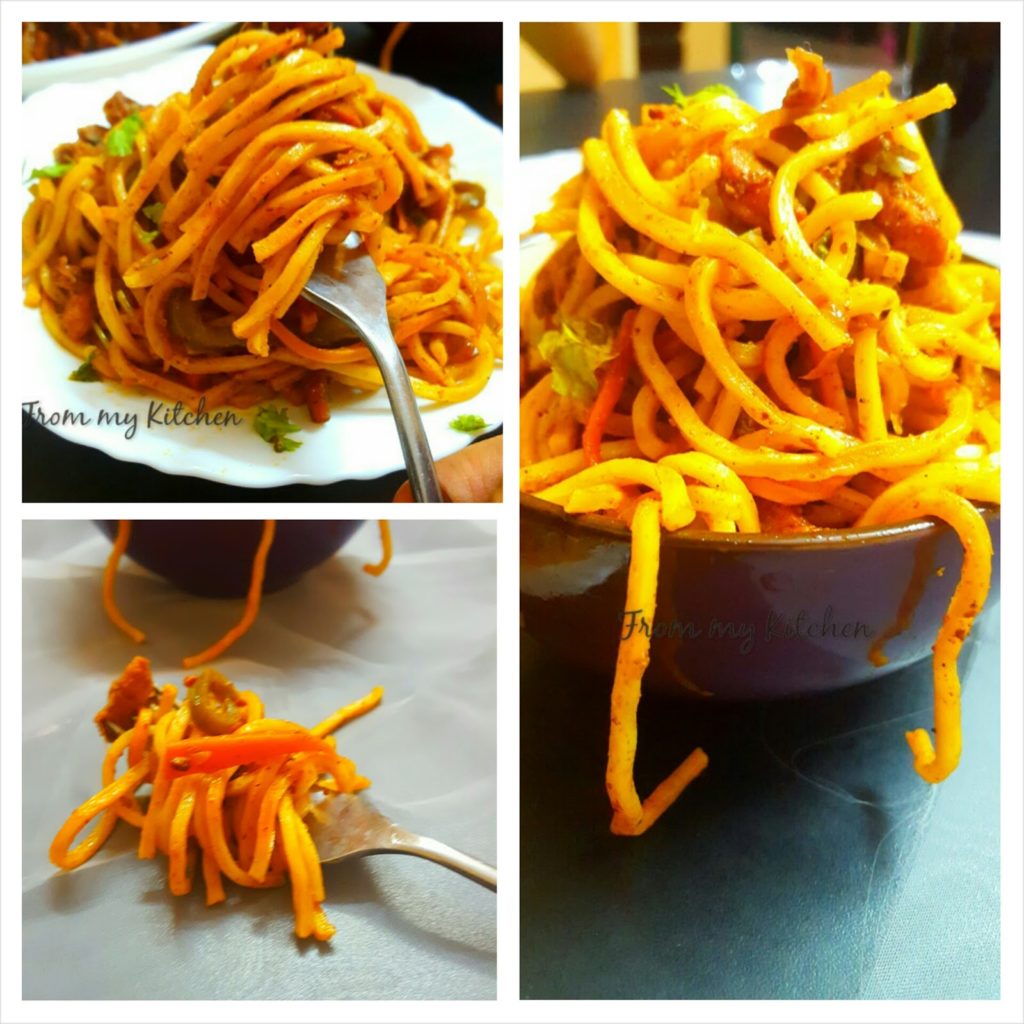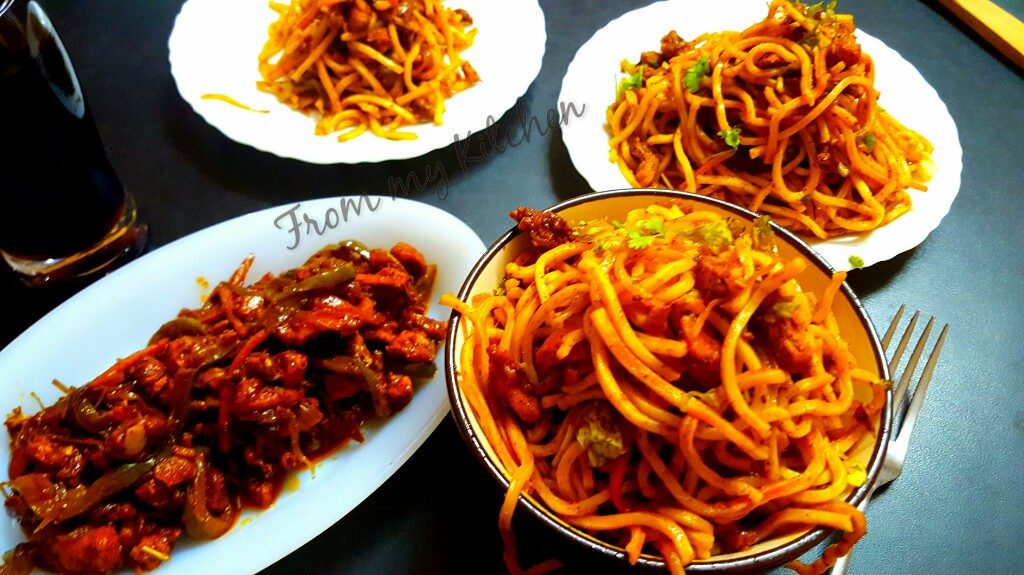 Yummm!
Happy Cooking!