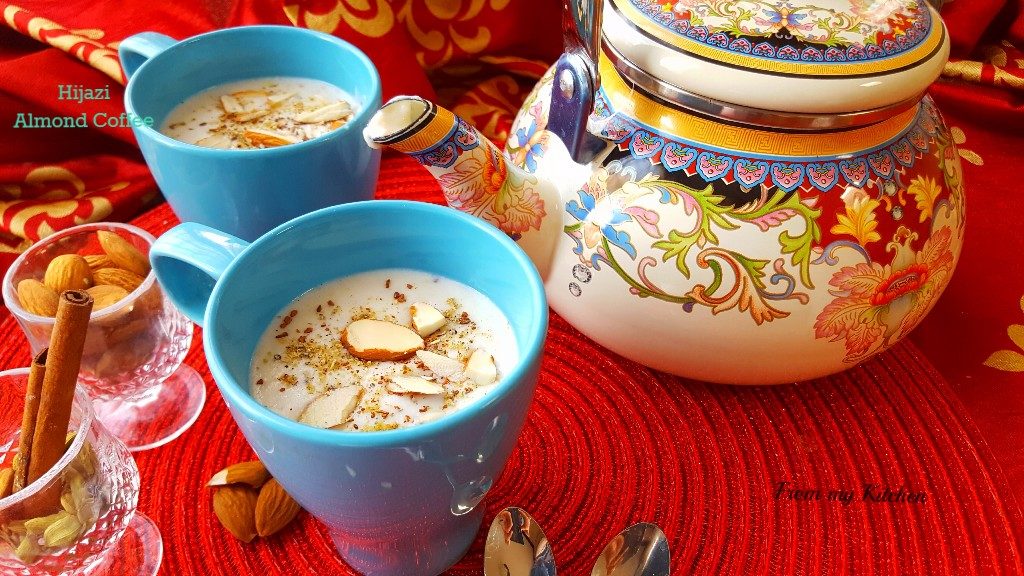 Hijazi Coffee or Almond Coffee is a popular drink in the Hijaz area of Saudi Arabia!Hence the name Hijazi coffee, this drink has no coffee or caffeine included.It uses ground almonds instead of ground coffe ,which is a perfect option for those who want a warm drink.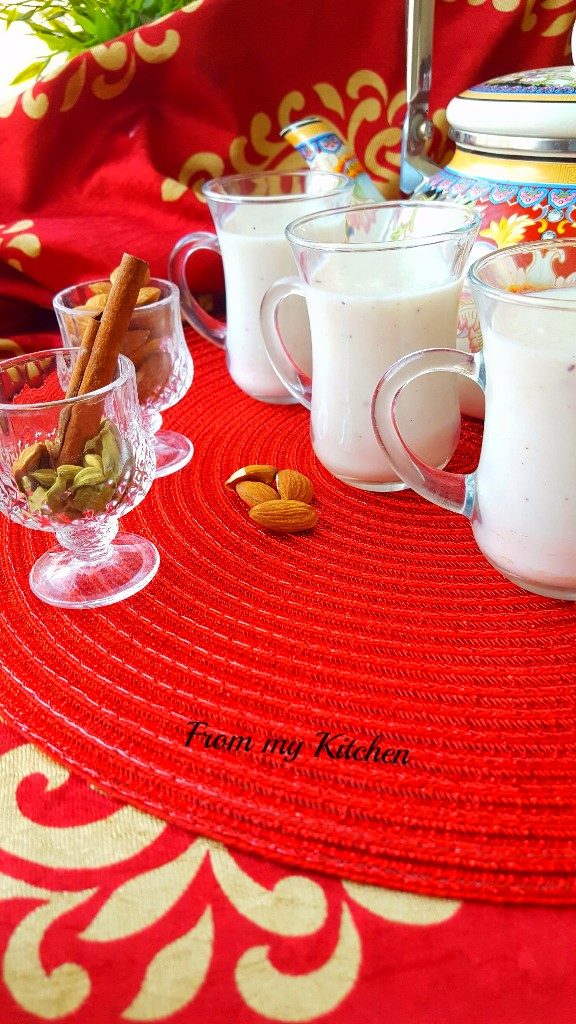 This white coffee is rich and velvety with the crunch of almonds and the aromatic spices using in it.We used to make something similar to this in our place called Badam milk(badam kachiye).Warm comforting drinks like these are a must in our home during Ramadan.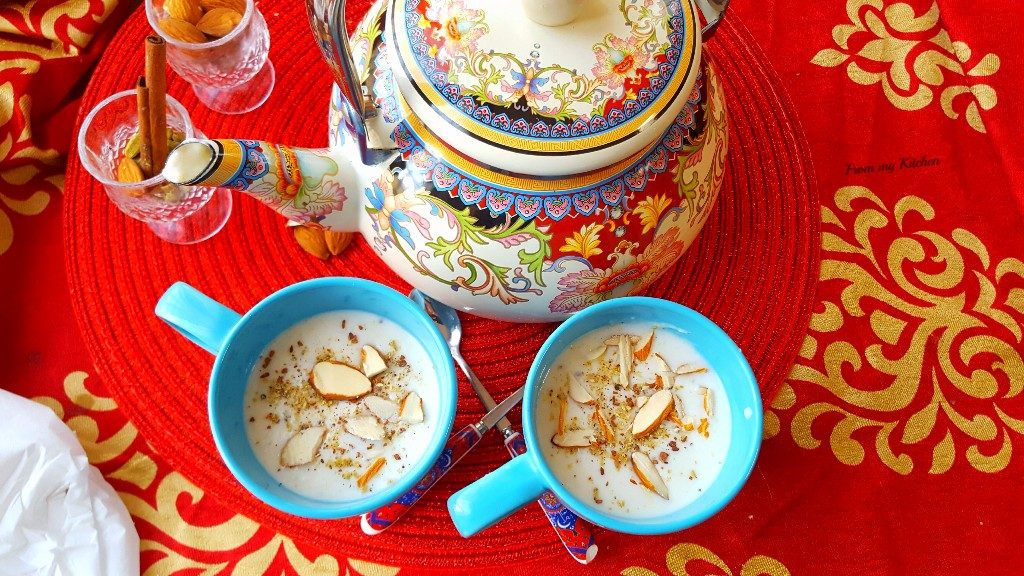 I want to make something with almond as i have lots of almond powder which i used for my
French Macaroons
,to finish off before i go for vacation!hehe!So this one caught my eyes while browsing through the internet on a lovely blog Chef in disguise.Inspired from there.Authentic way of making this is blanching and grinding the almond then using it to the drink.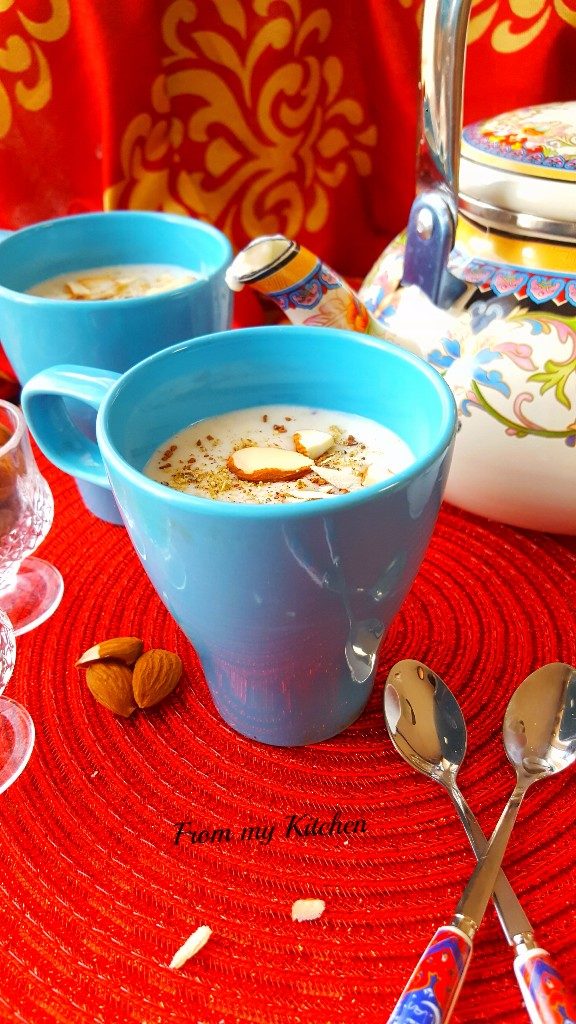 Here along with milk and almond , rice powder is used to thicken the drink.Also adding the aromatics like cinnamon and cardamom is what i loved the most.Over to recipe
Ingredients
4 cups milk
1/3 cup almond
1/4 cup sugar
3 tbsp rice flour
For garnishing
Cinnamon powder
Cardamom powder
Toasted almond
Method
Put the almonds in a pan with hot water, boil for 2 minutes. Peel and grind .Make sure not to over process almonds.
In a saucepan pour 3 & 1/2 cups of milk and the sugar over medium heat. Bring it to a boil while continuously stirring
Switch off the flame
Dissolve rice flour in the remaining cup of milk. Add to the hot milk and stir.
Return the pot to the heat .
Add the almonds and stir continuously until you get the desired consistency.
At this stage you can add spices (ground cinnamon, cardamom) or serve aside for garnish.
If you are not adding it while cooking.Pour Hijazi coffee over the cup and garnish the spices which you prefer.Nice crunch from toasted almond and the flavours from the spices are just awesome.
Note :I used almond powder here(less than 1/3rd cup)sprinkled some water and mixed it to get that stickiness as if we are grinding.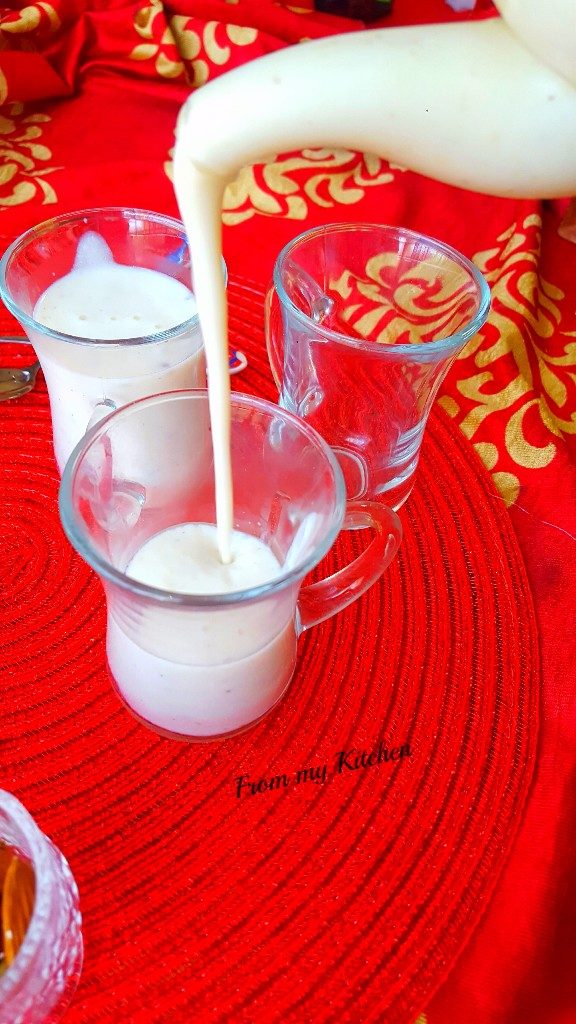 If you feel like having something warm and comforting this is really an option for you!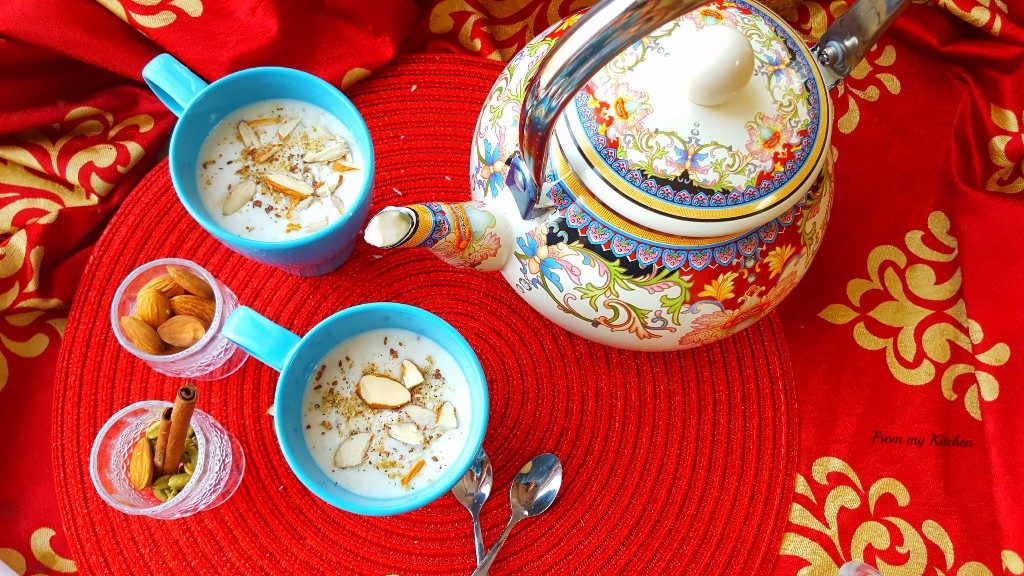 Perfect for the rainy day too!