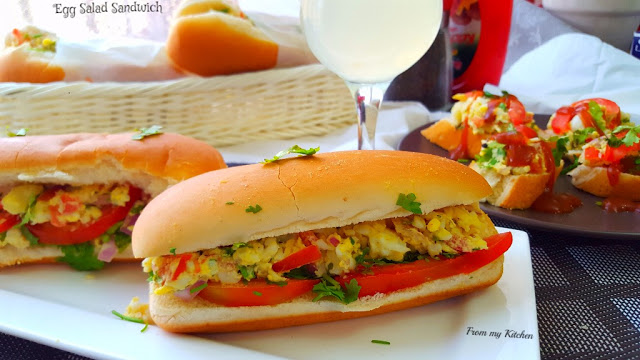 Very quick and easy appetizer/breakfast to put together!confused?Ramadan is around the corner and eagerly waiting for the Holy Month to arrive!In sha Allah will try my best to bring some easy and simple appetizers that are less time consuming in kitchen.So that we can concentrate more in our prayers and utilize this holy month as much as we can!Ok back to the recipe, if we serve it in this way it will be said as breakfast!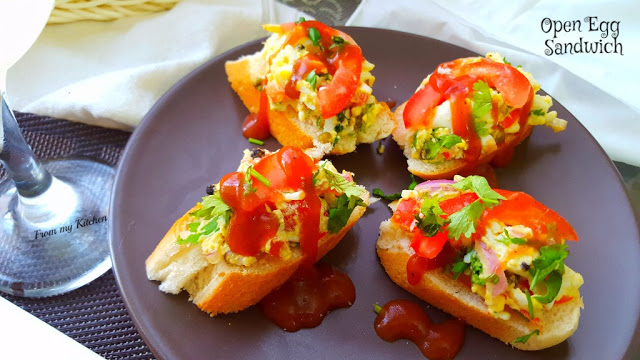 But how about this??Yaa!We can call it as a snack or appetizer right?More inviting and bite size pieces!Perfect for tea time!isn't it?Different way of serving your sandwiches – Open Sandwich! Cool na!Here is my first contribution for Ramadan Snacking easy idea!It's simple,easy and tasty of course for egg lovers!hehe!You can easily substitute egg with paneer!
It includes hard boiled egg,some veggies,spices,mayo(very little),ketchup (optl),lemon juice!Along with eggs you will get that slight crunchiness from veggies and tanginess of lemon,also you can make it spicy according to your taste!It's perfect snacking for a lazy day!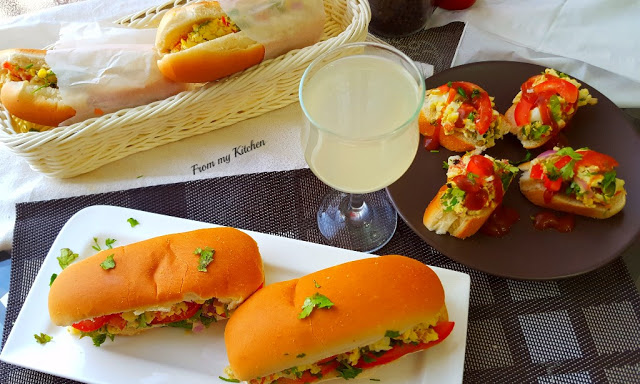 Ingredients
5 Samoli Bread
3 Hard boiled egg
1 small onion
1 small tomato
some lettuce
1 green chilly(optl)
1 tsp pepper
1/2 tsp red chilly flakes
1/2 tsp garlic powder
Salt to taste
1 tbsp mayo
Ketchup to spread (optl)or to drizzle on top of open sandwich
Lots of cilantro/coriander leaves
1 tsp lemon juice
To make it colourful spread some slices of tomato and lettuce on top
Method
Grate the eggs.
Finely chop the veggies(onion,tomato,green chilly some lettuce)
Mix spices,lemon,juice,eggs,veggies,mayo and salt.You will get a sticky filling!(Don't add too much mayo only check and add if you want more!)
For sandwich if you like ketchup spread,then lettuce,tomato slices and put the filling on top! and close it.
For open sandwich
Cut the bread diagonally spread the filling,a slice of tomato drizzle some ketchup and use.If you want the base crispy cook it on tawa with some butter/olive oil.
Note:If you don't want to grate the eggs slice it along with veggies and use.
You can make it with any filling(i mean open sandwich)
If you are toasting your bread do it first and then add the filling!This is to avoid the mess of falling apart the filling!You can use any bread of your choice !Only thing different is shape!
Here ready an oil free appetizer for you from side!
You can surely impress your guest by serving your sandwich in an open way!
Enjoy!
For more easy and appealing appetizers stay tuned!