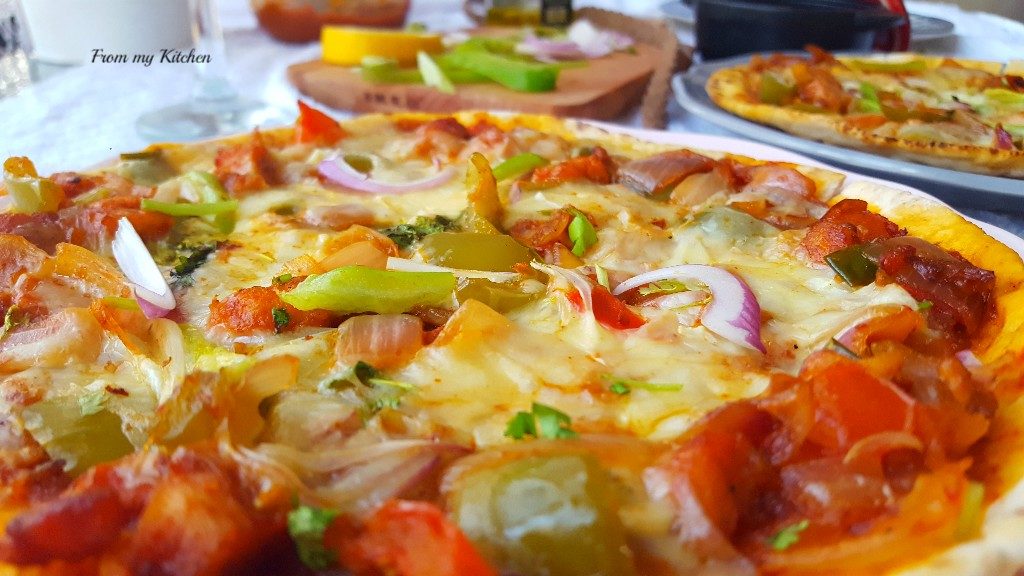 Yes spicy chilly chicken pizza !With what…………?Here comes the twist and easy part!With some left over Kubs!Yaay! A simple and guaranteed way to consume your left over kubs.The fusion cooking with two popular cuisines CHINESE & ITALIAN !Already have one recipe on the blog Kubs Cracker.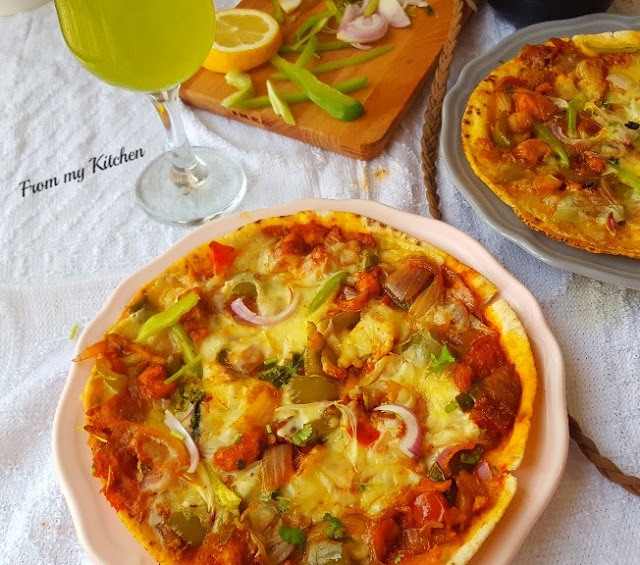 I'm sure cheese lovers and kubs haters both will love it alike!Isn't it a great way to finish off your left over kubs?(I always have some leftovers when i bought them).Here it was all gone in a jiffy. Perfect for a lazy day!Really i made it in such a lazy crazy day where i don't know what to make for dinner and then remember my life saver kubs in the fridge!Pop out some chicken breast fillet and this beautiful dish is here!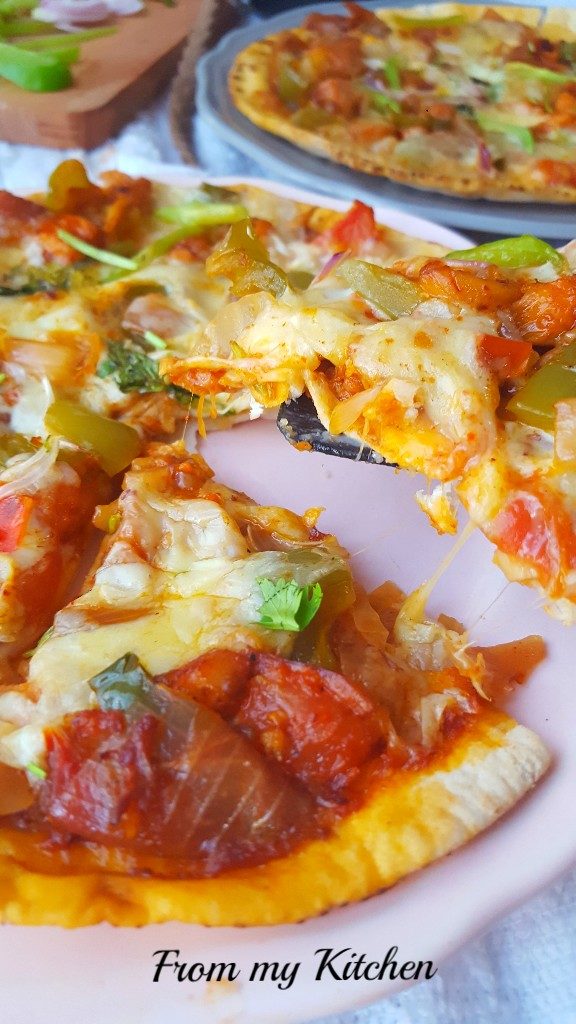 Just imagine spicy and saucy chilly chicken on the bed of thin kubs with lots of gooey cheese!Yum!
It is similar to thin crust pizza.Isn't it?If you want it crispy just cook it in a pan on low flame.Otherwise in the preheated oven until the cheese melts!It's really yum!
Ingredients
3 or 4 Kubus
Pizza Sauce (optl) or Mayo and ketchup with some italian seasoning
For Chilly chicken
2 chicken breast
Salt
1 tsp chilly powder
1/2 tsp soya sauce
1/2 tsp pepper
1 tbsp all purpose flour
1 tbsp cornflour
few drops of water to make a thick marinade
Oil to fry the chicken
4 cloves garlic
1/2 tsp ginger
3 or 4 green chilies
2 onions
1 capsicum
1 tomato
1 tbsp tomato sauce
1/2 tsp soya sauce
1/2 tsp pepper
Other Ingredients
1 small Onion sliced
1/2 bell pepper sliced
Mozzarella Cheese
Method
Cut chicken into small cubes marinate and fry it until done.You can also shallow fry it with less oil.(if you are shallow frying your chicken use a nonstick pan otherwise it will stick to the bottom as we are adding flour in it)
In the same pan add chopped garlic,ginger and green chilly.Saute it for a while.
Add cubed onions cook for few sec in high flame,
Then add other veggies and salt(All cooking are done in high flame in this)Don't cook it for a long time as we need that bite in the veggies.
Add pepper powder, sauces and cook .
Toss in the chicken and mix everything well and switch off the flame.Let it cool down and then assemble the pizza.
If you are not using Pizza Sauce you can mix mayo and ketchup with some seasoning and spread.Also can skip it.Then filling, cheese and some sliced caps and onion and some cilantro.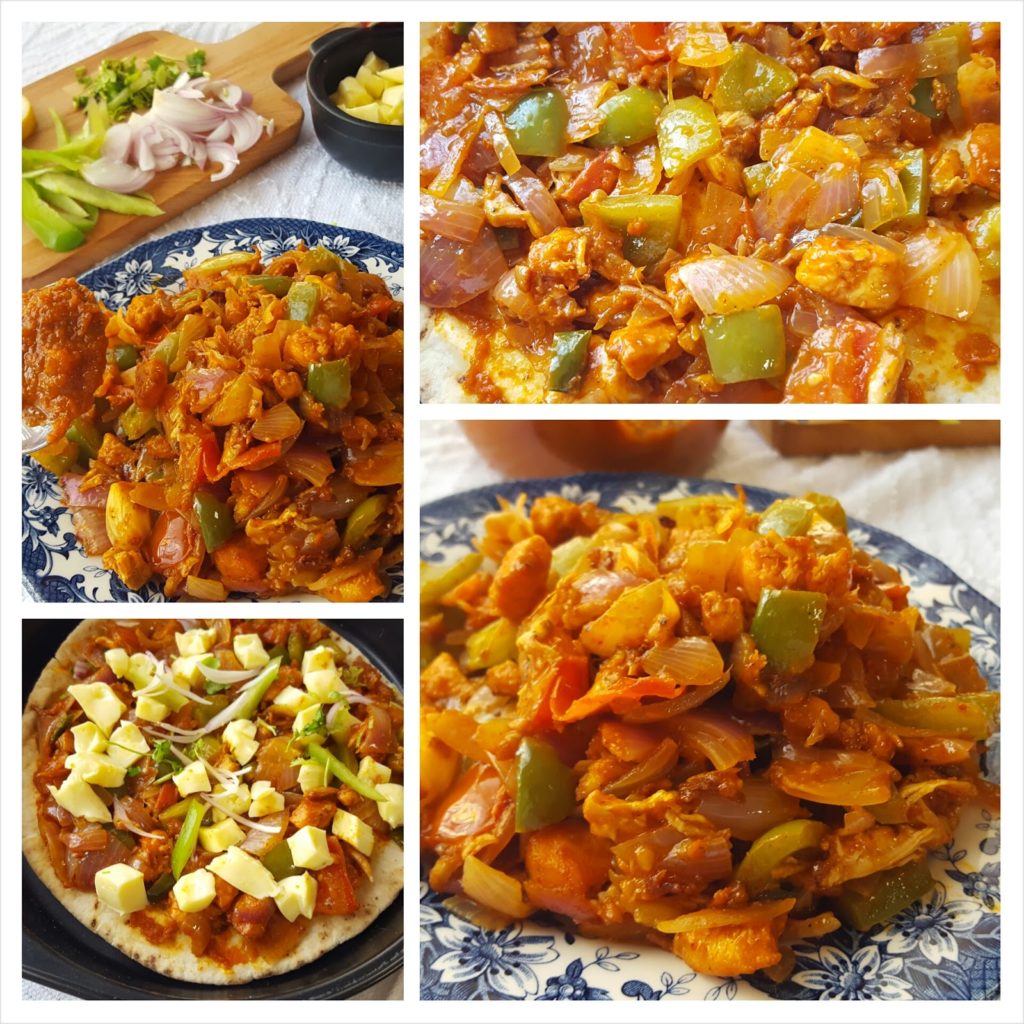 Bake it until the cheese melts.Or in a pan until the base is lightly crispy (if you like it crispy)and cheese melts.
Note : Don't overload the filing as the base is very thin it tends to fall apart while cutting.
Enjoy this quick and fusion version of pizza!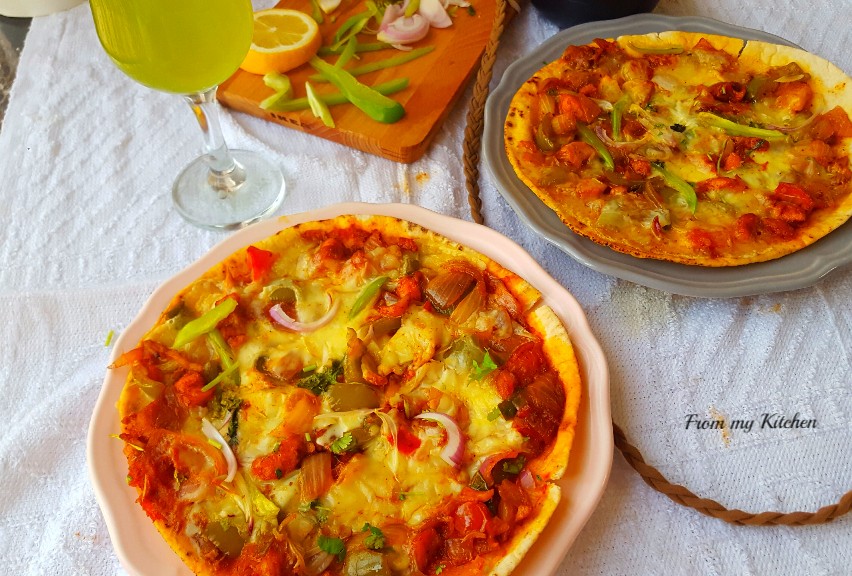 Next time i will try this filling on my pizza base!It will be more yummier!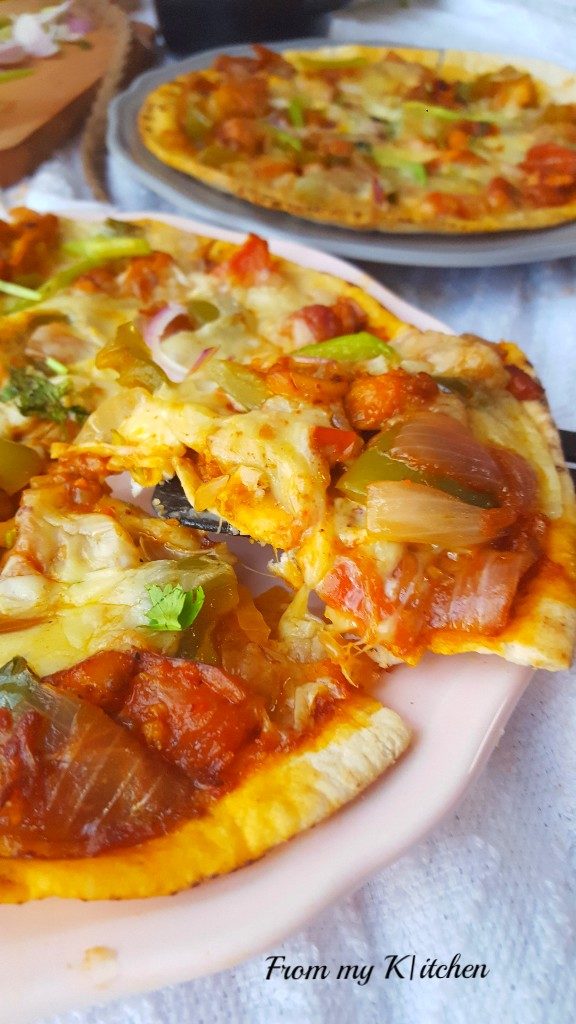 Relish !and shh …..don't let your family know that's made up of with leftovers 😉
Happy cooking!