Coated Chicken In Rice!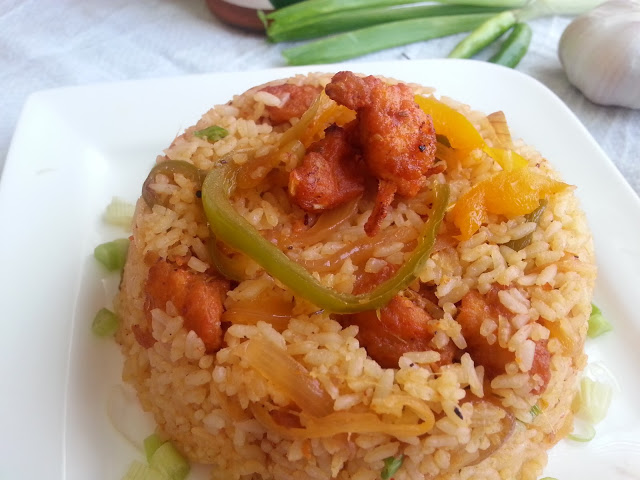 Oh yummy it is!spicy coated and fried chickens in rice,you don't need a side dish for this rice,as we are making it spicy and also juicy,succulent and flavourful chickens are mixed together with rice.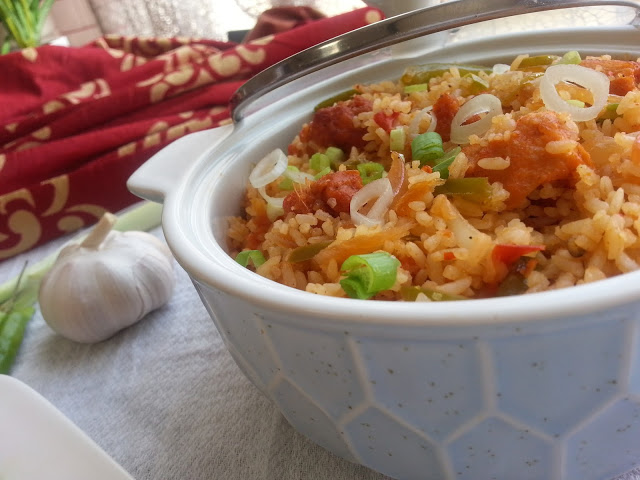 Woow look at the colour and the fried chicken in that rice,all the ingredients are matching very well together what should I say,you have to try this.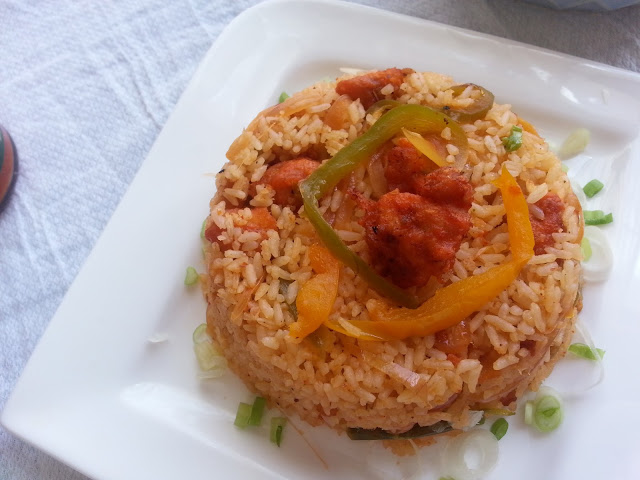 It has all the awesomeness in it,chicken,veggies,sauces.I made the masala like we are making chilly chickens with some twist and then mix it with the rice.We can add it in the fried rice category.I am sure those who love fried rice will love this too,
2 big Chicken breast fillet (cut into small bite size pieces)
1 tspn chilly flakes
1 tspn chilly powder
1/2 tspn fennel powder(optl)
1 tspn ginger
1 tspn garlic
2 tspn lemon juice
2 tblspn all purpose flour
Mix everything very well and fry the chicken pieces.
For sauteing
2 tblspn fried oil
8 green chillies
1 tblspn garlic
1 tspn ginger
2 large onion
2 large tomato
1 or 2 cpsicums
2 string spring onions
1 tspn pepper
1 tblspn tomato sauce
1 tblspn soya sauce
For rice
2 n 1/2 cup rice
5 cups water
Ghee n fried oil
1 tspn garlic
1 tspn schezwan sauce
Method
1.First fry the chicken with all the ingredients under marination.don't over cook it as it will go rubbery,If u feel like coating to the chicken is less add some more flour.Make it spicy if u can manage the heat.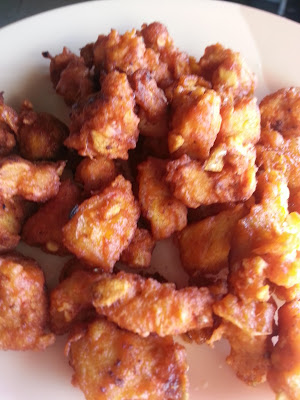 For Filling
In pan add 2 tblspn of fried oil put finely chopped garlic,ginger and green chilly slits and saute well.
Then add sliced onions and cook it very well,i don't want my onion undercook.Add tomato and cook then capsicums saute well pour sauces pepper mix well and cook for a while mix in fired chicken and spring onions.Filling is ready now.
Rice
As we cook normal ghee rice,only difference is in ghee add finely chopped garlic and schezwan sauce
to give the rice nice red colour,then add rice and toast it and pour boiling water and let the rice cook completely.
After the rice is cooked mix the masala gently with the rice.sprinkle some spring onions and serve it hot.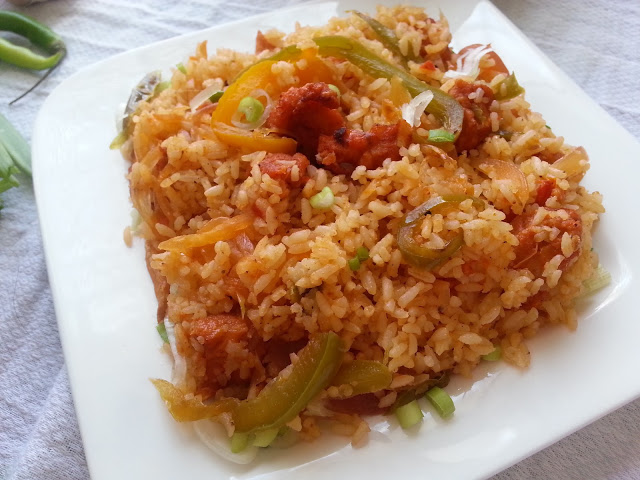 If the chicken is spicy u and juicy I'm sure no need of any side dish,the same feeling you will have with these chicken chunks.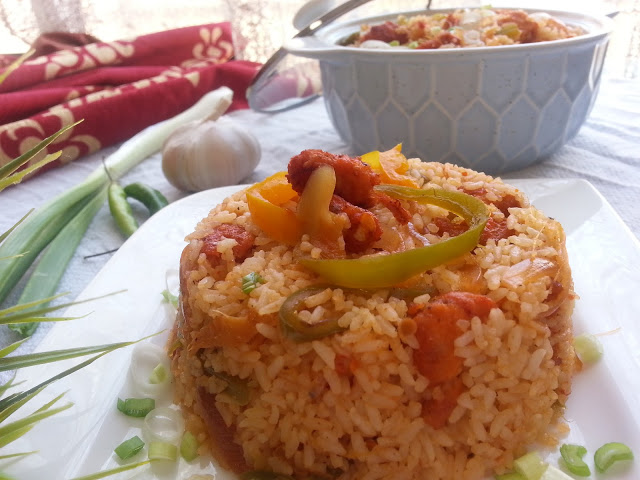 Enjoy with the hot sip of lime tea.