Baking Addiction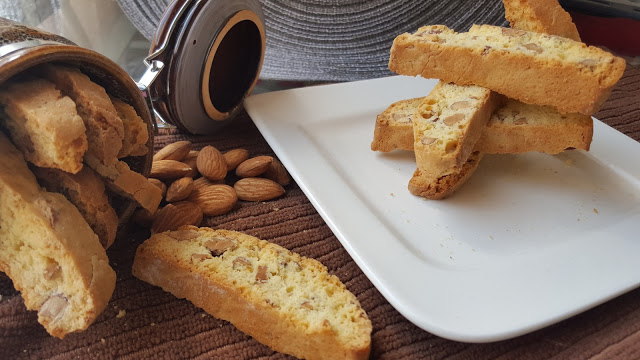 A rich biscotti,which is crisp and crunchy in texture with a sweet almond flavour and in every bite of it chunks of toasted almonds.Perfect for dipping in coffee.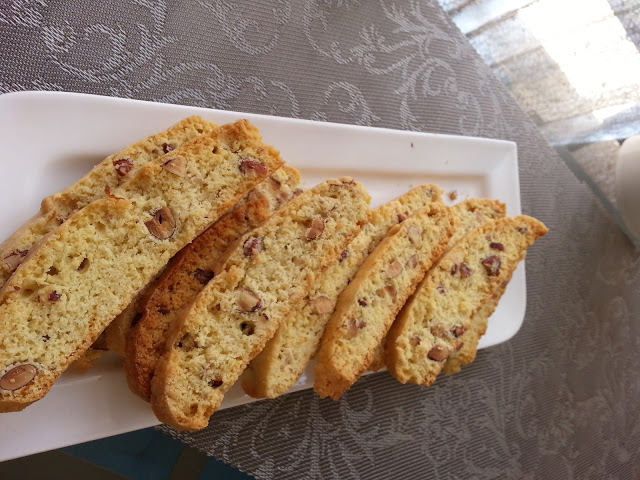 Its a double baked cookie with some simple procedures.Very easy to make dough ,but needs to be a little patient for the end result.;-]
Ingredients
3/4 cup almonds
2 cups refined flour
3/4 cup powdered sugar
3 eggs
1 tspn baking powder
A pinch of salt
8 tblspn oil
1 tspn vanilla essence
Method

1.Toast the almonds in low flame orelse put it in preheated oven for 5 to 10min,chop it coarsely.
2.Mix all dry ingredients stir in the chopped almonds, set aside.
3.With the help of a hand whisk mix oil eggs vanilla well then start mixing the dough,If its sticky put some more flour to handle it easily.
4. Then divide the dough into two and roll each half into a 6 inch log,transfer it to a prepared baking tray and bake for about 30minutes.Log will spread while baking.Remove from oven and let it cool for 10 to 15 minutes.Then cut the log in long strips and bake it for 10 to 15 minutes on each side.