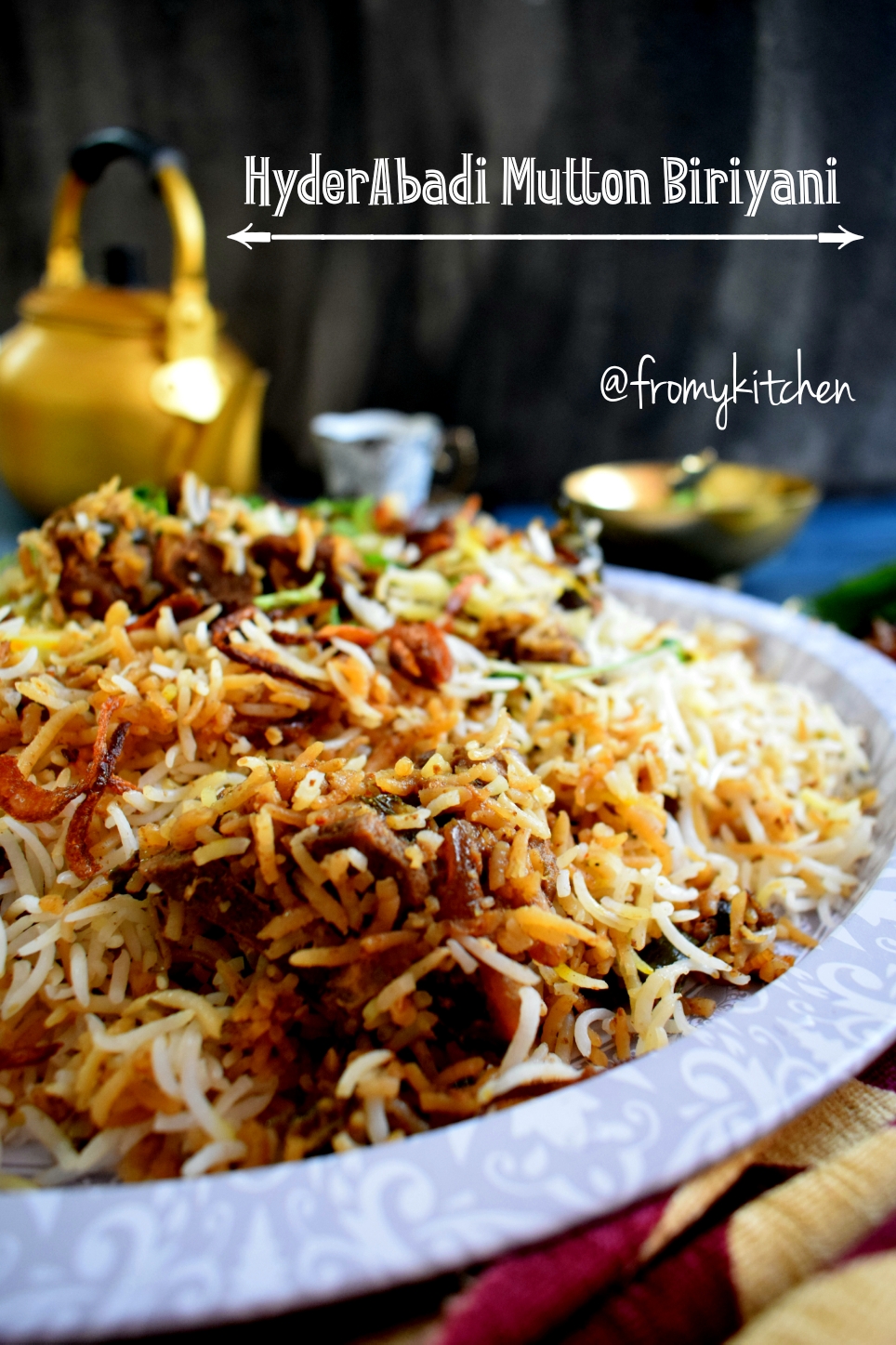 Hyderabadi Biriyani is one of the most popular biriyanis throughout India!The perfectly cooked basmati rice coated with the aromatic and delicious masala which is slow cooked on dum in which all the flavors are tightly packed in itself.The masala has got that perfect balance with the tangy spicy effect.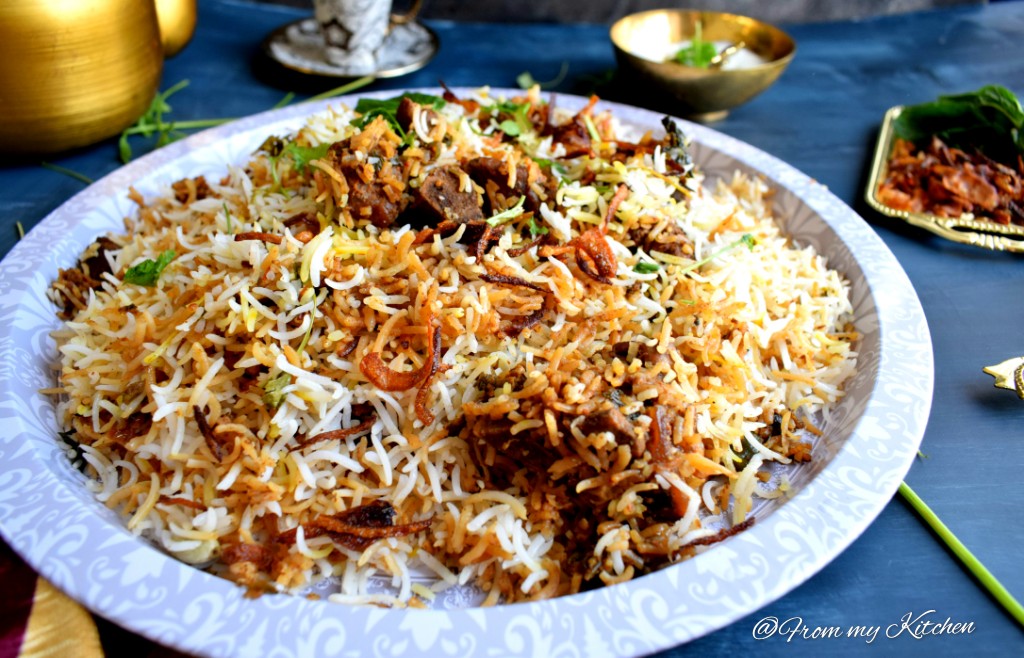 Longtime this is on my bucket list and finally, here it is, I really wonder why I didn't try this yet, hehe!It's so simple to make and fully packed with flavors.There are two ways of making Hyderabadi Biriyani kachi and pakki .The Kachi biryani is prepared with meat marinated with spices and yogurt for a longer time, and then the half cooked rice is sandwiched between the uncooked marinated meat and cook it on low flame by sealing the edges with dough.In Pakki Biriyani the meat is first cooked and then layered with rice.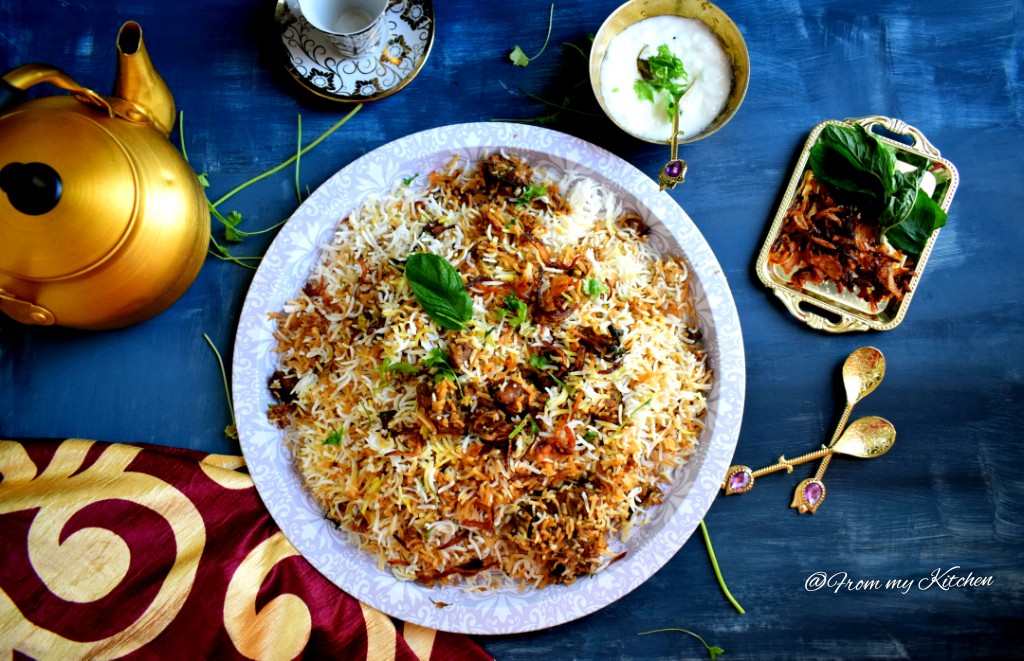 Here I made the 2nd method, as the mutton require more time to cook so don't want to take a risk.I will definitely gonna try Chicken Biryani in another way, I went through some of the recipes and mixed the steps I liked from different recipes and the result was fab.See notes
Ingredients
1 kg mutton
6 onions fried
6 to 8 hot green chilies(more or less according to your preference)
2 tbsp ginger and garlic
3 tbsp finely chopped coriander leaves
Some chopped mint leaves
1 & 1/2 to 2 tbsp chilly powder
1 tbsp coriander powder
1 cup yogurt
1 tbsp lemon juice
Salt to taste
For Rice
5 cups basmati rice soaked for 15 minutes
Hot water( you are draining the rice when its 80% done so no need to measure the water)
2 piece each bay leaves, clove and cardamom
Small piece cinnamon
3 tbsp onion fried oil
For Frying Onion
6 onions sliced thinly
 5 tbsp ghee + oil  for frying
Method
Step1 -Frying Onion
Fry onion with some oil and ghee until it's golden brown.Reserve the oil in which you fried the onion for rest of the use.
Step 2 – Cooking Rice
Boil the water, put all the spices and 2 to 3 tbsp reserved oil.
Add the drained rice and let it cook until it's done 80%
Drain it and keep it aside.
Step 4 – Preparing Masala
Wash and drain the mutton
Take 3/4 of the fried onion and make it to a smooth paste with very little water.
Add all the ingredients listed above(for masala) and the onion paste to the meat and marinate well with your hands.(See Notes)
Transfer it to a pressure cooker and pour 1/2 cup water mix well and cook the mutton.(10 minutes after the first whistle, rest will cook  in dum)
Step 5- Dum
In a large pan layer some rice, pour the prepared meat masala and then dump in all the cooked rice spread it evenly.
Add chopped greens, fried onions, saffron milk and some more oil on top.Put on the lid with the weight and let it sit on low flame for 20 to 30 minutes.
Serve it hot with some raita.Relish!
Notes:
You can add fried onion directly to the marinade instead of grinding it to a smooth paste.(I did it for nice color and flavor)
Instead of chopping green chilies you can grind it together with ginger garlic and then add in marination.
Here is the Video Tutorial!
Hope you all will love this recipe!
Happy Cooking!