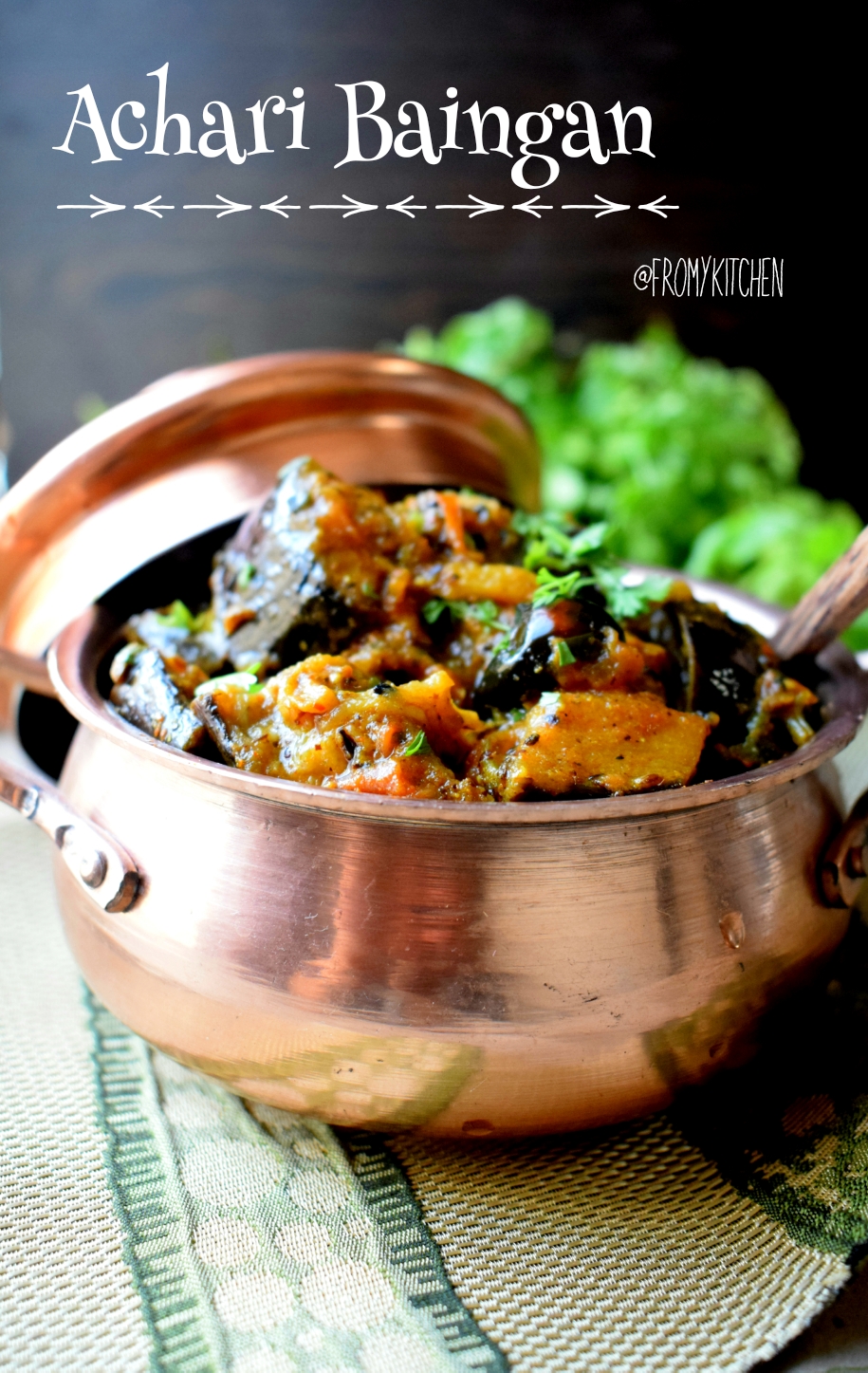 Achari Baingan is one of the most flavorful curry I've tasted with brinjal(aubergine).It's a flavorful blend of pickle spices and tomatoes cooked with brinjal. It's spicy,tangy and masaledar that tickle you taste buds.You can do the same recipe with any vegetable like paneer,potato or anything.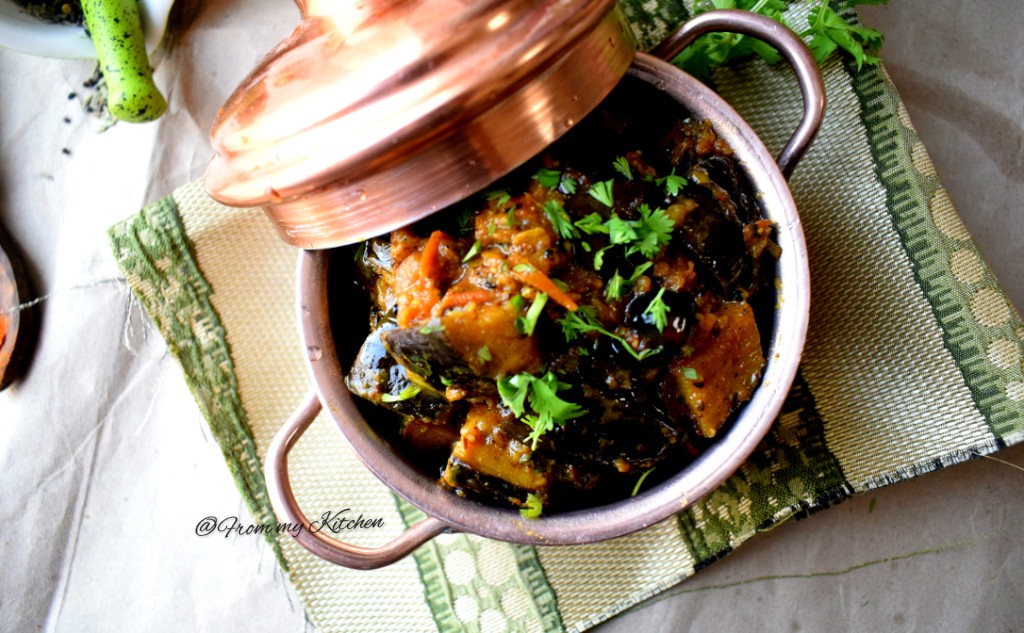 Frankly and seriously i'm not a big fan of both the pickle and brinjal,but this gravy was super yum!I had it from a restaurant only because my friend ordered it and to my surprise it was the yummiest and we wiped the plate clean.From that day onwards i'm browsing for a good achari baingan recipe, and yes this one is perfect.This recipe is inspired from Foods and Flavors by Shilpi.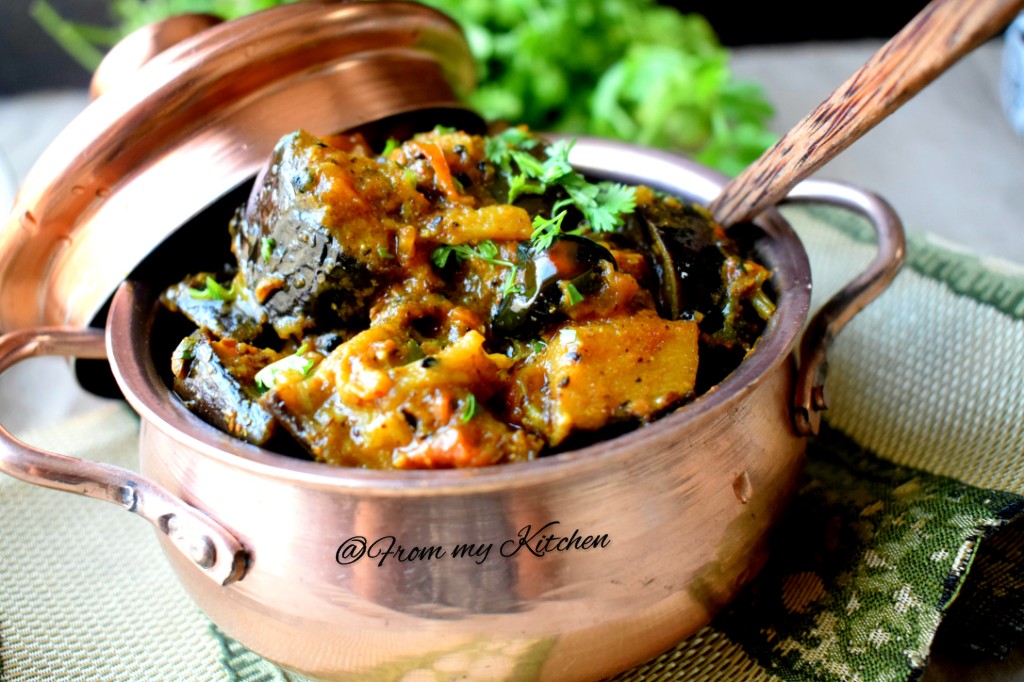 Hubby liked it very much,that he said to try this spice blend with other veggies too,now this will be my go to recipe.If you like pickle you will like it more than me. hehe!Do try it and please let me know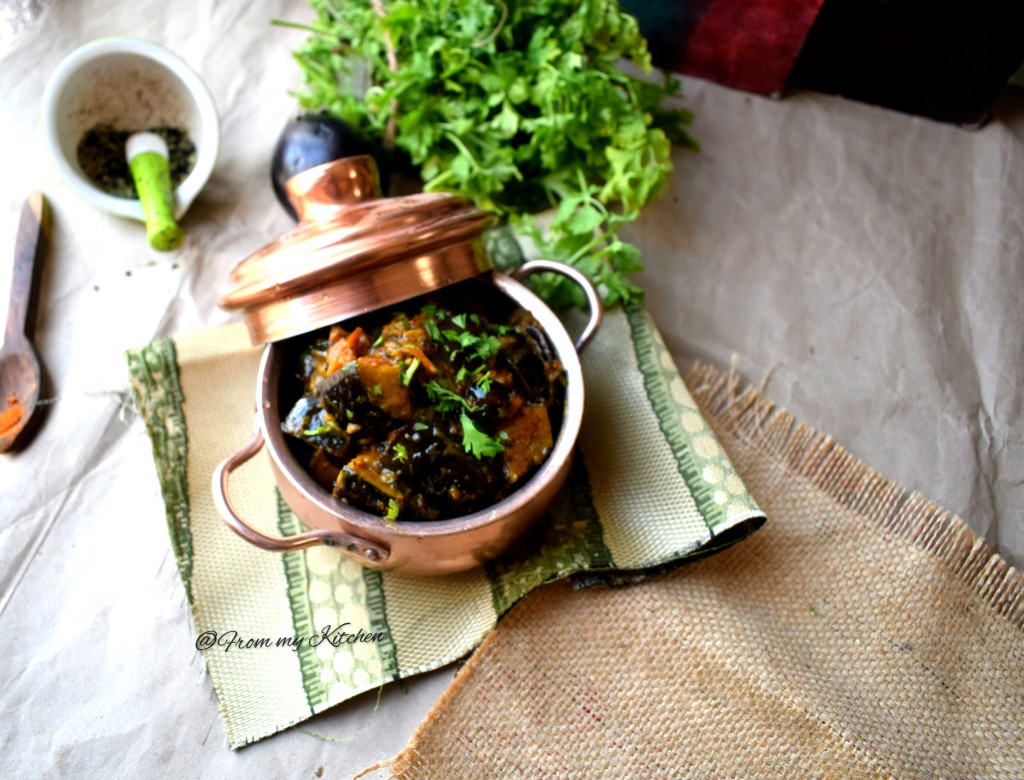 Ingredients
Achari Masala
1 tsp Cumin seeds
 ½ tsp Nigella/ kalongi seeds
1 tsp Fennel seed
½ tsp Mustard seeds
For Sauteing Brinjal
3 large brinjal or 6 small cut into medium sized cubes
salt,
1/4 tsp turmeric,
1/2 tsp chilly powder
2 to 3 tbsp oil
For Gravy
2 tomatoes
1/2 tsp turmeric powder
1 tsp chilly powder
1 tsp coriander powder
Salt to taste
1 tsp mustard seeds
1/2 tsp cumin seeds
1/2 tsp fennel seeds
2 dry red chilies
1 tbs ginger garlic paste
Some coriander leaves
1 cup water
Method
Dry roast the cumin,fennel,mustard and kalongi crush it to coarse powder and keep it aside.
In a pan pour oil add cubed brinjal and then add turmeric,chilly powder and salt.Fry it for sometime.Until its half cooked.Take it out.
In same pan pour 2 more tsp oil splutter mustard,cumin and fennel along with dry red chilly.
Add ginger garlic paste and cook,then add turmeric and crushed powder.Cook for few seconds.
Now add finely chopped tomatoes cover and cook until soft and mushy.
Add chilly powder and coriander powder and mix well.
Pour 1 cup water and let it boil for few minutes,then add the fried brinjal cover and cook until its fully done!Check and add a pinch of sugar to balance the flavor.
Happy Cooking!