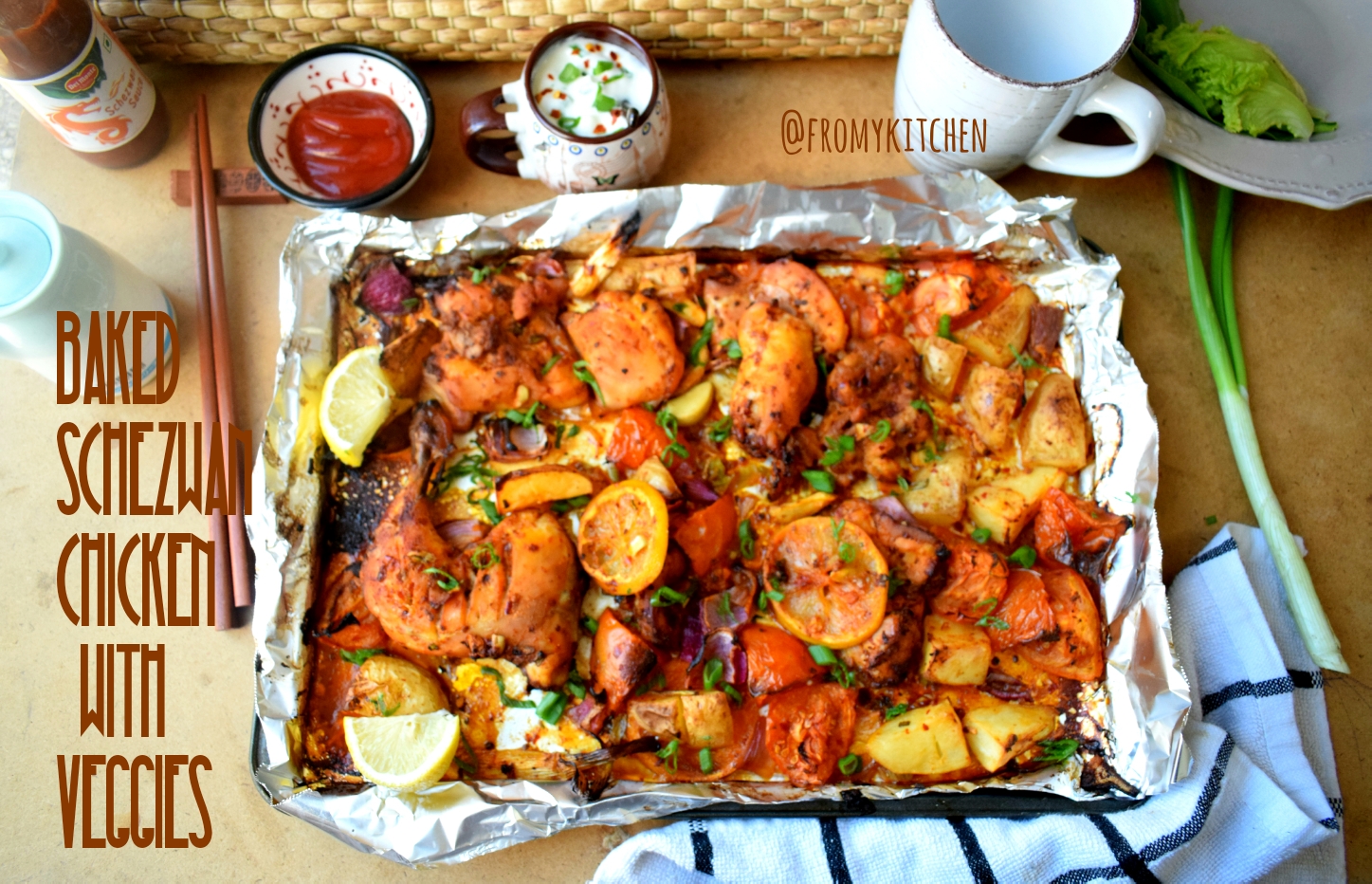 A quick fix wholesome meal,do u like such dish??This is a scrumptious roasted chicken along with some veggies baked to perfection with Schezwan marinade!Just marinate dump in a baking tray and bake!!Relish with salad or breads!Ain't they so simple and quick?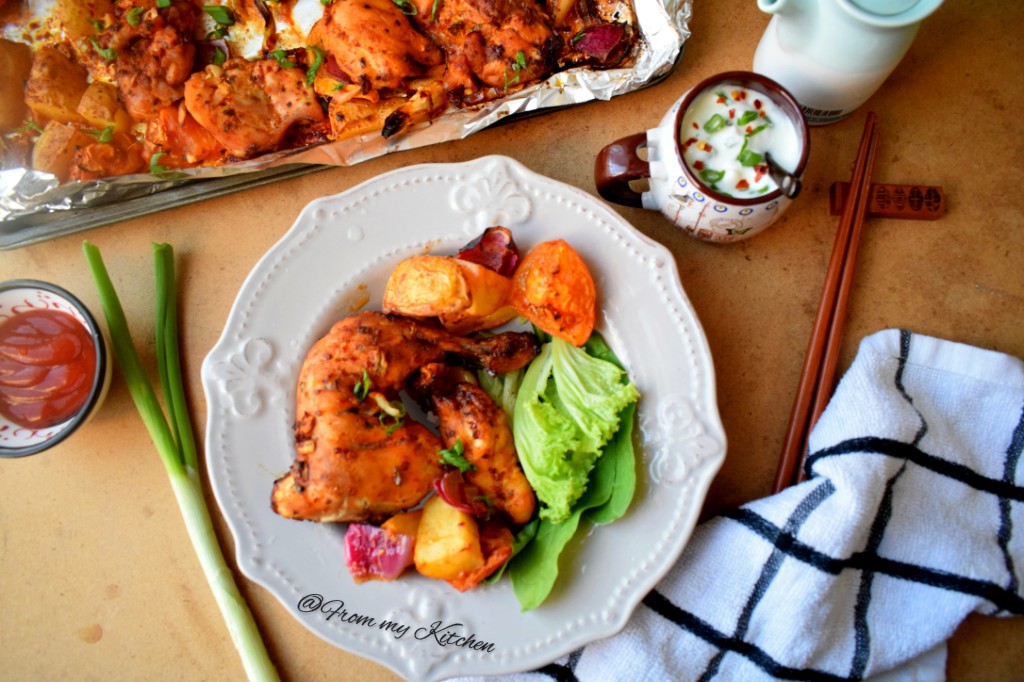 Such meals are really handy when you are in a lazy mood to cook,chop and clean!This makes life much easier with less work and the taste is 👌👌.Hope you all will like this for it's simplicity and flavor like me! Here i used potato,onion,tomato and spring onion ,you can use any veggies of your choice.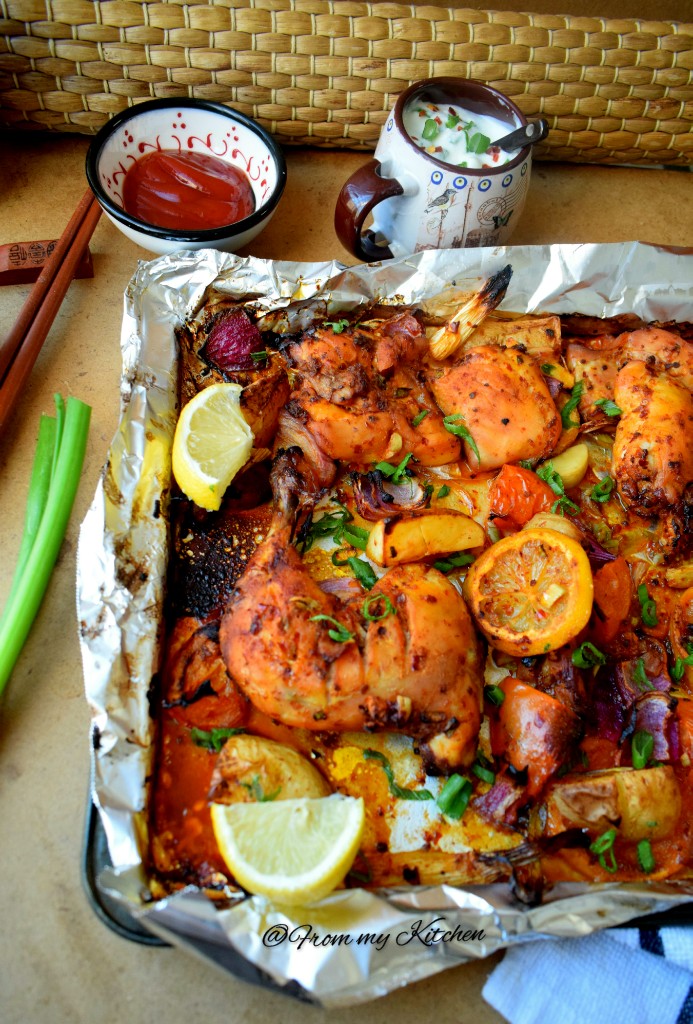 While baking the juice releases from the chicken makes it so tender and flavorful,but we want it dry,so what i do is after its cooked and roasted increase the temperature to high and bake it for some more time or until the juice dries out completely!😊But keep an eye on them not to burn it.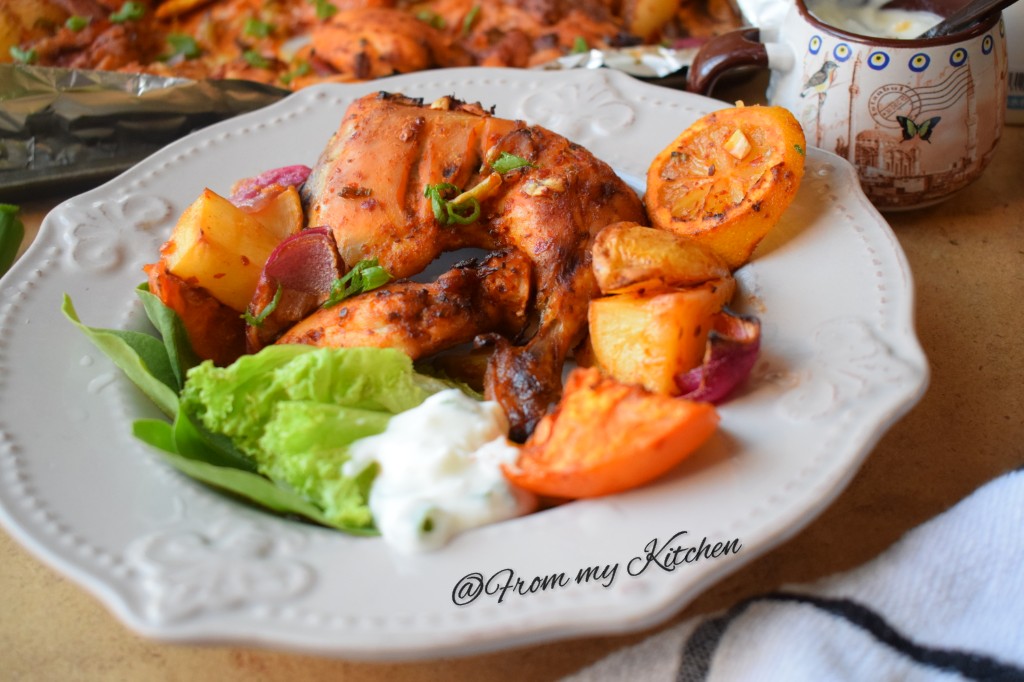 You can also call this as chicken tray bake with veggies!lets check out the recipe!
Ingredients
500 gm chicken
2 tbsp schezwan sauce
1 tbs garlic
I tsp ginger
1 tbsp chopped spring onion
1 tsp lemon juice
1 n 1/2 tsp honey
1/4 to 1/2 tsp red chilly powder(if you like it spicy)
Salt to tasteFor Veggies
1 big potato chopped into cubes
1 medium onion chopped into cubes
Some garlic cloves
3 or 4 slices of lemon
1 tomato chopped into cubes
Spring onion
Method
Mix all the ingredients listed under marination and marinate the chicken for at least 2 hours.
Line a baking tray with foil and brush some olive oil.
Spread the chicken on the tray,mix the veggies with leftover marinade and spread it over the tray.Put the lemon slices and and garlic cloves too for the extra tang and kick.If you like the veggies spicy sprinkle some chilly powder and rub it.
Preheat the oven to 200 degree and bake it for 1/2 an hour by flipping in between.
Then increase the temperature and bake it until the water dries out and chicken is nicely roasted.(mine takes 7 minutes)
Note: Check in between because for each oven temperature varies,don't burn your chicken.
Here is the Video Tutorial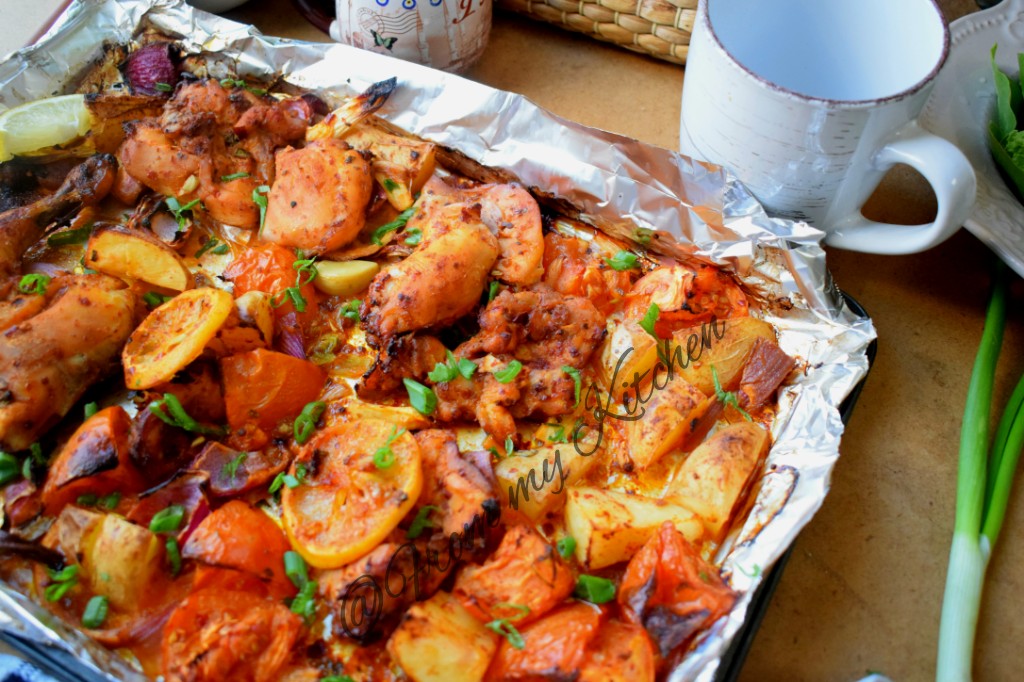 Mouthwatering is it?That lemon slices gives nice tang to the roasted chicken.Brush some of them on the chicken and have!You are on business!hehe!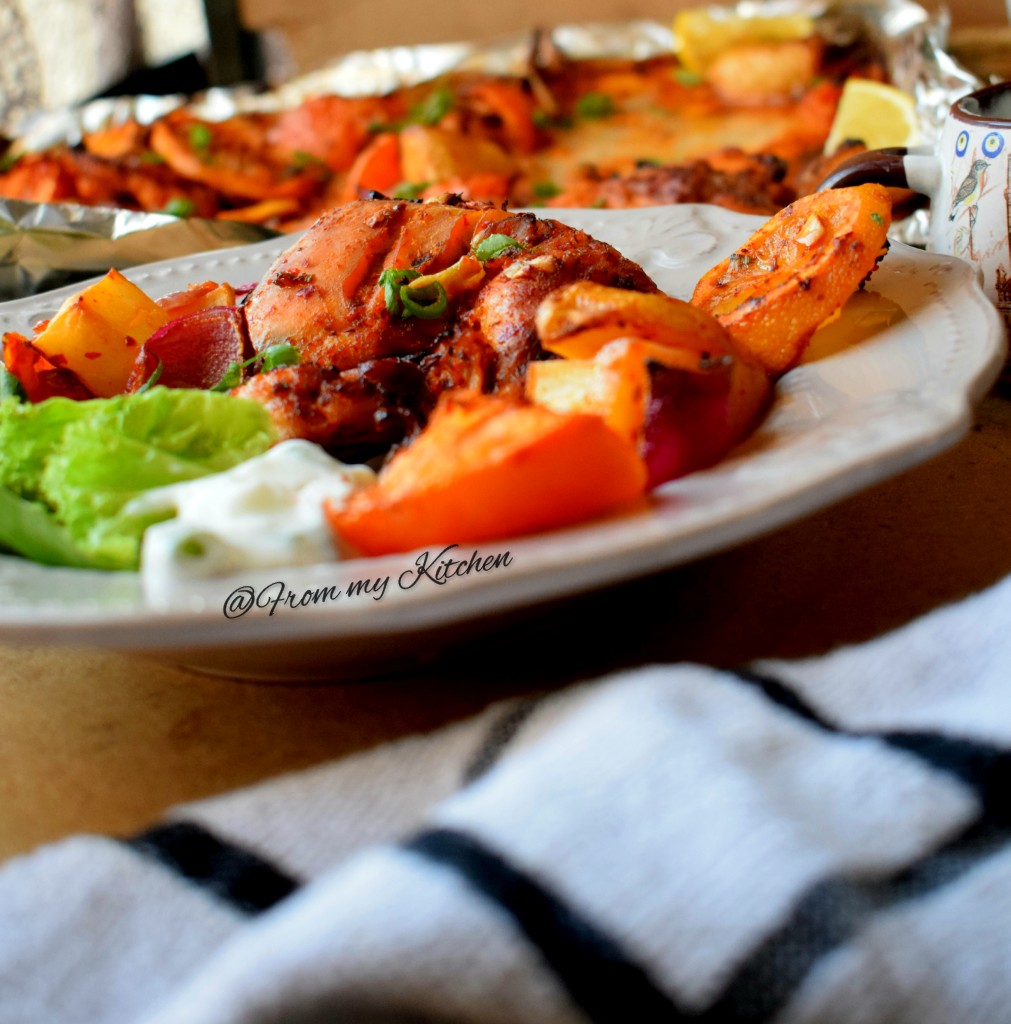 Go and marinate the chicken now!This is a guilt free eating with awesome flavors!My family love such roasted and grilled goodies!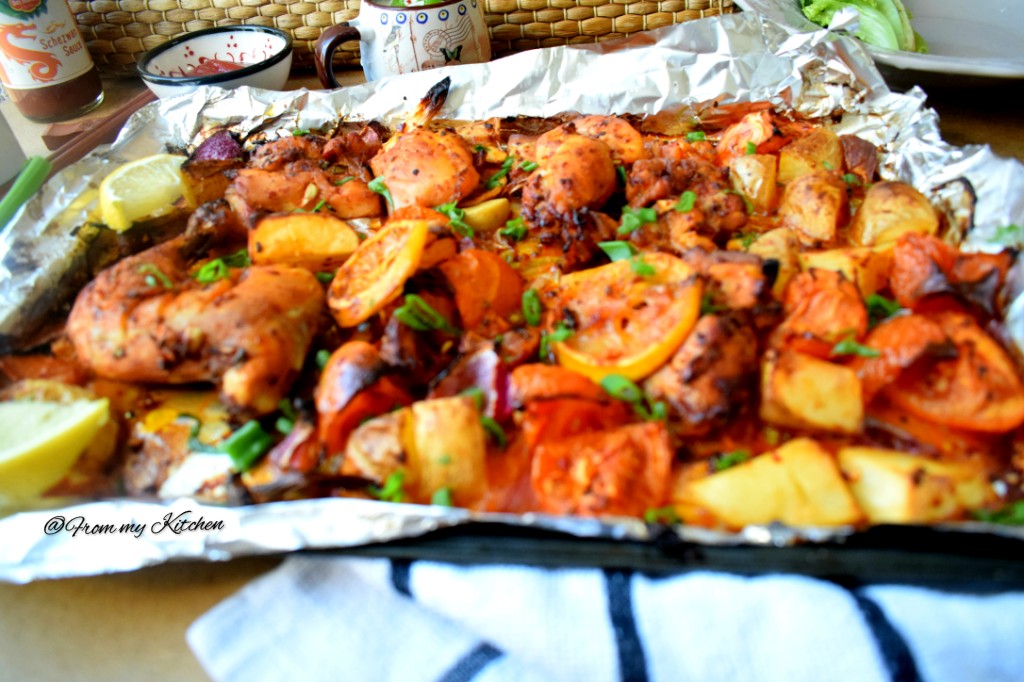 Happy Baking!