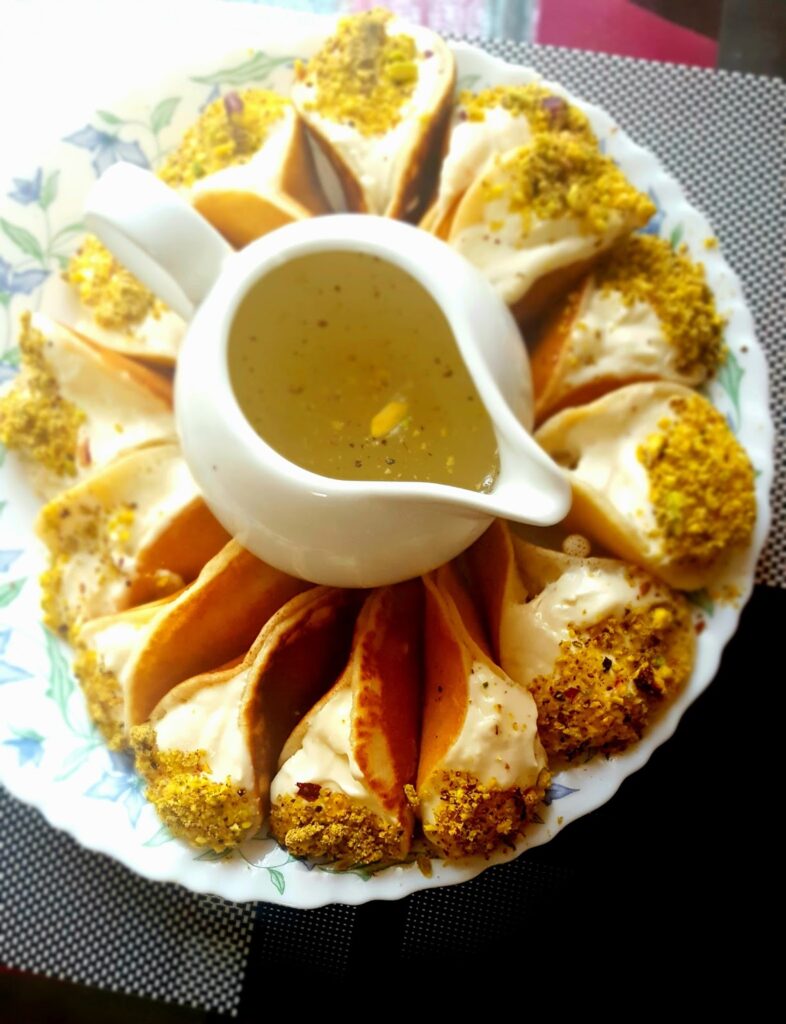 An ultimate Arabic pancake.Real indulgence!Arabic sweets are so delicious and the speciality of these sweets are they are not intensely sweet,they are sweetened by sugar syrup.Just love all kind of Arabic desserts and one of the most fav is kunafa.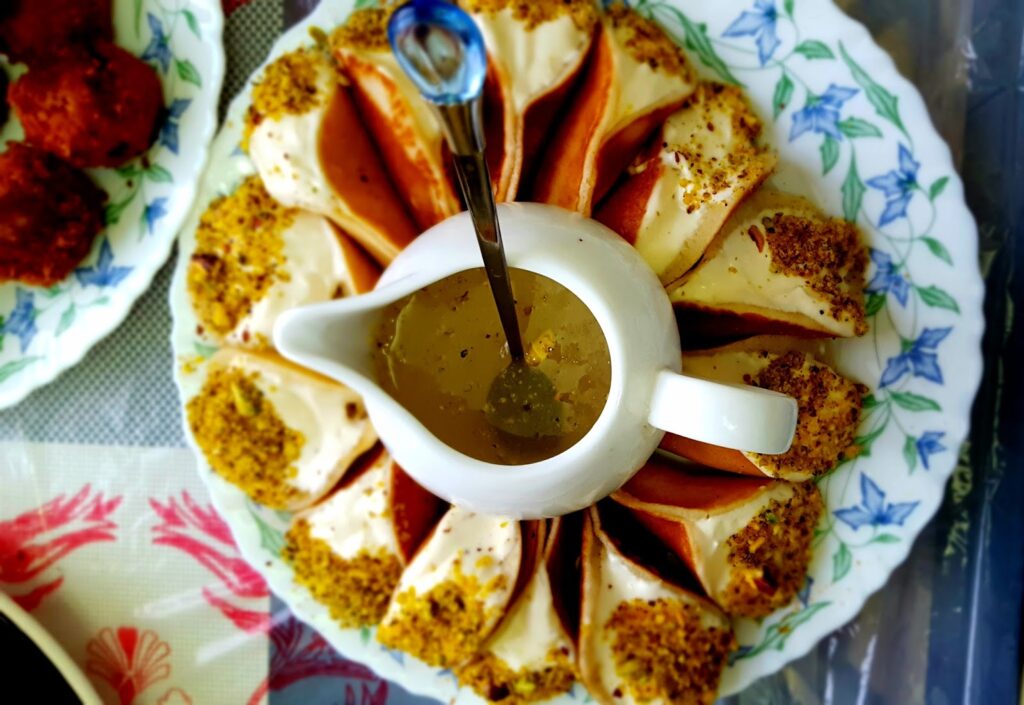 Apologies for the bad pictures.I made it for an Iftar party and some how managed to click some shots.Next time when i make this will update with new pictures.And guess what all my friends just loved it.Now those who don't know about Atayef  they are thin and lacy stuffed Arabic pancakes,
which are soft and velvety filled with a luscious cream. The cream is then topped with ground pistachios for a touch of color and nuttiness. A drizzle of syrup adds sweetness to this.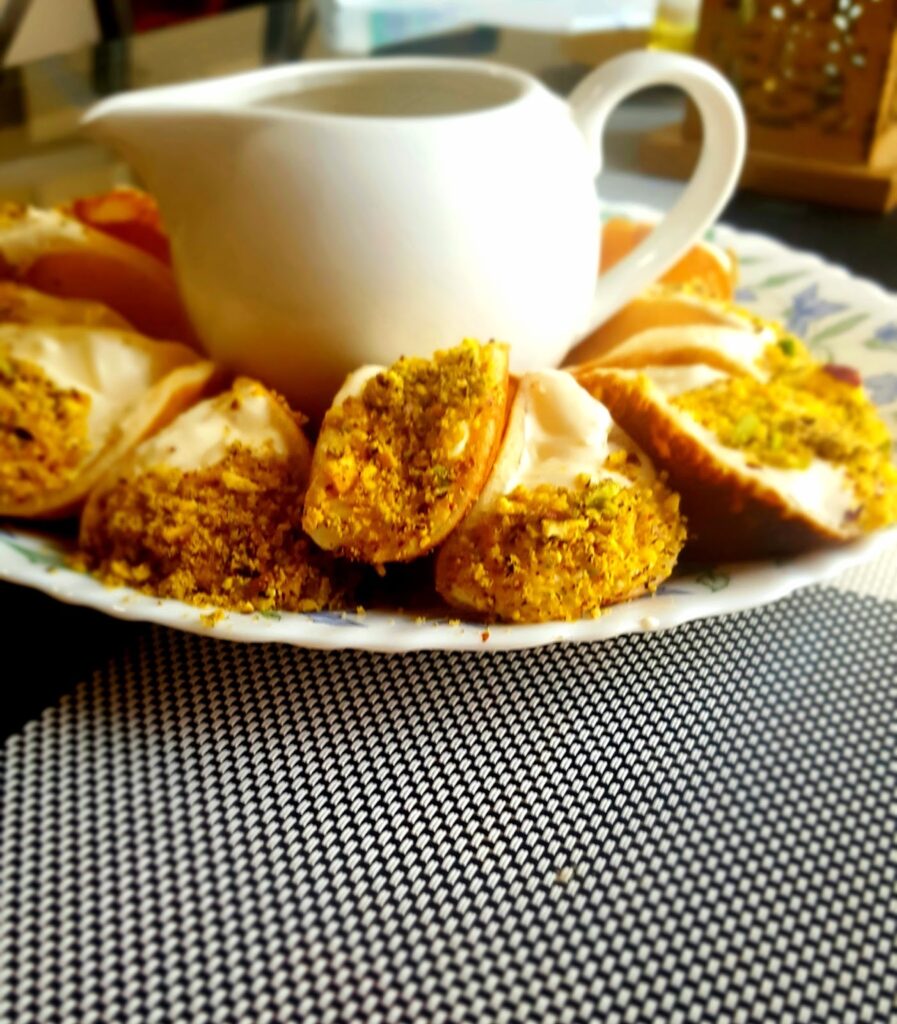 The original recipe calls for clotted cream,but here i replaced with cream and cream cheese with a touch of sugar.Recipe courtesy
Chef in disguise
one of my fav blog which is rich in all kind of middle eastern dishes,that i mentioned before too!
Ingredients
1 n 1/2 cups all purpose flour
1/4 cup + 2 tbsp semolina
1/2 teaspoon yeast
1 teaspoon baking powder
2 tablespoons vegetable oil
2 tablespoons sugar
2 tablespoons orange blossom water (optional)
2 & 1/2 to 3 cups of warm water
For Simple Syrup
1 cup sugar
1 cup water
1tbsp lemon juice
1 tbsp Orange blossom water or rose water(optional)
For filling
3 to 4 tbsp cream cheese
1tub fresh cream
4 tbsp powdered sugar
Or you can use simply cream cheese or cream
Method
Whip together all the ingredients for the filling and chill it.
Make simple syrup and keep it aside.
In a large bowl mix together all the dry ingredients.
 Add the water, oil and orange blossom water and whisk thoroughly until you get a thin homogeneous mix. You can also place the wet and dry ingredients in the blender and blend until you get a thin mix.
Let the batter rest for 10 minutes
Heat a non-stick pan, once the pan is hot, start pouring the atayef and lower the heat to medium low pour 1 tablespoon or 2 teaspoons of the batter. The atayef should start to bubble around the edges.The bubbles should then spread to cover the entire surface.It will take around 1 minute.Don't flip it
Take the atayef off the heat, place them on a clean kitchen towel and fold the towel to cover them. This step is very important as it will soften the atayef making them easier to stuff and seal and it will prevent them from splitting when you fill them.If you do not cover the atayef they will dry out and the result will be that they will either split when you fill them or they will open up after sealing.
Fold it like shown in the picture and fill it with the cream filling dip it in ground pistachio and arrange it on a platter.Drizzle it with sugar syrup and enjoooy!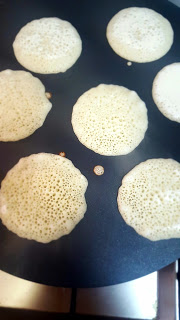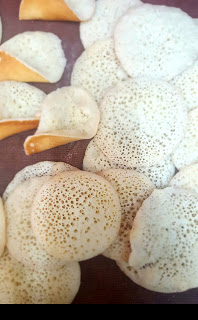 Notes:If your atayef are not covered with bubbles then this means your batter is too thick and you need to add more water. Do so in 1/4 cup additions, whisk and try again
If you add the water and despite that you only get a few bubbles then the baking powder you are using is old and has lost some efficiency. Add 1 more teaspoon of baking powder, whisk and try again. It should work perfectly now.
Make sure to cook the atayef over medium low heat. Cooking them over high heat will cause them to brown too quickly and that will dry them out. That will cause them to split when you fill them or they will reopen once you seal them because they are too dry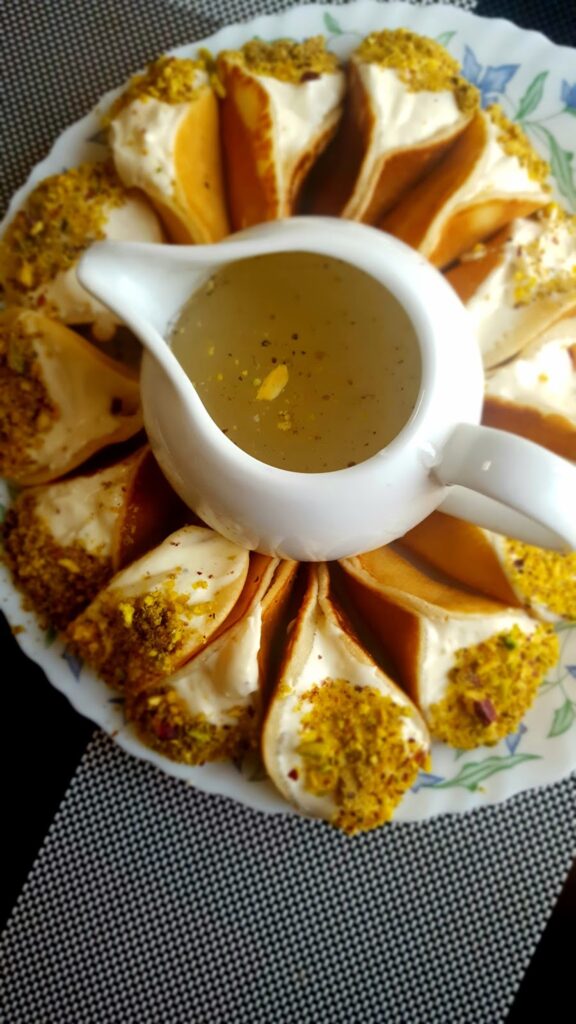 Loved it to the core!Do try it!
Happy Cooking!