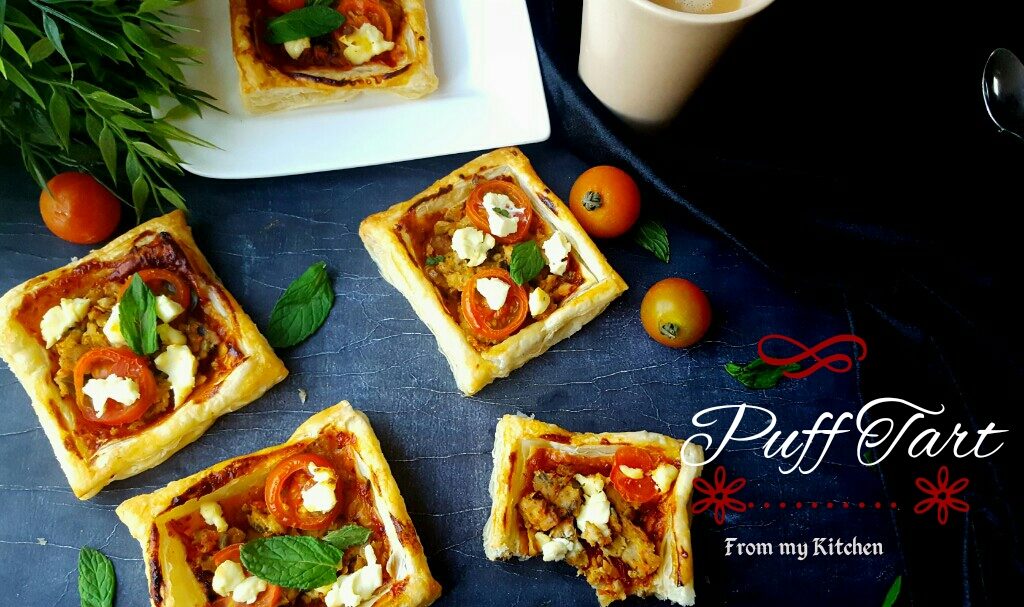 Once more wishing all my Muslimah readers a wonderful Ramadan. Alhamdulillah as we all are lucky to witness one more month of Ramadan.Stay blessed and lets try to utilize this month maximum to please Allah !As all the Muslims are well known of the virtue of this month.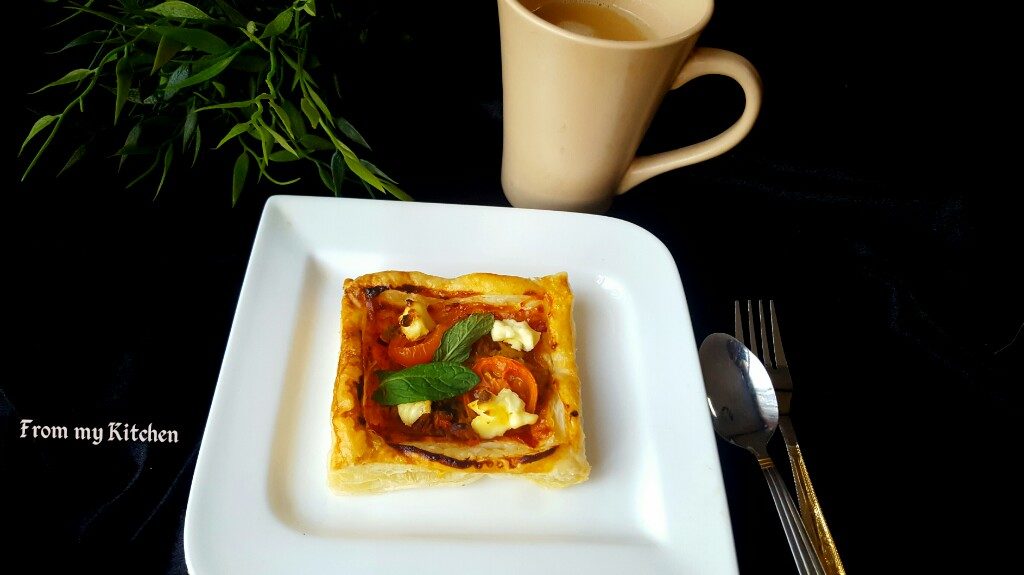 So what i love to do is create some simple recipes and spend less time in kitchen and cooking.Will try my level best to come up with easy to follow recipes.And here is my first share for this Ramadan.Quick and easy minced chicken Puff tart.Very simple and easy to put together and delicious,also it looks so attractive. isn't it?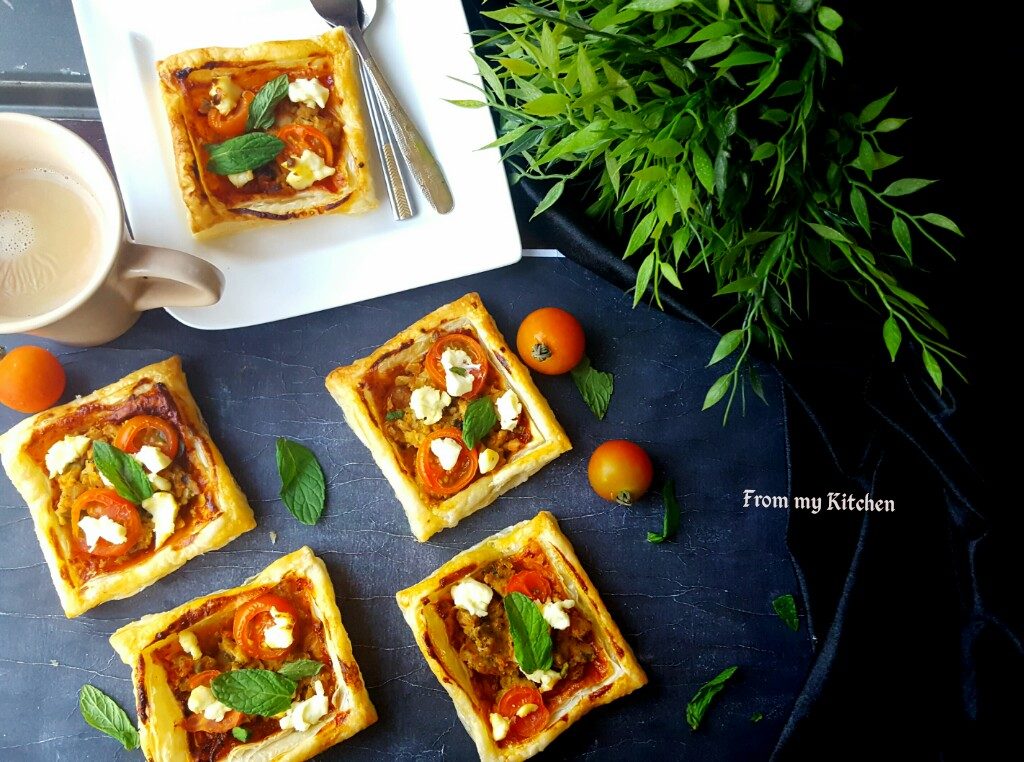 I tried and saved many recipes last month so that it's easy for me to share with you guys!For this i used base sauce as a mix of sriracha ,sweet chilly sauce and ,little bit mayo.Topped with flavorful minced meat topping some cube cheese or feta with tomato and mint.Crunchy puff pastry with this delicious fillings are just too good.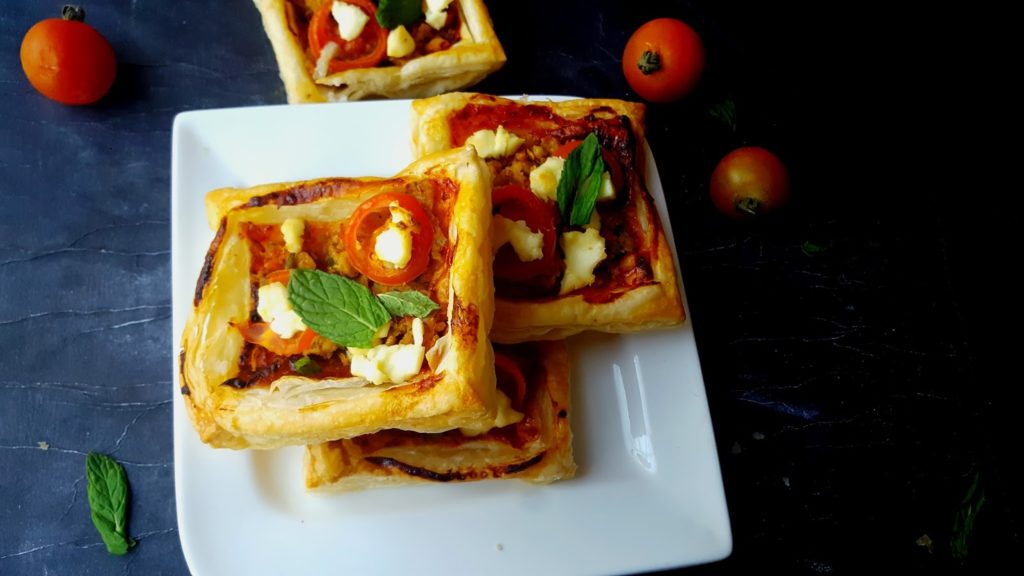 Without further delay hopping to the recipe
Ingredients
6 to 8 puff pastry
1 chicken breast fillet minced or chicken mince
1 medium onion
2 green chilies
salt to taste
1/2 tsp rosemary
1 tbsp garlic chopped
1/2 tsp ginger
some dried mint(optl)
1/2 tsp cumin powder
2 tbsp olive oil
Cream cheese cube or feta
some tomatoes and parsley for topping
egg for egg wash
For the sauce
2 tbsp sriracha sauce
1 tbsp mayonnaise
1 tbsp sweet chilly sauce
1 tsp tomato ketch up(optl)
Teeny tiny pinch of pepper powder
1/2 tsp garlic powder
Method
Mix the sauces mentioned under the list and keep it aside.
In a pan pour some oil and saute ginger garlic and green chilies.
Then add chopped onions and salt cook until soft.
Now add the minced chicken,pepper and other seasonings.Mix well and cook until done.Sprinkle some cilantro
Assembling
Prepare a baking tray by lining parchment paper.Preheat the oven to 200 degree
Arrange the puff pastry on the tray and apply the mixed sauce by leaving an inch from four sides.
Fill it with the mince,tomato,parsley and cheese.Egg wash the sides and bake it for 20 to 25 minutes or until its side are browned and crisp.