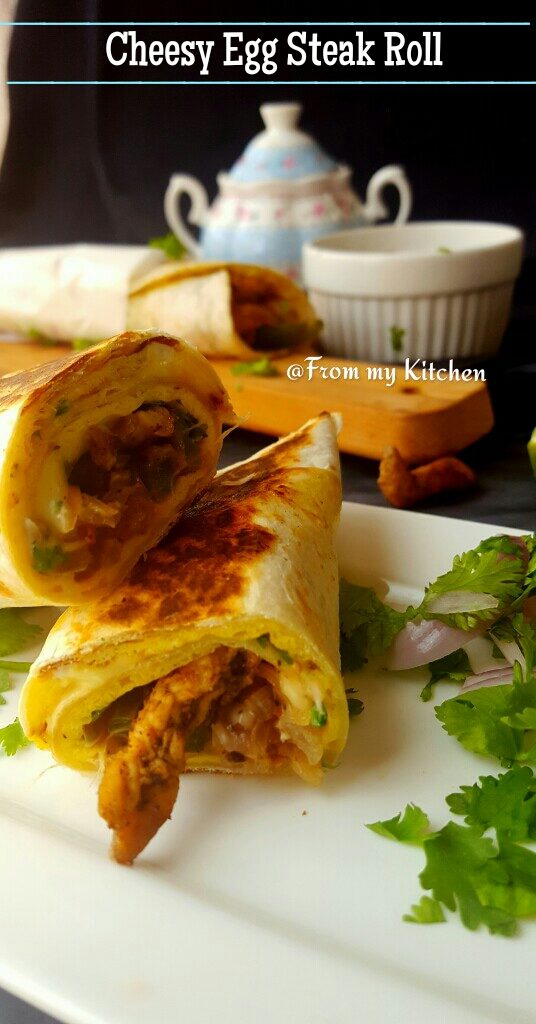 So how many of you like rolls and wraps!Such foods are perfect finger food,no mess and filling to tummy!Ideal for kids lunch box,brunch or as a tea time snacking!This is a roll with three different layers.the roti is stuffed with a thin layer of egg then filled with a steaky chicken filling and the thick layer of cheese followed by a spread of your choice!Yum!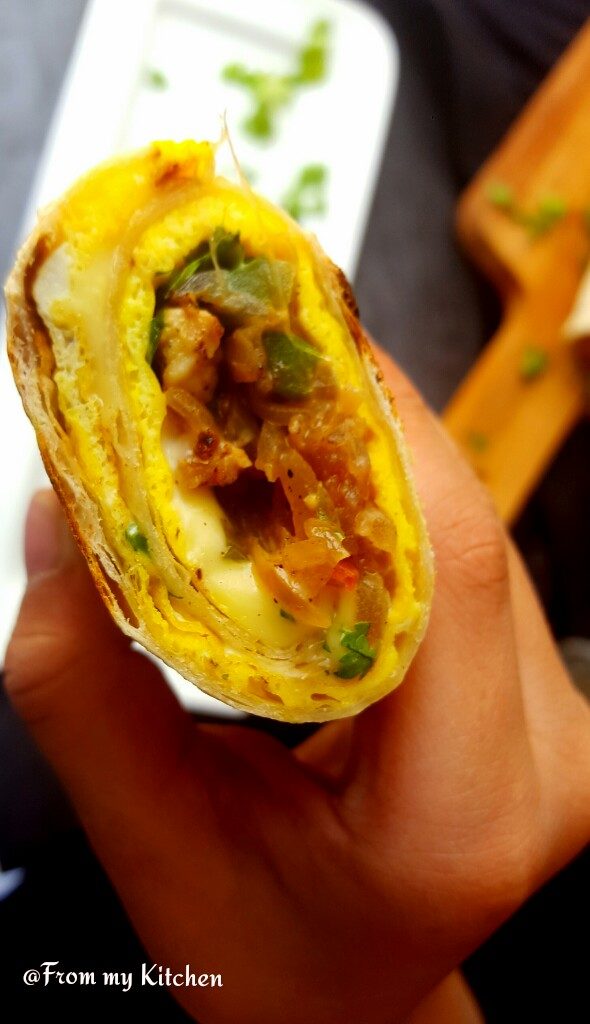 Can you see that three different layers?Egg,filling and cheese!Kashif enjoyed it so much!If you make your filling or cooked chicken ready during night it will be easy for you to make this for kids tiffin box. I'm sure most of the kids like such rolls if we pack it like store bought ones!So give this a try!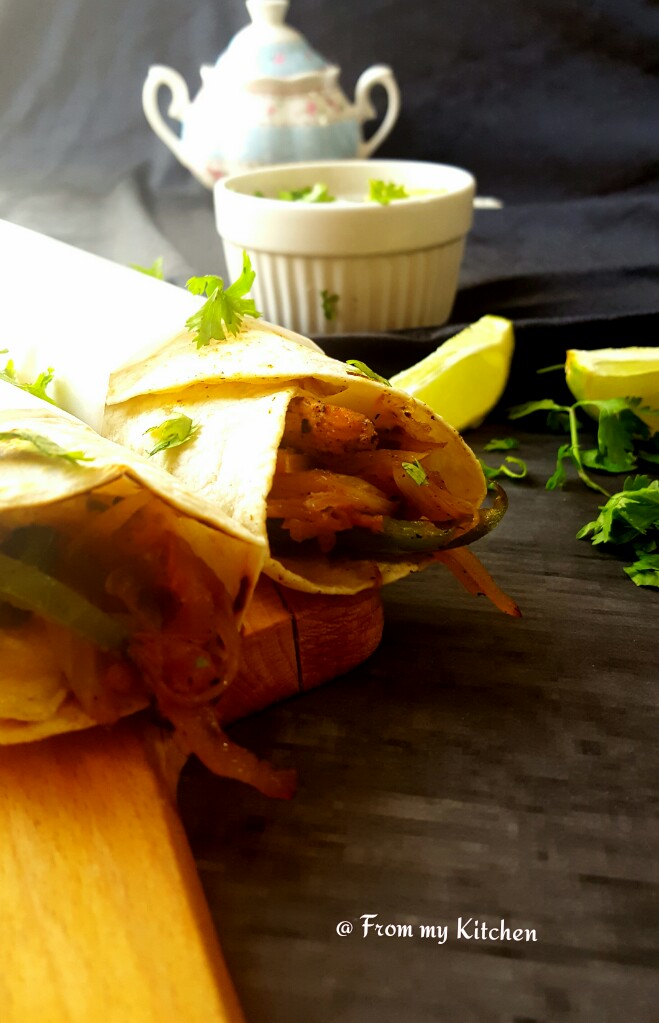 For steak we need to thinly slice the chicken breast fillet and then cook it. A spicy,simple filling is made with some onions and capsicums!A heavy roll with all kids fav ingredients in it!You can skip the cheese if you want to cut the calories!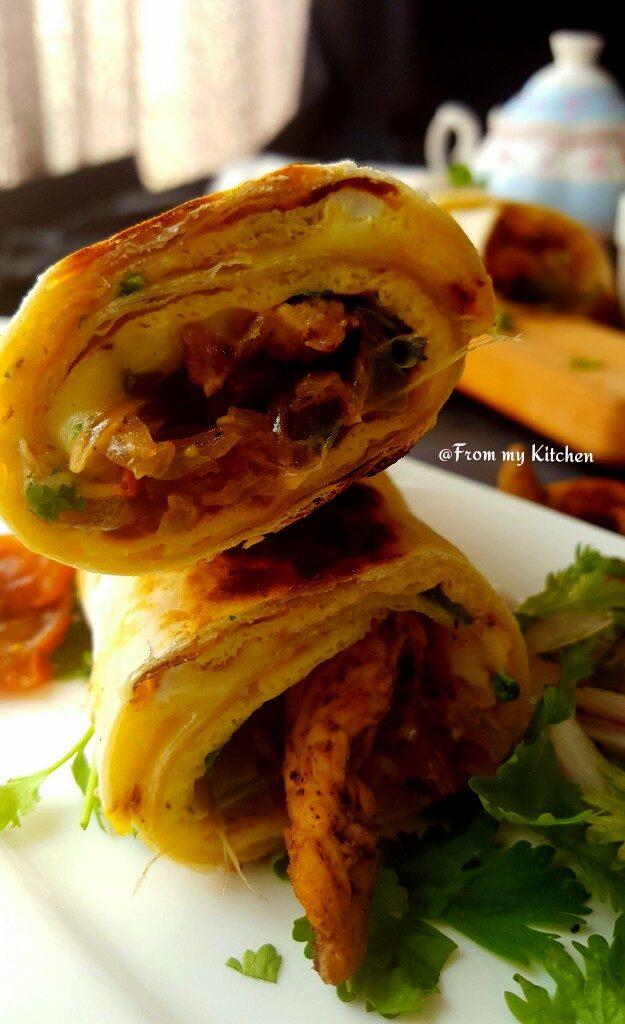 Over to the recipe
Ingredients
For roti
1 cup wheat flour
1 cup white flour
1/2 tsp baking powder
salt to taste
water to knead
1 tbsp oil
For filling
For Chicken
2 chicken breast fillet
Salt to taste
1 tsp pepper powder
1 tsp garlic powder or crushed garlic
1/2 to 1 tsp red chilly powder or paprika
1/2 tsp Italian seasoning
1 tsp honey
1 tsp soy sauce
3 tbsp oil
2 large or medium onions
1 bell pepper
Salt to taste
1 tsp Pepper powder
2 green chilies
3 cloves garlic
2 tsp lemon juice
Lots of cilantro
2 eggs for ( 3 rolls)
salt
pepper
Cheese i used cheddar
Method
Knead the dough with all the ingredients mentioned above and let it rest for 1/2 to 1 hour.
Cut the chicken to thin slices (do it when its semi frozen,you will get neat slices)
Marinate chicken with all the ingredients mentioned above except honey.
In a pan pour oil and put the chicken steaks on law flame for few seconds.This will tends to sweat water from the chicken, when you see the chicken starts to release water , keep the flame medium to high let the water dries out completely and then fry the chicken from both sides.(by doing this the chicken will be juicy and succulent)Drizzle the honey and soy sauce in between to get a nice glaze to the chicken.
When it's done take out the chicken and
Saute the thinly sliced onion,and capsicum along with some garlic and green chilies.Add pepper powder and salt
Don't cook it for so long time,the veggies should retain its crunch.Add lots of cilantro and a good squeeze of lemon juice.switch off the flame.Mix the chicken and onion together.
Make 6 to 8 thin chapatis out of the dough and keep it aside.
Crack some eggs and mix it with salt and pepper.
Pour some of the egg mix on the hot tawa,immediately put the prepared chapati on it and press it with a ladle.This is to stick the egg on the chapati.
Flip and take it out from the tawa.
Now fill it with the prepared filling followed by thick slice of cheese and any spread of your choice roll it tightly.
Pour 1 tsp of oil on the tawa and grill the roti for few second on both side to make it crisp.and to melt the cheese inside.Here ready your cheesy steaky roll!
Tip
:To seal the roll put a thin slice cheese at the end of the roll and place the seem side down on tawa so that it will get sealed well.Then flip it and cook the other side.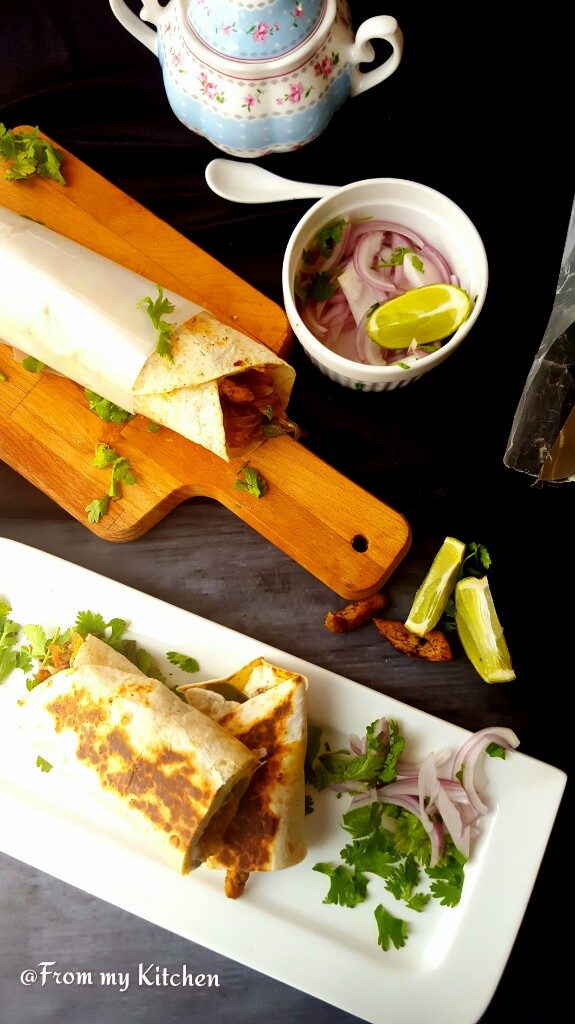 You can do it with some leftover chapatis!Hope you all will like this!
Happy Cooking!