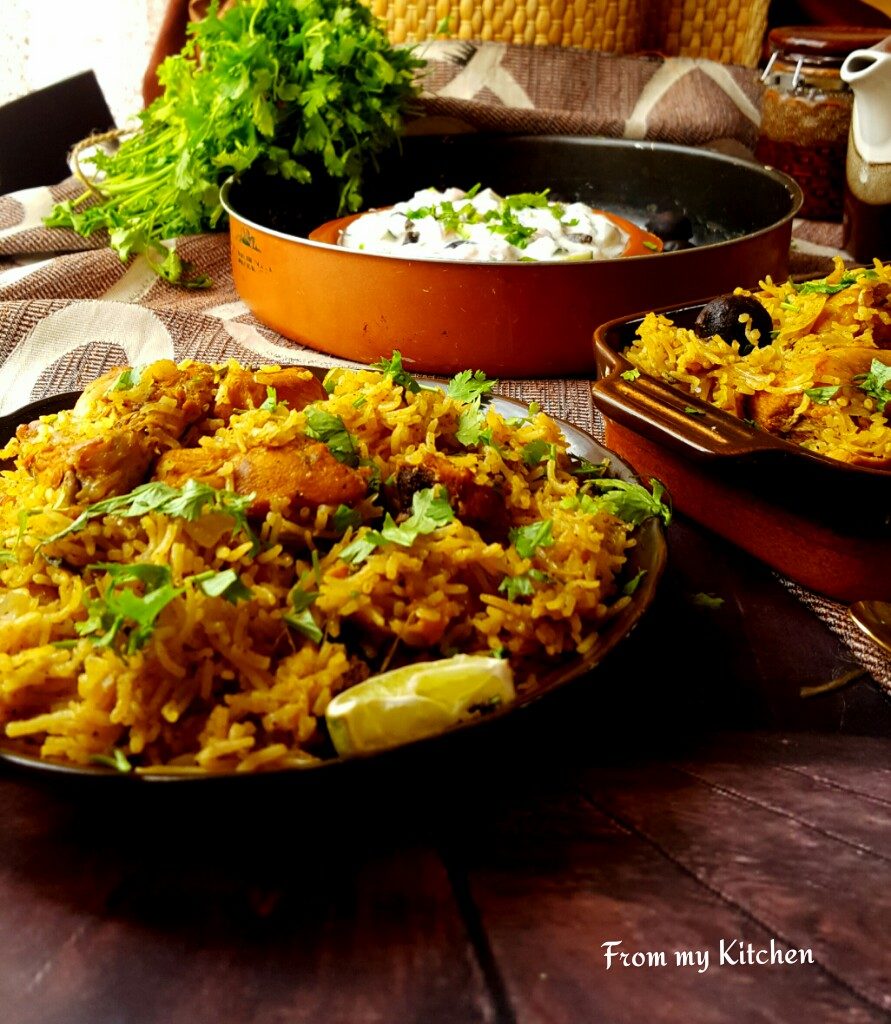 So here is the fusion of most delicious cuisines together!Arabic and Indian!Woho!For both cuisines i have special place in my heart or belly!😉I think almost everyone like Arabic and Indian dishes!Arabic dishes may not that spicy or masaledar but rich and well known in their flavors!If you want the recipe for kabsa here is both Mutton and Chicken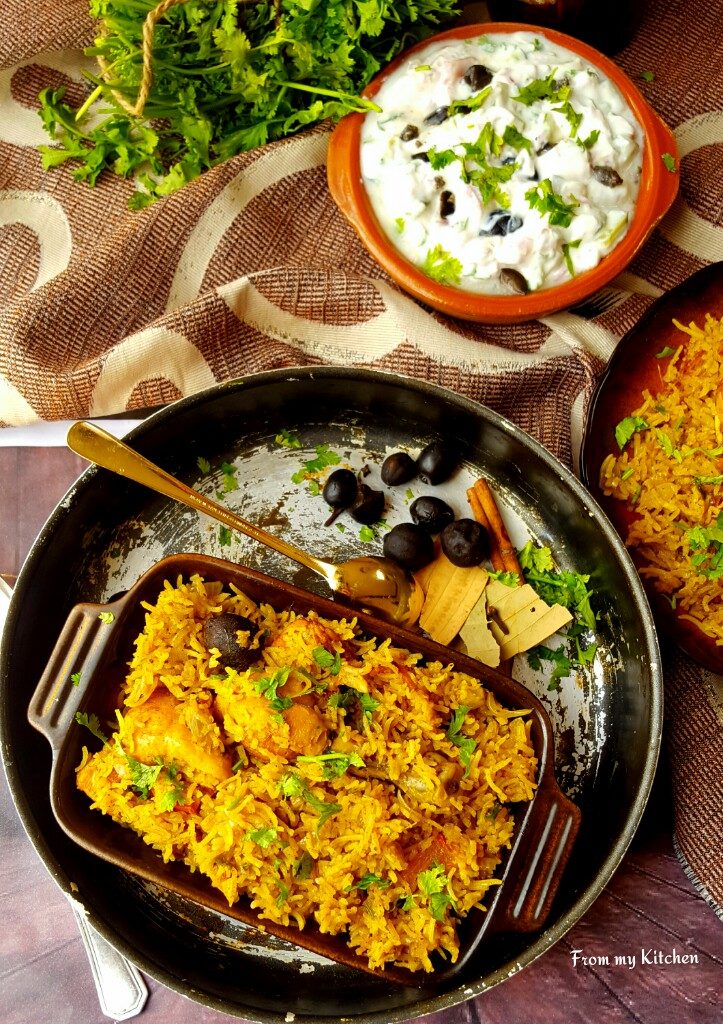 Actually i want to make Majboos and when i was searching for a good recipe i noticed it needs a special spice mix which i don't have handy,so i changed my mind and made my version of rice and ended up in this aromatic Arabic Biriyani!hehe!And yes it was a big hit here!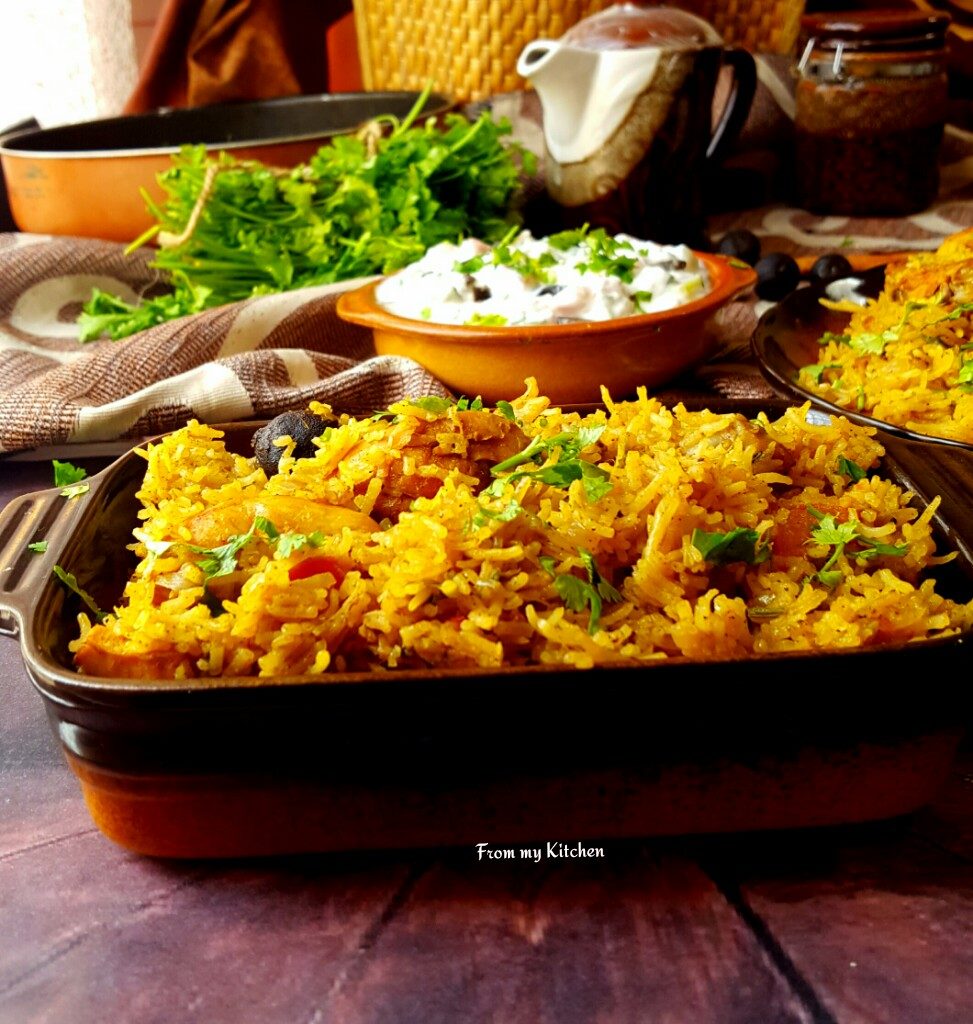 Just imagine your favorite Arabic rice in spicy masaledar avatar.Addition of loomi(dried lemon) and some whole spices gives a nice Arabic twist to the dish.We just loved it!Accompanied it with mixed cucumber olive yogurt and lemon tea!Killer it was!Please do try who ever reading this!😉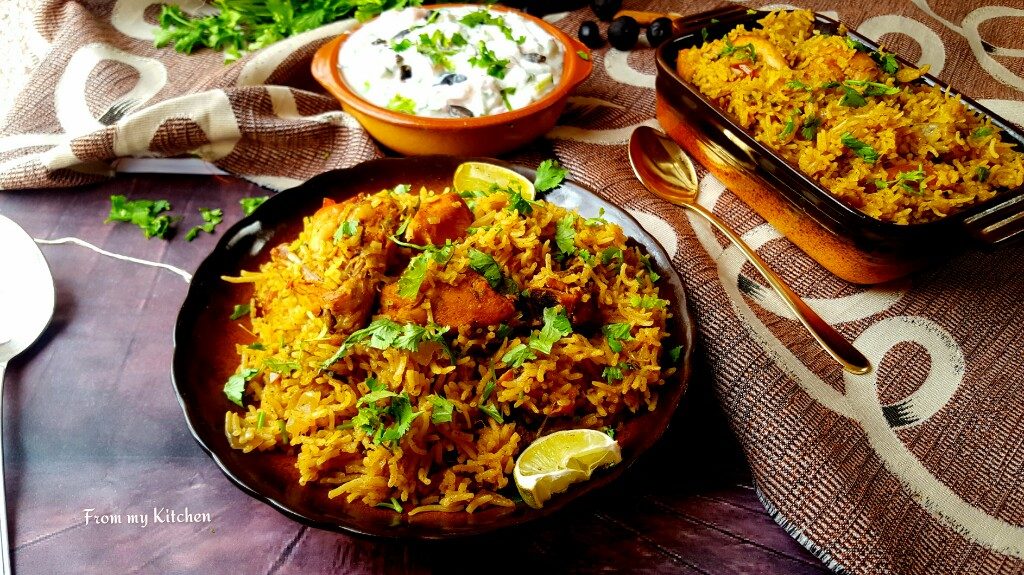 Like we are cooking for Arabic rice (mandi,majboos)chicken are first marinated and seared in oil.Then in the same oil sauted all the veggies and spices and then cooked chicken until 3/4th done in the gravy!Then added water and cooked the rice in the same pot.All things cooked in same pot,so the flavors are well packed and the aroma was incredible!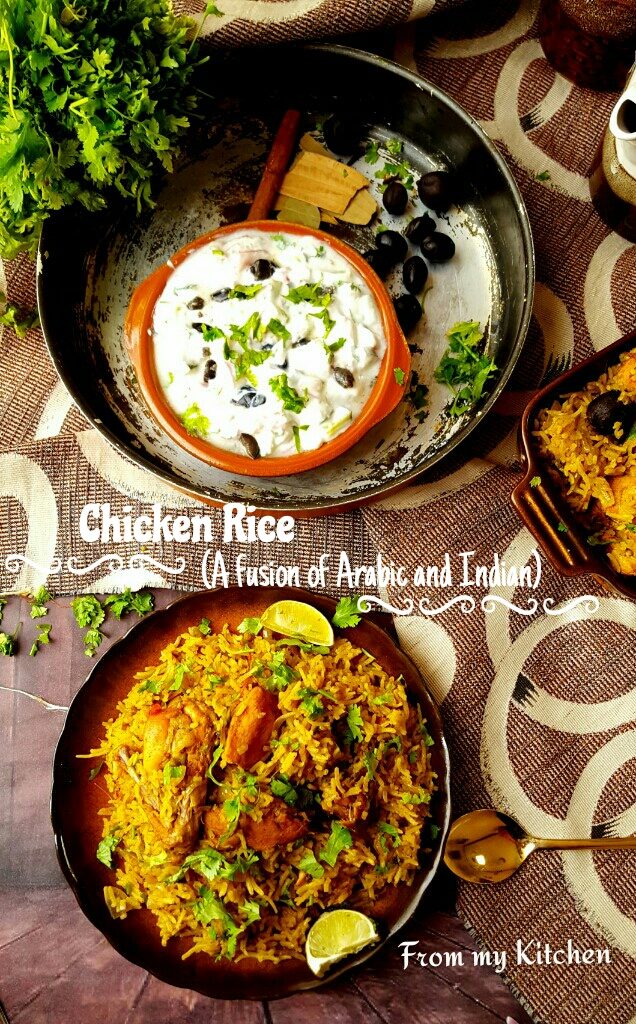 Over to the recipe
Ingredients
500 gm chicken
salt
1 tbsp chilly powder
1/4 tsp turmeric powder
1/2 tsp garlic powder or 1/2 tsp garlic paste
5 to 6 tbsp oil
For Filing and rice
3 medium sized onions
3 tomatoes
5 to 7 green chilies
1 bulb garlic(if small) or upto 10 to 12 cloves
2 inch piece ginger
1/2 tsp cumin seeds
2 cloves
small stick cinnamon
2 pods cardamom
1 bay leaf
1 tsp coriander powder
1 tsp Kasmiri chilly powder
1 tsp freshly pounded pepper powder
1 tsp garam masala
1/2 to 1 tsp cumin powder
3 loomi (dried lemon)
Salt to taste
2 n 1/2 cups basamathi rice
4 cups water + 1 cup water
2 tbsp ghee
Method
Marinate chicken with salt,chilly powder and garlic powder.
In a large pot in which you are going to cook rice pour 5 to 6 tbsp oil and sear the chicken on both side for 5 to 8 minutes or until the chicken is browned on high flame.(rest of the cooking is in the gravy)
Meanwhile grind together green chilies,ginger and garlic
In the same oil pour ghee if u like add the grounded chilly paste and cook for a while until the raw smell disappears.
Now add whole spices and loomi saute it for few seconds.
Add sliced onion and salt.
Cook the onion until its soft and translucent.
Add sliced tomatoes and cook until mushy,in between add the powders like coriander powder,pepper powder,turmeric chilly powder and cumin powder and mix well.
Now add the seared chicken in this and tossvwell.The gravy is like dark yellowish brown color.Now add 1 cup water and let the chicken cook 1/2 way through.(you can also make it 1/2 cup water and 1/2 cup thick coconut milk)
Add lots of coriander leaves.
Now Add rest of the water and let it come to a boil.last check for seasoning and adjust.
Add cleaned and soaked(1/2 an hour)rice and cook until its done.
Serve hot.
Notes:If you don't have loomi use lemon juice.
Here the spiciness is mainly coming from green chilies,so add it accordingly.(mine was hot so added 6 numbers)
If you don't want it too spicy adjust as per taste.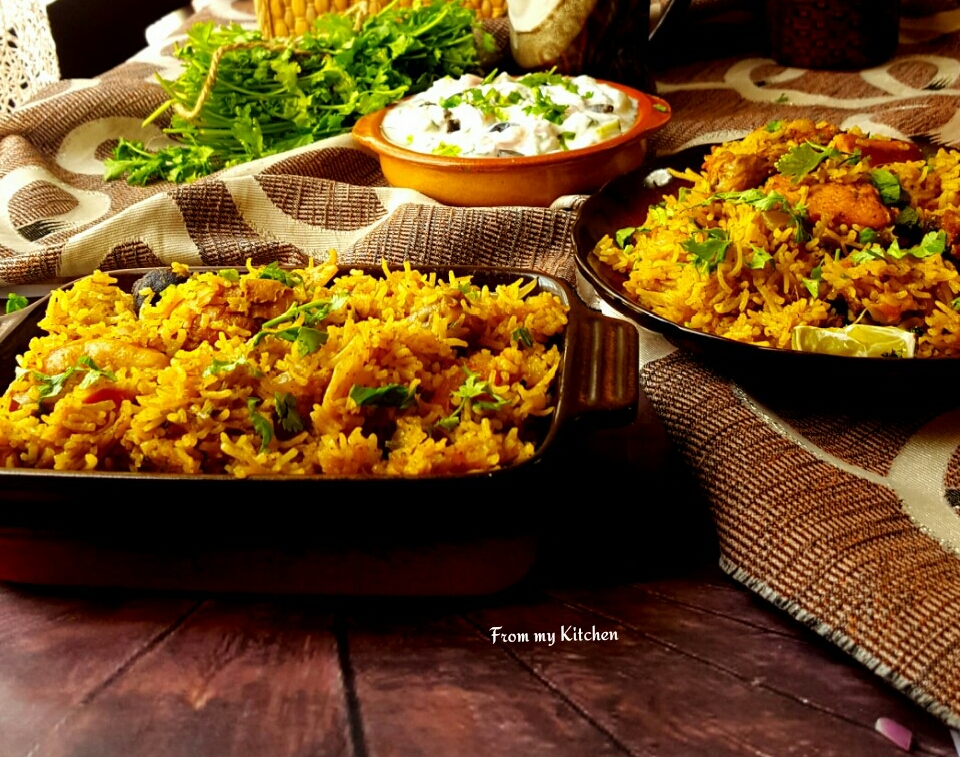 Such rice enhances its flavor more when they sits long!I love to have such rice the next day!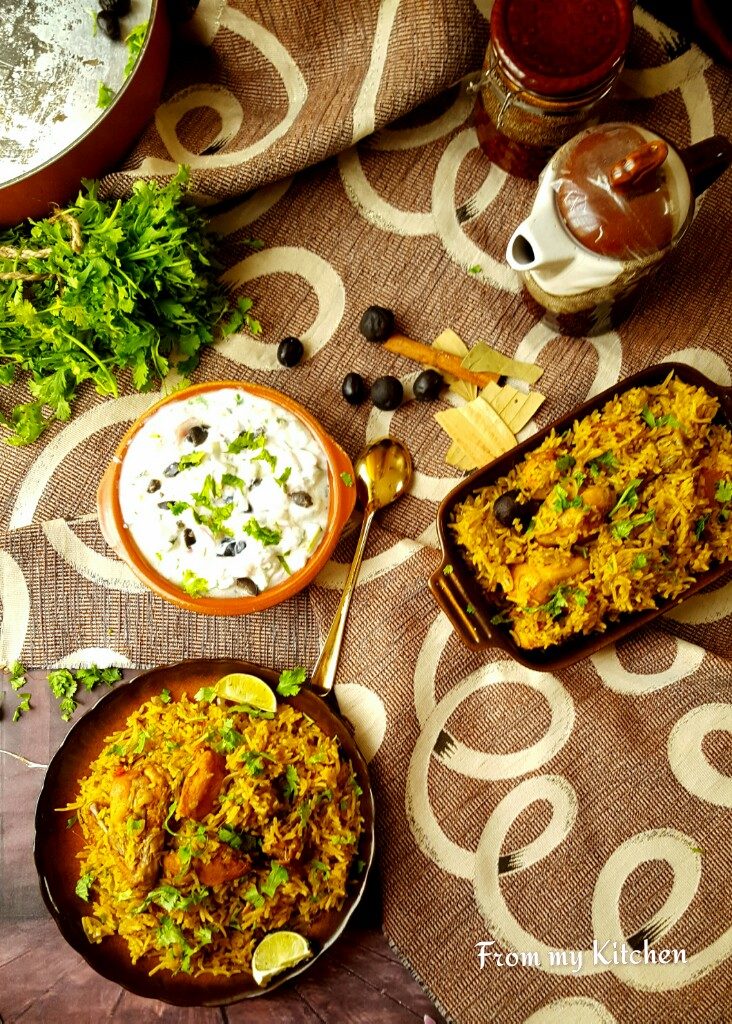 Fully flavor packed one pot simple and delicious dish is ready to go!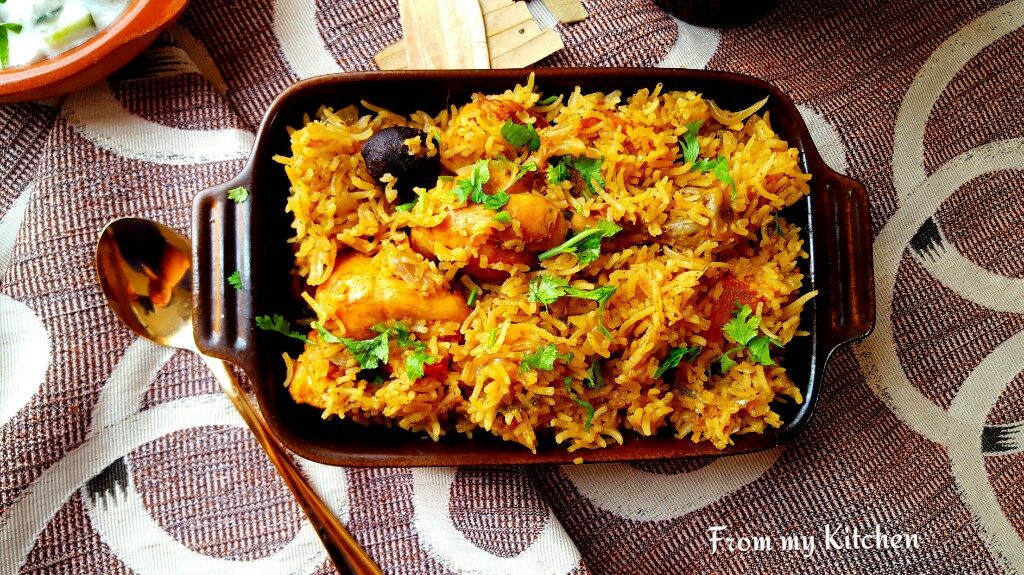 I'm sure you will love it if you like spicy food!
Happy Cooking!