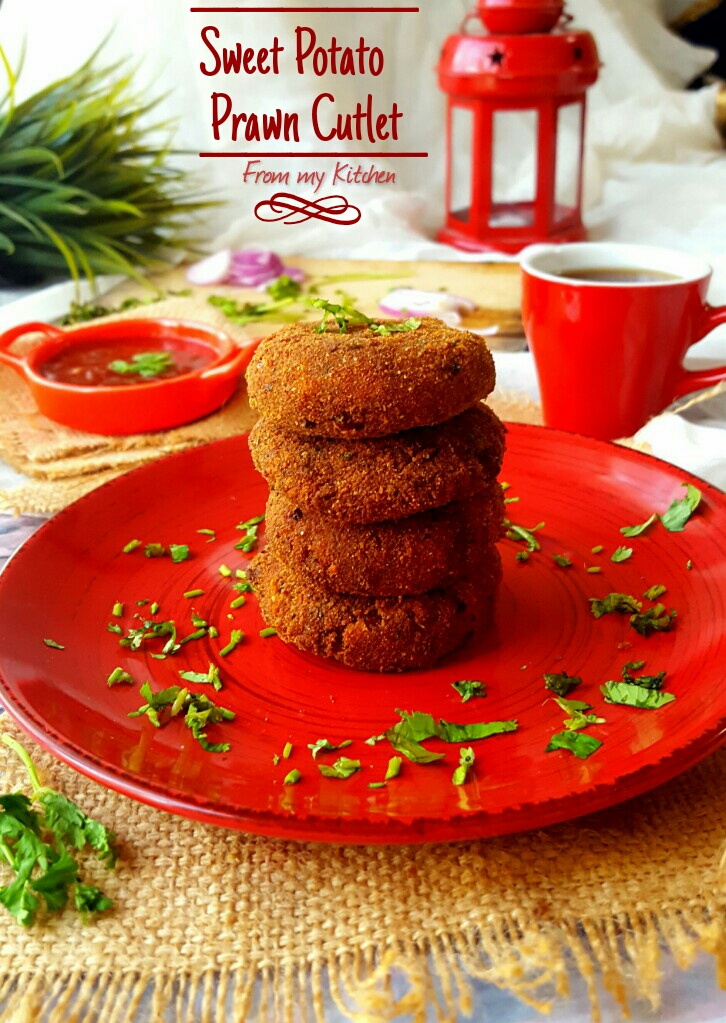 Prawn makes anything taste better.An appetizing,crispy,spicy and lightly sweet cutlets with seamless combination of spices which is relevant with a cup of hot tea.Here you can easily substitute the sweet potato with potatoes if you don't like it's sweetness.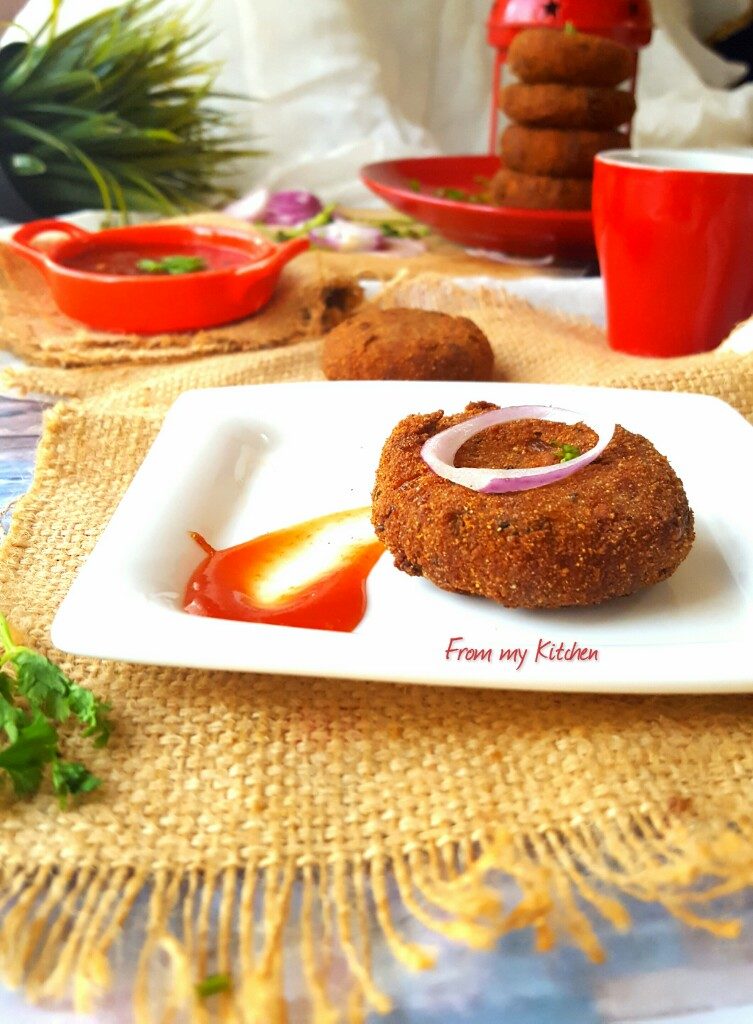 First time i'm trying Sweet Potato in spicy version.Always i ate steamed one with coconut milk and some sugar that too from India.I never picked it from here. This one hubby bought,that too many of them and i have no idea what can i make with it!Hehe!He said to batter fry it after i made this one.Still one more left so i should try it for him.I know it's sweet and we both don't like sweet taste in spicy food.I will manage some how but he noway!!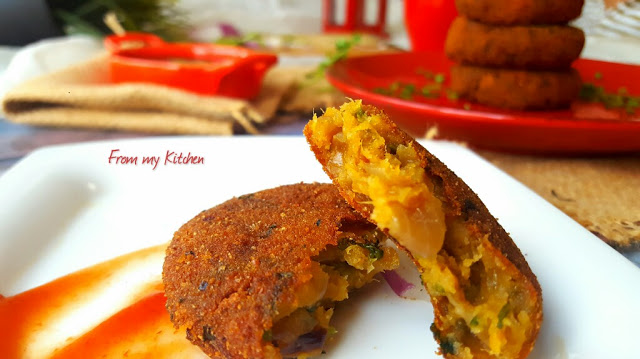 Not at all sure while making this if we like it or not,mainly i was fasting and i can't even taste it before coating!!But frankly i loved it when it's served hot.Hubby said it's nice but he can't have it like the one with potatoes.So if you like sweet potato i'm sure you will love this,or else make this prawn cutlet with potato.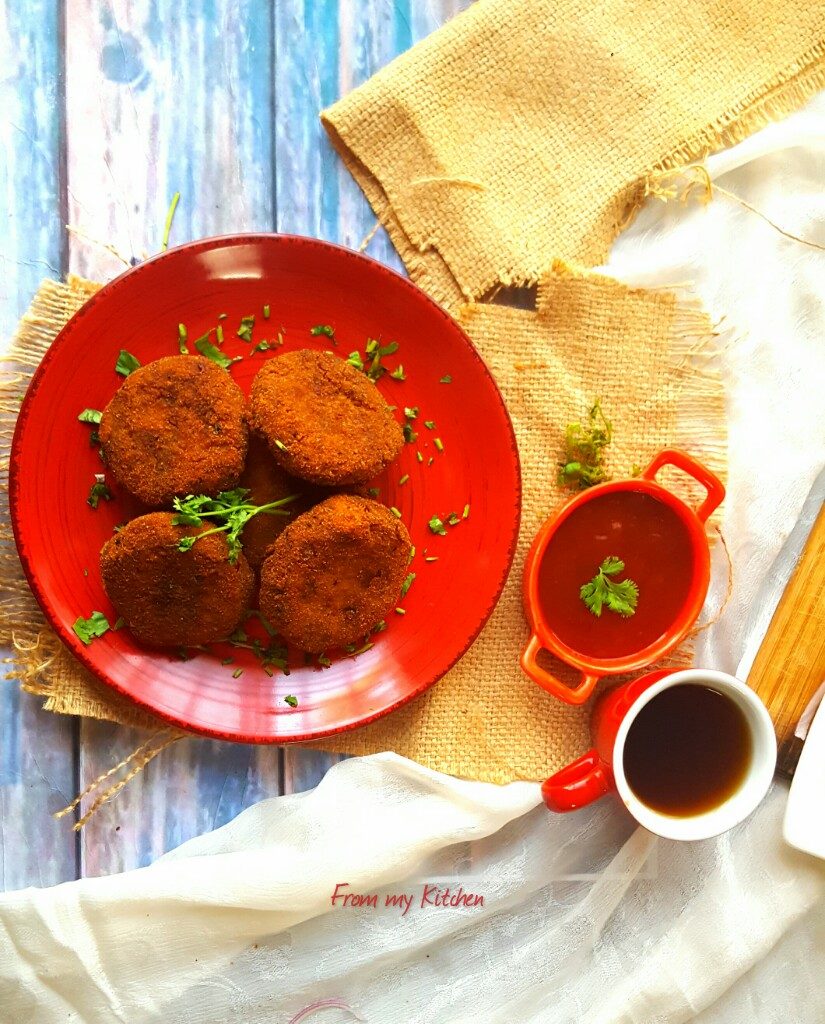 I love to experiment appetizers / finger food.I started cooking with the snacks and desserts.I used to enter the kitchen when its calm and quiet that is when everyone is napping after the lunch!hehe!Then make something that i can do for the evening snacking!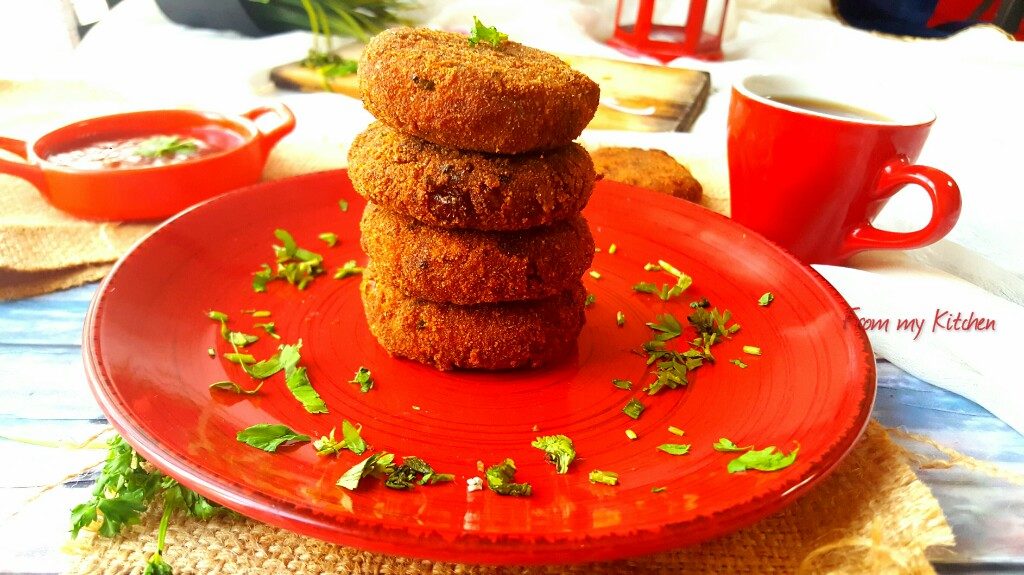 Here prawns are not cooked separately and added in masala,but cooked everything in one pan along with masala. So it has got a delicious prawn flavor.Over to the recipe
Ingredients
1/4 kg prawns
2 small sweet potato
2 medium onions
1 tsp garlic paste
1 tsp ginger paste
1 tsp chilly powder
2 green chilies
Lots of cilantro
1 tsp cumin powder
1/2 tsp pepper powder
1 tsp garam masala
1 tsp lemon juice
Oil for frying
For Coating
1 or 2 egg whites
Bread crumbs
Method
Boil sweet potato drain mash and keep it aside .3 whistles in pressure cooker.(Don't over cook it)
Clean the prawns and chop it finely.
Chop onion and green chilies finely.
In a pan pour 3 tbsp oil put ginger garlic paste and green chilies. Saute for few seconds.
Add the chopped prawns and saute for 2 minutes on high flame by adding some salt and chilly powder.
Now add finely chopped onion and cook it until soft and translucent.Add rest of the spices like pepper powder,salt to taste,cumin powder and garam masala.
Mix the mashed sweet potato and cilantro followed by lemon juice.Combine well until incorporated.
Switch off the flame and let it cool.
Now make round patties dip it in egg white and coat it in bread crumbs fry in hot oil.
Note:If you don't want to use egg white while dipping make medium thin batter with maida and water.
If you feel the potato mix is loose add some breadcrumbs and leave it in refrigerator for 1 hour.So that you can shape it easily.