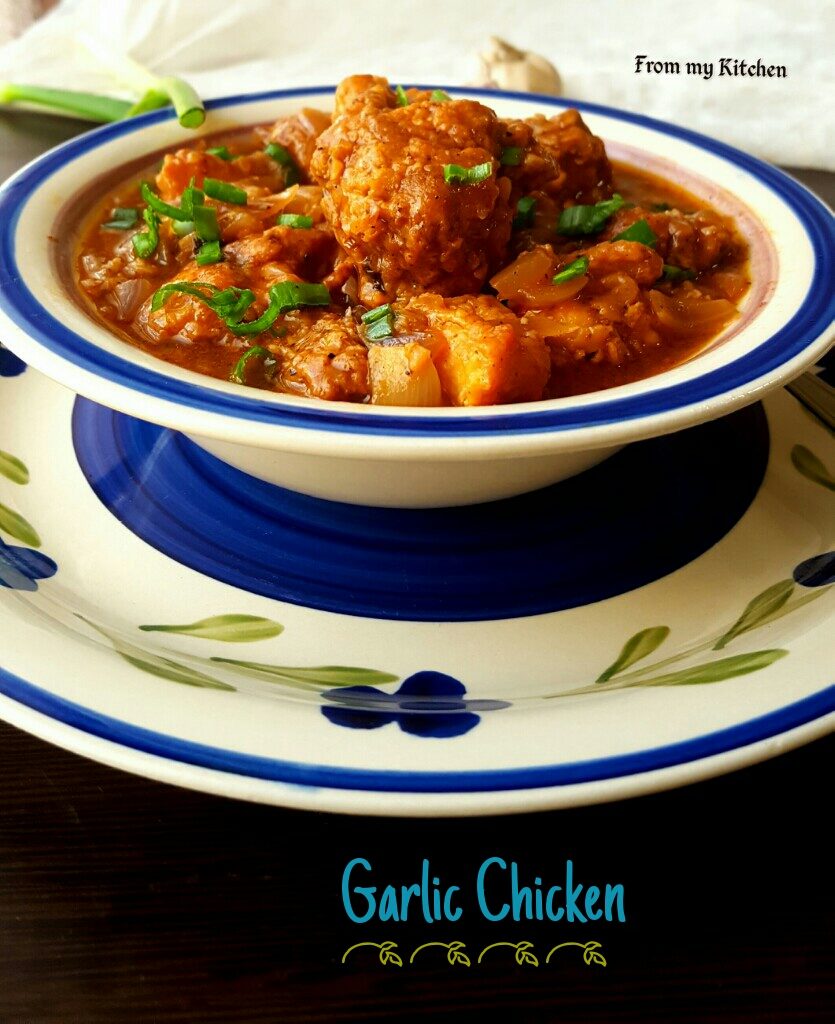 Pleasing and appealing chicken fried and mixed in hot and saucy red garlic gravy.Chinese food is a popular cuisine all over the world and in India it has it's own variation.Chicken is one meat that is a favorite of all! Saute it, fry it, toss it, bake it, curry it whatever way we cook it's delicious,ryt!!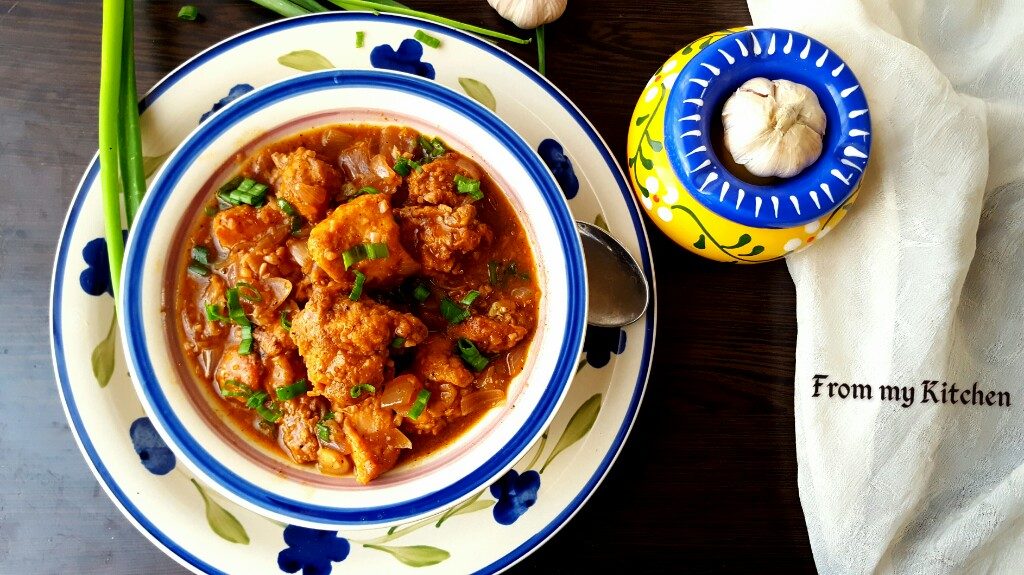 I'm sure you all may now know how much i love the garlic flavor!hehe!There are many garlicky dishes in the blog.Seriously we just love the flavor and that aroma while sauteing garlic in the oil is just incredible.I love coating to my chicken in such saucy Chinese gravy.Some recipes don't marinate and coat the chicken,just fry it in the garlic sauce.But here i first fried and then mixed it with the garlic sauce.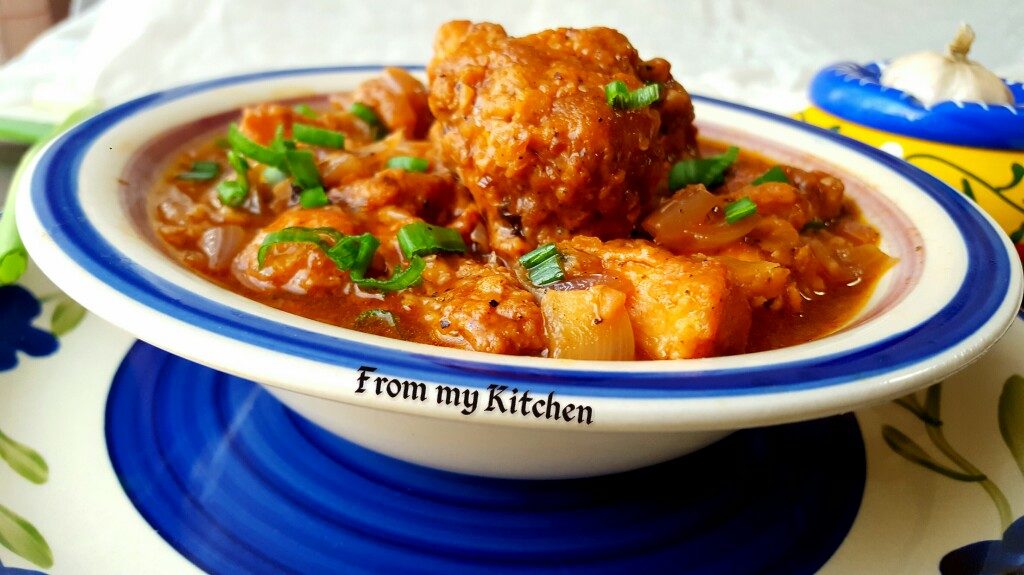 This garlic chicken is with gravy that compliment well with fried rice, chapati. bature and all.The dish has a lovely garlic flavor.Just imagine that crispy fried chicken coated in silky,garlicky sauce!Yum yum !
Ingredients
For marination
500 gm chicken
1 tbsp soy sauce
1 tsp ginger
1 tsp garlic
1 tsp chilly powder
1 egg
2 tbsp all purpose flour
3 tbsp cornflour
salt to taste
For Sauce
10 to 12 clove garlic finely chopped(approximately 2 to 3 tbsp)
2 medium onion
1 tsp pepper powder
Spring onion greens
1 tbsp soy sauce
1 tbsp tomato sauce
1/2 tbsp sweet chilly sauce
1/2 tsp chilly sauce(optl)
1 tbsp cornflour diluted in 4 tbsp water(in the same bowl that we marinated chicken)
Water 1/2 to 1 cup
Salt to taste
1/2 sp vinegar
Method
Cut chicken into small pieces.
In a bowl mix together all the ingredients mentioned under the list of marination.
Now put the cleaned and drained chicken in it and mix well.(If you feel like the coating is slipping from the chicken add some more cornflour and maida.)
Let it sit for at least 30 minutes.
In a pan pour some oil and deep fry the chicken until crisp and done.
In another wok pour 2 tbsp of fried oil,when its hot enough add chopped garlic in it and cook for few minutes.
Add diced onion and cook on high flame with some salt and pepper.
When it's lightly soft add all sauces, some water and mix well.
Now add fried chicken and when it starts to boil pour the cornflour slurry and mix well.At this point check the seasonings and adjust accordingly.(if you want add some more pepper powder in it)
If you want more gravy add more water.It will thickens as we are adding cornflour,
Lastly pour vinegar and sprinkle spring onion greens.That's it your garlic chicken is ready !
Note: If you want nice red color add a pinch of red food color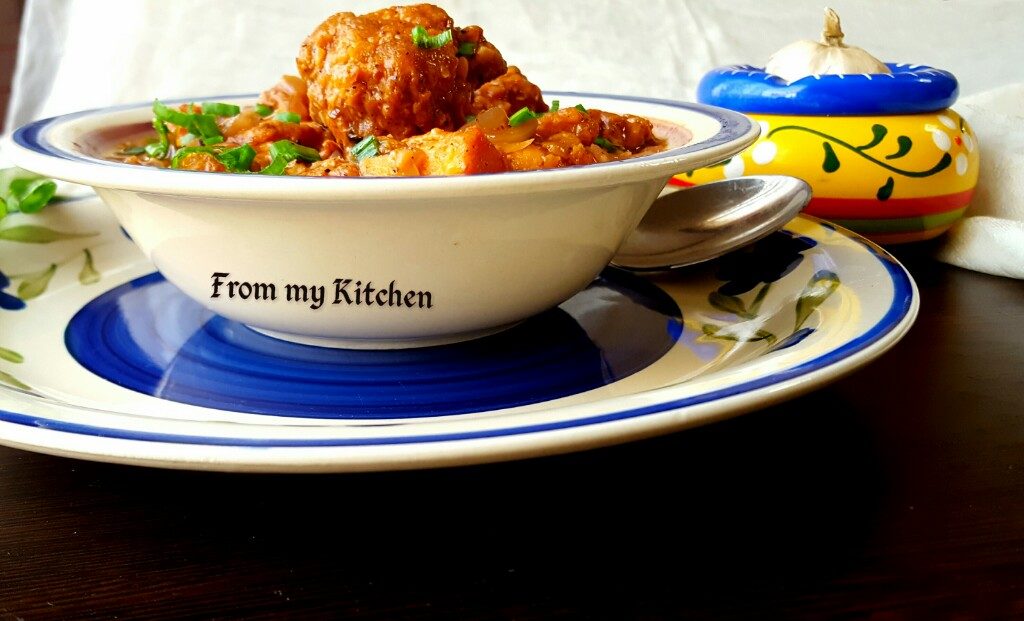 Hope you will enjoy this garlic flavored chicken as much as we did…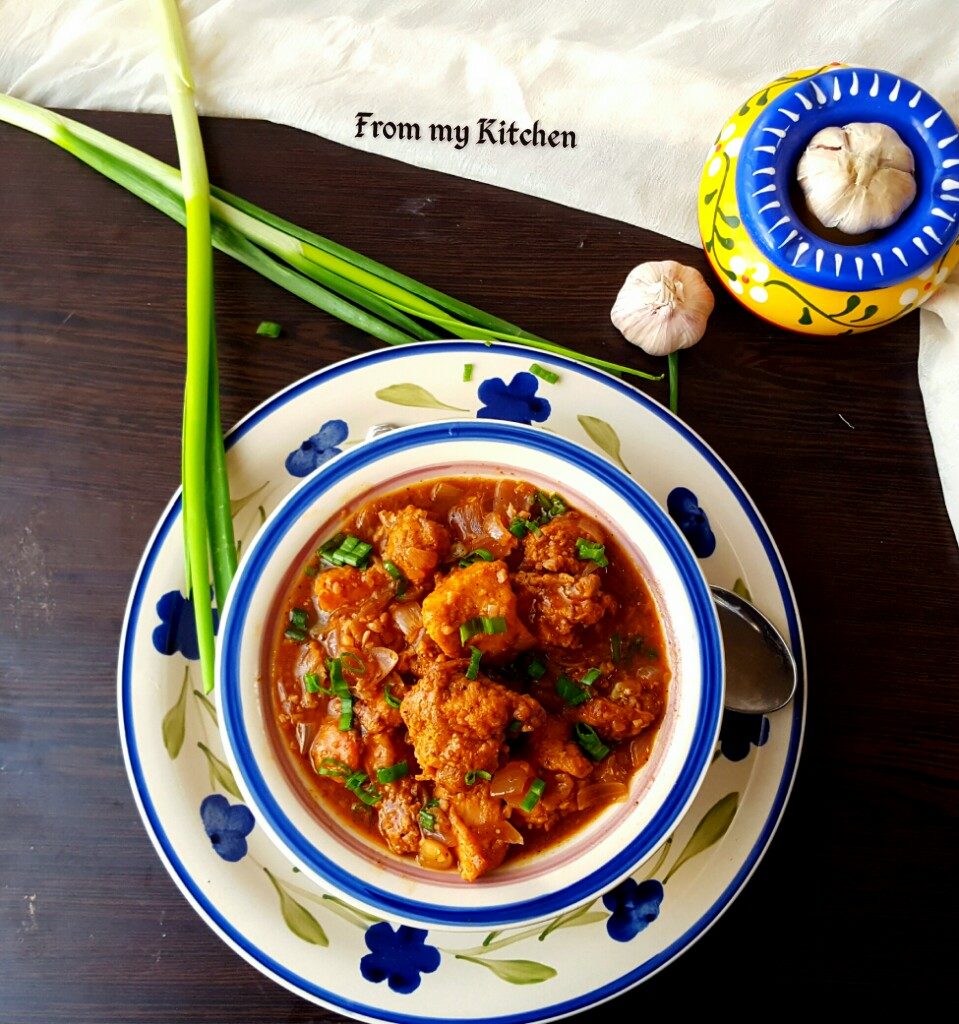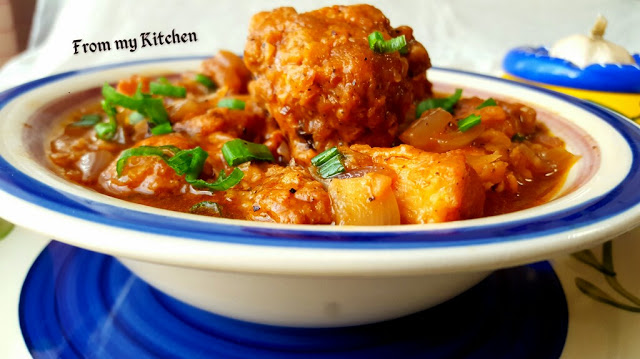 Happy Cooking!