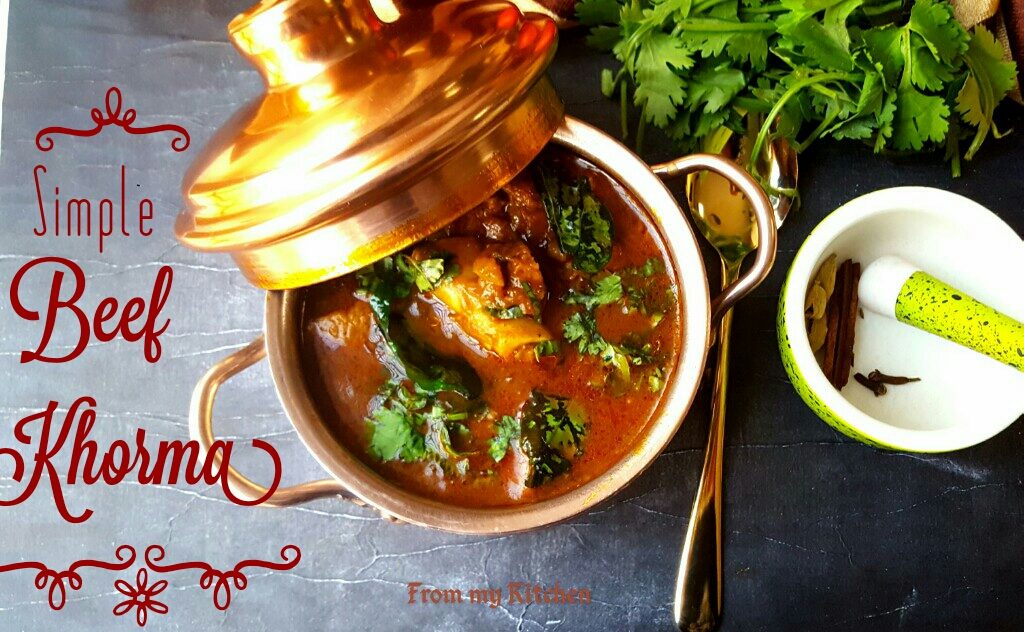 Curries and Khormas are an integral part of Indian cuisine!We need gravies and curries for almost all dishes .We are always in search for a new and simple recipes for curries that goes with rotis and parathas!ryt?Here is one such simple yet flavorful gravy that goes well with any kind of rotis(breads) or rice!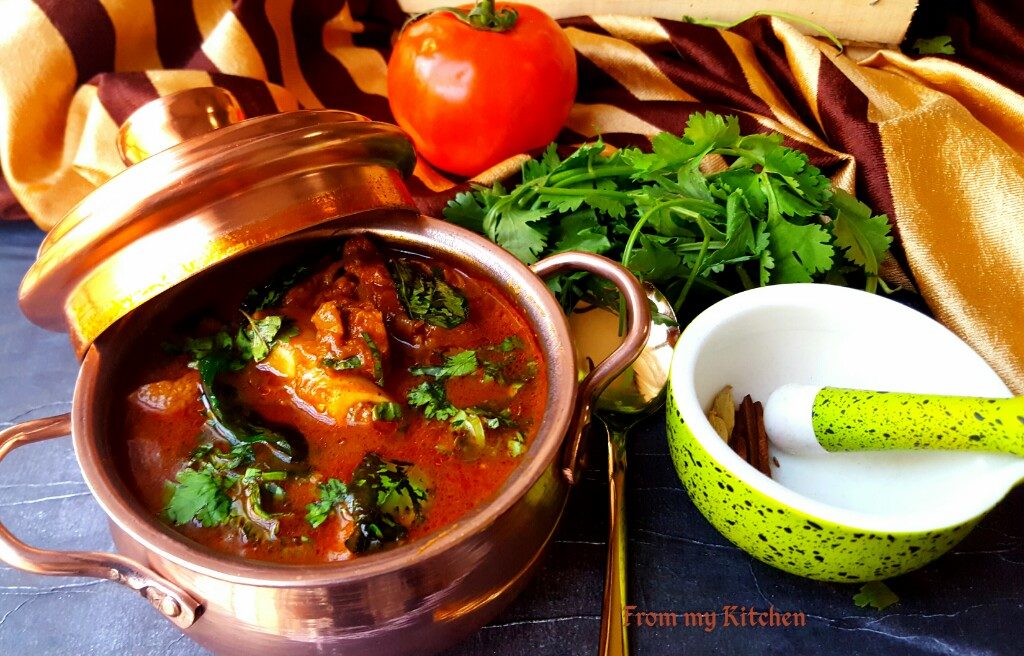 Malabar area is well known for their foods and flavors.We have many breads and rotis made by grinding different kinds of rice!These gravy goes very well with all those delicious rotis. This is a simple and delicious thick tomato base red gravy which is a frequent recipe in my home.I love this with any kind of rotis. In our place khorma means this kind of red thick gravy!So here goes a delightful recipe for you….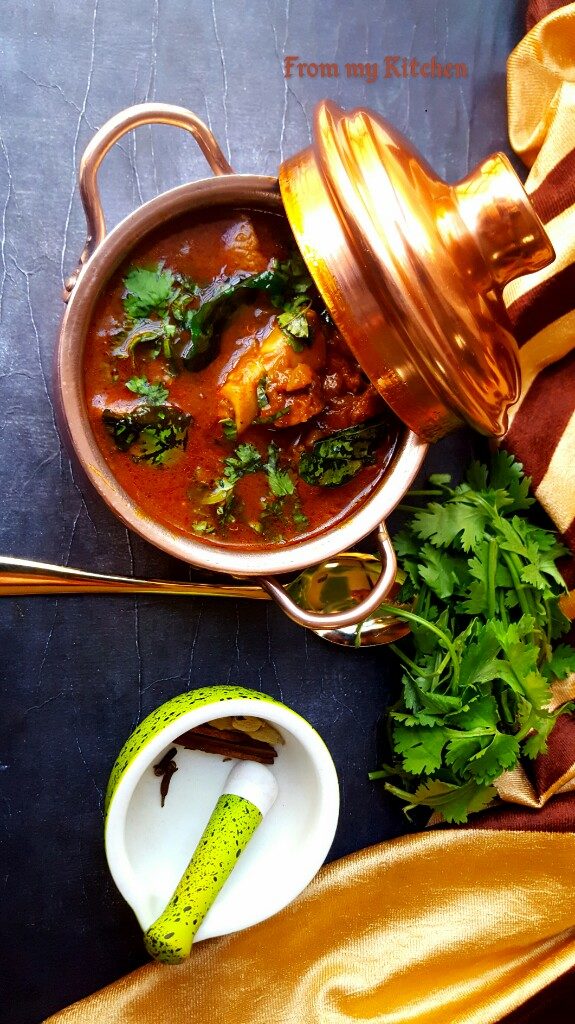 In this tomatoes are pureed and then adding to the gravy,This gives a unique taste to the dish.You can do it with mutton or chicken!Both will taste delicious.Over to the recipe
Ingredients
1/2 kg beef
2 medium onions
3 tomato pureed
1 green chilly
1 tbsp ginger paste
1/2 tbsp garlic paste
1 tbsp chilly powder
1/2 tbsp coriander powder
1 tsp garam masala
Salt
1/4 tsp fennugreek seeds
small stick of cinnamo
2 pods of cardamom
2 cloves
Salt to taste
Few curry leaves and coriander leaves
2 or 3 tbsp oil
Instructions
Heat oil in a pressure cooker.Splutter whole spices.
Add sliced onion,green chilly ,gingergarlic saute it with salt for few minutes.
Add pureed tomato ,chilly powder,garam masala,coriander powder and fennugreek seeds.Mix well
Add cleaned beef and some water.Close the cooker and let is sit for 20 minutes after the whistle.
When the pressure release completely open the lid and if its too runny simmer it for few minutes or until you get the desired thickness.
Add some more fresh curry leaves,coriander leaves and sprinkle some garam masala mix and cover it for 10 to 15 minutes.
Serve it hot with your fav roti.
Note:If your tomato is not so red add a table spoon of tomato paste.This will give nice color to the gravy.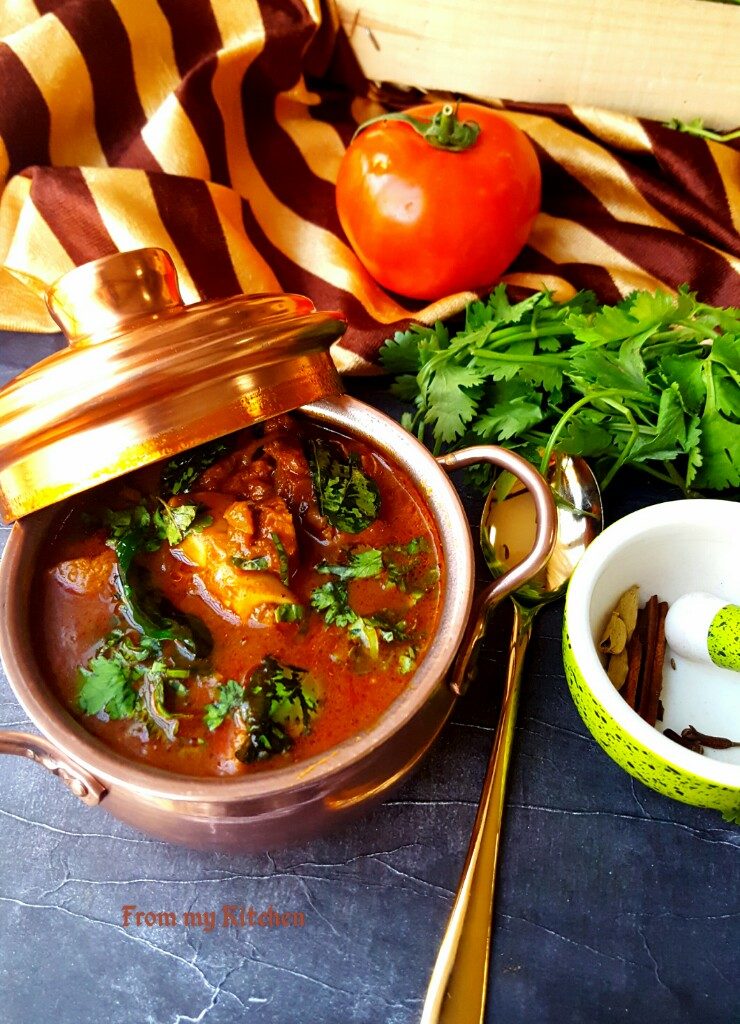 This is such a flavorful and distinctive gravy that made in a jiffy .It's is a go to dish here whenever i'm in a lazy mood!Hope this will help you too!
Happy Cooking!
Relish!