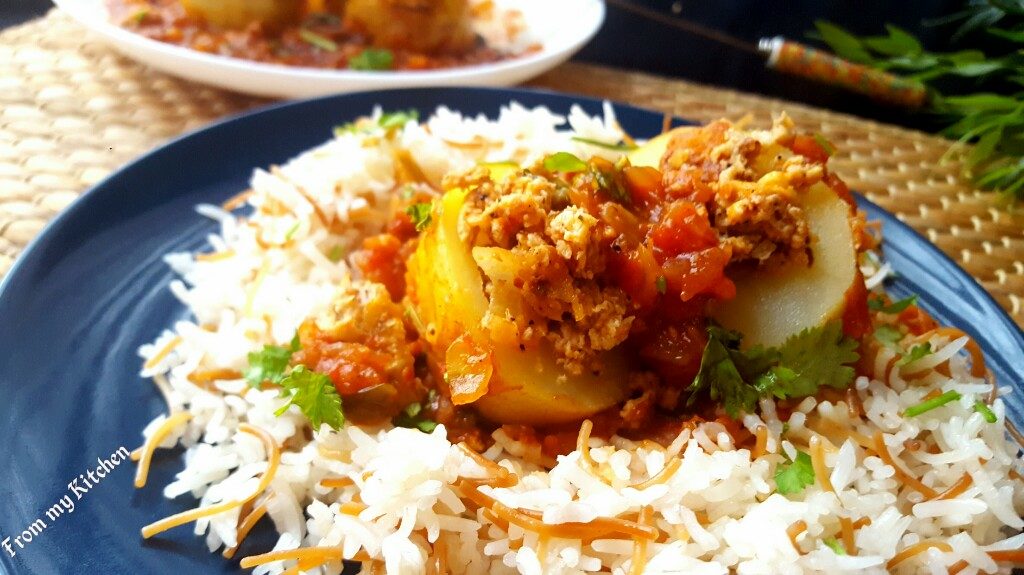 Batata Mehshiyeh is a flavorful and delicious dish of Lebanese which means stuffed potatoes!Here the small sized potatoes are stuffed with delicious meat filling and served with a tangy mild spiced tomato sauce.A complete meal with potato,meat and rice!This will be a perfect party pleaser for those who love Middle eastern flavors.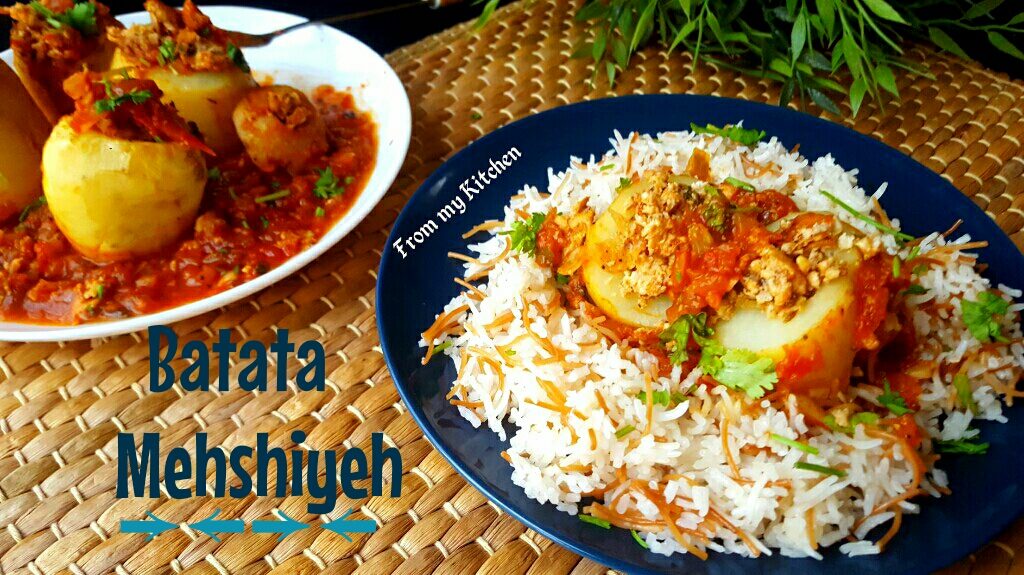 The recipe credit goes to my dear foodie friend Shahzeen!We became friends through a whatsapp food group, who is an extremely talented foodie and also a lovely and sweet person in nature!Some doubts and chit chats turned into a good friendship!Thank you Shahzeen for always being there!She made this recipe for an event in a Fbgroup "Uae food guide"and obviously i wanna participate for it!They actually arrange cook along events on every Monday and the interested people in the group will participate!It's one of the lively and a real foodie group I've ever seen.Even i hosted an event,that was Mughlai Paratha!It's really a special feeling when people follow our recipe and and put their tried picture ans feedback to the event page.Here is their link to this recipe!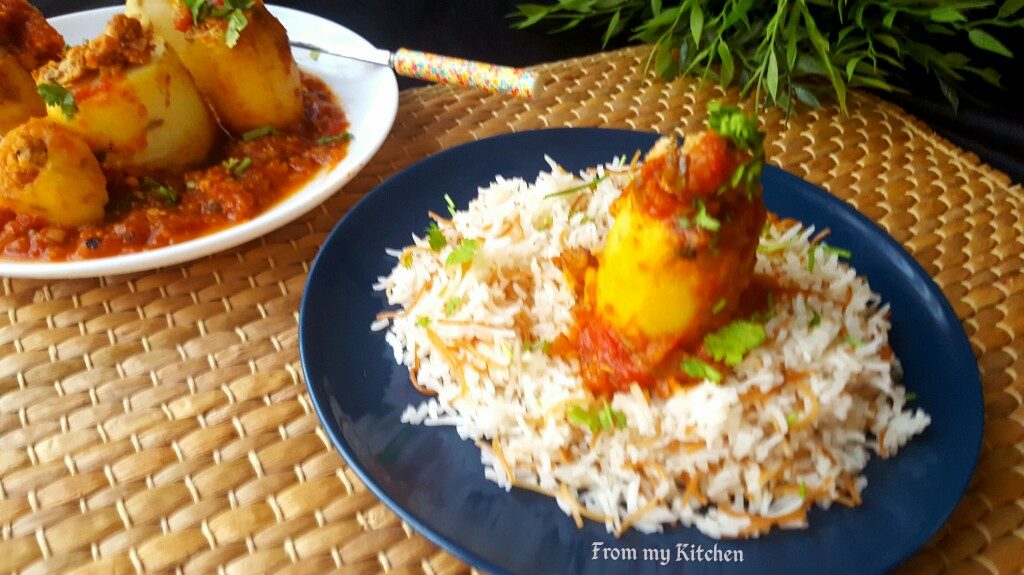 This dish are known to have a proper balance of the European cuisine with the eastern spices. The most commonly eaten meats, poultry and lamb, make up some of the country's most popular dishes.Although it is owned by the Lebanese, it happens to be a popular dish of the Moroccans and Egyptians too. The Syrians claim it to be a part of their cuisine too since ages.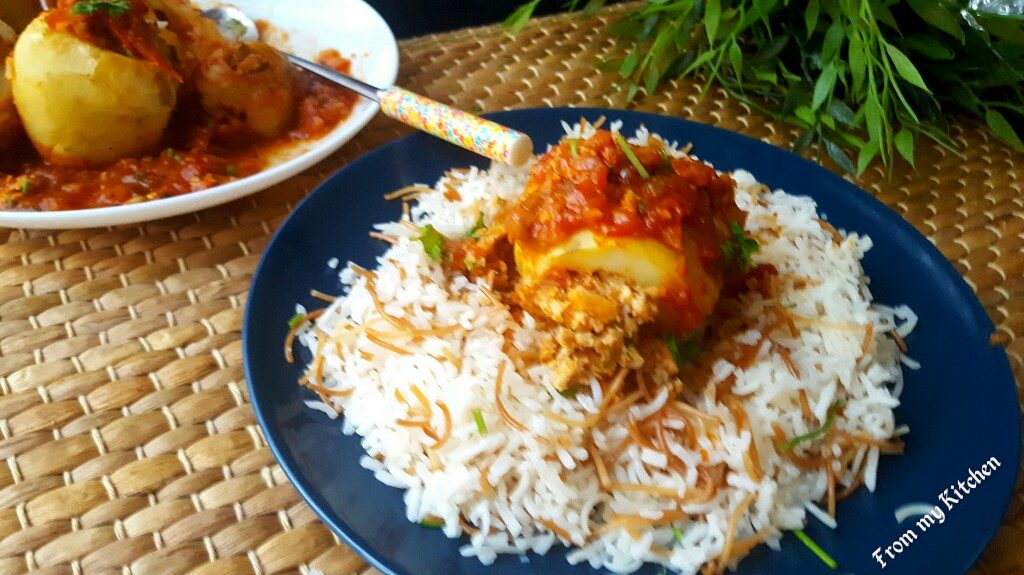 Over to recipe!The dish is served along with a rice mixed with vermicelli.
Ingredients
Baby potatoes, peeled and made hollow- 6 no.s (you can reserve the scraped insides to fry and garnish later on)
Olive oil/ Butter – to brush
For the Filling
:
Olive Oil- 3 tbsp
Ginger and garlic, crushed – 2 tbsp
Cumin seeds- 1 tsp
Onion, finely chopped- 1 medium
Minced meat- 500 grams
Freshly ground pepper- 1 tsp
Garam masala/ Allspice- ¼ tsp
Salt- to taste
Coriander leaves- ¼ cup
For the Sauce:
Tomatoes- 2 medium, finely choppped
Tomato paste- 2 tbsp
Chicken broth- 1 cup (you may use store-bought broth too if you haven't prepared)
Salt- to taste
Freshly ground pepper- to taste
Water – 1 cup
For Rice
Olive oil – 2 ½ tbsp
Broken vermicelli pasta – 1/2 cup
Medium-grain rice – 1 cup
Water – 2 cups
Salt – to taste
Method
To Prepare Batata Mehshiyeh:
In a wok, heat olive oil and fry garlic until the raw smell goes away.
Add cumin seeds and onions. Saute until the onions turn tender.
Add in minced meat, salt, pepper and Garam masala/ Allspice. Mix well until incorporated.
Simmer until the meat is well cooked. Add chopped coriander leaves and set aside.
Brush butter/olive oil all over and inside the potatoes. Sprinkle some salt.
You can either do any of the following to prepare the potatoes:
Air fry: 200 degrees for 15 minutes
Bake: 200 degrees for 20 minutes
Deep fry until almost cooked
Set aside.
To Prepare Tomato Sauce:
Frying chopped garlic in olive oil.
Add tomatoes and cook well until they turn mushy.
Add tomato paste, pepper, salt and mix well.
Pour in chicken broth and one cup of water.
Cook until the gravy thickens.
Assembling:
Stuff your potatoes with the prepared meat filling.
In a baking tray, pour your tomato sauce and arrange the potatoes on it.
Cover with foil and bake for 15- 20 minutes until the potatoes are well cooked.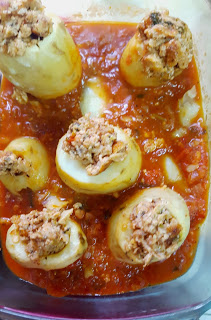 Note:You can also use the potatoes that are small.If the potatoes are big cut it from the center then make hollow and then stuff.(but this will take more time to cook in oven)
To Prepare Rice


1.Wash and drain rice,
2.In a non-stick pot, roast vermicelli in olive oil until they turn golden brown; careful not over-brown or burn them.
3.Add rice and mix well until they are coated with oil.
4.Pour water, add salt and bring to boil.
5.Cook until the rice is tender.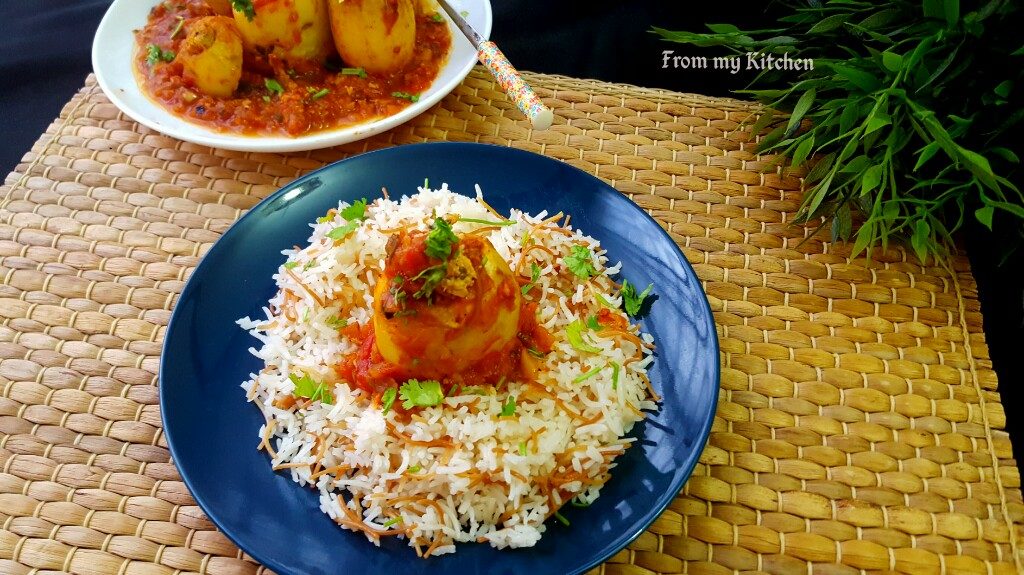 Although it has lots of steps and instructions to follow,but once you start working on it you will realize how simple it is!!It's truly an aromatic and flavorful dish!Do try it I'm sure you will like it!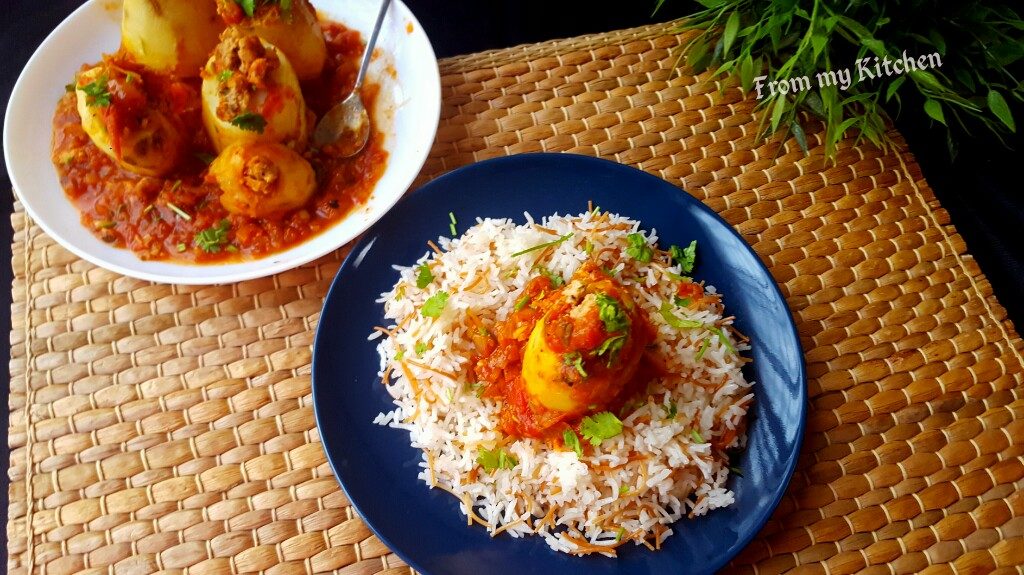 Relish!
Happy Cooking!